Ari Calangi: Making his return to the stage
Ari Calangi: Making his return to the stage

Link copied
The Macao-born musician and Ariclan frontman's career was interrupted for three years by the Covid-19 pandemic, but now he's back and more ambitious than ever.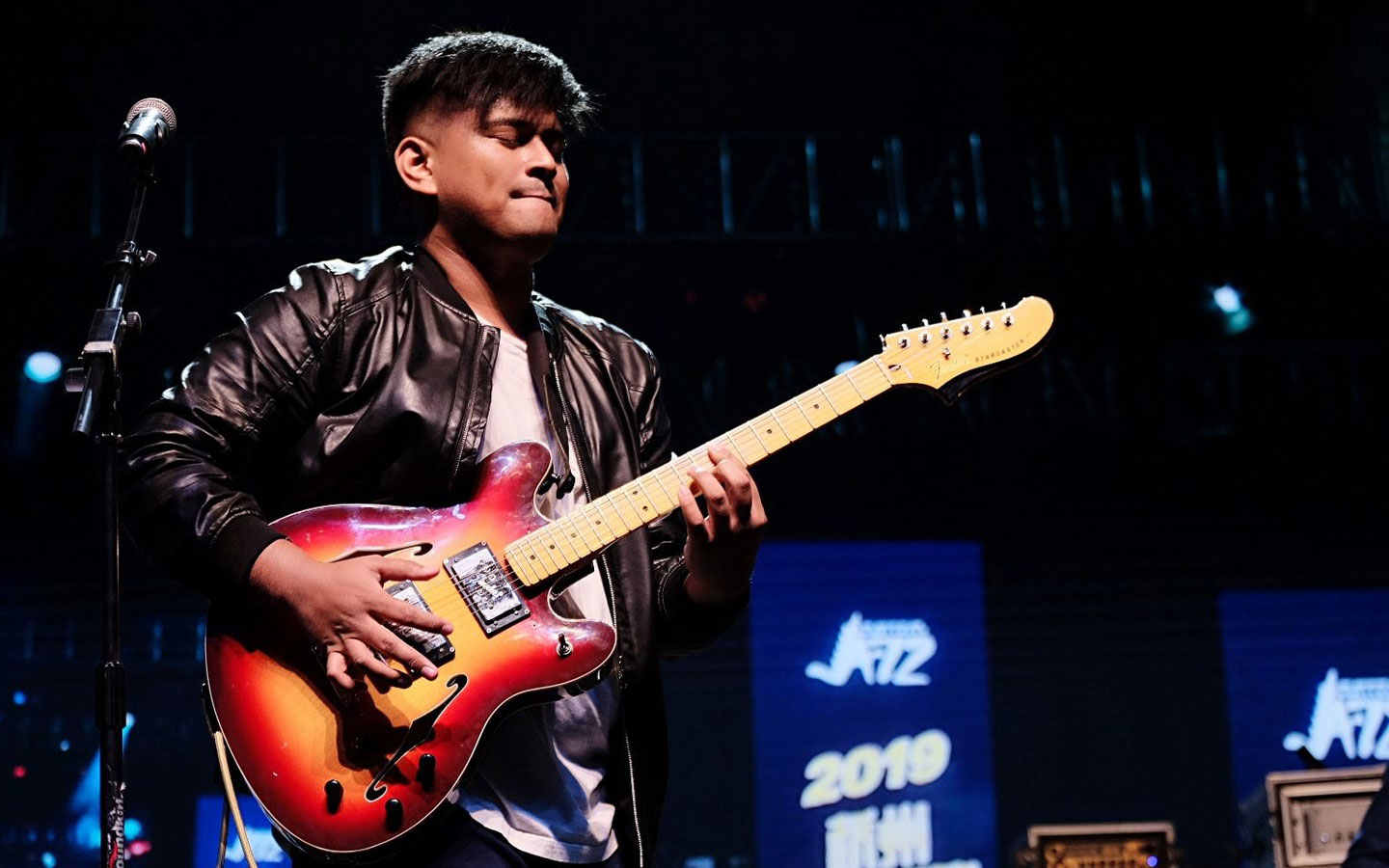 Before the pandemic shut down many of Macao's live music venues in 2020, the question local music lovers asked as Friday approached was often "Where's Ari playing this weekend?" 
Ari Calangi's star was on the rise. The Macao-born, ethnic Filipino singer-songwriter and talented instrumentalist made a big impression in the 2016 edition of Sing! China (formerly The Voice of China). He didn't win but in the competition's wake became a sought-after performer across Greater China, known as much for his solo act as his nine-member funk-rock band, Ariclan. 
Calangi exudes an energetic and soulful stage presence, with a repertoire of original material about "good memories, good moments, good feelings and good relationships." 
According to Calangi, "There's a strong humanity and human energy in them that makes you feel alive. All my songs are written to [channel] that energy."
[See more: Indie music in Macao: Add these talented local musicians to your playlist]
The pandemic put a temporary damper on both his career and state of mind. For three years, Calangi struggled with being stuck in Macao, longing for the days he could perform and travel again. Happily, with the lifting of Covid-19 travel restrictions six months ago, he is back on track. 
"Borders are open, people are calling and there's a wave of opportunities coming with it," he tells Macao News with excitement.
Tuned in from the start
Born Fabio Ari Calangi de Guzman, Calangi grew up in a family that was mad about music. His parents were both DJs in their younger years, and his aunt used to sing in cafes and bars. 
Calangi's mother, teacher and children's author Shelley Calangi, exposed her three children to all kinds of music. She taught her son the guitar and arranged his piano lessons. She also enrolled Calangi and his older sister in their school choir (which Shelley led), and Calangi remembers performing around Macao from the age of five.
By the time he was seven, he was writing "simple songs about family, peace and love in the world." He was proud enough of his creations to immortalise one with a basic voice recorder. "You can hear my little-boy voice on the recording saying 'Ari's composition,'" he laughs.
Calangi also became a dab hand on the drums thanks to local drummer Pedro Cuevas. "I mainly self-taught after two months of lessons from Pedro," he says.
[See more: Five concerts at the Macao International Music Festival that you won't want to miss]
Church cultivated his penchant for music, too. As a teenager, Calangi occasionally played the guitar at St Augustine's Catholic Church (near Senado Square on the western side of the Macao peninsula), where his family attended Mass.
The first band he joined was called Once Teen Ones (OTO), which his mum initially set up in 2006 as a music project for students (Calangi's sister, Jools, played bass). When the original drummer quit, Shelley recruited her son. He ended up as lead singer, too, but claims it was through necessity rather than a calling.
"I just thought the band needed a voice, so I'd be that voice," Calangi recalls. "Singing came so naturally that I didn't think of it as a skill."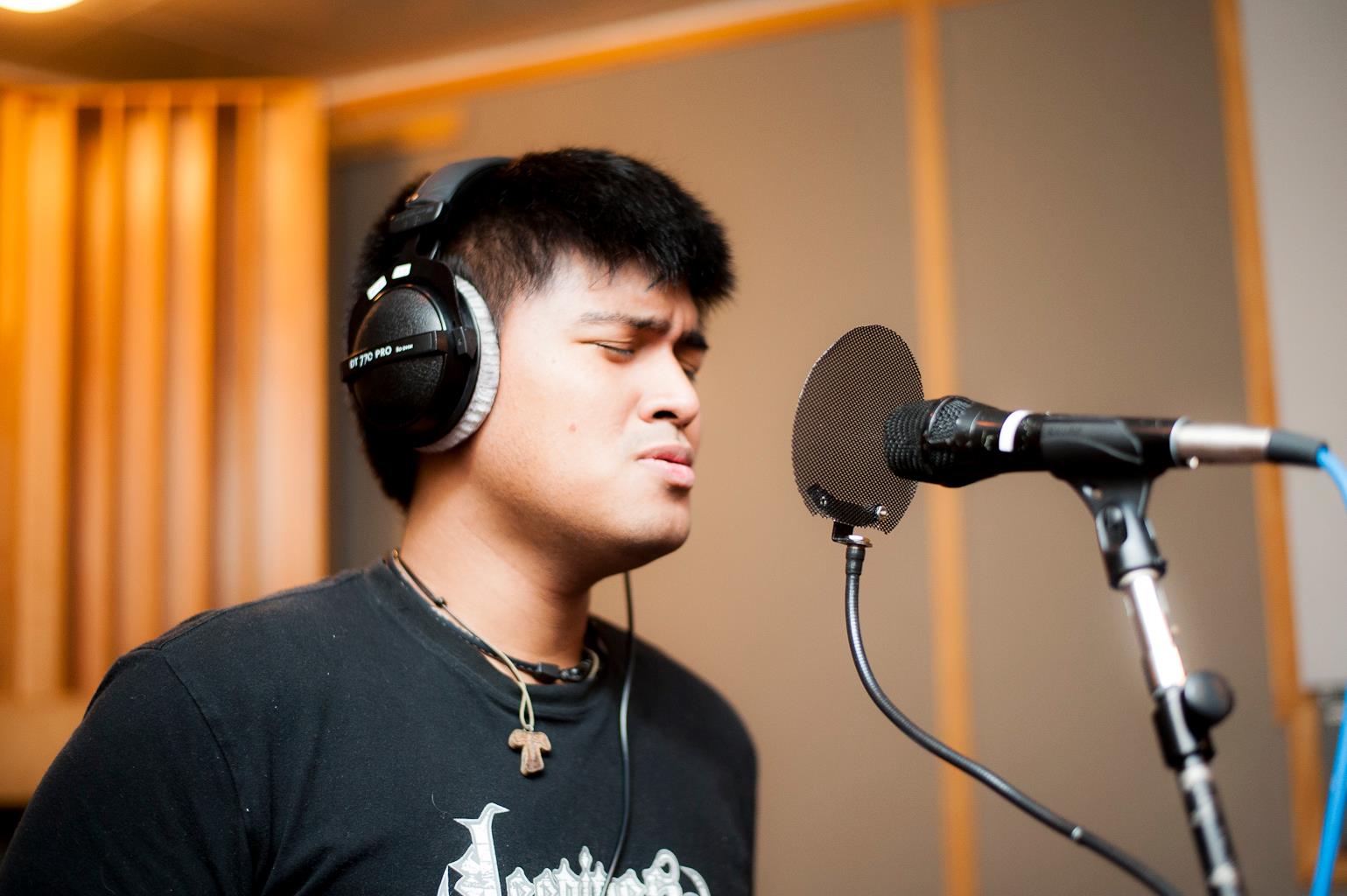 American dreams
Calangi started his college education at the University of Saint Joseph when it was still the Macau Inter-University Institute. He planned to major in psychology, but over the course of his freshman year, his passion for music grew too intense to ignore.
Local music friends suggested Calangi apply to the Berklee College of Music in Boston, Massachusetts – a prestigious school whose alumni are responsible for more than 330 grammy wins. "I saw that John Mayer and these other big names went there", Calangi says. "I got excited about it". 
Berklee, which holds auditions in several parts of the world every year, invited him to audition in Japan. He performed "Crack It Way Open" by American drummer Dennis Chambers on the drums in front of a four-member judging panel. Next, he sang an original song, "Problem Child," while playing the guitar.  
"There were like 50 other people auditioning – all of whom were Japanese except me," recalls Calangi. "I was a bit scared but more excited than intimidated."
[See more: 10 questions for Macao music group MFM]
Then came the wait. It took a few months for an email to arrive from Berklee, and Calangi says he was so anxious he shook while opening it. Thankfully, it was an acceptance letter, including a partial scholarship that would cover 50 percent of the US$45,000 per year tuition.
Macao's Cultural Affairs Bureau agreed to help cover much of the rest with a scholarship of its own. Calangi's mum took it on herself to pay for his living costs in Boston – a sacrifice he wasn't fully aware of until later.
Calangi says he arrived at Berklee "hoping to become the most professional drummer from Macao." In his spare time, he would sing and play guitar. He was jamming with friends when it dawned on him that people were more drawn to his voice than drumming skills. 
"I started taking my voice more seriously and enrolled in voice lessons in college," he says. "Now, I consider myself more of a singer than a drummer and see the drum as a tool to enhance the music I create."
An about turn
In 2012, Calangi's American dream ended. While visiting Macao, he learned that his mum had taken out a bank loan to pay for his food, rent and other expenses in the US – a debt that would take her years to pay off. 
"I put my mum in such a difficult situation, money-wise," he says. "I knew I had to be smarter with my choices."
At first, he tried to save money by biking the 45-minute journey to and from Berklee each day, but couldn't see any other ways to cut costs. There were music venues willing for him to perform paid gigs, but his student visa did not allow him to work. 
So, at age 22, he withdrew from his studies at Berklee and returned to home to work as a musician. Calangi's first full-time job was at the beginning of 2013, in Guangzhou, playing drums for Hong Kong-American singer Khalil Fong, known for his soulful hybrid of Mando-pop and R&B.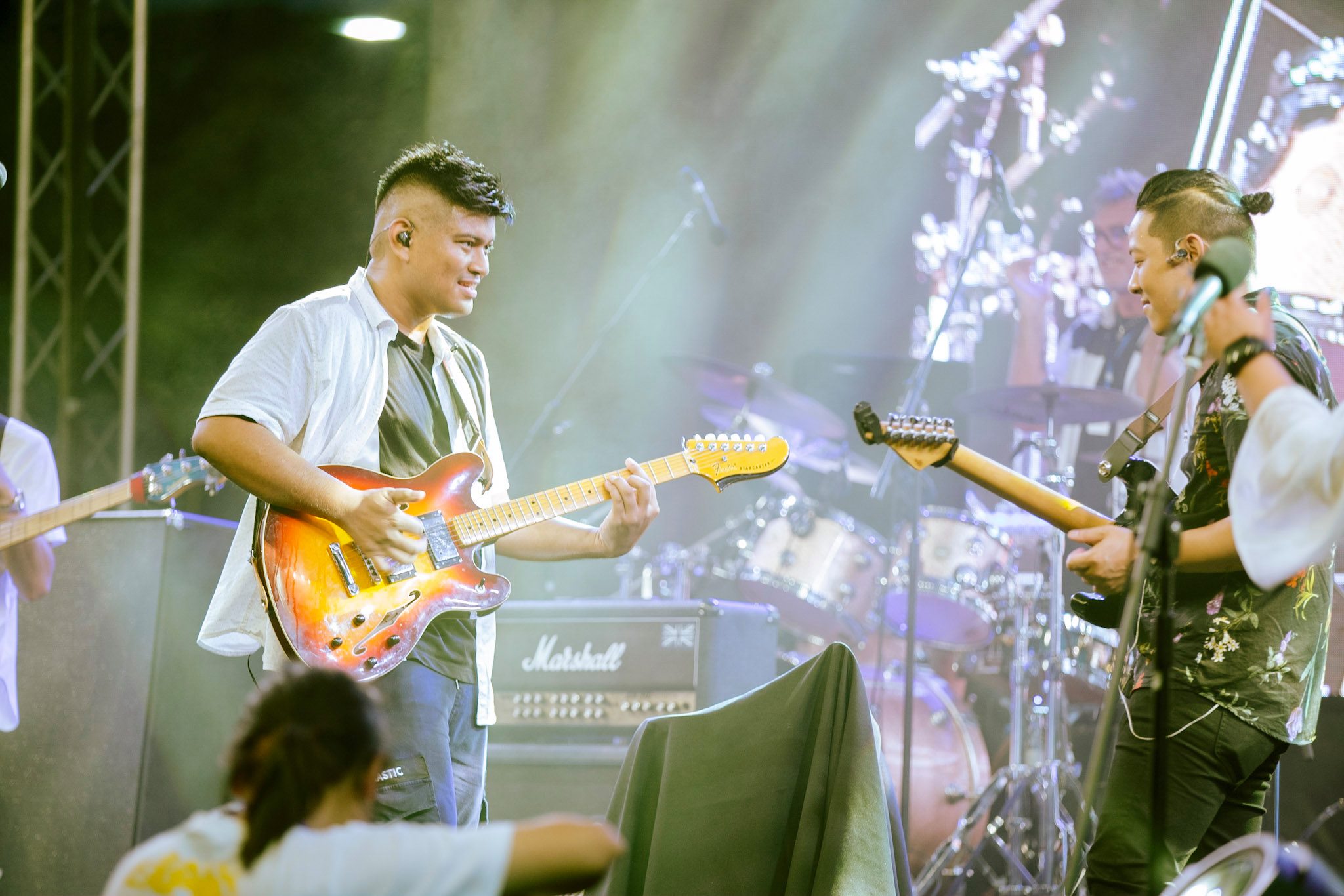 For the next three years, he travelled between Macao and Hong Kong for rehearsals, shows and occasional recording sessions for household names in Hong Kong's music industry, including the likes of Cantopop singer Janice Vidal, pop rocker Kary Ng, Hong Kong-Filipino R&B singer Alex To and fellow Macao singer and actor Siu Fay.
[See more: 3 Macao music studios where you can jam without a membership]
Calangi's friend and fellow musician Jonathan Wong wangled him an audition for the high-profile singing contest, Sing! China, in March 2016. "It was a whole new environment for me," says Calangi. "Before this, I was always in the background. This competition was the first time I got an opportunity to be at the front."
The show's producers flew him to Shanghai, where Calangi, who speaks fluent Cantonese and English, struggled to communicate with his broken Mandarin. "I kept on saying in Mandarin, 'I'm sorry, can you say it one more time?' like, three or four times," he remembers.
Finding a new rhythm 
Calangi made it through three rounds of the show and says his TV appearances brought new musical opportunities and industry connections.  
Soon afterward, Taiwan's Elevenz Music label signed him on a two-year contract with numerous gigs across the island and mainland China. Calangi began collaborating with island artists such as A-Lin and Matzka, and formed his Macao-based band Ariclan with eight other local musicians, including bassist Ivan Pineda and singing sisters Nikki and Vanessa Gabion.
He also juggled freelance gigs, writing songs for other artists, recording songs, and performing original music.
"Sometimes, I would be a drummer for one tour and then a guitarist for another and then I'd have to record in Beijing," he says. "I'd have two suitcases: one with a guitar and another with a drum set or some recording gear."
[See more: Lio Kuokman conducts post-pandemic era as the Macao Orchestra's new artistic director]
Ariclan also gained momentum, performing at festivals around the region. In early 2020, Calangi and his bandmates were looking forward to touring mainland China while planning shows in Portugal and Brazil.
But Covid-19 brought everything to an abrupt halt. "Everyone thought the pandemic was going to be a one-year thing," he says.
With the border restrictions in place, Calangi spent three years trying to eke out a living in Macao. He took hotel gigs and formed a cover band.  But "the musicians had to get full-time jobs," he says. "It just became very difficult to [schedule] rehearsals."
In the end, he bowed to the inevitable, and started simply spending time with family, friends and his girlfriend. They tried to make the most of it, watching movies and strolling the city together.  
New opportunities
As soon as Macao's borders opened in January, Calangi was back on the circuit. He played the Hengqin Tianmu River Grassland Music Festival the following month, alongside dozens of musicians and bands from Macao, Hong Kong and mainland China.
"The audience was very receptive to our music, despite it being in English," says Calangi. "We're glad we were received well for our first gig of 2023."
[See more: How music therapy helps people in Macao heal and grow]
The Hengqin performance led to an array of invitations that has taken Calangi to both new and familiar stages beyond Macao this year – some in Hong Kong and mainland China, others in Australia. Notably, he'll be at the Montreux Jazz Festival China, which takes place from 27 September to 2 October at the Fairmont Yangcheng Lake Resort in Kunshan, a 30 minutes drive from Suzhou in Jiangsu province. Over 160 musicians from 20 countries and regions will perform during the six-day music event, with Ariclan scheduled on the last day.
"We'll be performing all original music. We've been rehearsing these past few weeks, putting together a special show for the festival," says Calangi. "I'm super stoked about this upcoming gig. It's my band's and my first time ever being part of the internationally recognised Montreux music festival brand." 
With luck and Calangi's determination, "Where's Ari playing this weekend?" is going to be a question that people will start asking once again.