The Internet asked, 'What is Macao chicken?' and we answered
The Internet asked, 'What is Macao chicken?' and we answered

Link copied
While this question is often Googled, Macao chicken is not something found on local restaurants' menus.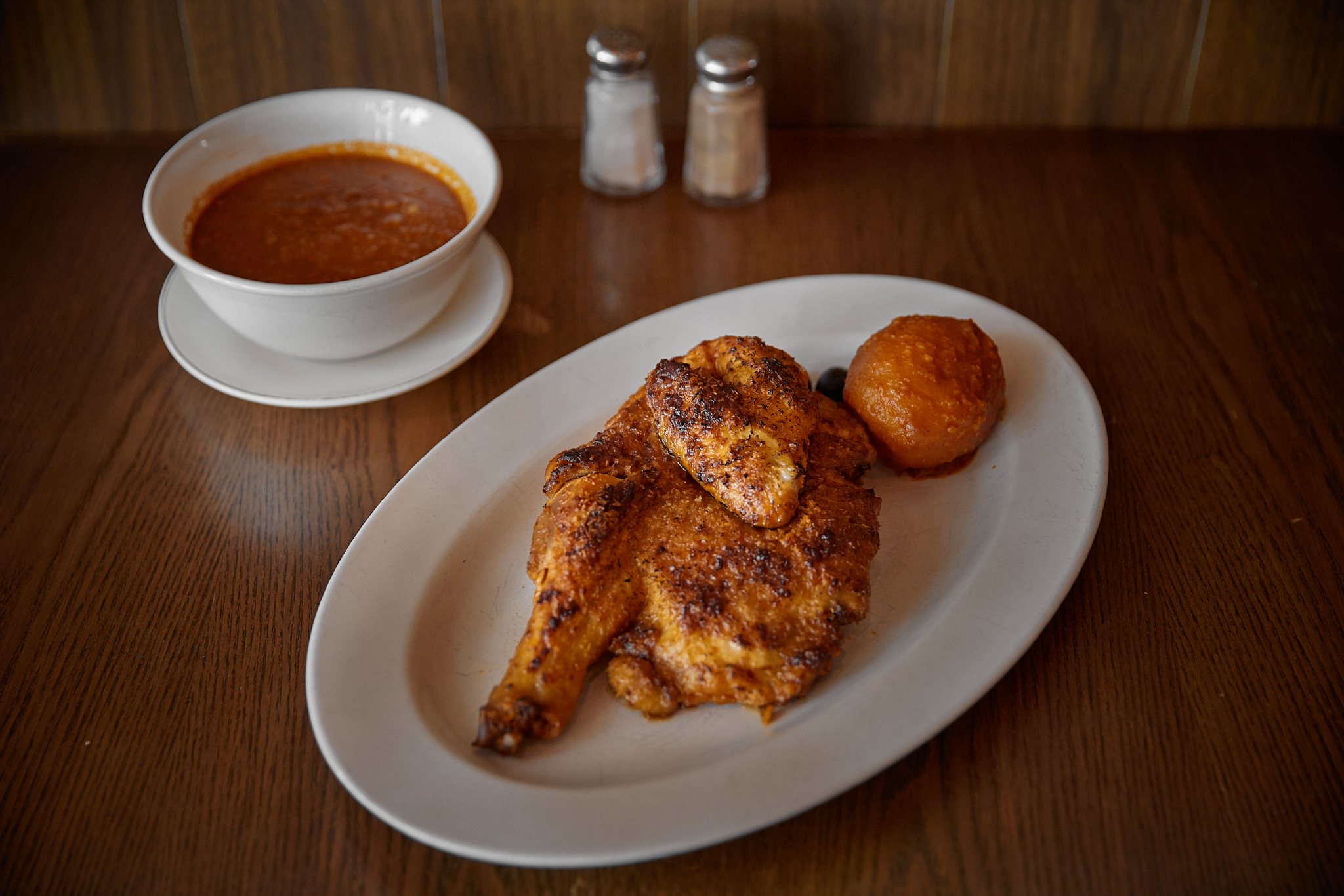 The simple answer is… Huh? 'Macao chicken' is not a thing. And yet, the Macanese culinary canon does include two beloved poultry dishes. That they aren't served anywhere else in the world is somewhat incongruous, given their names: Portuguese chicken and African chicken, respectively. 
The dishes make sense in the context of the SAR's history, of course. Both are fusion cuisine in the earliest sense, courtesy of Macao's centuries-old status as an East-meets-West trade hub – a place where foods, languages and ethnicities have long commingled. In Macao, cooks from Portugal and China exchanged techniques, melding flavours from Portuguese colonies across the globe to create something improbable, distinctive, and wonderful: Macanese cuisine.
Portuguese chicken – galinha à portuguesa – is a mild yellow curry, laden with cumin and served with rice (and not in its namesake's native cuisine at all). This dish was born of Indian spices, brought to Macao by traders from Goa, Daman and Diu. While Portuguese chicken is tasty, its African counterpart is "more of an event", according to local restaurateur Raymond Vong.
He believes anyone who types 'Macao chicken' into their search engine is most likely seeking galinha à africana. 
African chicken is, of course, named for its use of peri-peri, peanuts, and ground coconut, all staples of the continent's southern fare. Peri-peri – a slender red chilli pepper and this dish's star ingredient – was especially favoured by the Portuguese, who cultivated it in Mozambique. Peri-peri sauce became the ubiquitous condiment throughout Portugal's empire.
No-one seems very clear on when, exactly, someone in Macao decided to cook chicken using these ingredients. You can be fairly confident it happened between 1557 (the year Macao came under Portuguese administration) and the mid-20th century, however. African chicken was a well-established dish by the time Vong's father opened his eponymous restaurant – Henri's Galley – in the 1970s. 
"My dad didn't invent African chicken, but he did perfect the recipe," quips the younger Vong. "Our chicken is so tender, and our spice level is quite mild … we want our customers to be able to taste every ingredient."
[See more: The Internet asked 'What is Macao's currency?' and we answered]
Unlike Kentucky Fried Chicken, this family recipe is no secret. It's even printed on the restaurant's placemats. Other ingredients include garlic, tomatoes, paprika, and Chinese five-spice. Vong warns that it's a messy thing to attempt at home.
At least two thirds of Henri's Galley's customers order African chicken, Vong says. Here's a common scenario at the maritime-themed eatery: a Macao local, eager to introduce his or her friends to the wonders of Macanese cuisine, picks the dish to be its ambassador. Their party sits down, family-style, to devour a bird or two served slathered in a rich, reddish-brown sauce – and vow to return upon leaving. 
"If you eat it once, you will definitely want it again," Vong says, with confidence.
He cautions against confusing African chicken with 'peri-peri chicken', a dish hailing from Mozambique, made famous by the South African fast-food chain, Nando's. While the two are both celebrations of the friendship between chilli peppers and poultry, Vong insists they are quite different experiences.
Peri-peri chicken is marinated in chilli and lemon (no coconut, no peanuts), then flame-grilled. Nando's' take on this spicy Mozambican specialty is sold in dozens of countries, though not China (the nearest outlets are in Singapore and Malaysia). African chicken, meanwhile, is exclusive to Macao. It's always a sit-down meal, made to order, and best when slowly savoured with friends. 
[See more: African chicken recipe by Henri's Galley]
Vong's galinha à africana is almost stew-like. Your chicken arrives swimming in the sauce it was cooked in, and there's plenty left over to moisten any side order of potatoes. But other restaurants apply their own peri-peri-peanut-coconut concoctions more sparingly. Some even serve it in a bowl beside the bird. There are places that make this sauce as hot as hades; there are places that garnish it with olives.
African chicken is a variable dish, in other words. So, we recommend trying out a few different renderings when in the city. They're all galinha à africana and they're all, in their way, 'Macao chicken'.