Raymond Vong: Cooking up the future of a Macao icon
Raymond Vong: Cooking up the future of a Macao icon

Link copied
Since taking over the restaurant in 2003, Raymond Vong has honoured his father Henri's vision for a welcoming eatery that serves Macanese and Portuguese food from the heart.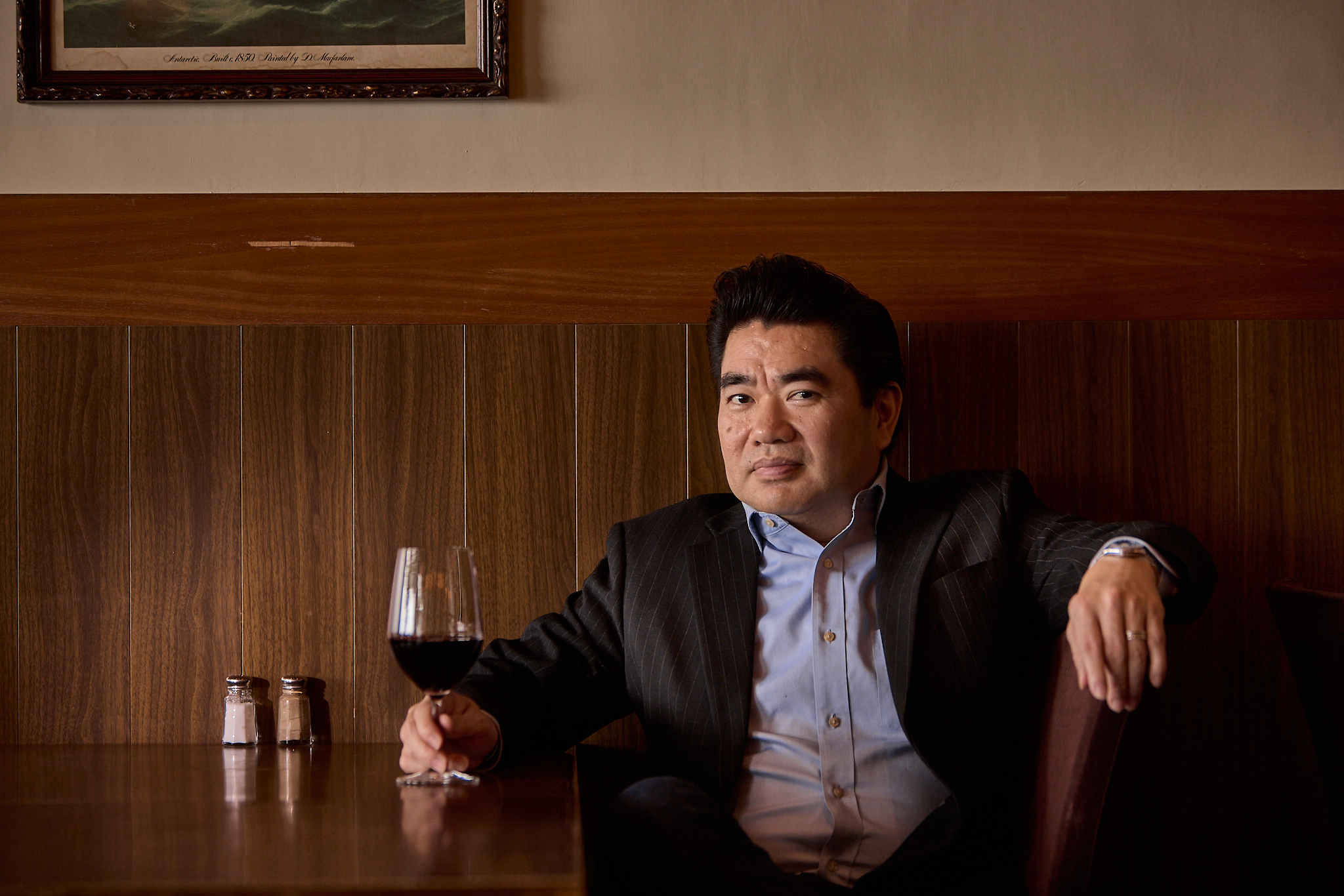 Raymond Vong is the affable restauranteur behind Henri's Galley, one of Macao's best-loved eateries. The Macanese and Portuguese restaurant was founded by his father, Henri Vong, in 1976 and quickly became a popular meeting spot for prominent individuals, including then Governor Garcia Leandro and Governor Vasco de Almeida e Costa, who ran the administration from 1981 to 1986. 
Before picking up the reins at the family-run eatery in 2003, Vong embarked on a career in marketing that would serve him well in the restaurant industry. Since then, he's continued to draw a loyal following with friendly service and ever-popular dishes like African chicken, pan-fried prawns and curry crabs. 
While the pandemic proved challenging, 2023 looks much brighter, says Vong. Building on tradition, Henri's Galley recently partnered with Wynn Macau to present a selection of the restaurant's time-honoured dishes on the hotel's menus. 
It's a good time for Henri's Galley, Vong reckons. "Ever since the borders reopened, business has been picking up. I also get to see many old friends coming back from Hong Kong. Many of them still greet me, "'Hello, Henri!'" he laughs. "I have stopped correcting people – now I just smile!"
Growing up in Canada
Born in Hong Kong in 1972, Vong and his family relocated to Macao when he was a newborn. He had a happy childhood and remembers walking from school at Colégio Mateus Ricci with his two sisters to eat lunch at the family's restaurant on weekdays.
When he was 11, the family moved to Canada to be closer to their mother's relatives, who had immigrated to the country in the 1960s during the Cultural Revolution. Back in Macao, Henri's Galley was already a success when the family moved to Canada, so Vong's father asked a relative to manage the restaurant while they lived abroad.
The family settled in Calgary, Alberta, and Vong describes his teenage years as typical of "any North American kid". He hung out with a diverse group of friends, from Indians to Italians, biked to the local convenience store for snacks and sodas, mowed the lawn, and scraped snow off the driveway during harsh winters. 
Starting another restaurant hadn't been the plan, but Vong's father found himself with too much spare time on his hands. He'd gone from busy restaurateur to stay-at-home dad and was looking for a creative outlet, says Vong. So about four years after the move, he opened a Henri's Galley in Calgary.
On weekends, Vong helped out at the restaurant. "My father was fair; it wasn't like free labour!" he laughs. "He paid me the minimum wage, and on top of that, I got tips." 
While the experience offered Vong a crash course in the restaurant industry, taking over the Macao restaurant wasn't something he considered until much later. Instead, Vong studied marketing management at the Southern Alberta Institute of Technology in Canada because it provided a lot of career options. "You can adapt knowledge of marketing to almost anything, whether you own a restaurant or do sales," he explains.
A marketing career in Macao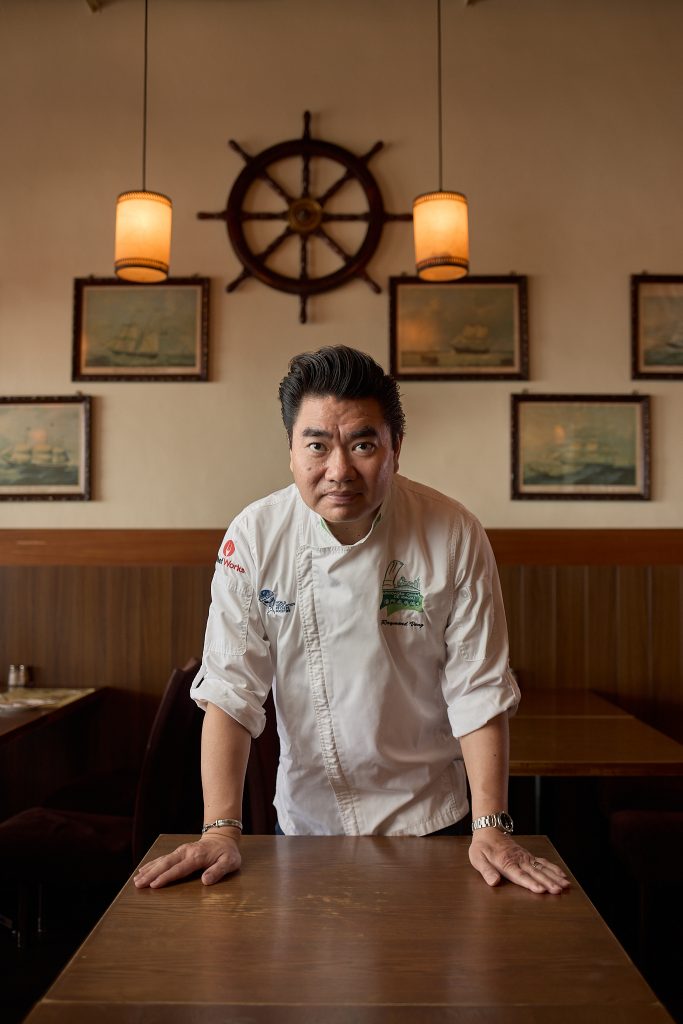 In the 1990s, mainland China saw an economic boom, which brightened Macao's prospects, too. "Those were the golden years in Hong Kong and Macao," Vong says, adding that both cities offered abundant career opportunities at the time.
After graduating in 1995, Vong returned to Macao with his family. (His father closed down Henri's Galley in Calgary after their return.)
Vong returned fluent in English, Cantonese and Mandarin and ready for his first job as a marketing officer at a Nissan car dealership. He then joined McDonald's in the restaurant development department. There were only five or six branches in Macao in the mid-1990s – compared with over 20 today – and Vong was excited to work at the expanding chain. 
His next professional challenge took him to the local telecommunications company, Vodatel, where Vong worked as a marketing officer. 
During the job interview, Vong took a chance by answering a rather unusual question with candour. "They asked me, 'Do you drink?' To which I replied, 'Yes! I can drink a whole bottle of cognac by myself,'" he recalls. "The interviewer – who would soon become my boss – went, 'Good! You're hired!'"
Indeed, Vong's taste for tipples came in handy for the role, which involved frequent business dinners and networking in mainland China with important clients like state-owned China Telecom. 
A pivot towards the culinary world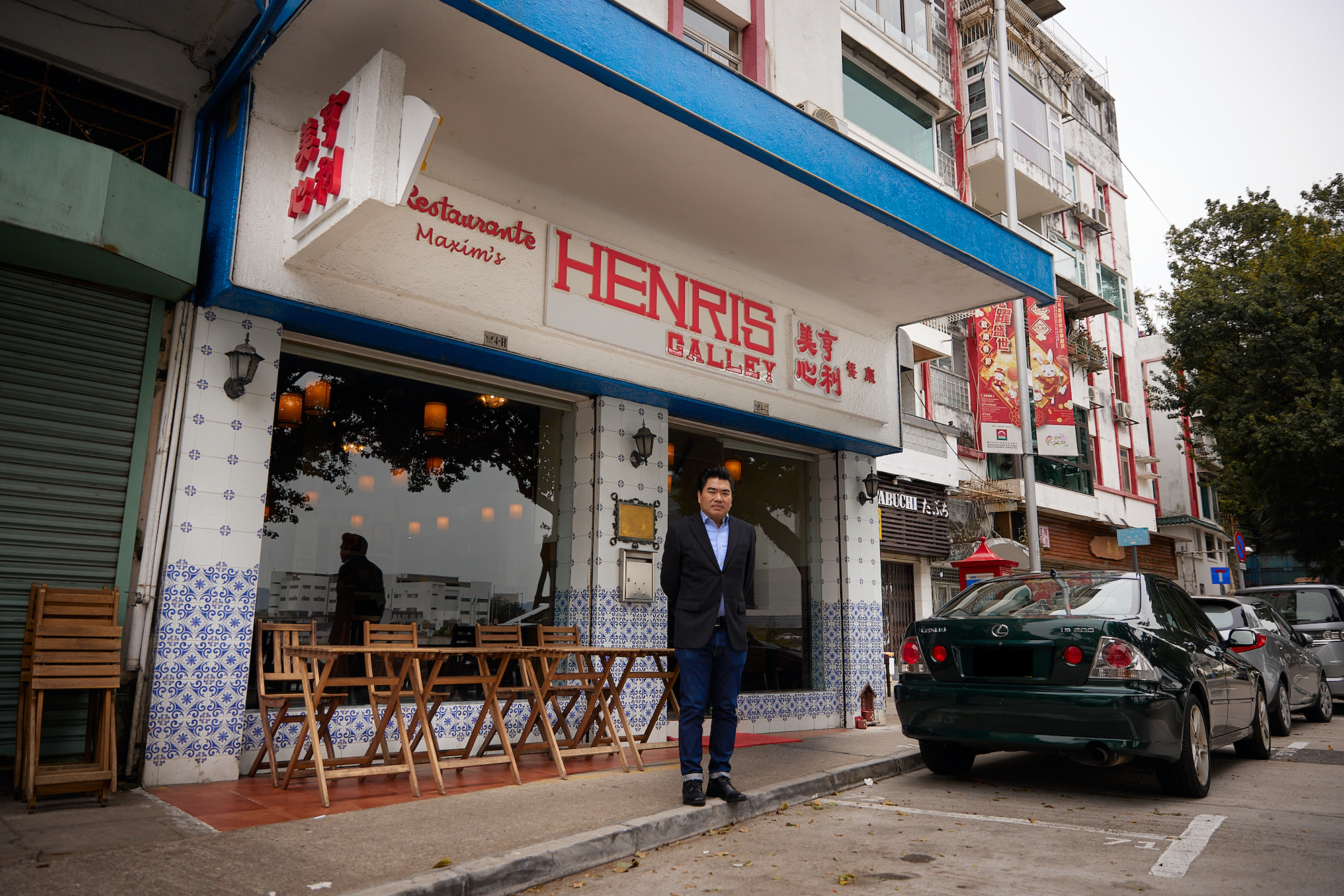 In 2003, Vong's father was ready to retire from Henri's Galley in Macao. He didn't want to close the restaurant, so Henri invited his son to take over. 
Vong didn't want to see the family business close either, but he was ascending in his marketing career, so he had to think about it carefully. Ultimately, he agreed on one condition: his father would have to step away and truly let him run the business. His father agreed.
It was a tough time to run a restaurant. Vong's father retired right after the first wave of SARS (Severe Acute Respiratory Syndrome) struck Hong Kong. During the early 2000s, tourists from Hong Kong made up 60 percent of the restaurant's customer base, so the drop in visitors impacted the restaurant. 
But Macao's gaming boom was right around the corner, and Vong could sense the city was entering an era of growth and change.
"Americans, Australians and Europeans were coming to set up enterprises or consult for companies in the hospitality industry, and we started seeing some of them at Henri's Galley," recalls Vong.
As he sees it, international hospitality and gaming companies marked the start of another golden era for the city. Business was good for Henri's Galley and remained so until 2019, when Hong Kong went through a period of civil unrest.
Widespread protests discouraged people from visiting Hong Kong (according to statistics from the Hong Kong Tourism Board, 2019 visitor arrivals dropped 14 percent compared with 2018 due to local social incidents), and businesses like Henri's Galley in Macao suffered collateral damage. 
Then came Covid-19, and business plunged some 60 percent compared with 2019. Throughout the pandemic, Vong kept the restaurant open but adjusted operating hours. He also provided accommodation for cross-border team members travelling to and from mainland China to minimise the risk of virus exposure.
Preserving Henri's nostalgic atmosphere
Despite recent challenges, Henri's Galley sails on. Loyal customers keep coming back to the warm and welcoming environment, where they're guaranteed to receive some of the best home-style food in Macao, right on the edge of Sai Van Lake. 
"In the '70s and early '80s, all the merchant ships coming from Hong Kong had to go through this part of the delta to get to the Inner Harbour," he says. "The harbour workers used to come over for lunch or a late drink. Because they could see the ships sailing by, they knew exactly when they had to head back to the harbour." 
Ships no longer cruise past the restaurant, but Henri's Galley has remained remarkably true to its roots. When Vong renovated the restaurant 15 years ago, he carefully preserved the interiors as much as possible.
Naval motifs like wooden oars, a helm and an anchor adorn the walls, alongside historical pictures of Macao. Even the charming maître d'hôtel, John Young, has worked there for nearly 45 years, donning his signature white naval uniform. 
Little details like these, alongside consistently excellent service and food, have made Henri's Galley a Macao institution. Vong's father's African chicken recipe is the restaurant's most famous dish – and one of Vong's favourites, too. One of the many fragrant and flavourful examples of Macanese cuisine, it consists of baked chicken doused in a sauce made of Indian spices, peanut and chilli, and coconut milk from Malacca in southern Malaysia. 
"My father did not invent the recipe for African chicken, but he perfected it," Vong says. "The meat is perfectly tender, and the sauce isn't overcomplicated but well-balanced."
As owner and general manager of Henri's Galley, Vong strives to maintain the restaurant's yesteryear appeal and excellent food prepared by a team of talented cooks. Over the years, he has become a significant figure in Macao's business scene. 
Vong serves as the Macau Culinary Association's President of the General Assembly and the chairman of the Macau Commerce and Industry Association's Supervisory Council. "When the commerce associations from China come to Macao, they visit us, too," he says. "We strive to link [up with other] businesses."  
Being part of these associations allows him to connect with people in the industry, stay on top of the latest happenings and support emerging talents. "We [Macau Culinary Association] host a yearly cooking competition for young chefs to foster new talent and encourage people in the industry," he says.
He also owns Club China Bar, a karaoke bar in NAPE. "The bar is not a money-making business, but I also don't have to put money into it. And I can go for drinks there!" he jokes.
[See more: African chicken by Henri's Galley]
A new partnership, old traditions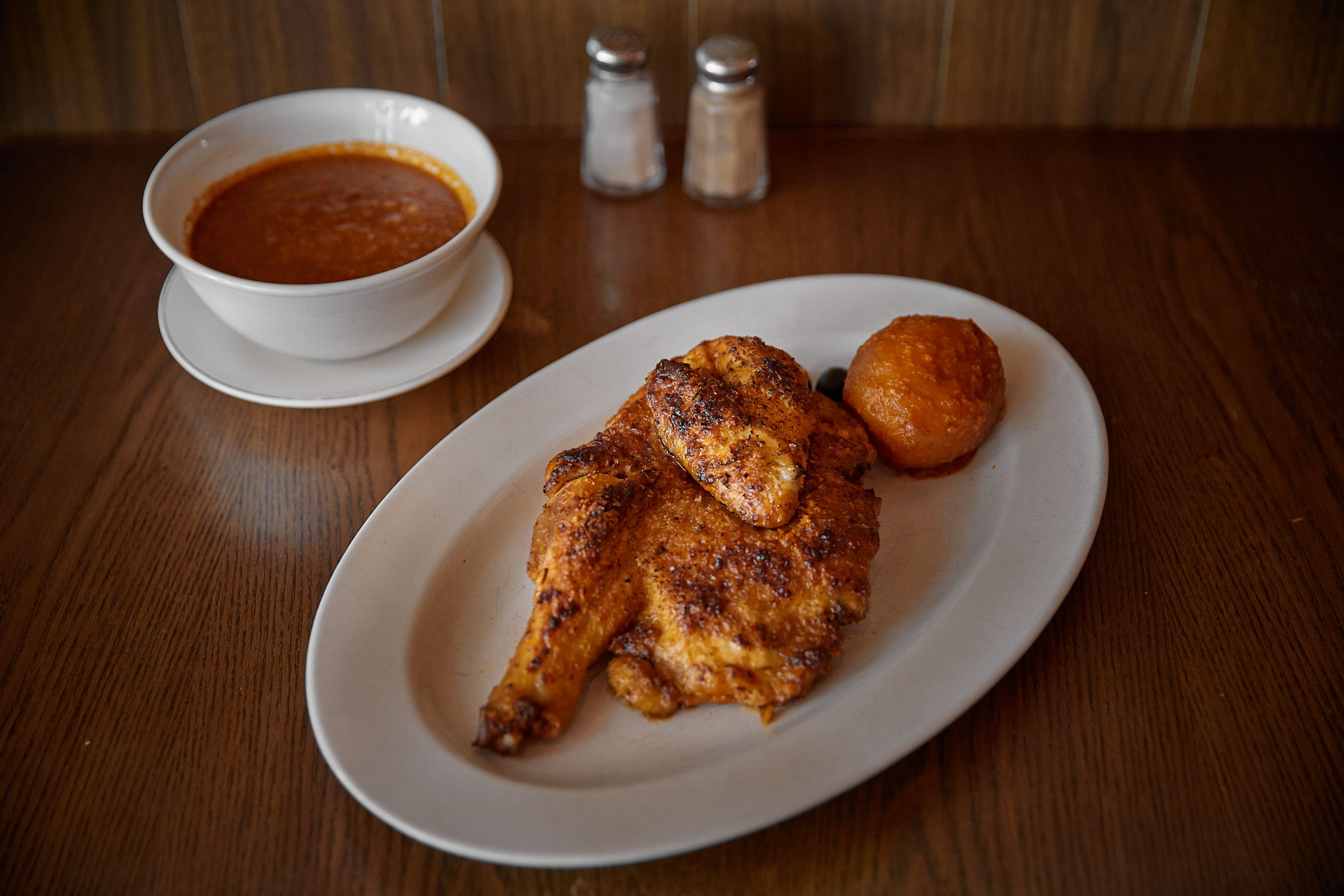 In January, Vong started a new partnership with Wynn Macau, enabling diners to experience a few of Henri's Galley's dishes – like African chicken, pan-fried Macanese prawns, and Macanese curry crab – at the resort's Café Encore.
Although Vong isn't a formally trained chef, he learned a lot by watching his father and cooking by his side. "In 2003, when I took over the restaurant, I had to work really hard to polish up my skills," he notes. 
Reflecting on the past two decades, Vong wouldn't change a thing about the restaurant or life in Macao. He has a happy family life and has enjoyed watching his son grow up and discover his passions. Now 19, his son plays his favourite sport, hockey, while studying in the US. 
When it comes to hobbies, which he doesn't have much time for, Vong loves to swim. "A lot of people invest in a restaurant, get people to run it, and that's it. But not me. I am very involved in Henri's, and it does not leave me much free time," he admits. 
Vong is glad to see the restaurant finding its footing again now that Macao's borders have reopened. He continues to carry on the legacy of his father, who passed away in 2009, and does not plan to change much in the future. On the contrary, Vong hopes to maintain the nostalgic atmosphere for years to come. 
"Taking over Henri's was my destiny; I just didn't always know it," he says. "I'm sure my father would've been proud to see it where it is now – and his food being served at Wynn."