Chinese Steamed Sponge Cake
Chinese Steamed Sponge Cake

Link copied
Golden in colour and rich in taste, Chinese steamed sponge cake is a dessert that is said to bring fortune in the forthcoming year. Try this classic recipe for a fresh, homemade treat.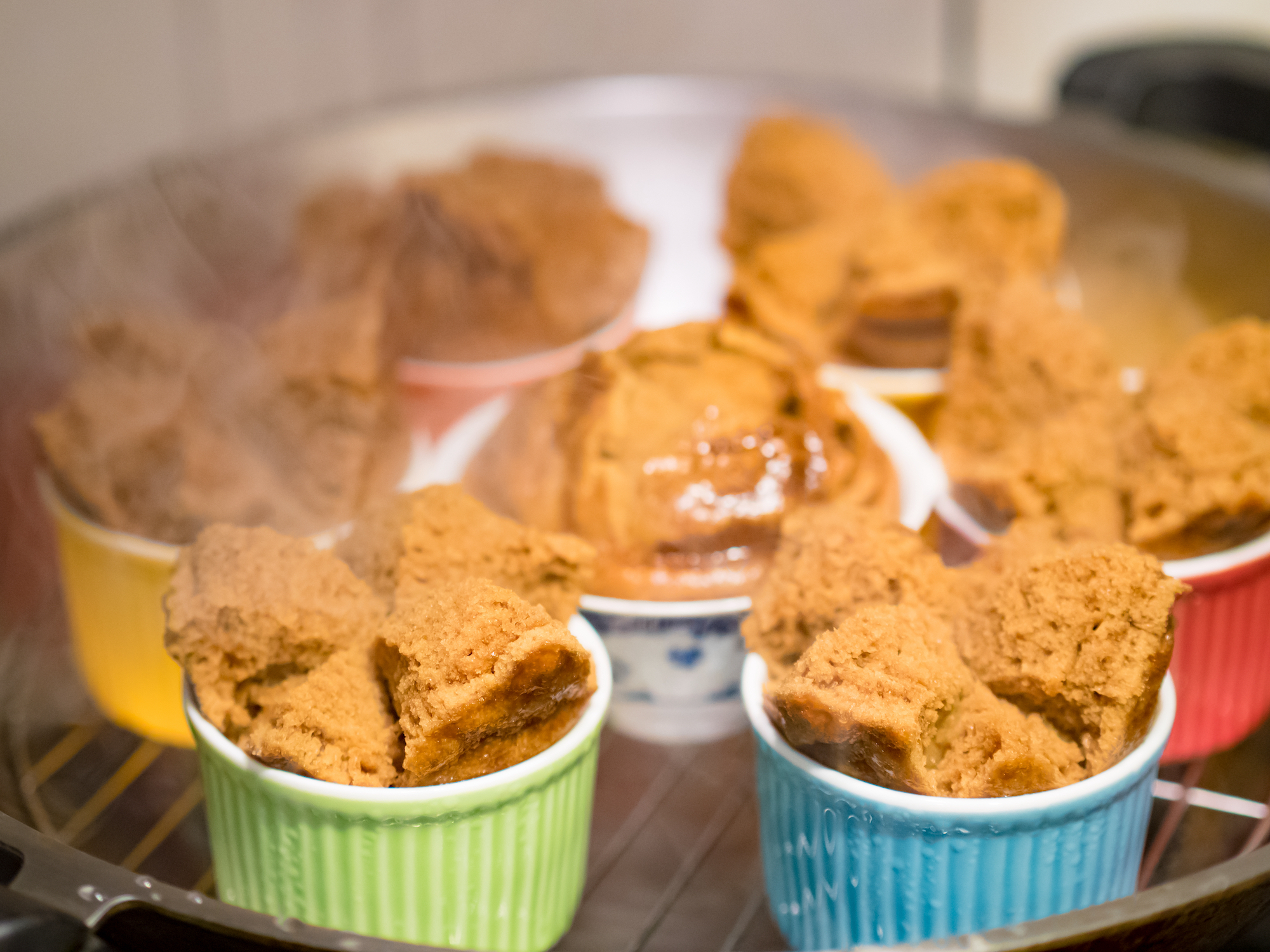 Serves

Prep time

Steam time
Ingredients:
3 eggs
60 ml vegetable oil
120 g dark brown sugar
1½ tsp vanilla extract
80 ml evaporated milk (at room temp)
1½ tbsp vanilla pudding mix (or 18 g custard powder)
120 g cake flour
⅛ tsp salt
14 g baking powder
1 tsp softened butter or coconut oil for greasing cake pan, if using (5 g)
A dusting of all purpose flour for cake pan
A classic dish on dim sum menus everywhere, Chinese steamed sponge cake – or ma lai go (馬拉糕) is also a popular Lunar New Year dessert thanks to its auspicious etymology. Not only does the last character of its name sound similar to "growth and improvement" in Cantonese, the steaming and expansion process through which it's cooked carries connotations of prosperity in Chinese culture. 
A good Chinese steamed sponge cake is soft, fluffy and egg-rich, with an addictive caramel flavour. Try your hand at this classic recipe, best enjoyed with a cup of warm tea and good company.
DIRECTIONS:
1. Add eggs, vegetable oil and dark brown sugar to a mixing bowl. Use an electric mixer, and beat on high for 5 minutes until well-combined and fluffy.
2. Add vanilla extract, evaporated milk and custard powder. Beat for 1 minute.
3. Sift cake flour, salt and baking powder. Fold into the batter gently until incorporated.
4. Let the batter sit for 30 minutes.
5. Line a 9-inch bamboo steamer basket with parchment paper. Alternatively, you can use a 9-inch cake pan greased with butter or coconut oil. Lightly coat with all-purpose flour.
6. Pour the batter into the bamboo steamer basket or the prepared cake pan.
7. Let the batter sit and settle for another 10 minutes while you heat up your steamer.
8. Steam for 30 minutes if using a bamboo steamer, and steam for 35 minutes if using a metal cake pan.
9. No need to let this one cool; enjoy this cake while it's still hot and at peak freshness!
Important note: Replace the eggs in this with plant-based yoghurt, silken tofu, or an egg substitute for a vegan version. To check if the cake is cooked through, insert a toothpick into the centre of the cake. If it comes out clean, then it's ready.
For more Chinese New Year recipes, click here