These are the best things to do with kids in Macao
These are the best things to do with kids in Macao

Link copied
Macao as a family destination? You'd be surprised. The city is famous for its grown-up pleasures but there is plenty for all ages to enjoy. We present our definitive list.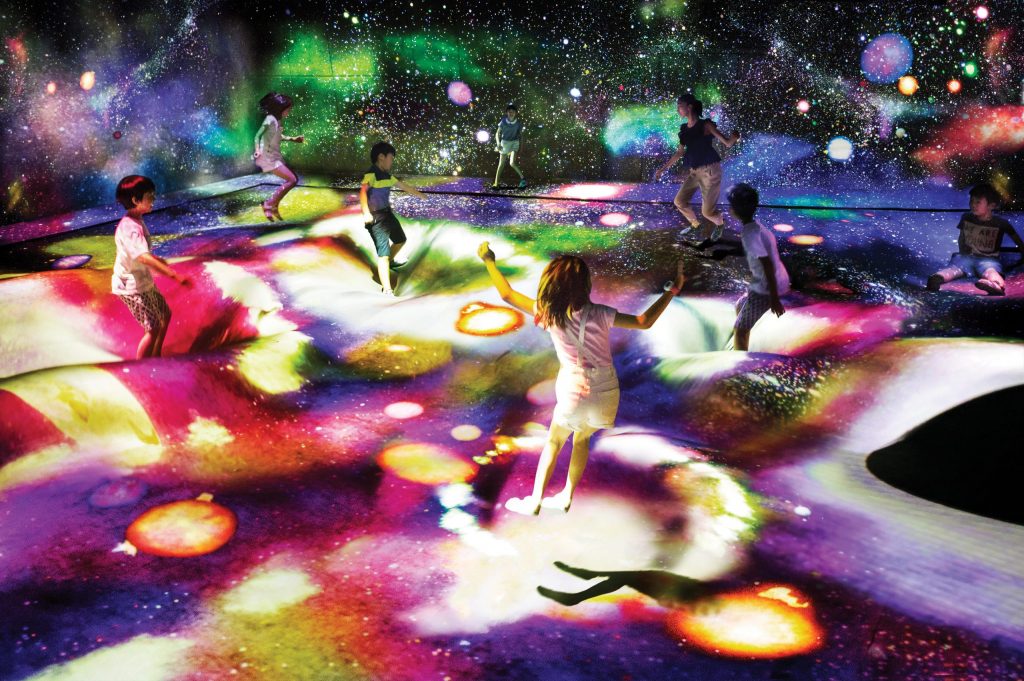 Gone are the days when Macao traded solely on its cocktail bars and casinos. According to the deputy director of the Macao Government Tourism Office (MGTO), Cheng Wai Tong, only five per cent of visitors to the territory are here for gambling.  The great majority are primarily here to shop and eat. They're also young, aged 18 to 35 in the main, and mostly female. 
Families are also in the tourism mix, drawn by Macao's many kid-friendly attractions, which have multiplied in recent years. Next time you visit, bring the little ones with you, and discover how multifaceted Macao can be.
Here's our round-up of the best things to do with kids in Macao for both indoor and outdoor fun.
Indoor
teamLab at The Venetian Macao
Describing this as a "digital art museum" (see image above) doesn't quite convey the scope and extraordinary ambition of the project, sprawling across 5,000 square metres at The Venetian Macao in Cotai. Picture yourself walking through enormous, interactive projections that aim, the venue says, "to explore new perceptions of the world and the continuity between humans and nature."
Address: teamLab Supernature Macao, Cotai Expo Hall F, The Venetian Macao, Estrada da Baía de Nossa Senhora da Esperança, Cotai, Macao
Contact: (853) 2882 8818
[See more: Top awards for teamLab Super NatureMacao]
Macao Giant Panda Pavilion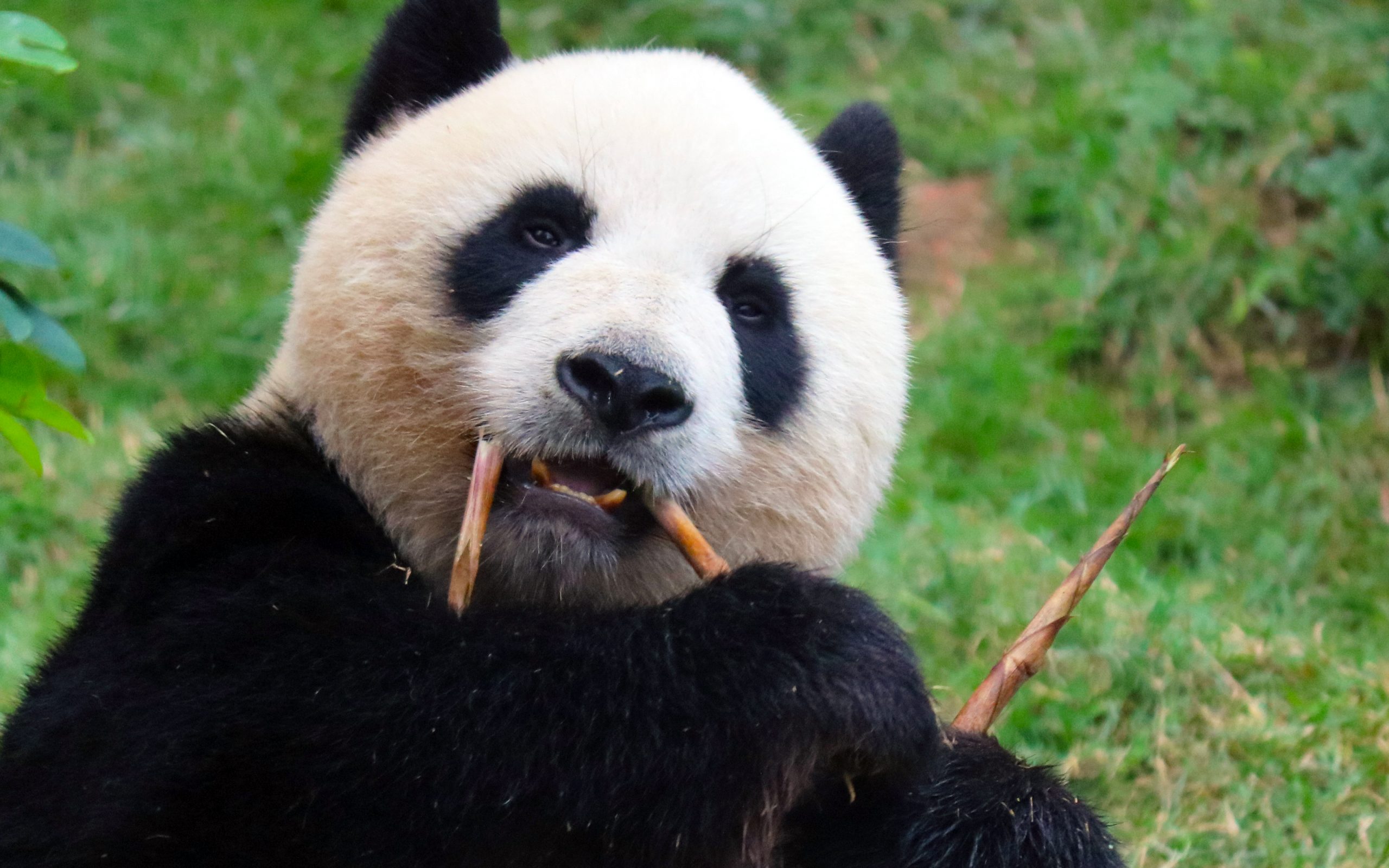 Spread over 3,000 square metres in Coloane's Seac Pai Van Park, the Macao Giant Panda Pavilion is both a panda display and an exhibition facility dedicated to the bear species. The site is home to four pandas and a variety of other animals. It closes for lunch between 1:00 pm and 2:00 pm. Feeding time for the pandas, however, is 3:00 pm to 4:00 pm, so try to swing by then. 
Address: Macau Giant Panda Pavilion Seac Pai Van Park, Estrada de Seac Pai Pan, Coloane, Macao
Contact: (853) 2888 0087
Ride2Exit 
Located on the third floor of an industrial building, Ride 2 Exit is both a skateboarding and ski store and an indoor skatepark. If your older kids are jonesing for a skate, this is the place to take them. Classes are also available. 
Address: Ride2Exit 3rd floor, Avenida do Almirante Lacerda 35, Macao
Contact: (853) 6282 2592
Macao Science Centre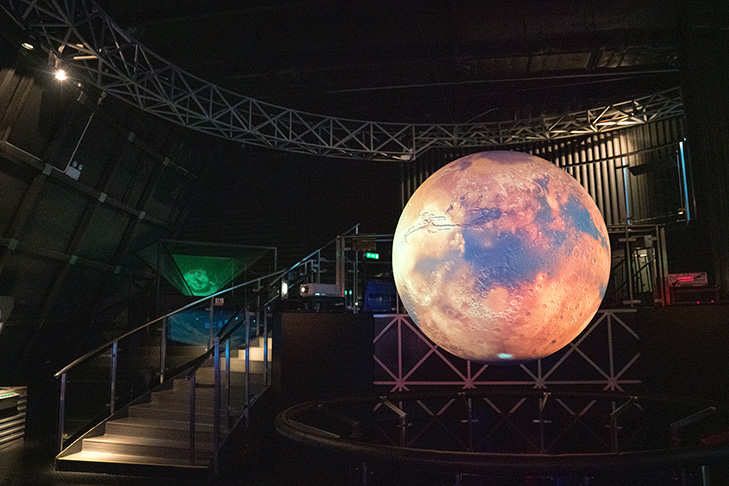 Perfect for your science-mad teen, this 20,000 square metre facility comprises a planetarium, convention centre and a museum with displays devoted to space, nautical science, robotics, acoustics, genetics, conservation, electromagnetics and more. The planetarium is the highest resolution 3D planetarium in the world, according to Guinness World Records. Plan your visit here.
Address: Macao Science Centre, Avenida Dr. Sun Yat-Sen, Macao
Contact: (853) 2888 0822
Bowling alleys
Perfect for wet weather fun, the Cotai Bowling Centre offers 24 lanes and is in a multi-use sports building that also offers squash and table tennis facilities. You'll also find bowling (and an ice rink) at the Future Bright amusement centre. Ten-pin bowling (and far more high tech attractions) feature too at Studio City's Legend Heroes Park.
Location: 
Cotai Bowling Centre, Avenida da Nave Desportiva, Cotai, Macao | (853) 2886 5017
Future Bright amusement centre, Praça Luís de Camões, Macao | (853) 2895 3399
Legend Heroes Park, Level 2, East Wing, Studio City, Estrada do Istmo, Cotai, Macao | (853) 8865 6767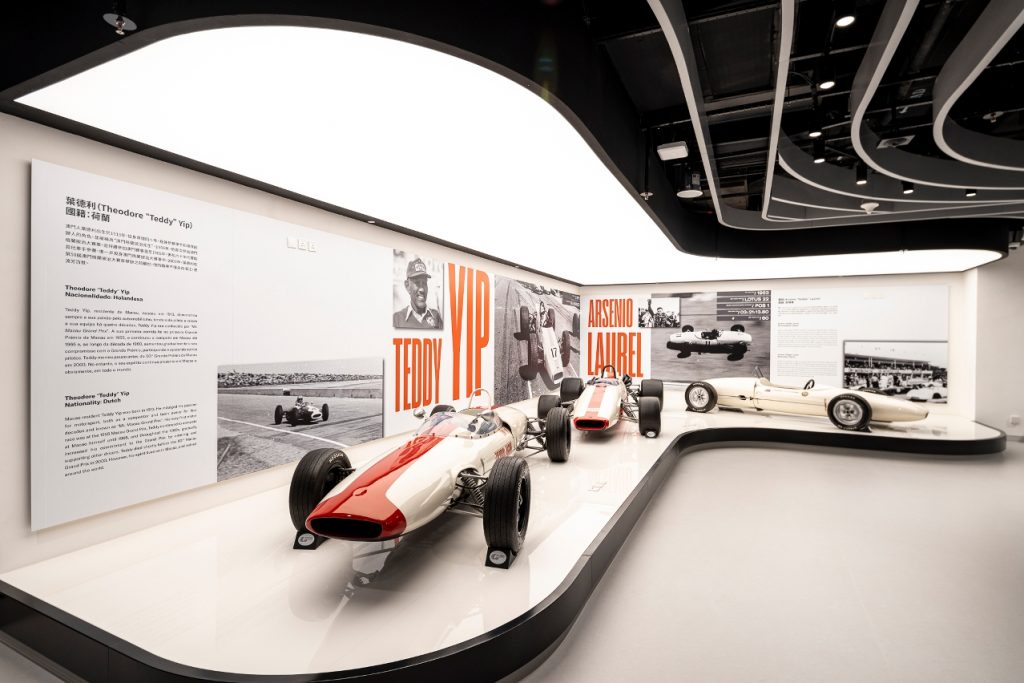 Macao Grand Prix Museum
Macao and motorsports have been synonymous since 1954, when the first Grand Prix was held. This immersive museum offers guided tours in Cantonese, Portuguese, Mandarin and English, and uncovers the fascinating history of Macao's marquee event. 
Address: Macao Grand Prix Museum, Rua de Luís Gonzaga Gomes 431, Macao
Contact: (853) 8798 4108
ArrowStrike Arena
The 1,850 square metre facility offers purpose built environments for airsoft guns (or BB guns as they're colloquially known). There are large and small combat zones, a gallery for target practice and a party room where younger children play with Nerf guns. 
Address: ArrowStrike Arena, Ed. Jardim Cidade (Block 21), 1st floor, Rua Três da Cidade Nova de T'oi Sán, Macao 
Contact: (853) 6855 5803
B. Duck and Super Fun Zone at Studio City
Don't worry if you have no idea who B. Duck is. Your five-year-old will. The Hong Kong-created cartoon character has found a home at Studio City, where you can stay in a B. Duck-themed room, eat a B. Duck afternoon tea, take selfies in front of B. Duck inflatables and even ride in a B. Duck-themed cabin on the Golden Reel ferris wheel. Get quacking here. If the kids have energy to spare, let them work it off in Studio City's Super Fun Zone – a 2,700 square metre indoor play centre.
Address: Studio City Macau, Estrada do Istmo, Cotai, Macao
Contact: (853) 8865 6767
MGM Lion Party
Inspired by the vivid art of Taiwanese sculptor Hung Yi, the Lion Party at MGM is a series of weekend art workshops for families with children aged four and above. The sessions include activities and games designed, MGM says, to "encourage children to create out of the box and use their endless imagination to bring out the infinite possibilities in art and life." Conducted in Cantonese with some Mandarin translation.
Address: MGM Cotai, Avenida da Nave Desportiva, Cotai, Macao
Contact: (853) 8802 3833
Line Friends Casa de Amigo
For the uninitiated, the Line Friends are a group of cartoon characters originally created as digital stickers for the messaging app Line. They've since exploded in popularity, applied to everything from clothing to accessories and now entire hotel rooms. The Lisboeta Hotel offers no less than 82 rooms and suites with Line Friends themes. The rooms are also, the hotel says, "decorated with splendid colours which are inspired by Portuguese architecture, and infused with a simple oriental beauty of Macau." You can also find Line Friends gifts at the Lisboeta gift shop. If that takes your family's fancy, book here.
Address: Line Friends Casa de Amigo, Lisboeta Hotel, Rua da Patinagem, Cotai, Macao
Contact: (853) 8882 6888
Outdoor
Pedal Boating on Nam Van Lake
Part of the Anim'Arte lakeside recreation project, which includes craft shops and cafés, the pedal boats are a fun way to get out on the water. It costs just 20 patacas to hire a two-seater boat for 30 minutes, and 40 patacas for a four-seater. Do note that children must be at least five years old to board the boats and children under 12 must be accompanied by an adult. 
Address: Anim'Arte Nam Van, Avenida Panorâmica do Lago Nam Van, Macao
The Kun Iam Statue Waterfront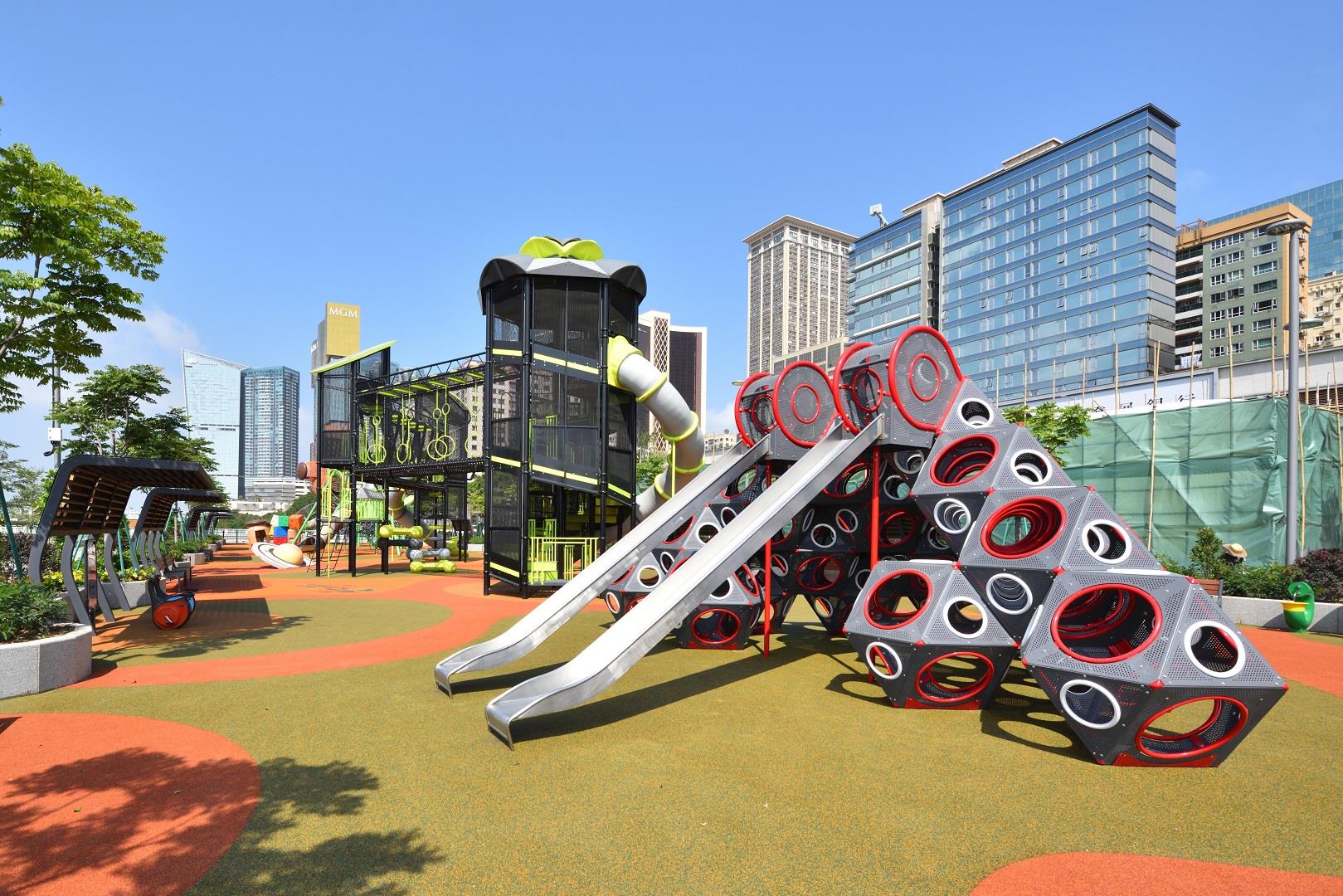 This sprawling downtown park comprises 15,000 square metres of leisure amenities including a large and excellent children's playground, winding paths, a roller skating rink and more. Enjoy the sea air then take a break at the on-site café. Go here for further information.
Address: Kun Iam Statue Waterfront, Avenida Dr. Sun Yat-Sen, Macao
Contact: (853) 2833 7676
Educational farms
Located next to Hac Sá Park on Coloane, Happy Farm is billed as "a multi-use outdoor classroom for urban dwellers to learn and experience farming." Recycling, composting, and soil and water conservation feature prominently among the activities and displays. Also on Coloane is Oscar Farm, where kids can see water buffalo, pigs and goats, as well as stroll along a mini trail that leads to a high point with views of Cheoc Van Bay.  
Address:
Happy Farm, Behind Hac Sa Park located along Hac Sa Beach, Coloane, Macao | (853) 2888 0087 
Oscar Farm, Estrada de Cheoc Van, Coloane, Macao | (853) 2888 0087
Water parks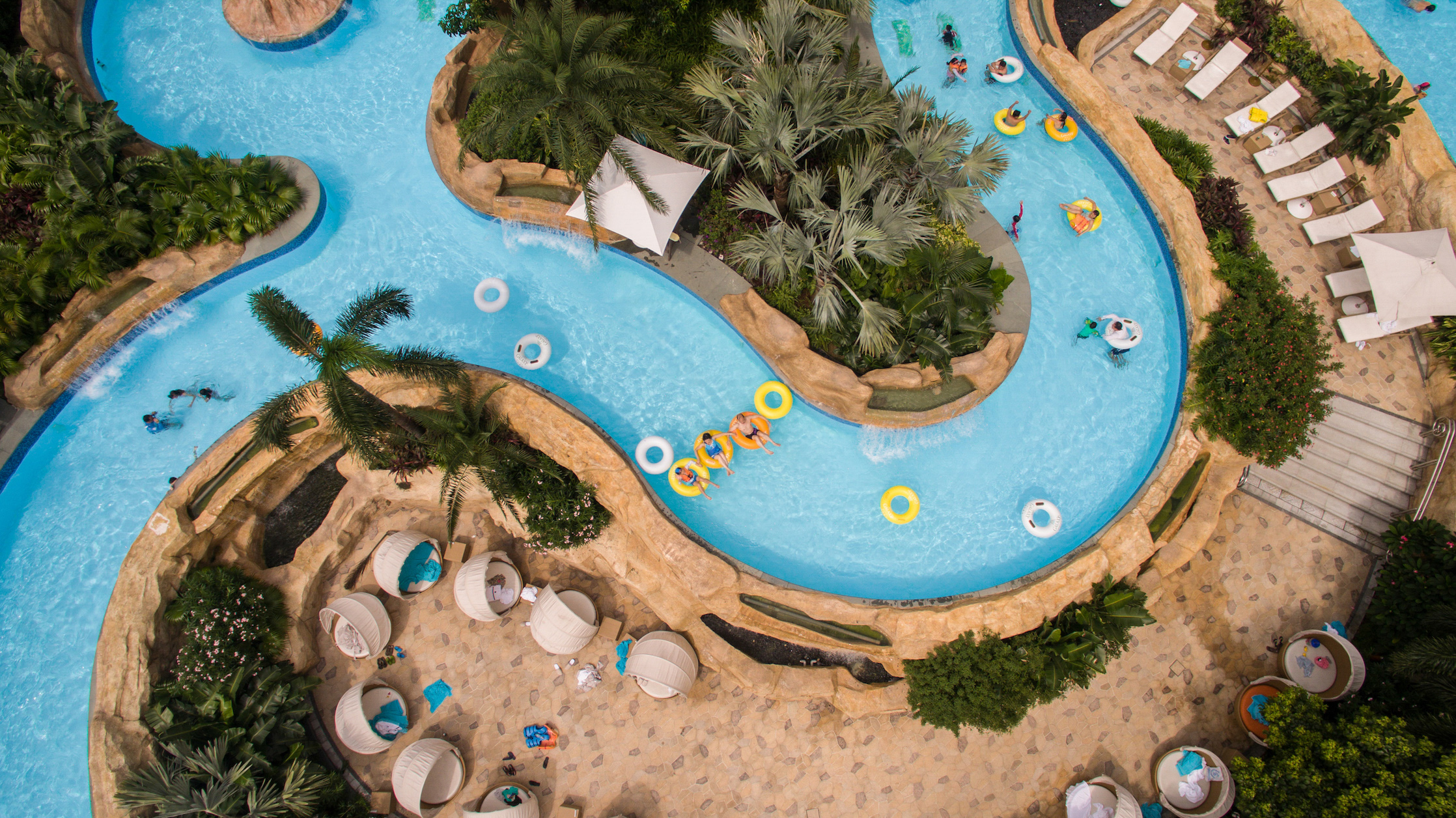 The compact Aqua World at the Parisian Macao features pools, slides and things that splash. At time of writing, the facility is under renovation and scheduled to reopen in April 2023, when it will be a godsend in the warmer weather. On a grander scale is Water Park at Studio City, which reopens in the summer and features a plethora of rafting rides and slides. King of them all is the 75,000 square metre Grand Resort Deck at the Galaxy, with its artificial beach, river ride and 8,000 square metre wave pool. It also reopens later in 2023.
Address:
Aqua World, Level 6, The Parisian Macao, Estrada da Baía de Nossa Senhora da Esperança, Cotai, Macao | (853) 8111 1268 
Studio City Water Park, Level 3, West Wing, Studio City, Estrada do Istmo, Cotai, Macao | (853) 8865 6767
Grand Resort Deck, Estrada da Baía da Nossa Senhora da Esperança, Cotai, Macao | 853) 2888 0888
— With reporting by Mani Fong and Sara Santos Silva