How Dino Burger chef-owner Karen Leong brings a wild idea to life
How Dino Burger chef-owner Karen Leong brings a wild idea to life

Link copied
Karen Leong went from baking cakes and prepping pastries to flipping larger-than-life burgers – and she couldn't be happier.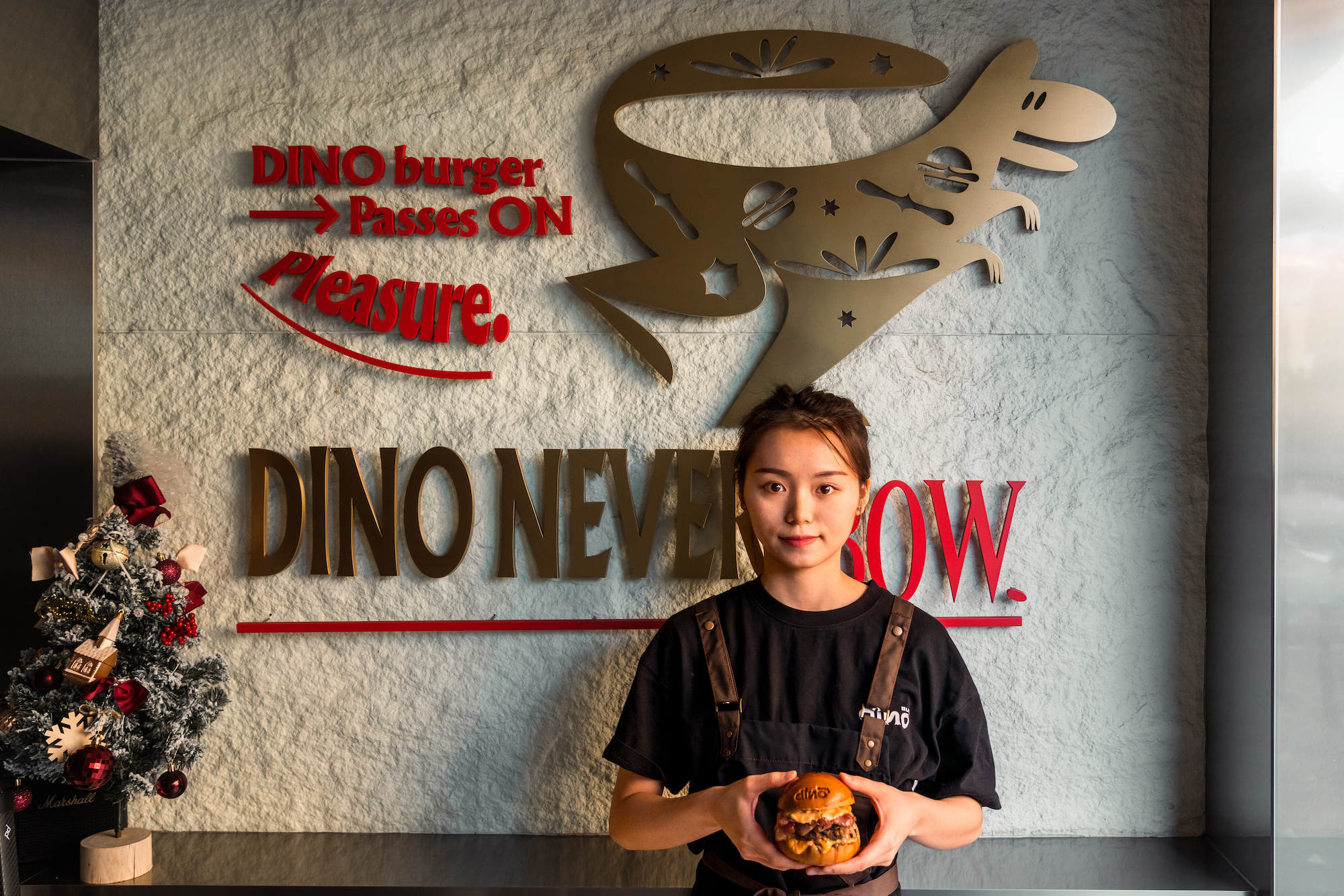 If you've ever seen Jurassic Park, then you know just how much ferocity defined the dinosaur kingdom. And it's that wild, fantastical energy that Macao-born chef Karen Leong hopes to create at Dino Burger, Macao. Opened in July 2021, between Rua do campo and Tap Seac Square, the takeaway joint has quickly become a favourite amongst burger lovers and T-Rex enthusiasts alike. Today, she has five staff members under her employment with about 2,000 clients per month.
Leong may have gotten her start as a pastry chef, but it wasn't until she left the cold kitchen that she heard the call of the wild and spread her wings professionally. In this "Know Your Chef" interview, we asked Leong to tell us all about learning to be a team player, her dramatic career change and how she dreams up her larger-than-life burger flavours.
The early days: Leong was born in 1998 in Macao but moved to Zhongshan, China, at the age of seven and stayed until secondary school. Growing up, Leong's family employed a domestic worker who taught her how to cook. They started with a simple breakfast dish – an egg served sunny side up – before moving on to dinners like soy sauce fried rice. "I was six years old and needed to stand on a chair when I cooked," she recalls fondly.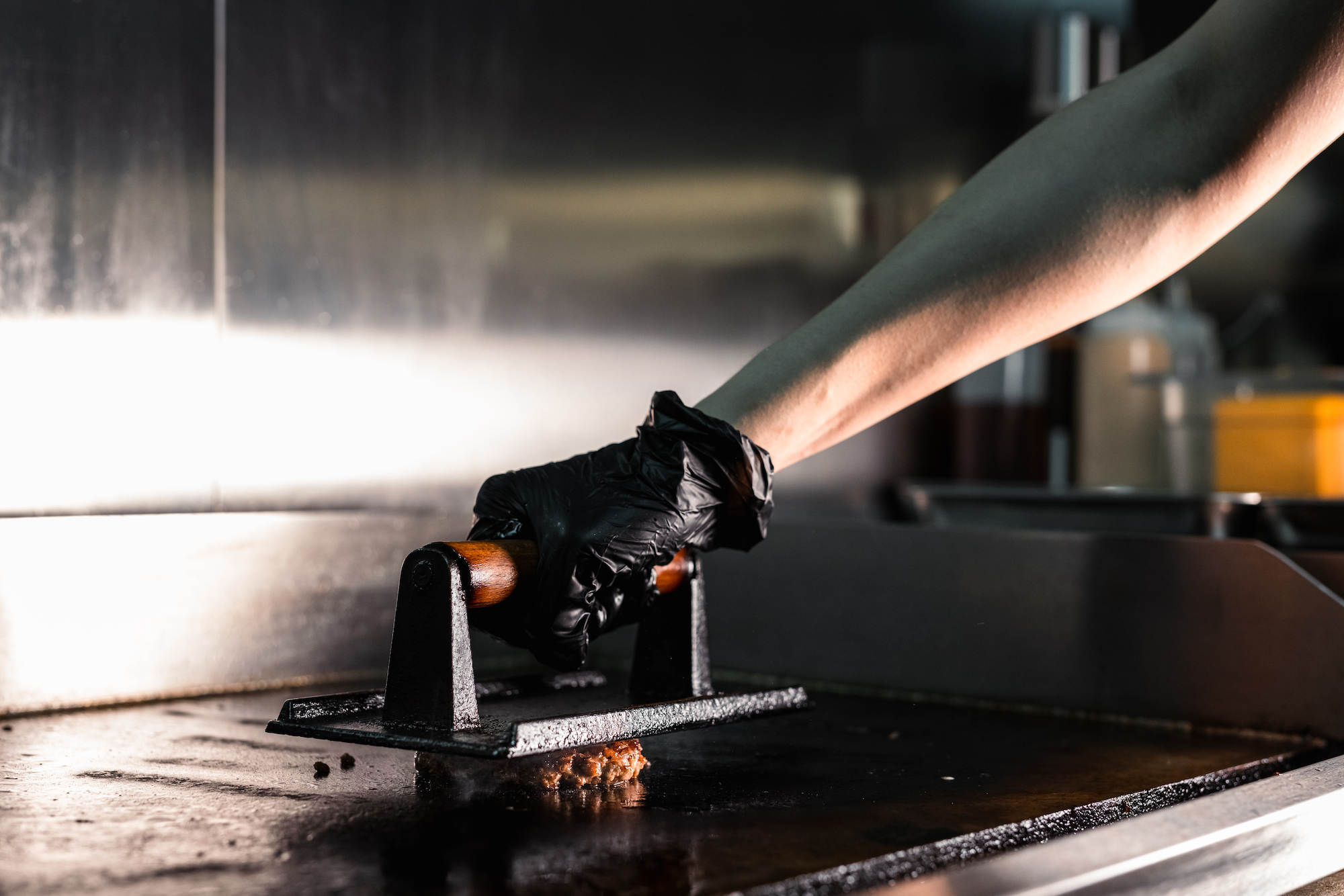 Leong also picked up recipes and skills from her older sister, who enjoyed baking cakes, tarts and pastries. "I watched [my sister] closely and felt a sudden spark of interest in pastry," Leong says. "I started making chocolate cake, tarts, cookies and at times would even sell them for charity at my primary and secondary school."
First-hand experience: Leong returned to Macao in 2016 for university, studying creative media at the University of Macau. "I was intrigued by communication and thought majoring in creative media would be more interesting than public relations or journalism, because we had courses like video production and photography," Leong says. "I regard communication as a tool for my career." 
In 2018, she spent time in the US as part of a student exchange programme, then she visited her sister in Canada during spring break in 2019. While in Canada, Leong attended a three-day pastry course, which her sister helped her apply to help Leong reach her goals. Upon entering the class, she began to feel overwhelmed because it was the first time she practised baking in a professional setting. "It was a big challenge because first, it was a master's course and second, all of the participants had extensive experience in pastry," Leong says. "Compared to them, I was a rookie who had no pastry experience." 
But she rose to the challenge and, in the end, it only solidified her love for baking. "I fell in love with pastry even more since then," Leong recalls. From madelines to financiers, caneles, caramel banana ice-cream and éclairs, Leong emerged from the course with an impressive repertoire. "I realised pastry isn't just about another dessert but a form of art," she says.
Her first job: When spring break ended, Leong returned home with a strong desire to work as a pastry chef. Later that year, while still in school, she found a job at ANCO Dessert in central Macao, where she started out washing dishes but quickly moved up through the ranks. After just one week, she was promoted to the pastry team. 
"While I was washing dishes, they also taught me how to make cakes and desserts – and saw that I was a fast learner," Leong recalls. "The head chef began giving me more opportunities after that." 
While Leong loved making pastries, she did not fit in at first. The restaurant manager said Leong was too introverted and passive for the industry and encouraged her to be more assertive. As she had never had a job before, Leong felt like she wasn't sure how to interact with her colleagues.
About 10 days into the job, Leong's boss found her standing idle after she finished washing dishes instead of talking with her colleagues or helping them finish up. That was the first time someone told Leong she had a "bad attitude" and it almost made her quit. 
"I was angry at first and I wanted to change his mind," Leong says. "As time went by, I changed my attitude and understood why the boss did what he did – only to help me grow as a chef." 
As the days went on, the young chef started communicating better and learned to be a team player. "Today, I am an employer and I choose employees who are willing to put in more effort," she says. "So I understand how my boss felt and realise that workplace communication should be efficient and effective."
After 1.5 years of making desserts and learning how to manage a kitchen, Leong set off on her own adventure in May 2021. "I know I am not experienced enough but running a business has nothing to do with your age," says the 23-year-old. "I always believe that you never know how strong you are until being strong is the only choice you have – so age does not determine your ability but your attitude does."
Her solo venture: Leong says she had "many ideas bottled up inside" her head, thanks to her travels and internet rabbit holes. "That's one of the reasons why I wanted to start my own business." 
One idea she couldn't wait to explore? Burgers. "I realised that there weren't many burger spots in Macao. When I planned on starting Dino Burger, Shake Shack had not opened up then," Leong says. "My focus was solely on making the best burgers in the city." 
Keen to bring more burger varieties to Macao, Leong spent a few days in Zhongshan, China, with her brother-in-law (who owns Grain.Yo Bakehouse restaurant) who showed her the basics when it comes to baking delicious buns, burger essentials and running an F&B business.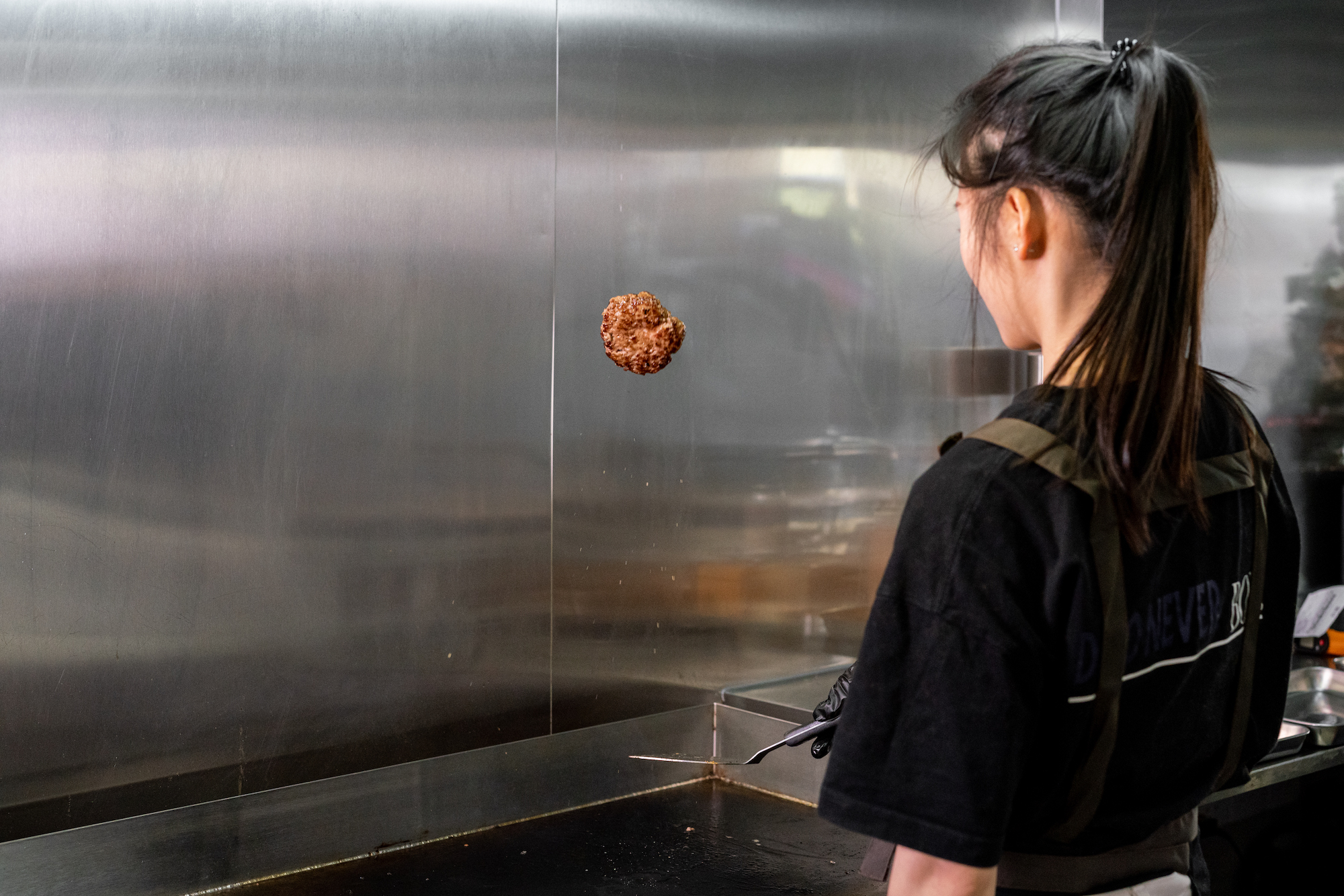 "In the beginning, he taught me how to bake a bun, then French fries, followed by patties," Leong says. "Once I mastered these techniques, I made my signature buns, dressings and sauces." 
Before travelling to Zhongshan, Leong created a menu of just eight burgers – each with a big personality and mouth-watering flavour combinations like the truffle mushroom double Wagyu cheese burger, the peanut butter honey bacon double Wagyu cheeseburger, and the T-Rex burger (a 3oz Wagyu patty and cheddar cheese served without a bun). All of the burgers come with a splash of Dino No. 1 sauce, a secret recipe that Leong says adds "extra flavour."  
She dreamed up the Torvosaurus Burger – a burger topped with mac 'n' cheese that recalls the big, powerful dinosaur – during her time in the US. "In America, they had this mac and cheese sandwich with lots of butter but it was very oily," Leong says. "The Torvosaurus is similar, but since Macao locals don't like oily food, I made the bun a different way by baking it instead of making it crispy on an oily pan."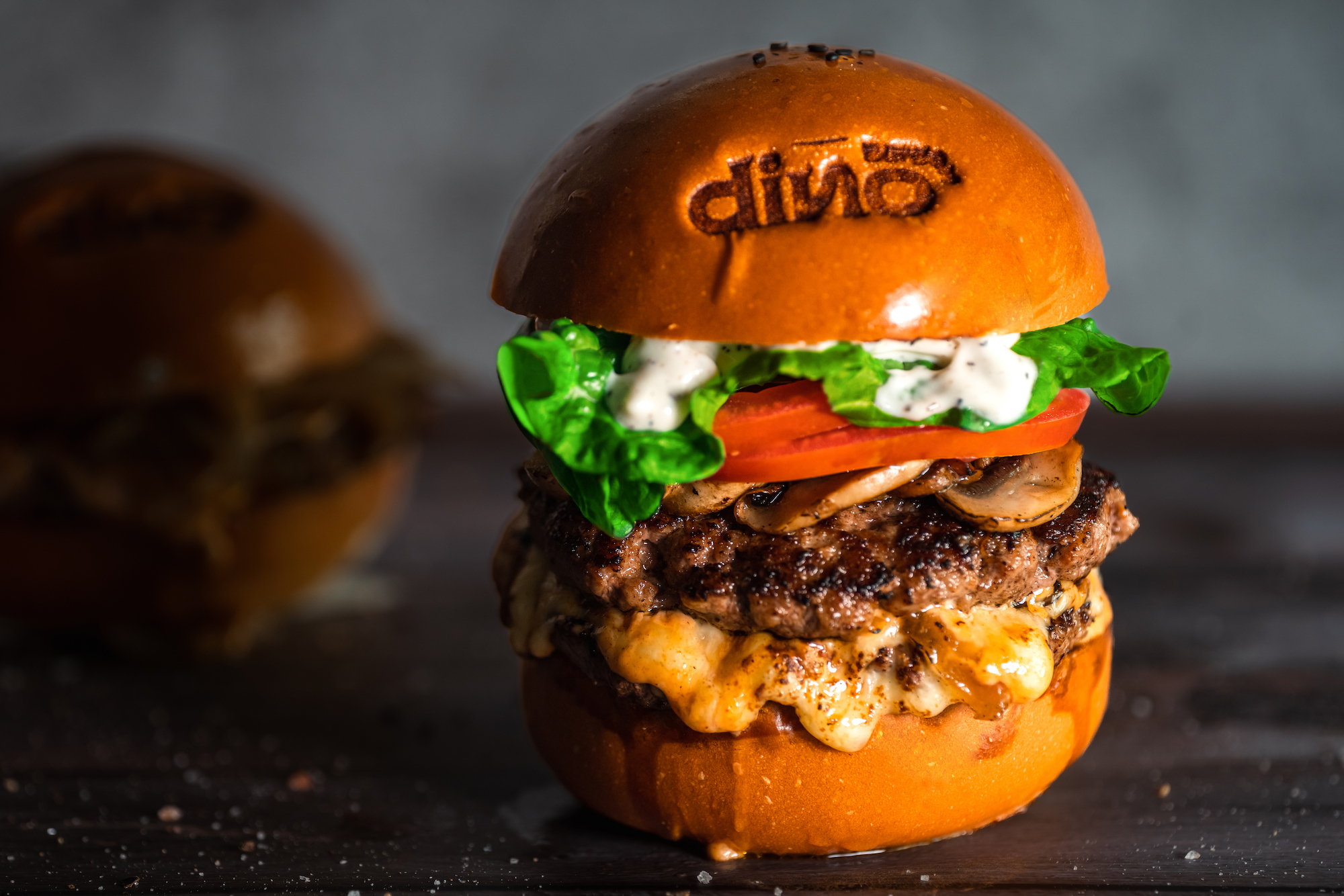 To bring her burgers to life, she had to source all kinds of suppliers, from beef to sauces, soft drinks and packaging. This kept her busy, as Leong had to taste every single ingredient to ensure she was getting the best. "Running a takeaway burger store is different from a dine-in restaurant," Leong explains. "I have to ensure the taste and the texture of the burger remains the same [between pickup and dining]."
"Wild", she says, of the burger joint's concept.  She chose the name "Dino" because it matched the theme and is also similar to din lou (癲佬), which is Cantonese slang for "crazy". 
Growing pains: It took Leong just three months to get Dino Burger on its feet, opening the burger takeaway joint in July 2021. But like any new business, it took time for the burger restaurant to find its stride. 
Leong also had to adjust. After all, she was used to working in a cold kitchen, which she says is much more relaxing. Dessert chefs can prepare in the morning before service starts, while cooks in a hot kitchen must work quickly to order.  
"People expect burgers to be grab and go," Leong says. "It takes time to educate customers and let them know we are not instant burgers – but make everything from scratch when the order is placed."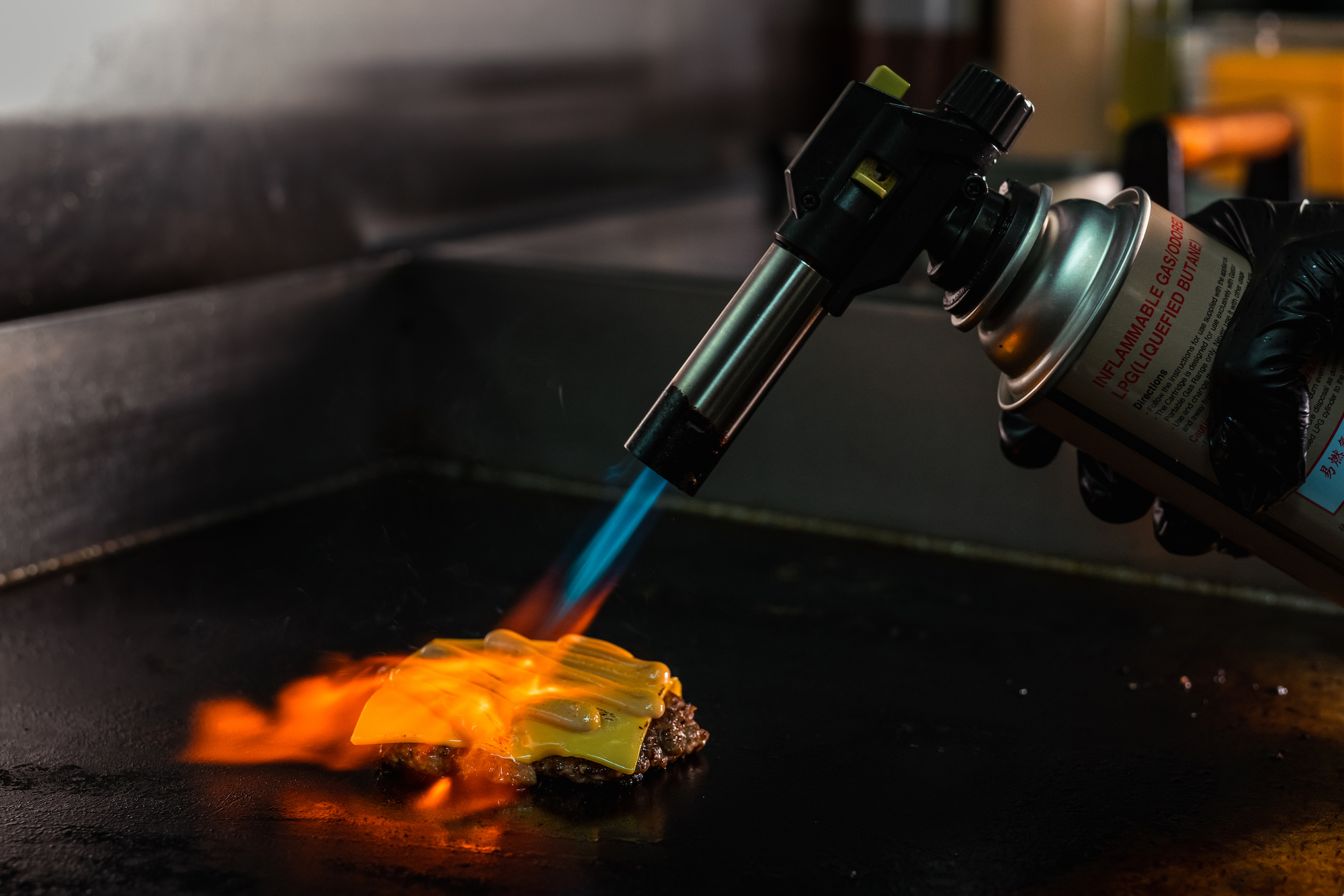 Biggest challenge: "Hiring," Leong says. "Since I want to hire someone that matches our energetic concept and also enjoys making burgers. I pay high attention to food safety, so I want to hire members who consider food safety as much as I do. But only a few local youngsters are willing to work in a hot kitchen since it is more difficult compared to other jobs."
Future plans: Less than a year after launching, Leong is already thinking about new locations for Dino Burger around the world, including mainland China, but plans to focus on Macao in the short-term. And the long-term? Given her training in pastry arts, she also hopes to develop a spin-off brand of Dino desserts.  
Her mentor: "My family" Leong says. "My mom was a businesswoman and gave me advice on how to manage my staff. She is like a friend and we have a very close relationship. My family always supported me, corrected me when I'm wrong and encouraged me when I was depressed. They are not only my business partners but also my spiritual mentor."
All-time favourite burger: " Our peanut butter honey bacon double wagyu cheese burger," she says. "Whenever I eat this burger, I think of the famous local snack: beef jerky. It helps recall this special characteristic of Macao, and all the dressing and ingredients match perfectly."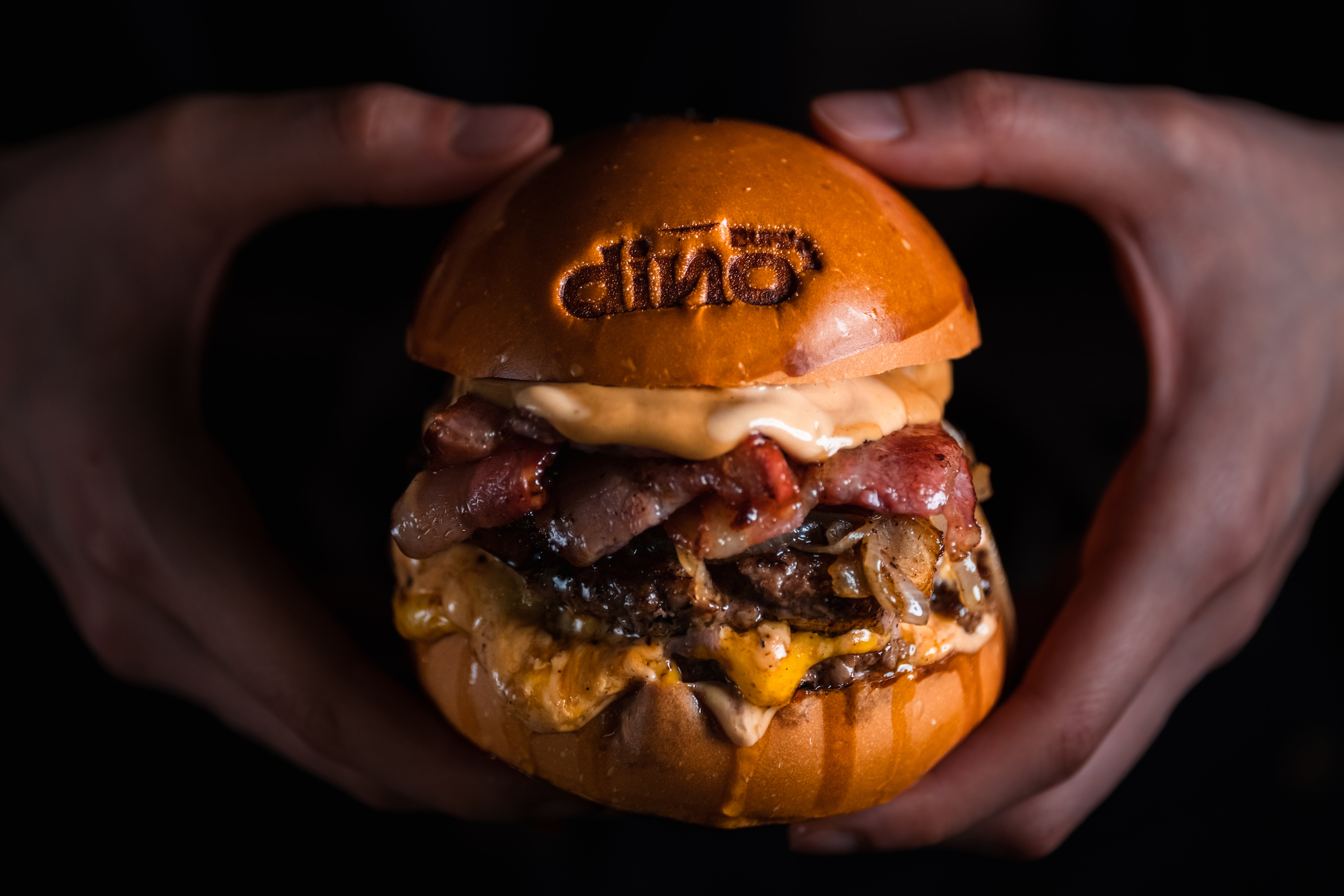 Parting advice: "Everyone has their peak moment in life," Leong says. "Don't be worried if it comes to others faster than it does to you: 'Every dog has its day.'"