Our pick of Macao's best Portuguese restaurants
Our pick of Macao's best Portuguese restaurants

Link copied
Foodies will quickly learn that while sardines, bacalhau (salted cod) and the iconic pastel de nata are great, Macao's numerous Portuguese restaurants can offer so much more.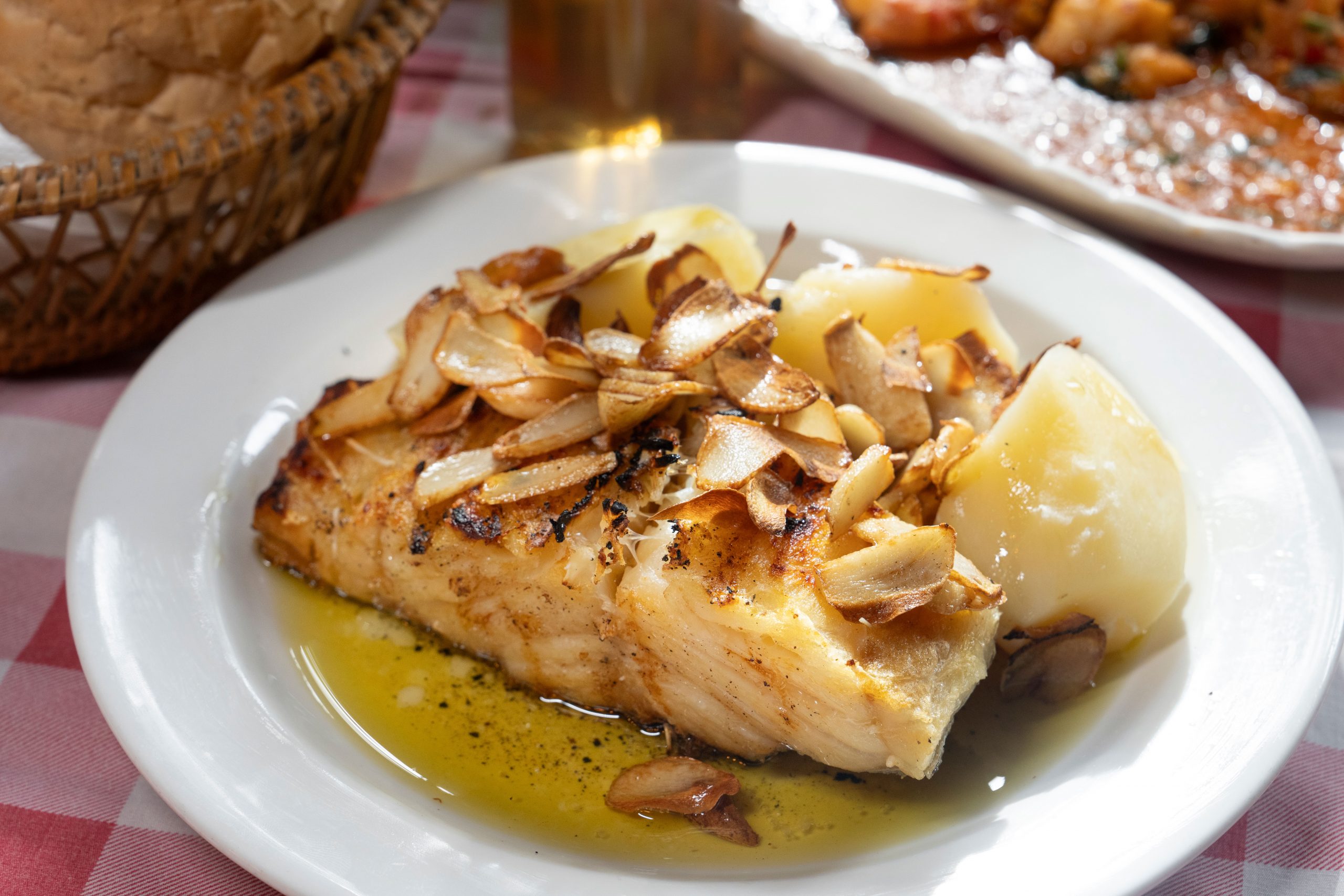 You could be forgiven for assuming that Portuguese food is on every street corner in Macao. The city does indeed have deep Lusitanian connections, but local cuisine has also been shaped by African, Indian and Southeast Asian influences, so food as you would find it in Portugal is not as ubiquitous as you might think. 
Still, if you know where to look, there are several great places to feast on authentic Portuguese fare, ranging from extremely humble food at one of the city's few tascas to solid home-style cooking and hybrid fine-casual experiences created by some of the most acclaimed Portuguese chefs of our time. Add a dash of Douro wine (Portugal's Douro Valley is the oldest recognised wine region in the world), and your taste of Old Lisbon – or new Lisbon, come to that – is complete.
Read on for our selection of the best Portuguese restaurants in Macao. 
Chiado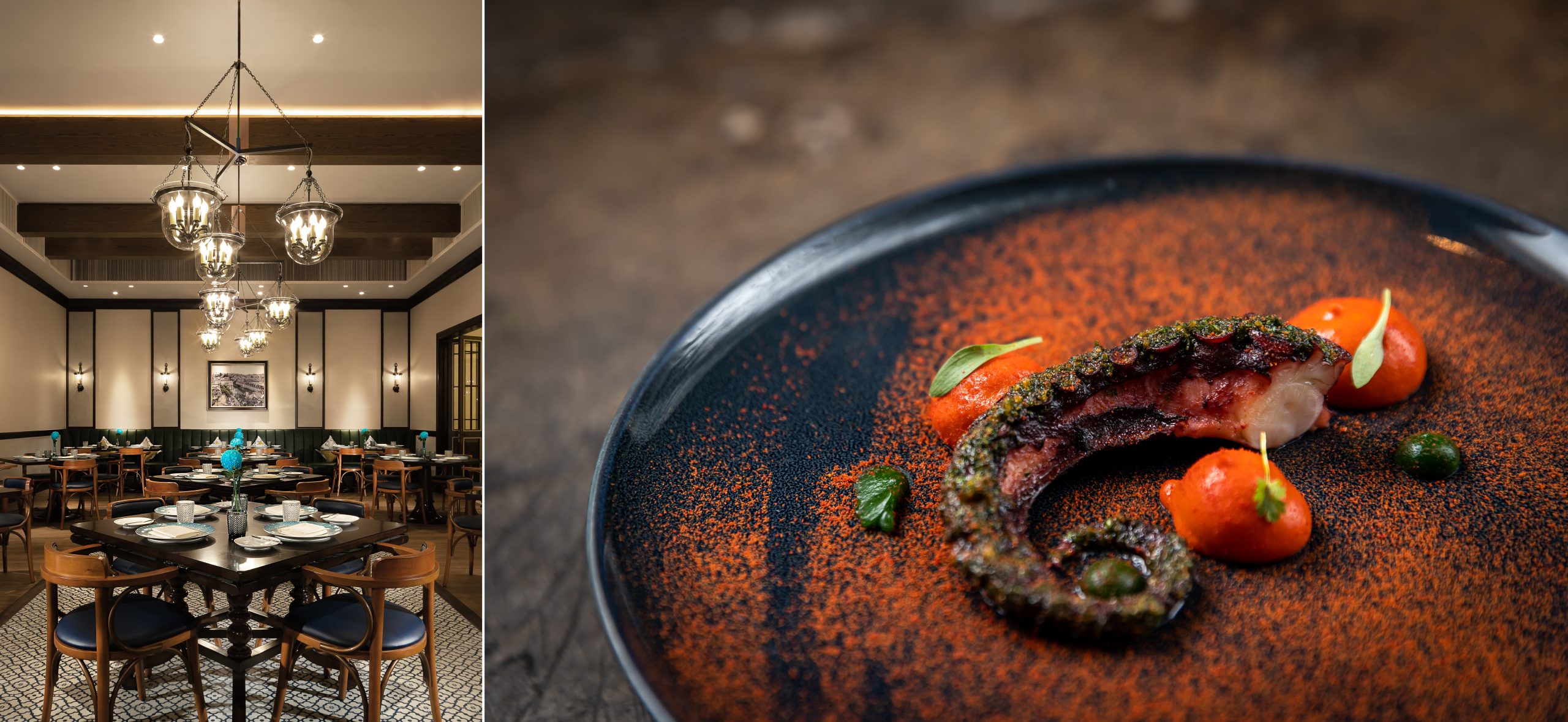 Possibly the most talked-about contemporary Portuguese restaurant at the moment, Chiado at The Londoner Macao has made its long-awaited comeback after a temporary closure due to Covid-19.
Its presiding inspiration is celebrity chef Henrique Sá Pessoa who, in addition to owning six restaurants in Portugal, has published eight cookbooks, hosted his own cooking series, and earned prestigious accolades – including two Michelin stars for his Lisbon institution Alma. 
For Chiado, Sá Pessoa has curated a menu of quintessential Portuguese dishes with a touch of modernity. In the kitchen, head chef Dario Santos and the team craft dishes like ultra-tender slow-roasted octopus with miso romesco, lobster cream with coriander mousse topped with crispy cornbread and a bountiful showcase of the best delicacies the ocean has to offer – exemplified in the braised seafood rice made with lobster, red prawns, clams and mussels. Diners can also opt for a lavish degustation menu. 
Made with shredded salted codfish and thinly chopped potatoes then bound with slow-cooked egg yolks, Chiado's signature bacalhau à brás is the best you'll have in the Macao. 
Also worth noting is the restaurant's vast wine list featuring some of Portugal's drinkable gems – from crisp Quinta da Romaneira Reserva Branco from the sun-drenched hills of the Douro Valley to the sublime late harvest Casal de Sta. Maria, the menu helps diners understand Portugal's rich wine culture.  
Best seat in the house: Book a table next to the bar and enjoy a pre-dinner cocktail
Don't leave without trying: Bacalhau à brás; and the extra fresh tuna tataki with escabeche
Fernando's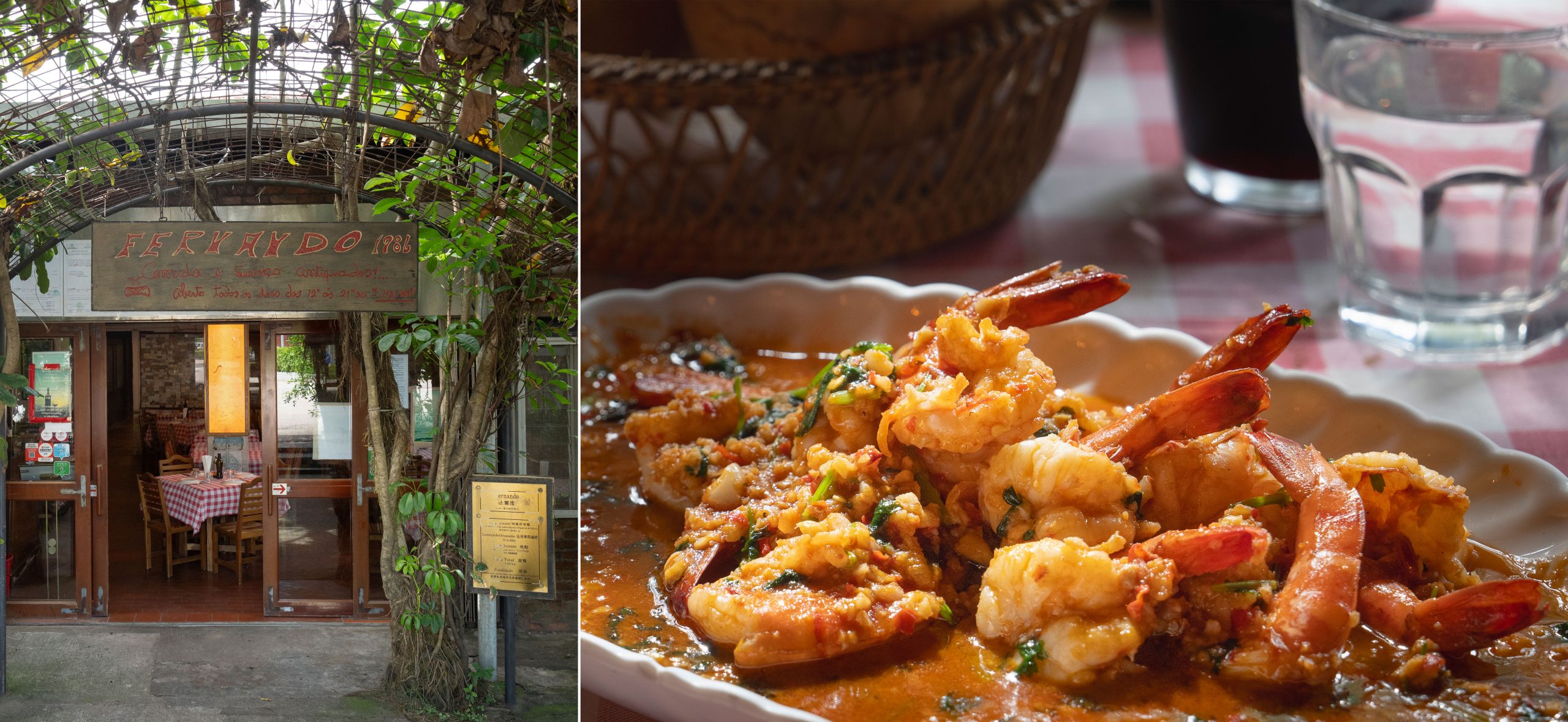 Open to the public since 1986, this beloved Macao institution sits just opposite the waterfront at Hac Sa Beach in Coloane. It's extremely popular with locals and tourists alike, so don't be surprised if a table isn't immediately free – write your name in the book provided, and enjoy a cold beer in the garden bar while you wait.
Once you're inside, it's a scene to behold: bustling waitresses, a kitchen alive with boisterous chefs and rich aromas, and a cacophony of glasses clinking and lively chatter throughout the dining room. If you want to do Fernando's right, start with the Portuguese chorizo and salad (made with tomatoes sourced from their very own garden), then dive into garlic prawns in clam sauce, fava beans, drunken steak and grilled chicken – you'll need at least a few of the huge homemade bread rolls to mop up all the sauce each dish comes with. Wash it all down with copious amounts of their homemade sangria.
Best seat in the the house: Fernando's does not take reservations and is usually packed with hungry guests lining up for a table, which means you have very few chances of of picking one 
Don't leave without trying: Camarejo, prawns in clam sauce are an absolute must and, naturally, the freshest salad in Macao
Clube Militar de Macau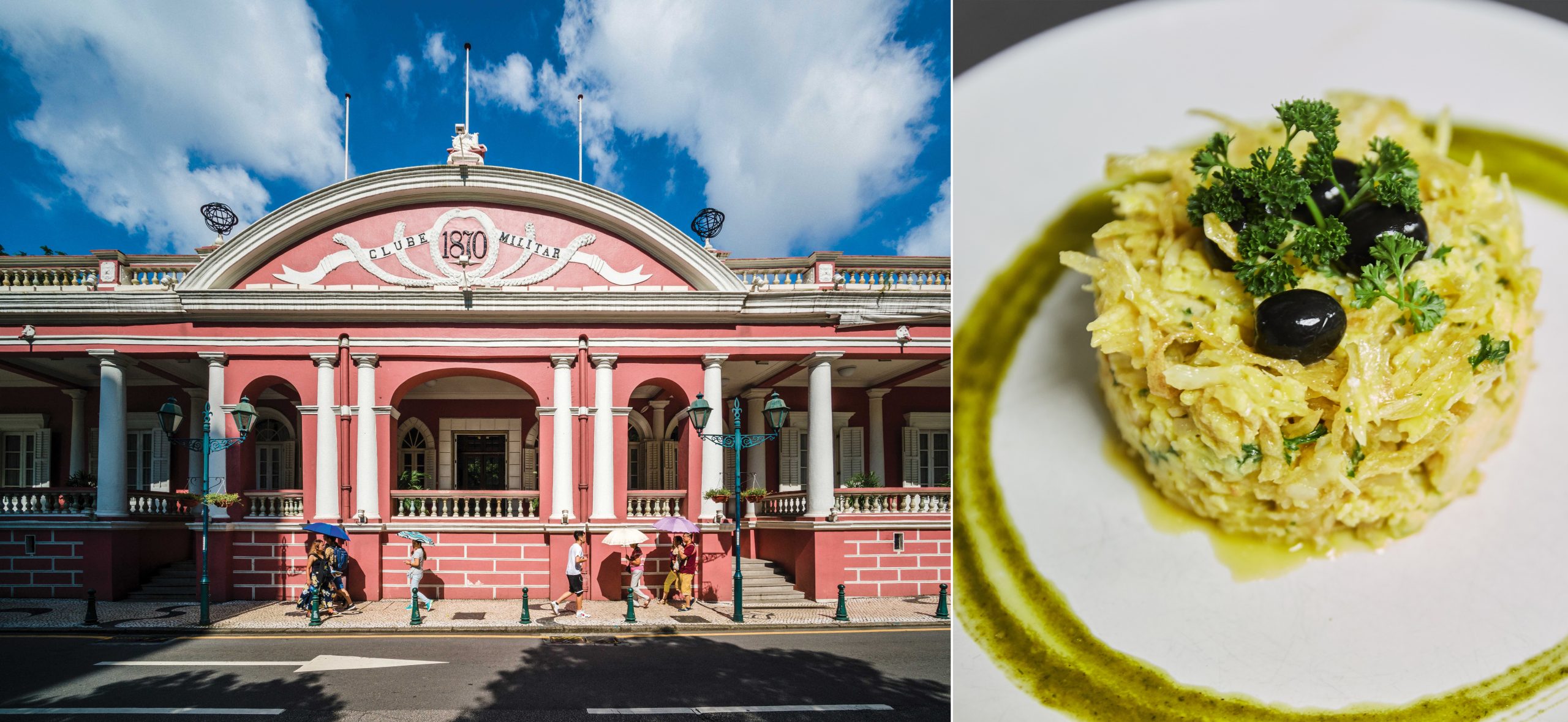 The palatial façade of this historic landmark makes quite the first impression. A pink and white colonial-style building boasting an impressive verandah, this private club was built in 1870 for military officers as a recreational and educational facility. 
Most of its facilities are still only available to members, but since 1995 its restaurant and bar have opened to the public. Devout followers of Chiado can find a few of Chef Henrique Sá Pessoa's dishes on the menu here, along with other authentic dishes by well-known Portuguese chefs. 
Try the grilled octopus salad, steamed sea bass, and black pork cheeks in red wine. If it's bacalhau you're after, you've come to the right place – there's a whole page of the menu devoted to Portugal's national dish. If you're looking for something light, the bar and lounge area does petiscos (Portuguese snacks) right, with codfish dumplings, suckling pig pie and grilled "Bísaro" sausage (from the Bísaro pigs in northern Portugal who are fed mainly on chestnuts and olives).
Best seat in the house: The best tables are reserved for Club Members
Don't leave without trying: Crab meat soup; lemon rice with black grouper and clams; and codfish and potato puree crunch
Mariazinha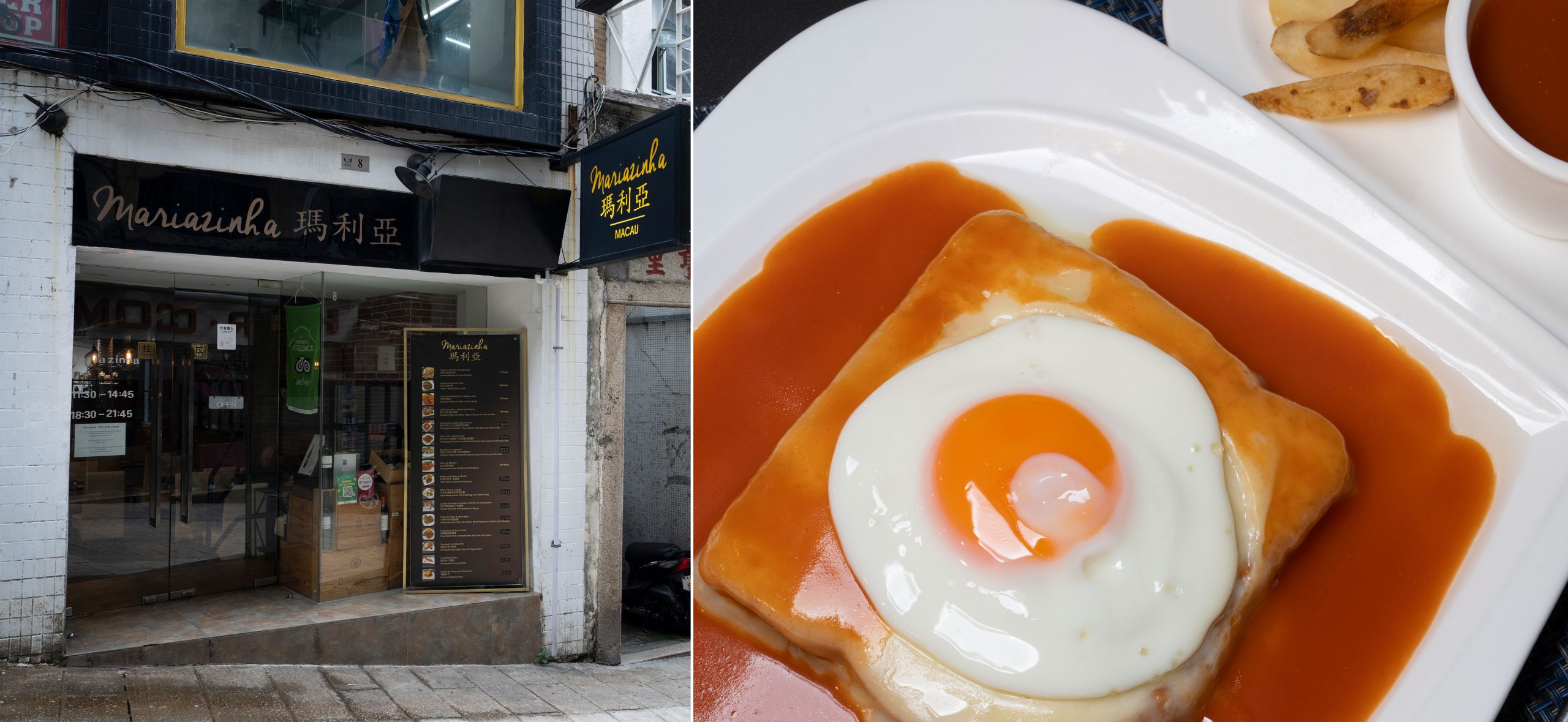 Tucked away on a quiet street near the Ruins of St. Paul's, Mariazinha may seem unassuming, but don't let that fool you – the honest-to-goodness food here packs a punch. 
The family-run restaurant is a favourite amongst locals, both Portuguese and Macanese, and for good reason. Tuck into Portuguese staples like pica-pau (thinly sliced pork topped with beer-infused gravy), seafood rice, grilled veal Mirandesa and several different styles of bacalhau. 
You'll also find dishes that are less known but still staunchly traditional in Portugal, such as the bacalhau à chefe (fried salted codfish with prawns and clams in a special sauce) and the Francesinha, Portugal's northern city of Porto answer to the French Croque madame. The huge, meat-filled sandwich is stuffed with ham, mortadella, cheese, beef and chorizo, then topped with an egg and smothered in a beer-based tomato sauce. Not on the menu but still available for those who know is the prego, a classic Portuguese steak sandwich, at Mariazinha made with a tender cut of beef, which you won't always get elsewhere.
Best seat in the house: The window-side table is the preferred spot among diners
Don't leave without trying: Sliced veal loin with mushroom sauce; Portuguese sponge cake with egg cream.
Vic's Restaurante, Rocks Hotel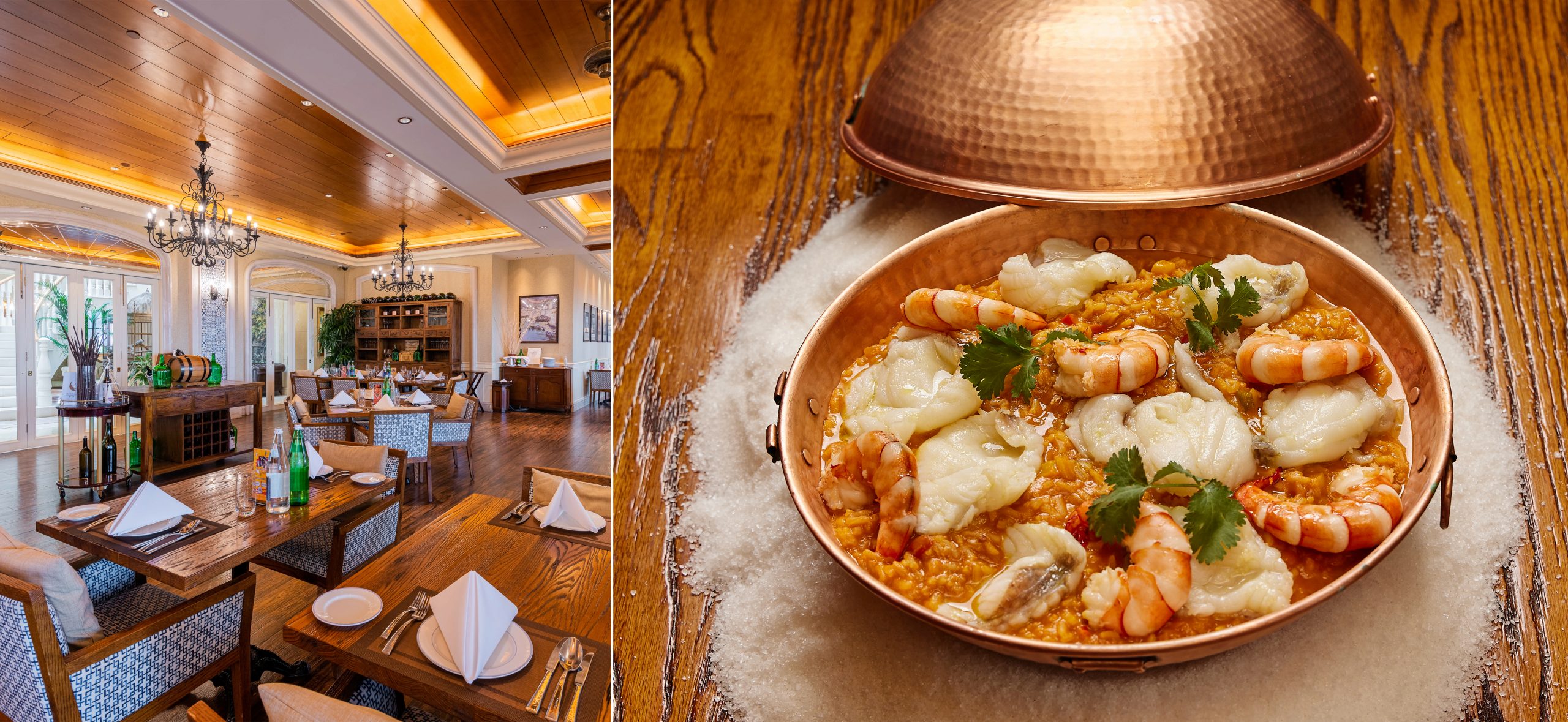 Since his arrival in 2017, Executive Chef Martinho Moniz has injected new life into Vic's Restaurante at the Rocks Hotel in Fisherman's Wharf. Occupying the hotel's spacious ground floor and bathed in natural light, the restaurant boasts panoramic waterfront views and some of the most authentic Portuguese cuisine in Macao. 
Moniz pulls inspiration from his grandmother's techniques and recipes, even using herbs grown from seeds transported all the way from his home of Barreira (a small town in the district of Leiria), then planted in a garden outside the hotel's kitchen. 
Standout dishes include duck rice, codfish cakes, garlic prawns and fish soup, cooked in the classic style with a tomato broth. For those looking to dine al fresco, enjoy your meal on the sun-drenched terrace overlooking Macao's Friendship Bridge. 
Best seat in the house: During the cooler weather, sit on the terrace for sweeping views of the Pearl River Delta
Don't leave without trying: Beiras-style tapas board; "legendary" stone soup and monkfish rice with tiger prawns
Portugália
Home to the most famous steak in Portugal, Portugália is a Portuguese chain that has been serving up its classic dish for almost 100 years at the original beer house in Lisbon. 
The Taipa Village branch opened in 2015 and has quickly become a firm favourite with members of the city's Portuguese community who are hankering for a taste of home. 
Their signature dish is the bitoque, a beef steak topped with a fried egg and special sauce, but other must-try dishes include clams in white wine, crab meat pâté, seafood rice and bacalhau à brás.
Don't leave without tucking into a serving of their homemade pudim flã or serradura pudding, the perfect end to your meal.
Don't leave without trying: The famous steak and egg should not be missed
Albergue 1601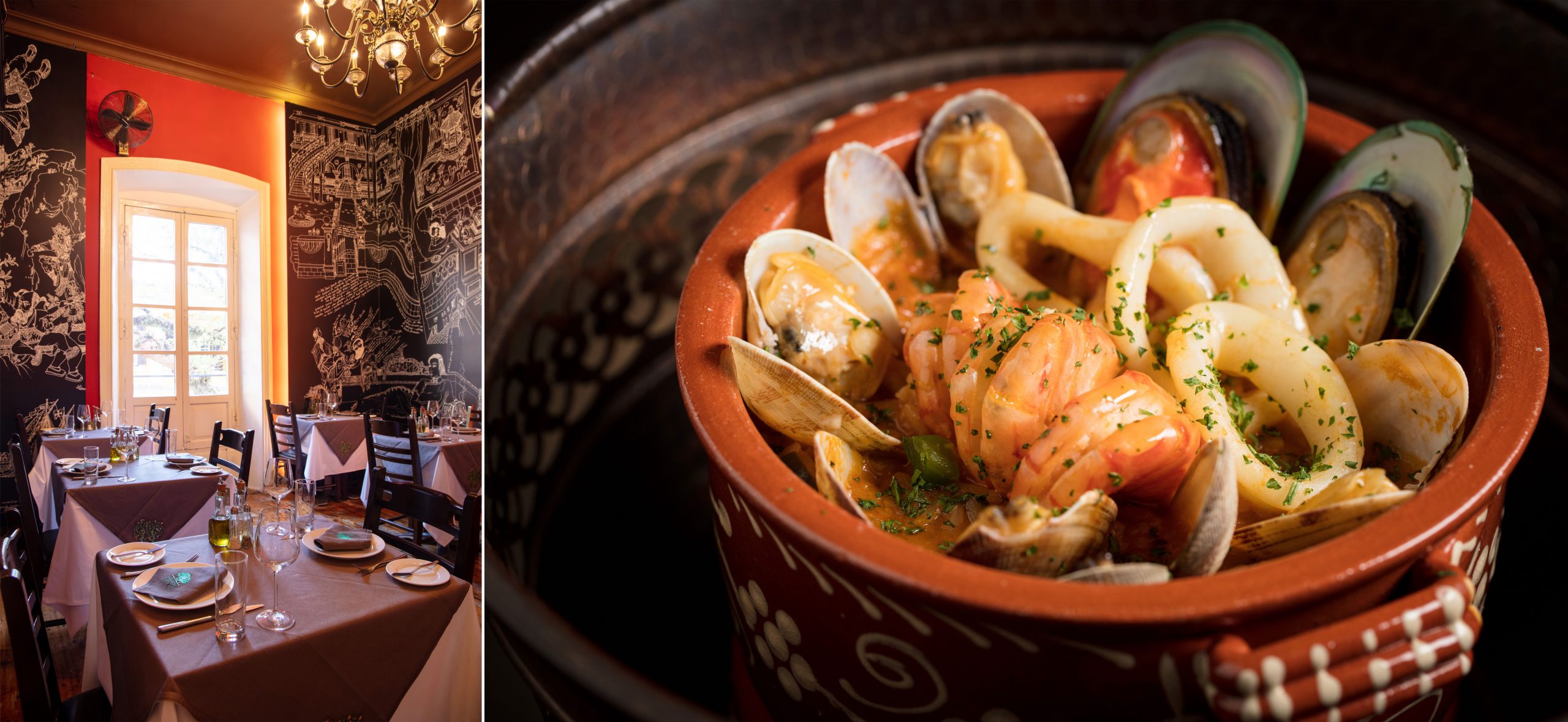 If you're looking to enjoy authentic Portuguese dishes in a historical setting, Albergue 1601 is a great option. Located in the charming cobblestone courtyard of the Albergue SCM in the historic St Lazarus district, next to a century-old camphor tree, the restaurant boasts a concise menu designed by head chef Pedro Almeida to help you enjoy the best Portuguese dishes without the confusion of too much choice. 
A winning combination is the caldo verde (potato-based soup with Portuguese cabbage and a slice of chorizo) and Gambas à Guilho (garlic shrimps), followed by the Arroz de Marisco (seafood rice stew), and a Pluma Grelhada (grilled Ibérico pork shoulder), all washed down with some of Portugal's finest wines. 
Best seat in the house: For a romantic dinner, ask for a table with views of the courtyard
Don't leave without trying: Chef's suggestions are marked on the menu with a symbol of the old tree outside. They include Bacalhau à Brás (codfish with scrambled eggs), the Arroz de Pato (baked duck rice) and the Leitão Assado (roasted suckling pig).
Mesa by José Avillez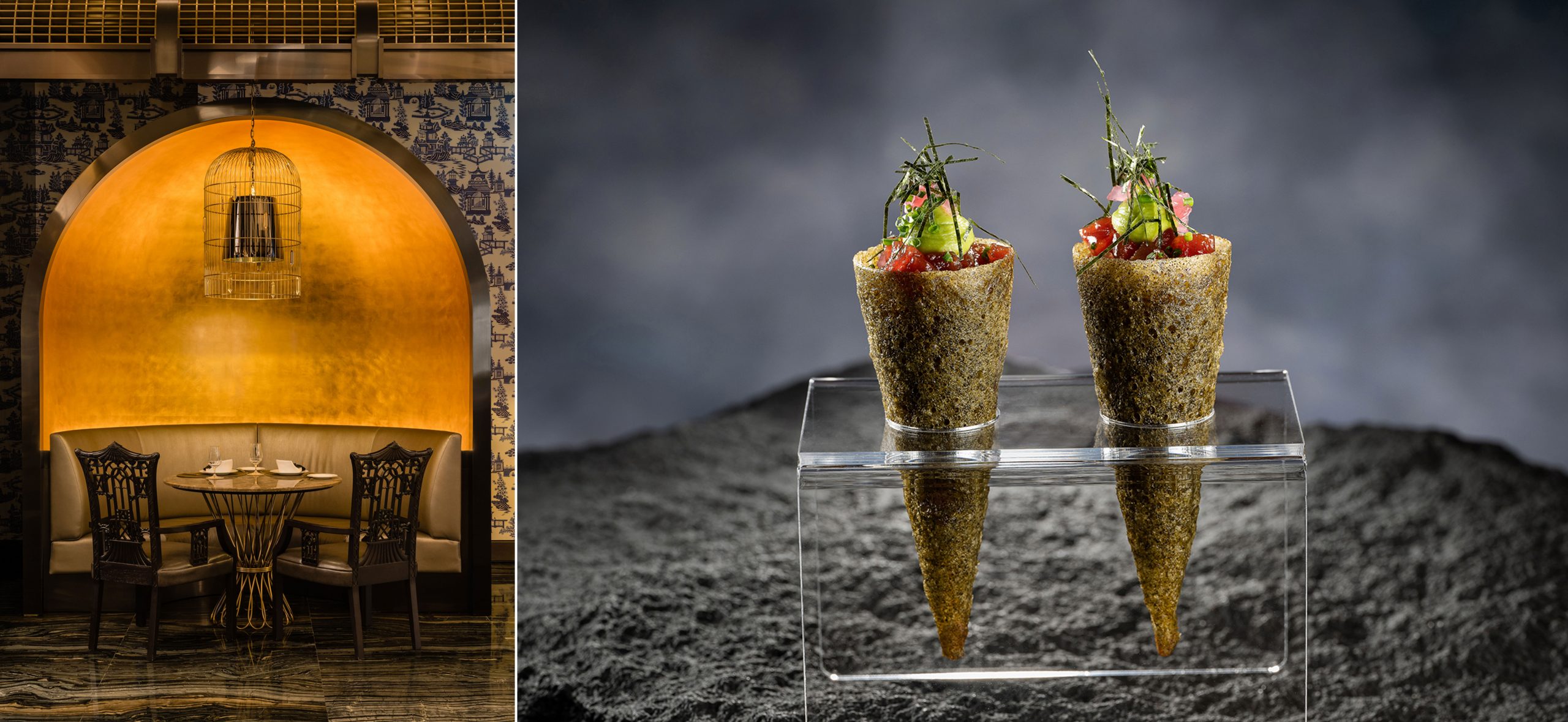 Celebrity chef José Avillez teamed up with The Karl Lagerfeld hotel in Cotai to open a Portuguese contemporary restaurant at the hotel, earning Macao the second establishment by a Portuguese Michelin-starred chef.
Avillez is the mastermind behind Lisbon's famed restaurant Belcanto, the only Portuguese establishment to make it to the coveted World's 50 Best Restaurants List. At Mesa, the chef has relied on the restaurant's Chef de Cuisine André Lai for insights on local ingredients and taste to curate and present a menu that is both true to Portuguese tradition but attuned to local dining sensibilities. 
Some dishes on the menu are either inspired by or an actual recreation of those served at the chef's restaurants in Portugal. For instance, the tempura cone with tuna tartare – one of Mesa's stellar appetisers – is served in his Taberna Bairro do Avillez and Maré. Mesa's bacalhau à brás also follows the recipe of that which you'd find at Páteo Bairro do Avillez and Maré. A Portuguese staple, the latter is a dish that Avillez has perfected over the years and he says it transports him to his childhood. 
Best seat in the house: For a slightly more intimate experience, sit at the birdcage-shaped nooks that line the dining area. Consider going earlier for pre-dinner cocktails at the bar
Don't leave without trying: Tempura cone with tuna tartare and spicy soya