Viva Macau takes US$ 25 million government loan amid financial crisis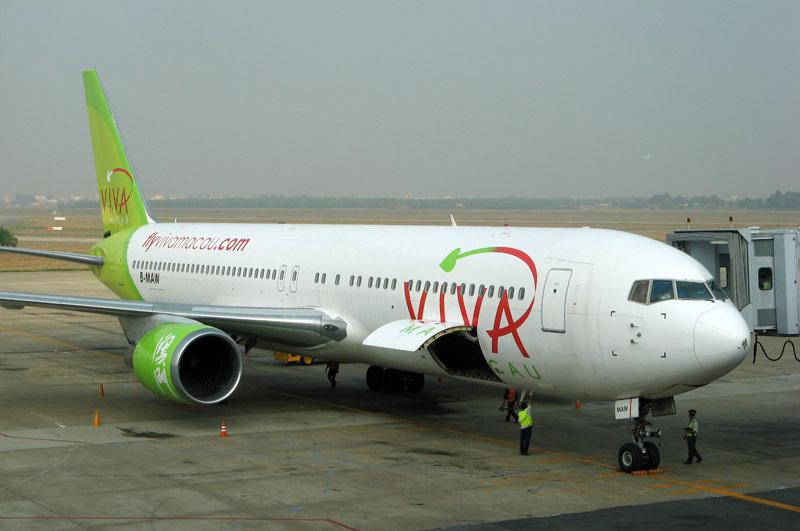 Macau, China, 20 Jan – Budget airline Viva Macau received a government bailout loan package of 200 million patacas (US$ 25 million) to ensure their operations in the wake of last year financial crisis.
The loan facility was issued by the government's Industry Development Fund and is secured against the airline's shares and assets, Secretary for Economy and Finance Francis Tam Pak-yuen confirmed officially.
According to the government the loan was granted under the support of small and medium entreprises "in order to secure the sustainability of the company".
Government aid for Viva, which launched services in December 2006, follows a similar rescue for technically insolvent Air Macau, according with today´s South China Morning Post.
Macau's airlines were hit last year as recession kept long-haul tourists at home and forced production lines to halt across southern China. The impact on Macau was exacerbated as the increase of direct cross-straits flights between Taiwan and the mainland diminished stopover traffic to the enclave.
Passenger volumes at Macau International Airport fell 16.6 per cent to 4.25 million last year, while cargo volumes nearly halved, plunging 47.9 per cent to 52,464 tonnes.
"It's the same story across the region as governments have stepped in with large scale support for their airlines," Viva Macau chief executive Reg Macdonald said to the Hong Kong paper. "The same rationale applies in Macau but it's more intensified because we are so dependent on tourism, and on aviation to drive that."
Viva operates under Air Macau's nominal monopoly on commercial flights to and from the city.
The low-cost carrier flies directly between Macau and Tokyo, Sapporo, Hanoi, Ho Chi Minh City, Jakarta and Melbourne, and has sought to gradually expand its network – subject to approval from Air Macau, which under the monopoly framework retains right-of-first-refusal on all routes.
Despite the downturn, Viva's passenger volumes increased more than 10 per cent last year as the airline laid on new routes and additional flights. It added a third Boeing 767 to its fleet in September and is eyeing more, according to Macdonald. He said aircraft leasing rates on Boeing 767 300ER models were down about 75 per cent from a year ago.
"Building routes and fleets is not a cheap proposition," said Macdonald, who declined to provide South China Morning Post details about the government loan.
(MacauNews)