So calls for more Macau government measures to boost tourism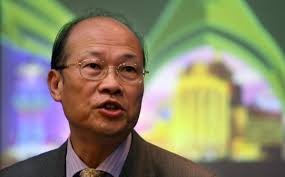 SJM Chairman Ambrose So Shu Fai said the gaming industry hopes that the government will come up with new measures to boost tourism.
So made the comment on the sidelines of the gaming operator's annual charity auction and dinner at Grand Lisboa. The auction of five lots of meals at Michelin three-star French restaurant Quintessence in Tokyo with rare French wines raised a total of 2.92 million patacas. The company raised 4.58 million patacas in last year's charity auction.
A cheque presentation ceremony was held right after the auction, all of the income of which was donated to 10 local charities.
So pointed out that the city's gaming revenue has dropped about 30 percent so far this year. He said the industry had expected the figure.
Official statistics released on Monday showed that the city's gross gaming revenue sank 32.2 percent year-on-year to 16.4 billion patacas last month, the 18th straight month of year-on-year-declines.
So pointed out that the decrease rate has narrowed, but he was quick to add that some time was needed to see whether the decline has started to stabilize.
"The gaming revenue has dropped, but remember that we've had eight to 10 years of high double digit growth which was hard to achieve and was only made possible because of the liberalization of the gaming industry [in 2002] and the central government's support of the individual visit scheme [launched by Beijing in 2003]," So said, adding, "Now we're back to a normal growth rate, which is the right thing."
Despite the delayed opening of Studio City, the recent announcement of Wynn Palace's construction delay and the fire at SJM's Lisboa Palace in Cotai last weekend, So said Lisboa Palace was still on track to be completed in the fourth quarter of 2017.
"The delay of the Hong Kong-Zhuhai-Macau Bridge's completion means that the [Lisboa Palace] opening day is closer to the period when the bridge will be operational which is good for us," So said, pointing out that the gaming industry also hopes that the government could launch more measures to stimulate the tourism industry. Completion of the bridge has been delayed to late 2017, according to a recent Hong Kong government announcement.
"The concern for Macau is whether there are too many tourists that would affect local people's quality of life, so the government should adopt crowd management measures so that we can take in more tourists," So said, "As a tourism hub, we have to be welcoming to tourists."
According to official statistics, Macau recorded 25.49 million visitor arrivals in the first 10 months of the year, down by 2.6 percent.
(macaunews/macaupost)