Collision between Cotai WaterJets high speed ferry and fishing boat causes one death and two injured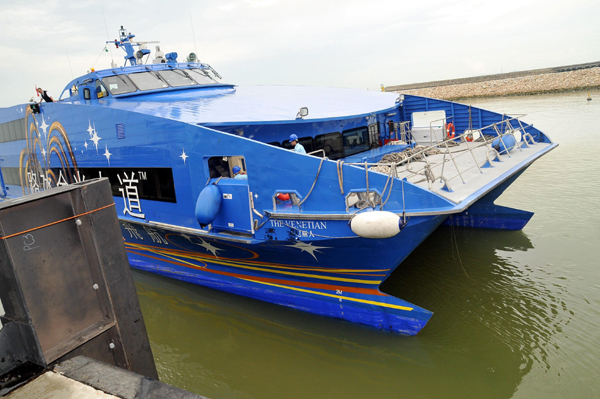 Macau, China, 3 Sept – One person died and two others were injured Tuesday in a collision between a Cotai WaterJets high speed ferry and a Chinese fishing boat 7.5 nautical miles from Macau, Macau´s Maritime Administration (Capitania dos Portos) said.
The accident took place in the waters of the jurisdiction of Chinese municipality Zhuhai, near Macau, and the Chinese authorities are holding an inquiry to find out who was responsible.
The accident, which happened at the end of the morning on Tuesday, caused the fishing boat to sink immediately.
One of the crew from the fishing boat died in hospital some time after being removed from the water.
The high speed ferry owned by Cotai WaterJets, a subsidiary of Las Vegas Sands, which manages the Venetian Resort in Macau, was on route from Hong Kong to the Taipa terminal in Macau, when the accident occurred.
The high speed ferry was carrying 130 passengers and 13 crew at the time of the collision.
This is the second accident at sea involving Cotai WaterJets since it started operations in November of 2007 with 3 high speed ferries.
The first accident involving Cotai WaterJets happened in June last year when one of the company's boats collided with a ferry owned by New World First Ferry, of Hong Kong, which led to 15 people being injured.
(MacauNews)