Chui says Macau 'is a friendly & open int'l tourism partner'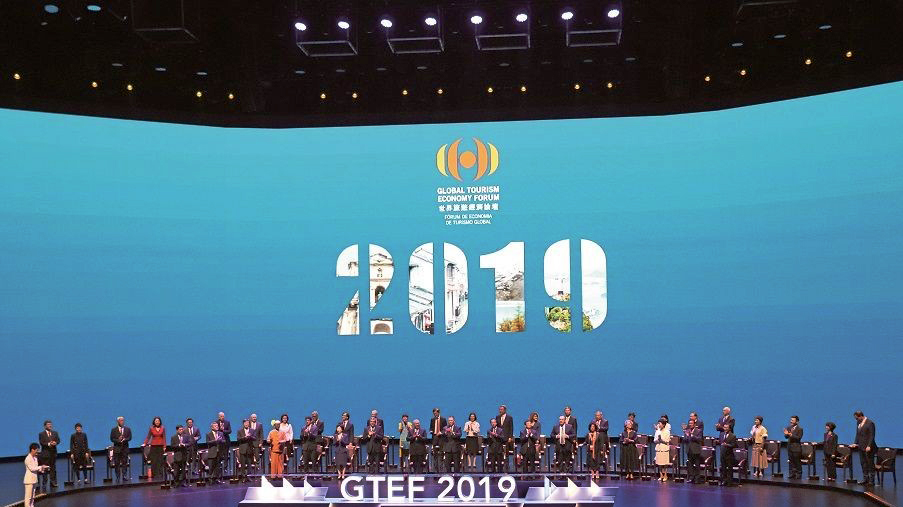 Chief Executive Fernando Chui Sai On pledged during Monday's opening ceremony of this year's Global Tourism Economy Forum (GTEF) that the local government will strengthen Macau's role as a hub for linking the nation with the rest of the world, seeking to create broader and more comprehensive mutual benefits and gains for all.
The two-day forum ends today. Its opening ceremony took place at MGM Cotai on Monday afternoon.
The forum has been held in Macau annually since 2012. The annual event is hosted by Macau's Secretariat for Social Affairs and Culture in conjunction with several international organisations such as the Madrid-based United Nations World Tourism Organisation (UNWTO) and Global Tourism Economy Research Centre (GTERC).
This time the forum is themed "Tourism and Leisure: Roadmap to a Beautiful Life", featuring a range of discussion panels with topics centred on the concept of "Beautiful Life "raised by President Xi Jinping.
This year's forum is attended by some 2,000 participants including ministerial-level officials from the tourism and related fields, industry leaders, and experts and scholars from various countries and cities across the world, as well as delegations from the 2019 GTEF's partner countries – Argentina and Brazil and its featured partner province – Jiangsu, the Secretariat for Social Affairs and Culture said in a statement on Monday.
Chui said in his speech that Macau is seizing the significant opportunities brought by the nation's Belt and Road Initiative (BRI) and Guangdong-Hong Kong-Macau Greater Bay Area (GBA) projects, as well as Macau's integration into the overall national development.
Chui said that Macau is dedicating itself to developing itself into a world tourism and leisure centre, a business-service platform between China and Portuguese-speaking countries (PSCs), and an exchange and cooperation base of multiple cultures' co-existence with Chinese culture as the mainstream.
Chui also said that the local government is always committed to upholding the "One Country" while making good use of the advantages brought by the "Two Systems". Chui said that the local government will strengthen Macau's status as a hub for serving the nation and linking it with the rest of the world.
Chui noted that tourism has always been an important pillar of Macau's economy. Since the establishment of the Macau Special Administrative Region (MSAR) in 1999, the city's tourism industry has been developing rapidly, Chui noted, adding that the number of visitor arrivals has increased by almost four times while the number of hotel rooms has risen by more than three times.
According to the Macau Post Daily, Chui also said that Macau will continue to strengthen its communication and cooperation with international tourism organisations. Chui said that the local government hopes that through the GTEF, more countries and regions will appreciate that Macau is "a friendly and open international tourism partner which pays strong emphasis on the tourism industry."
Macau Government Tourism Office (MGTO) Director Maria de Senna Fernandes said on Sunday that her office expects close to 40 million visitor arrivals this year, the highest ever. Last year's number of visitor arrivals stood at 35.8 million. Compared to 1999, when Macau recorded 7. 44 million visitor arrivals, this year's expected nearly 40 million visitor arrivals would be an increase of almost 440 per cent.