Macao's first 'National Geographic Emerging Explorer' talks insects, new discoveries and climate change
Macao's first 'National Geographic Emerging Explorer' talks insects, new discoveries and climate change

Link copied
Danny Chi-Man Leong shares the story behind his ant discovery and encourages the public to pitch in.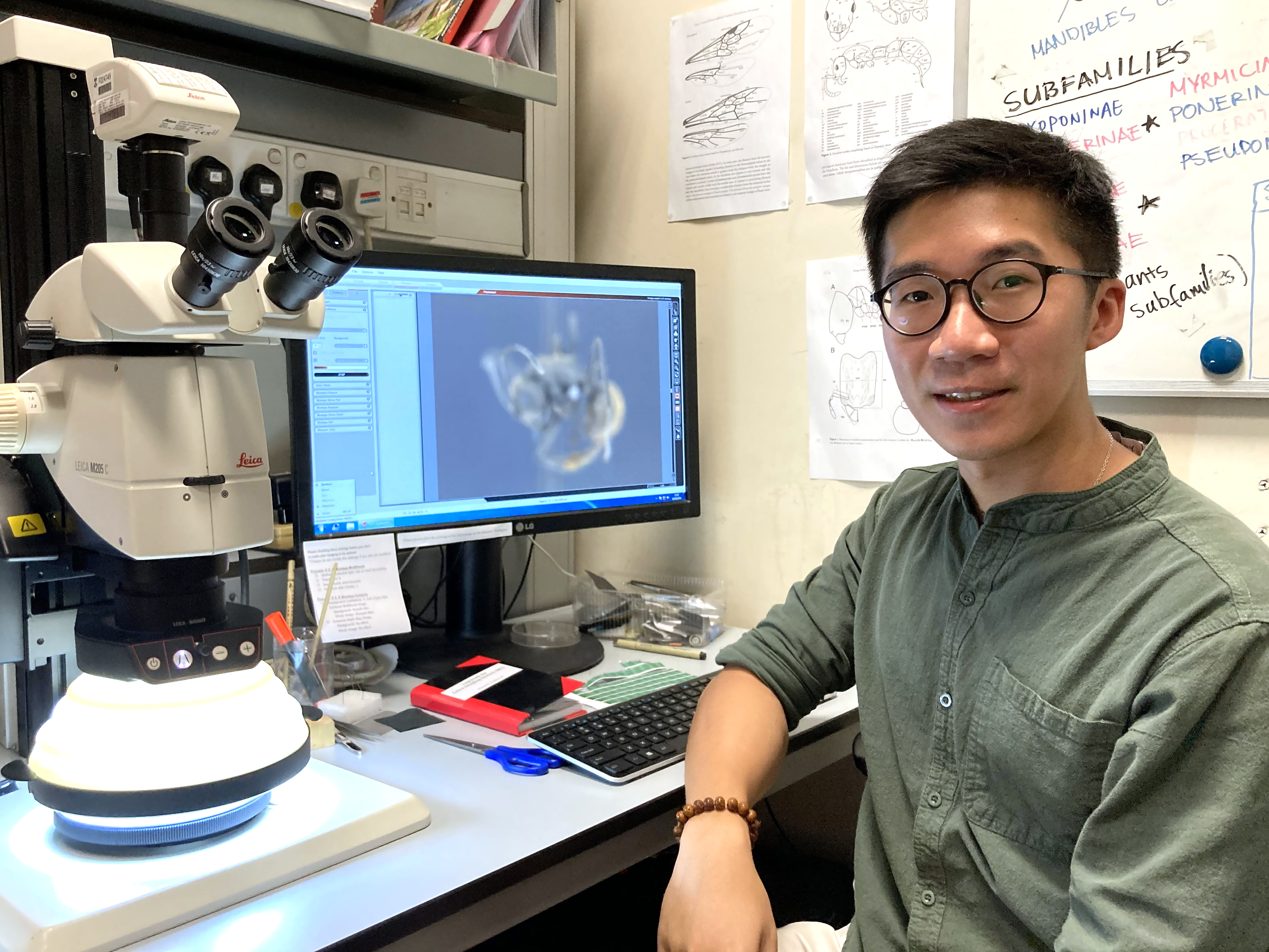 As a dense city, Macao can feel like an eco desert at first. But if you take a closer look, you realise that we are surrounded by wildlife every day – from birds, lizards and squirrels to bees, butterflies, snakes and mantis.
Danny Leong, a 27-year-old Macao-born researcher, leaves no stone unturned to bring our tiny, oft-overlooked neighbours to light. The passionate scientist earned his nickname, the "Macao Ant Man", after discovering a new ant species, called Leptanilla macauensis, in Ilha Verde. 
And in May 2021, Leong earned a new accolade as a National Geographic Emerging Explorer. Not only is Leong the first Macao resident to receive the title, but he was also the only scientist from Asia nominated by the National Geographic Society this year.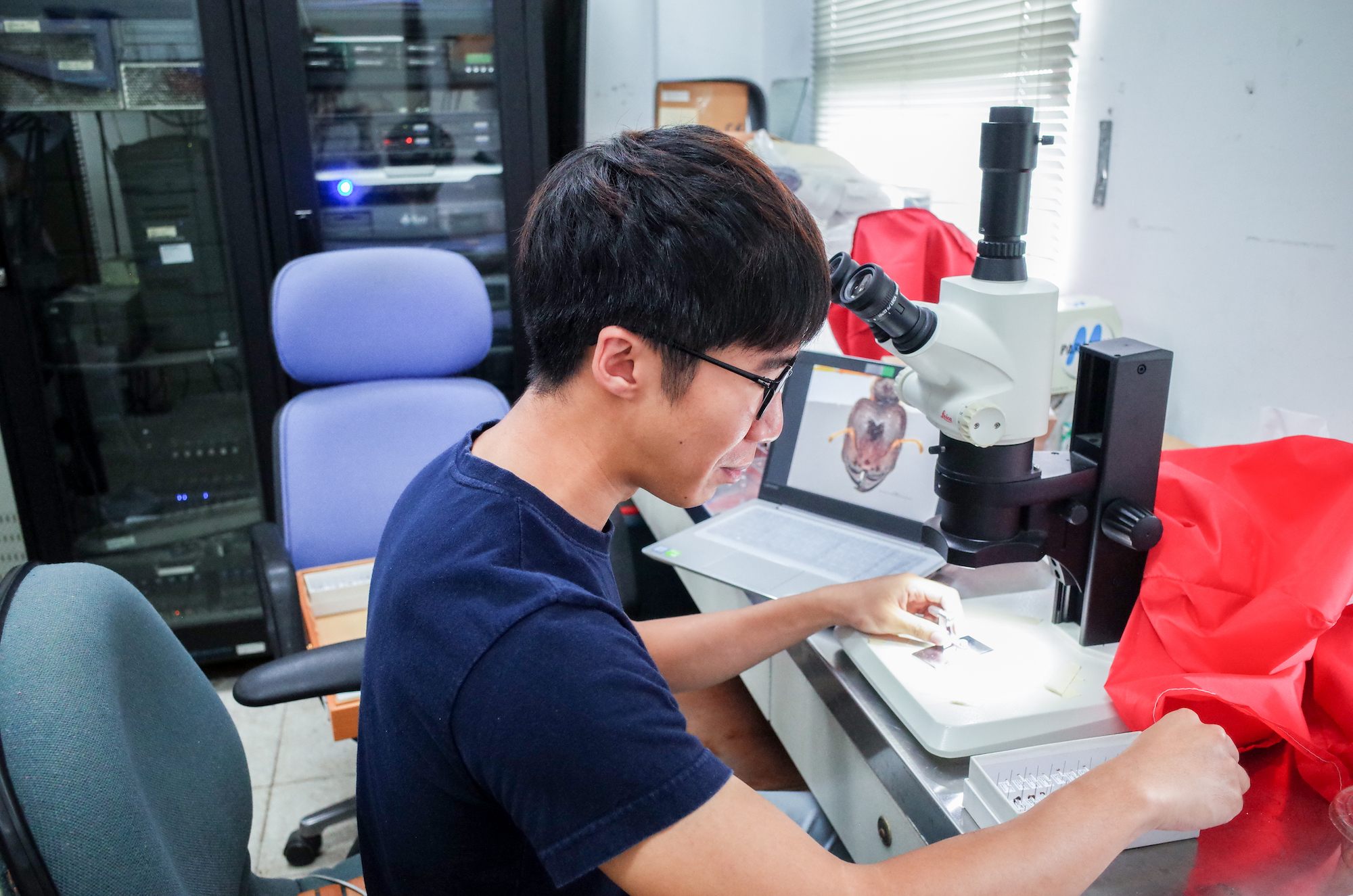 With this recognition, he is more determined than ever to share the story of Macao's biodiversity with the world. "Insects are the most diverse animal group in Macao and they make huge contributions to the environment, such as delivering pollen and decomposing dead plants and animals," he explains. 
"However, not many people know about them due to a lack of studies. We need to tell their stories so that people will be more aware of protecting them." 
'A world full of wonders' 
Leong did not discover his passion for entomology until he was about to finish secondary school. "I did not know what I wanted to do for my future until I walked into a shop that sold exotic animals such as snakes, lizards, and ants. I was fascinated," he recalls.
"When you look at a butterfly with the naked eye, you don't see how special it is. But when you place it under a microscope, you will find thousands of glowing scales on its wings. Once I entered the world of entomology, I became obsessed. It is a world full of wonders."
Since then, Leong has never looked back. Fueled by his newfound passion, Leong spent the next five years completing bachelor's and master's degrees in Entomology at National Taiwan University.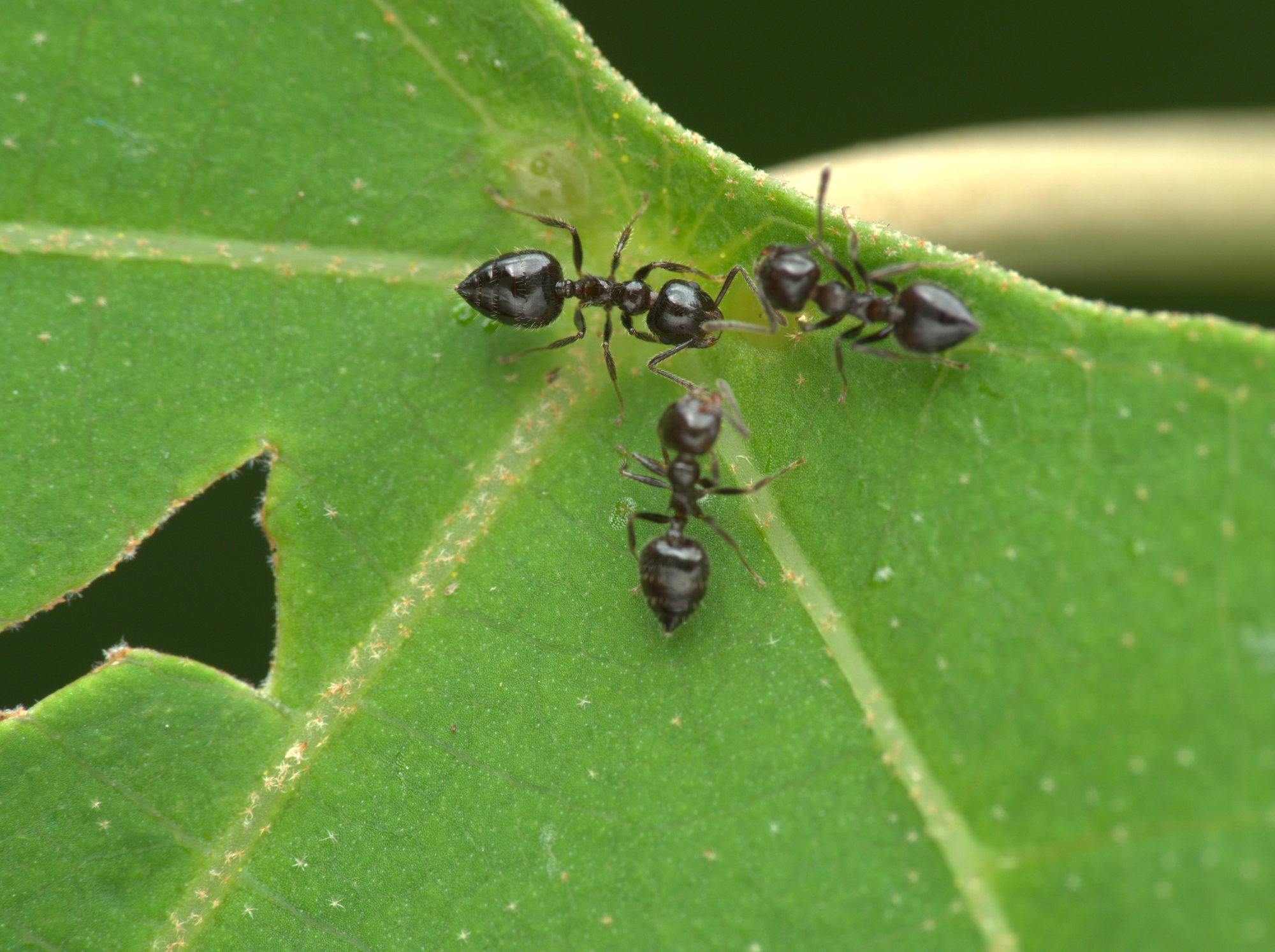 Life as a researcher and student keeps him busy, but Leong has never forgotten about his tiny friends in Macao. In 2015, Leong began exploring Macao's green areas, including Guia Hill, Ilha Verde, and parts of Coloane. On his many research outings, he collected ant samples in hopes of discovering more species.
His hard work paid off. Together with two of his mentors, Dr Benoit Guénard, assistant professor in the School of Biological Sciences at the University of Hong Kong, and Dr Shiuh‑Feng Shiao, a famous insect taxonomist at National Taiwan University, Leong published a article, "Ants in the City, a Preliminary Checklist of Formicidae (Hymenoptera) in Macau" in scientific journal Asian Myrmecology.
The total number of known ant species and subspecies in Macao has more than doubled from 54 in 2008 to 113 in 2017 thanks to the team's research and discoveries. Since 2018, Leong has also recorded 45 mite species in Macao and discovered 10 species around the world, including two ant species (Anochetus lanyuensis and Ponera terayamai) in Taiwan.
"It is uncommon for foreign entomologists to study insects in Macao because it is a highly urbanised area. They would rather go to tropical forests or stay in their hometowns, which they feel emotionally attached to," he explains. "That's why we need local researchers to do it."
Leong's most famous discovery is the Leptanilla macauensis – a tiny ant, no more than 1 millimetre long that's distinguished by its pale yellow colour, short antennae, hook-like spine and subterranean nature. 
"Although we know that the chances of discovering a new species in Macao are high, the findings still gave me a big thrill," he recalls. 
The scientist says he is "thankful" for Leptanilla macauensis, since the ant discovery keeps him motivated. "I wouldn't have uncovered more species without that important first discovery," he says. "The ants even made me a National Geographic Explorer. Who would have imagined this?"
Spreading his wings
Leong is currently a PhD candidate in Ecology and Biodiversity at the University of Hong Kong, as well as an adjunct instructor at the University of Macau. His research focus has shifted to ecology and urban planning, covering Southeast Asian cities such as Macao, Hong Kong, Taipei and Singapore. 
For instance, Leong is studying the impact of rising global temperatures on ectotherms – animals dependent on external sources of body heat, such as insects, crabs and shrimps – and how canopy cover and urban green space can balance global warming.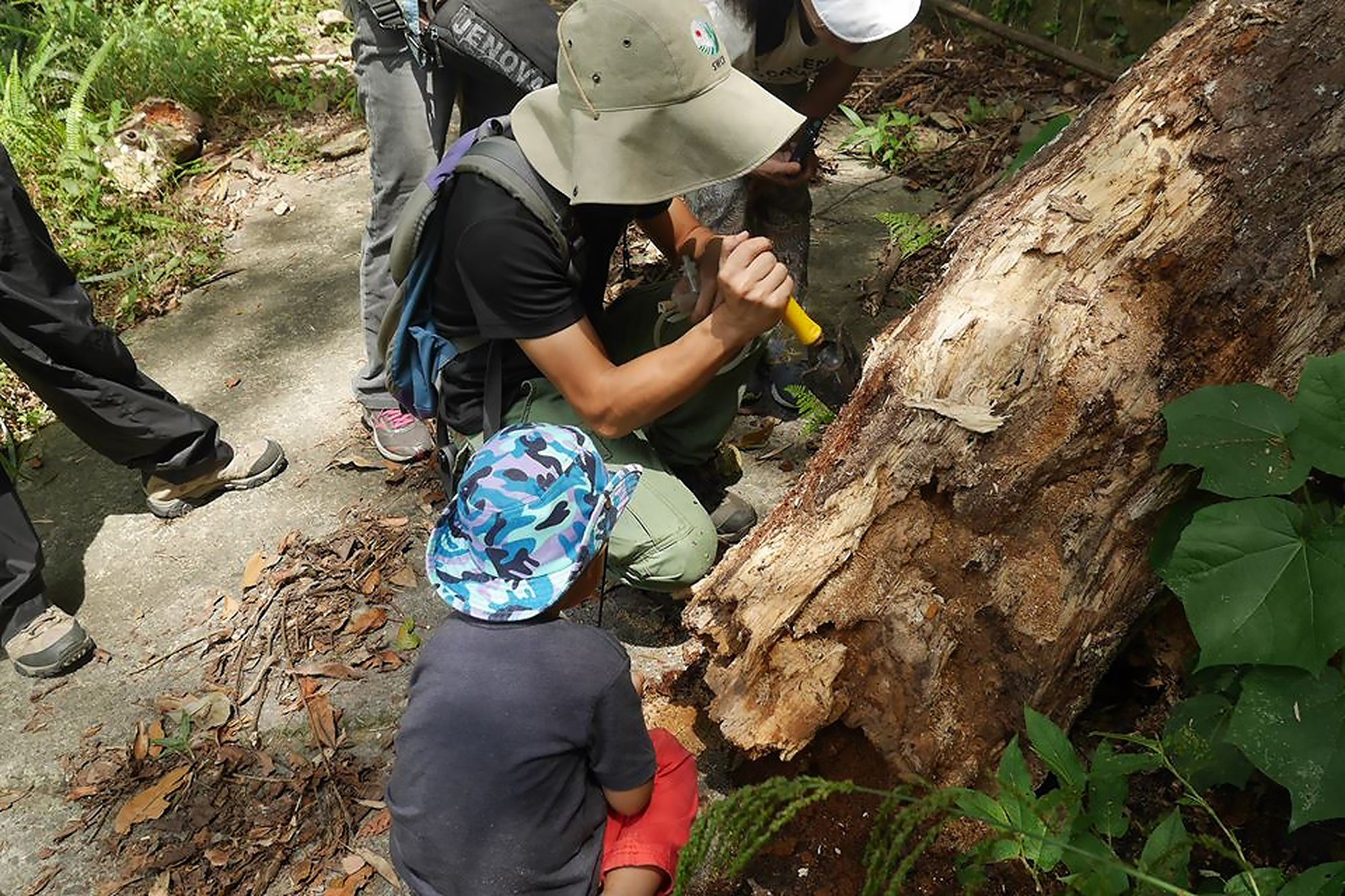 "We hope to find out how we can provide urban green space that better protects our wildlife. Green space, which can serve as a nature-based solution, according to the United Nations, isn't limited to forests; it can also mean green roofs and gardens," he explains.
However, Leong says a dearth of research facilities poses a challenge for scientists in Macao. "I hope Macao can establish a biodiversity museum dedicated to research and conservation projects," he says. "We also need a better system to preserve information about Macao's biodiversity, such as the specimens of the endemic species. This is very important for promoting conservation and preserving baseline data, not only for Macao but also for Southeast Asia."
In between his studies and research, Leong also hosts talks and workshops about environmental conservation. "Insects are just a piece of the ecological puzzle," he explains. "As a scientist, you can focus on studying one piece but you also need to have a caring heart for all living creatures and show people how to respect nature." 
Before Covid-19, Leong took part in around seven public events each month, mainly initiated by local universities and associations. And for those who are interested in contributing to Macao's biodiversity efforts, he recommends iNaturalist. 
The app enables users to upload photos of insects they encounter in their daily life to an international database run by the Global Biodiversity Information Facility (an international organisation that strives to make biodiversity data more available online). 
"This is extremely helpful for scientists who are studying global biodiversity," he stresses. "Everybody can play an important part in promoting science and conservation, regardless of age and background. I hope that we can cultivate a new generation that is eco-friendly, knowledgeable and compassionate."