Luke Browning will lead the pack in the Macau Formula 3 Grand Prix race
Luke Browning will lead the pack in the Macau Formula 3 Grand Prix race

Link copied
A pole position for the British driver means he will start the race in front, with Alex Dunne and Gabriele Minì at his rear end.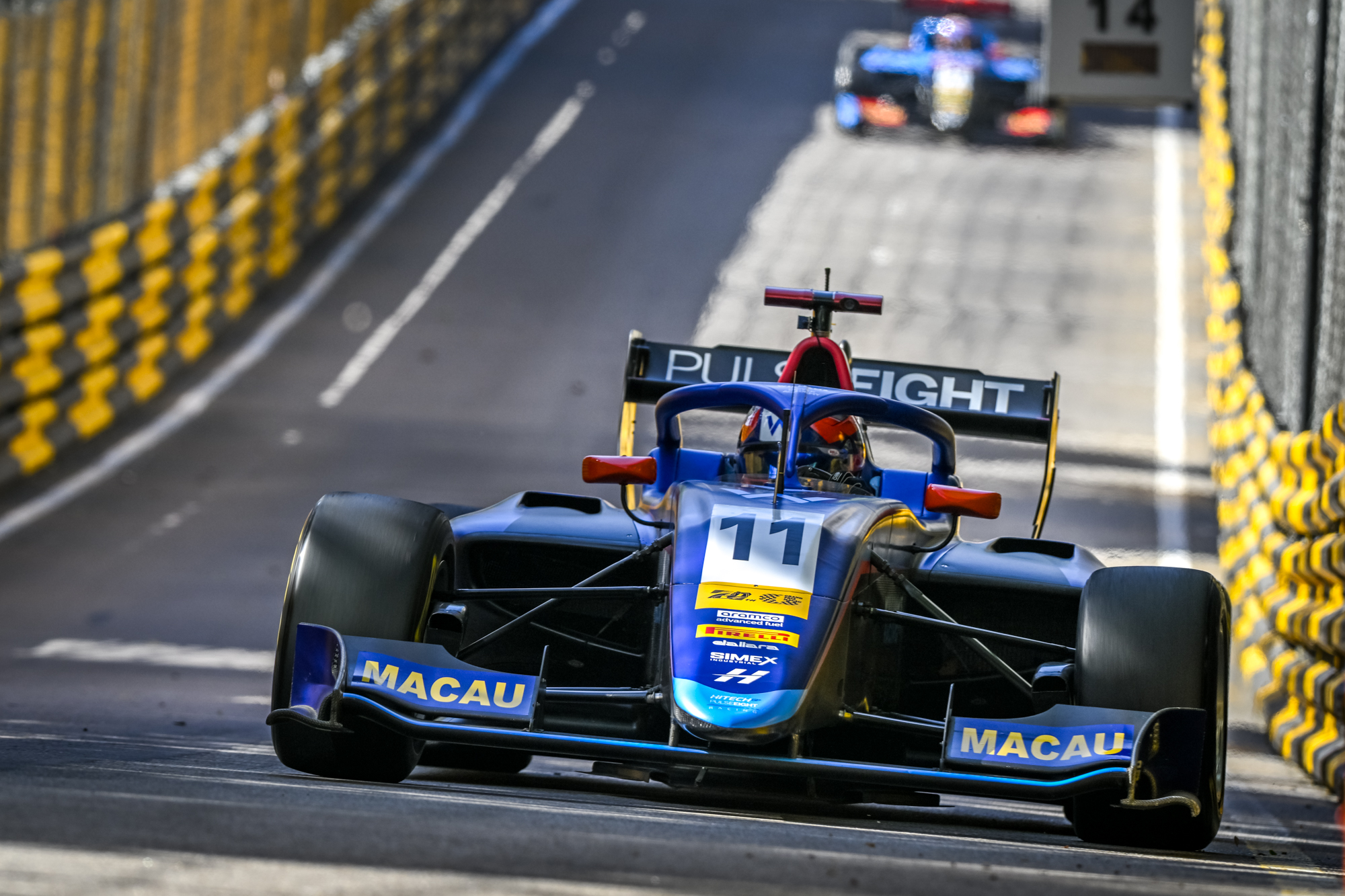 Hitech Pulse-Eight's Luke Browning will take a well-deserved pole position in the Macau Formula 3 Grand Prix tomorrow. Hitech's Alex Dunne and Theodore Prema's Gabriele Minì will start second and third respectively.
An opening lap unfolded today as Browning and Minì found themselves neck-and-neck before reaching the notorious Lisboa Bend. Browning, the British contender, held his ground, compelling Minì to pull back strategically.
[See more: Briton's Peter Hickman wins the 55th Macau Motorcycle Grand Prix]
The drama intensified with two separate crashes in the early moments of the race. The second one involved two-time Macau Grand Prix winner Dan Ticktum and the 16-year-old prodigy Ugo Ugochukwu at the Lisboa Bend. With nine laps remaining, the qualifying race delivered a pulse-racing start.
A virtual safety car was then deployed, which mandated the race continued with drivers needing to reduce their speed significantly. A safety car was deployed a minute later. Going back to the frantic start, Dunne stole Beganovic's third position, while Theodore Prema's Paul Aron, who placed 13th yesterday, made a notable leap to the 6th place.
With three laps completed under the safety car and six more to navigate, the top three drivers jostled for the lead as the race restarted. Minì was nudged to third place after Dunne made a decisive move to overtake the Theodore Prema team member.
As the race entered its final two laps, the drivers appeared to adopt a cautious strategy in anticipation of tomorrow's race. The gap between second-placed Dunne and the leader Browning narrows to a mere 1.2 seconds.
Briton's Browning secured a pole position for the race tomorrow, with Irish man Dunne starting in second and Italian Minì in third. "That car was absolutely outstanding and I'm glad to give them the win," says Browning.
[See more: Raffaele Marciello in pole position for tomorrow's Macau GT Cup race]
Browning's performance was nothing short of spectacular, successfully defending his position from competitors and posting the fastest lap time of 2:06.2 seconds.
The 15-lap Macau Formula 3 Grand Prix race will take place at 3:30 pm tomorrow.