How the vision of Sichuan Moon's André Chiang makes him a driving force within the fine-dining scene
How the vision of Sichuan Moon's André Chiang makes him a driving force within the fine-dining scene

Link copied
We pulled up a chair to chat with the award-winning chef and restaurateur about his vision for Sichuan Moon at Wynn Palace and how fine-dining is evolving.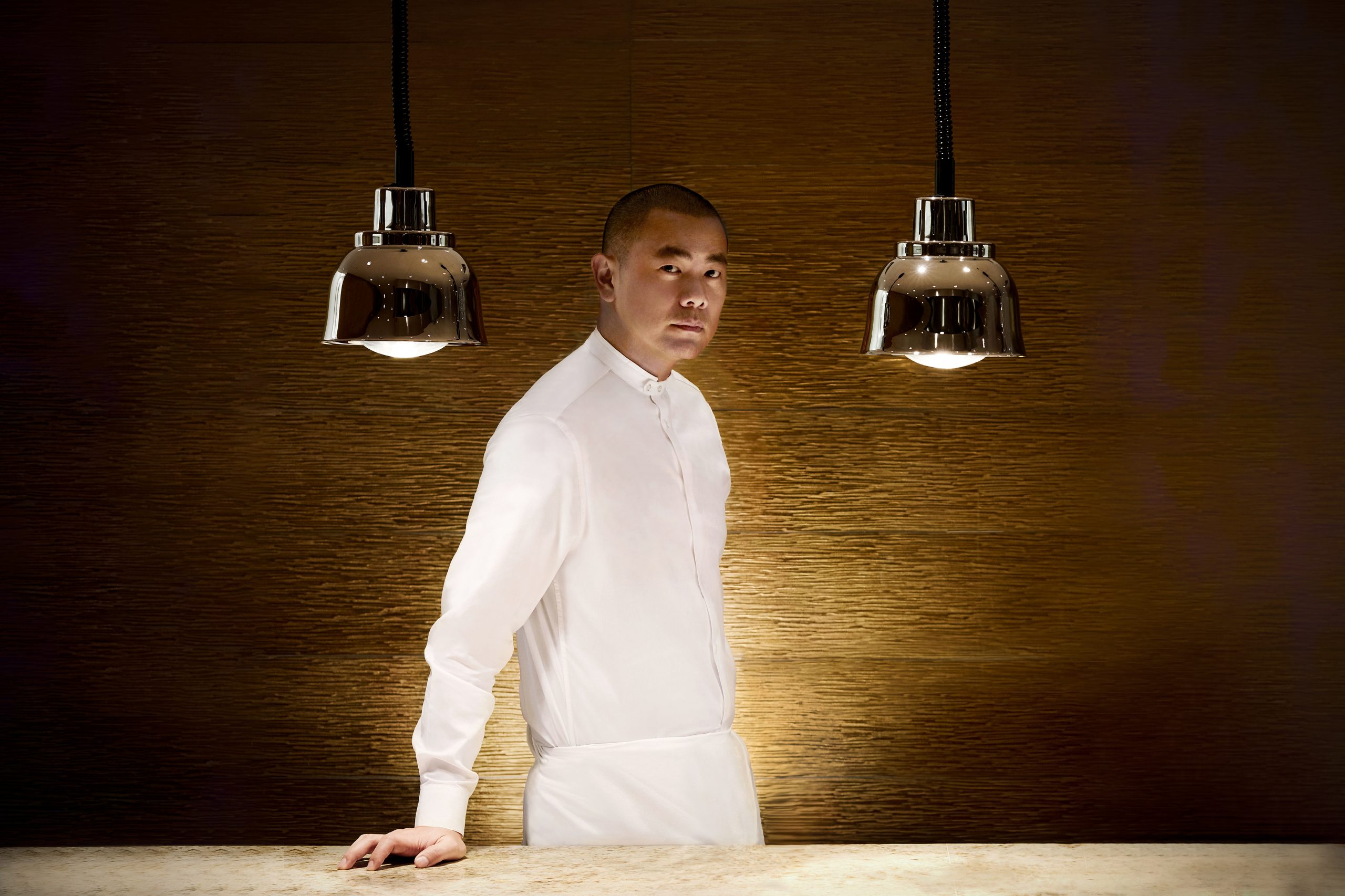 As you step through the leather doors at two-Michelin-starred Sichuan Moon, you'll feel like you've entered a palace. The Wynn Palace restaurant glows with gold, Champagne and terracotta hues, while two Chinese-style lion sculptures guard the dining room and a chandelier made of hundreds of Murano glass butterflies flutters overhead. 
The decor sets the tone for an exquisite meal. Celebrating the beauty of Sichuan cuisine and culture is all part of celebrated chef and restaurateur André Chiang's vision. As the culinary director, Chiang oversees the fine-dining experience and strives to showcase the complexity of Sichuan dishes with modern interpretations. 
He also injects his own cooking style, Octaphilosophy, a concept based on eight different elements – pure, salt, artisan, texture, south, unique, memory and terroir – by constructing each dish around one of  these elements.  
His efforts haven't gone unnoticed. Opened in 2019, Sichuan Moon has earned two Michelin stars for four years in a row. And in 2020, it debuted on the Asia's 50 Best Restaurants list and won the "Restaurant of the Year" award from Forbes Travel Guide.  
The restaurant's success comes as no surprise to those who've been following Chiang's career. The Taiwan-born chef moved to France as a teen, where he learned French culinary techniques and worked at a string of award-winning restaurants, such as three-Michelin-starred restaurant Le Jardin des Sens. He has since opened or lent his name to eight restaurants, including his own two-Michelin-starred RAW in his hometown of Taipei, and earned many prestigious accolades like Asia's 50 Best Restaurants 2018 Lifetime Achievement Award. Netflix even chronicled his decades-long career in "André and His Olive Tree", a documentary released in 2020. 
We had a chance to sit down with Chiang to learn more about his approach at Sichuan Moon, his culinary philosophy and where the fine-dining world is headed. 
This interview has been edited for length and clarity.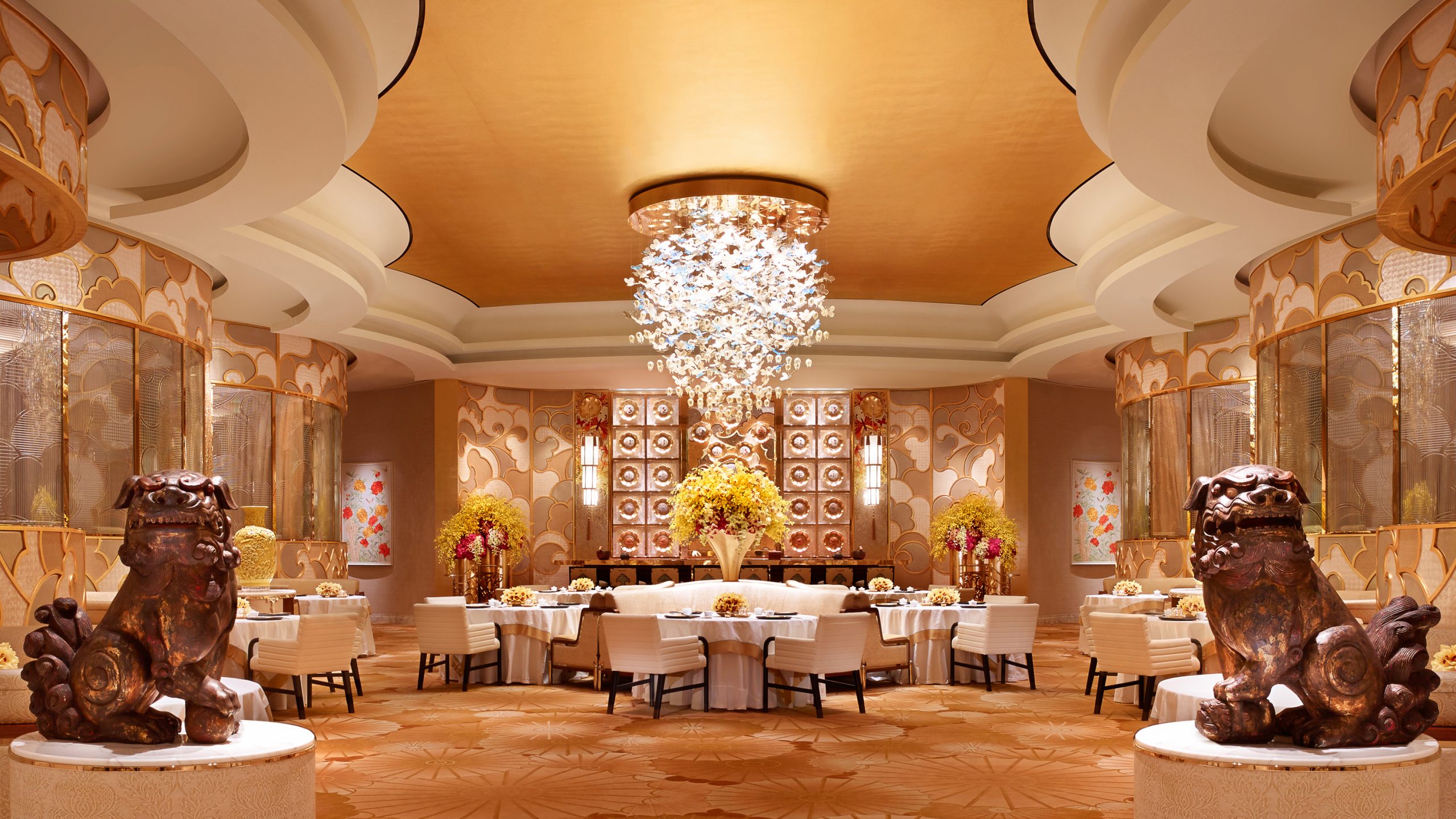 How do you balance tradition and innovation at Sichuan Moon?
For people who have never visited Sichuan or don't understand the cuisine, we wanted to introduce the backbone of the cuisine and its 24 flavour profiles, such as numbing, savoury or sour. 
With this approach, we hope to help people understand where and how Sichuan cuisine came about. I've always believed that cooking is almost like a language – a medium for communication. Every generation has its own vocabulary because languages continue to evolve, and the same is true in the culinary world. 
We want Sichuan Moon to communicate with our diners in a contemporary way while maintaining the cuisine's traditional roots. We're not forgetting where the cuisine came from, but I believe we need to evolve and create new combinations – a new vocabulary, new adjectives – and deliver Sichuan cuisine in a different context.
Tell us about Sichuan Moon's 'Discovery' and 'Classic' degustation menus. What's special about each one?
For the Classic menu, we wanted to introduce all the traditional dishes that people know by heart and add our twist. Every single dish on the menu is a signature – and they've all been inspired by dishes that have existed for centuries. 
For the Discovery menu, it's the other way around: we take new approaches using classic techniques and flavour combinations. The Discovery menu is for those who want to take a step further and try something more adventurous and unexpected. We go a little bit beyond imagination.
In addition, we adapt the Discovery menu based on seasonality, which allows us to be more flexible. When we come up with an interesting dish, we can slot it in spontaneously. On our spring menu, for example, there were several creations by Executive Chef Wilson Fam and me, including a new abalone Wellington.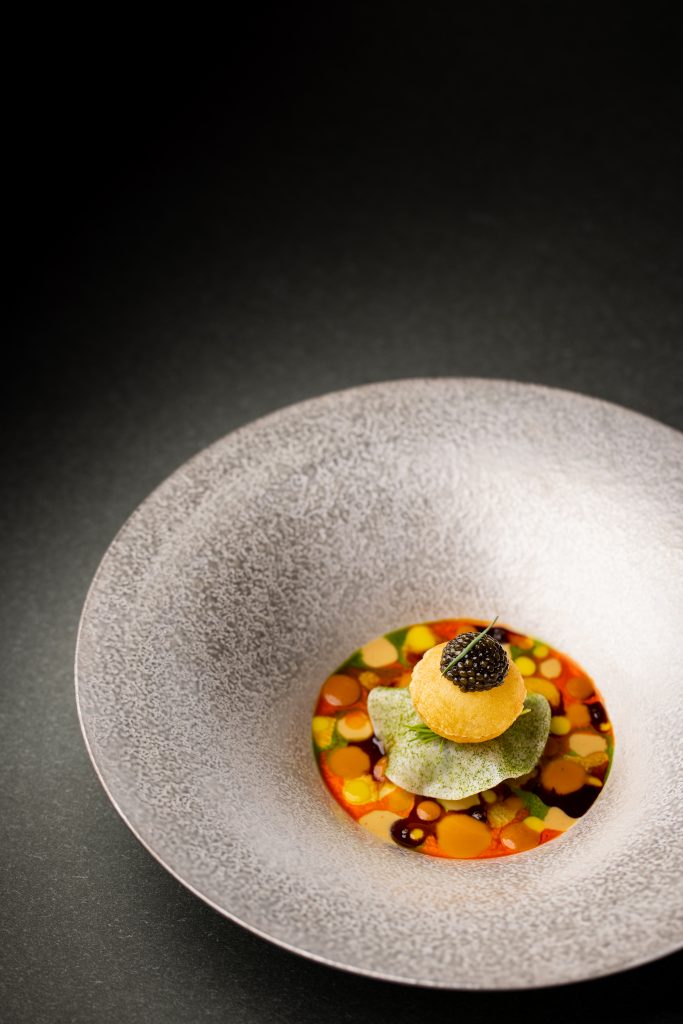 How have you incorporated Sichuan culture into the dining experience?
At Sichuan Moon, the cuisine's 24 unique flavour profiles are always our starting point, and then there are hundreds of references to old dishes. But most importantly, we're not just trying to replicate existing dishes but rather trying to incorporate Sichuanese culture. 
For example, in Sichuan cuisine, we always have snacks between dishes, whether it's a dumpling, bun or jelly. We offer a cooling jelly between courses because Sichuan cuisine tends to be spicy and intense. We also offer complimentary pickles on arrival, which is a fixture on Sichuan tables. 
These little details provide a taste of Sichuan lifestyle and culture.
What advice do you have for aspiring chefs who look up to you?
At this point, I see myself more as a curator than a chef because I am orchestrating the whole experience. Rather than starting from the ingredients or concept, I first consider what we're trying to deliver and try to see myself as a diner. 
We work backwards from each dish. What's the story of the dish? What is the final experience or message we're trying to create? How do we get there? Do we need fish or meat for that?
Sometimes, chefs tend to see their creations from one perspective and the message can get lost. If I cook a dish from my grandma, it probably means a lot to me but isn't relevant to you, so we always have to think from the diner's perspective before we create.
What else do you do differently? 
I don't try to mould any team or restaurant to what I want – it has to be what fits best in this space – and it has to be the one and only. We never have branches, so every restaurant is unique for the space and diners.
How have you embraced technology in your career?
We created the first edible NFT in the world ['We Are What We Eat'] in 2021, which enabled collectors to explore the culinary creation process as well as their connection with nature through virtual reality and digital performance art. I'm not a tech geek, but it's pretty interesting, because the NFT will stay in the digital world forever. 
When I ask myself: What's the most valuable part of creating a dish? I think it's the process, so that's what our NFT explored.
If you have a digital art NFT of Van Gogh's artwork versus one of his process creating that painting, which one is more valuable? I think people want to know the latter. How did he create the piece? What kind of context or environment or emotion triggered him to create it?
Of course, the final product was a dish. But the digital NFT takes you into that dish – to where it started and the process – so you truly understand where the idea came from. It's almost as if you get into André's world, André's brain, then come out and have that dish in a three-dimensional way.
What makes it three-dimensional?
If I write on the menu that Everest inspired a dish, that's one dimensional. If I describe this dish as coming from Everest with the snow, that's two dimensional, because you can picture it. 
Three-dimensional is when I take you to Everest, and you are standing there with me. Then you come back and enjoy that dish. It's completely different: you have colour, the sound, and you have seen exactly what I saw.
How do you think fine-dining will change in the future?
If we move to three dimensions, diners will be able to enter the creator's world, understand how every creation comes about, and perhaps appreciate it more.
But then what about the craft of service? The art of hospitality has already become slightly diluted over the years. People tend to feel that the formality of fine-dining is unnecessary, which reflects modern lifestyles. 
People now like to ponder if fine-dining is dying, but I don't think so. Fine-dining is just like luxury. Do you think luxury will disappear? No. It's just that every generation has a different interpretation of what luxury means to them.
---
Want more news about Macao, from business to dining, profiles and sport? Subscribe to the Tea to stay in-the-know.