Nicole Yiu followed an unusual path to the kitchen
Nicole Yiu followed an unusual path to the kitchen

Link copied
Armed with a sociology degree, Robuchon au Dôme's cold food chef took a chance on herself and followed her culinary dreams.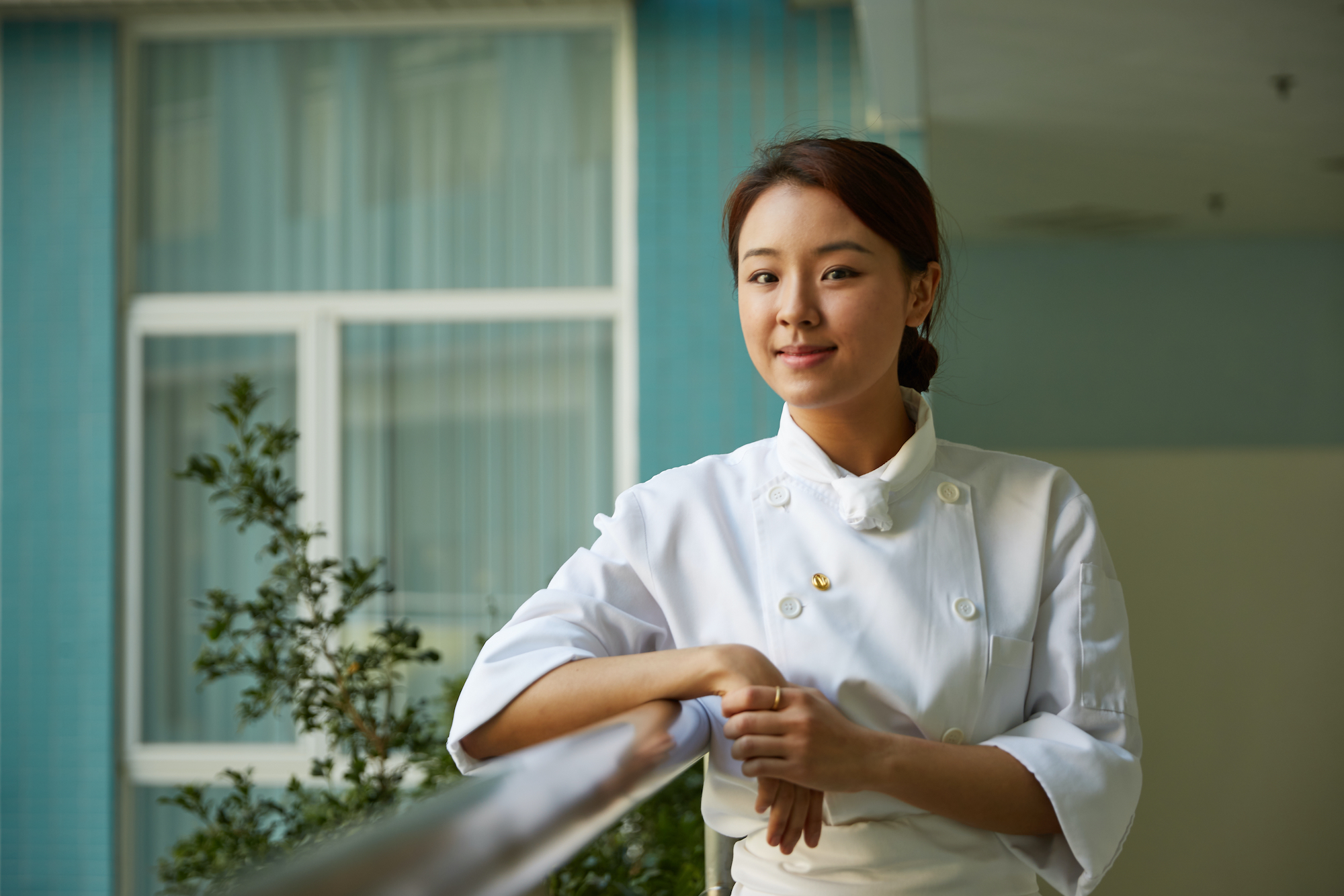 Life doesn't always go according to plan. All too often, new opportunities pop up when least expected. That was certainly true for Nicole Yiu, the chef garde manger (or 'cold food' chef) at the Grand Lisboa Hotel's three-Michelin-starred Robuchon au Dôme, who found her way from sociology to the culinary arts. In this instalment of "Know Your Chef", we spoke with the 26-year-old chef to learn all about her personal and professional journey:  
The early days: Born and raised in Macao, Yiu says she's always been a "foodie" who loves trying anything and everything. Her mother had a penchant for cooking a range of Asian and Western cuisines, which exposed Yiu to a kaleidoscope of flavours throughout her youth.
The young chef became "enthusiastic about cooking" while pursuing a sociology degree four years ago at the University of California, Los Angeles (UCLA). "During my years studying, I developed my cooking skills because I had to learn how to cook for myself," she recalls. 
Aside from comfort foods – like steamed egg custard with dried scallop, aubergine with minced pork – and spontaneous cravings, Yiu enjoyed cooking big festive holiday meals and sharing them with friends. 
The turning point: Having learned more about human nature while pursuing her sociology degree, Yiu felt inspired to go after a career that she would enjoy every day. After graduating from UCLA, Yiu worked at an LA-based food media company – The Chihuo, focused on Asian cuisines – which enabled her to pursue her interest in food. 
From visiting new restaurants to taking food photos, writing food reviews and interviewing chefs and business owners, Yiu immersed herself in the industry. "I always knew I loved food and wanted to do something related to food, so when the Chihuo was recruiting, I took the chance," she says. "They didn't care that my degree was unrelated to food." 
The lifelong passion and dedication of chefs, in particular, caught her attention. "It planted a seed in my mind and motivated me," she says. "So I decided to go for it and applied to Le Cordon Bleu's London Diploma in Culinary Management."
The respected culinary arts, wine and management school accepted Yiu's application, and, as they say, the rest is history. "At first, I was worried that I could not handle it, because cooking can be a totally different experience when it becomes your job. But luckily I've survived so far."
Gaining momentum: After graduating from Le Cordon Bleu in 2018, Yiu worked at Michelin-recommended Italian restaurant Luca in London for a year. It was a baptism by fire: she was responsible for prepping and cooking the eatery's entire appetisers section on her first day. 
"In the first month, I didn't know how to behave properly in the kitchen," she recalls. While she learned standard operating procedures, cooking skills and food knowledge from Le Cordon Bleu, she felt lost when it came to routines, culture and practical kitchen ethics. 
She still had much to learn, such as ordering ingredients from suppliers, time management, prepwork and general multitasking around the kitchen. She also only had a 15-minute lunch break every day during her nearly 16-hour shifts, which started at 8 am and ended at midnight. 
The job was non-stop, and, in addition to preparing appetisers, Yiu also prepped ingredients, cleaned, purchased goods, handled deliveries – it was very gruelling, she says. It reminded her of the popular TV show "24 Hours to Hell and Back" with Gordan Ramsay. 
"It's no exaggeration," she says, adding that the immense pressure made it hard to sleep at night. "In hindsight, I'm grateful for that experience because it sharpened me in so many ways," she says. "I started from zero, and I was heartened by recognition from the chefs." 
At the time, she had worked herself sick and one of the managers sent her to rest in the chef's office. When the head chef and the sous chef checked on her, they praised her vast improvements and ability to learn quickly – something she needed to hear at the time due to growing self-doubt.
Pet peeve: Yiu would love to see less food waste in Macao's opulent restaurant scene. Due to the luxurious nature of fine-dining restaurants, they must serve only the best of the best ingredients, which can often lead to unnecessary waste if produce is not up to standard.  
In the future, she hopes the government restricts food waste or restaurants find a way to curb surplus. "Restaurants don't want to tarnish their reputations [by serving sub-par ingredients], but I believe there is a better way," she says. 
All-time favourite dish: "I love everything, and often, my favourite depends on my mood or even the weather," she says. "It can also be seasonal. For example, in the autumn, I crave something nutty, especially chestnuts! I usually go for dishes or drinks that have roasted nuts during fall. Or if it's raining, I will reach for a hot bowl of noodles or pasta."
Her current role: As chef garde manger, Yiu's dominion lies in the cold section of the Robuchon au Dôme kitchen. And while most people assume this means just handling salads, Yiu explains it's a whole lot more: "Aside from salads, cold cuts and cheese, there are also other cold dishes like chilled soup, fruits, pâté, caviar, and some cold desserts."
She loves to make "Nicoise" salads, a classic French dish comprising tomatoes, hard-boiled eggs, Nicoise olives, anchovies and tuna. Of course, at Robuchon au Dôme, this simple dish sees an extravagant twist, featuring greens shaped into a dome, tuna flakes, olives and a layer of tomato paste.
"It's a lot of work even though it may look small," she says. "And it tastes amazing."
The role enables Yiu to harness her pastry skills to craft precise pâtés, savoury sorbets and immaculate mousses while working alongside some of the world's most talented chefs. Before the pandemic, the Robuchon company would send out representatives to visit different branches all over the world. In 2019, Yiu got to work next to some of these legendary chefs. 
"That experience really inspired me, not because they are really talented and everything, but because it humanised them," she says. "The process of creating something great – no matter how legendary the chef – is the same for everyone." 
Parting advice: "Be prepared to work for long hours, work hard, be humble," Yiu advises anyone who wants a career in the culinary arts. Just because you love to cook doesn't mean you'll thrive in a commercial kitchen. But, it will undoubtedly help. "If you really love food, you should go ahead and try," she says. "Take your first step."
Know a talented chef in Macao who is worthy of some recognition? Email us at [email protected] or leave us a private message on Facebook or Instagram with the chef's name, age, and a few words about what they bring to the table.