Meet Chef Tam Kwok Fung of Wing Lei Palace
Meet Chef Tam Kwok Fung of Wing Lei Palace

Link copied
An appetite for authenticity, precision and new challenges has taken respected Chef Tam Kwok Fung from Hong Kong to Thailand to Macao. We learn about his storied career and how he's elevated Cantonese cuisine to world-class levels.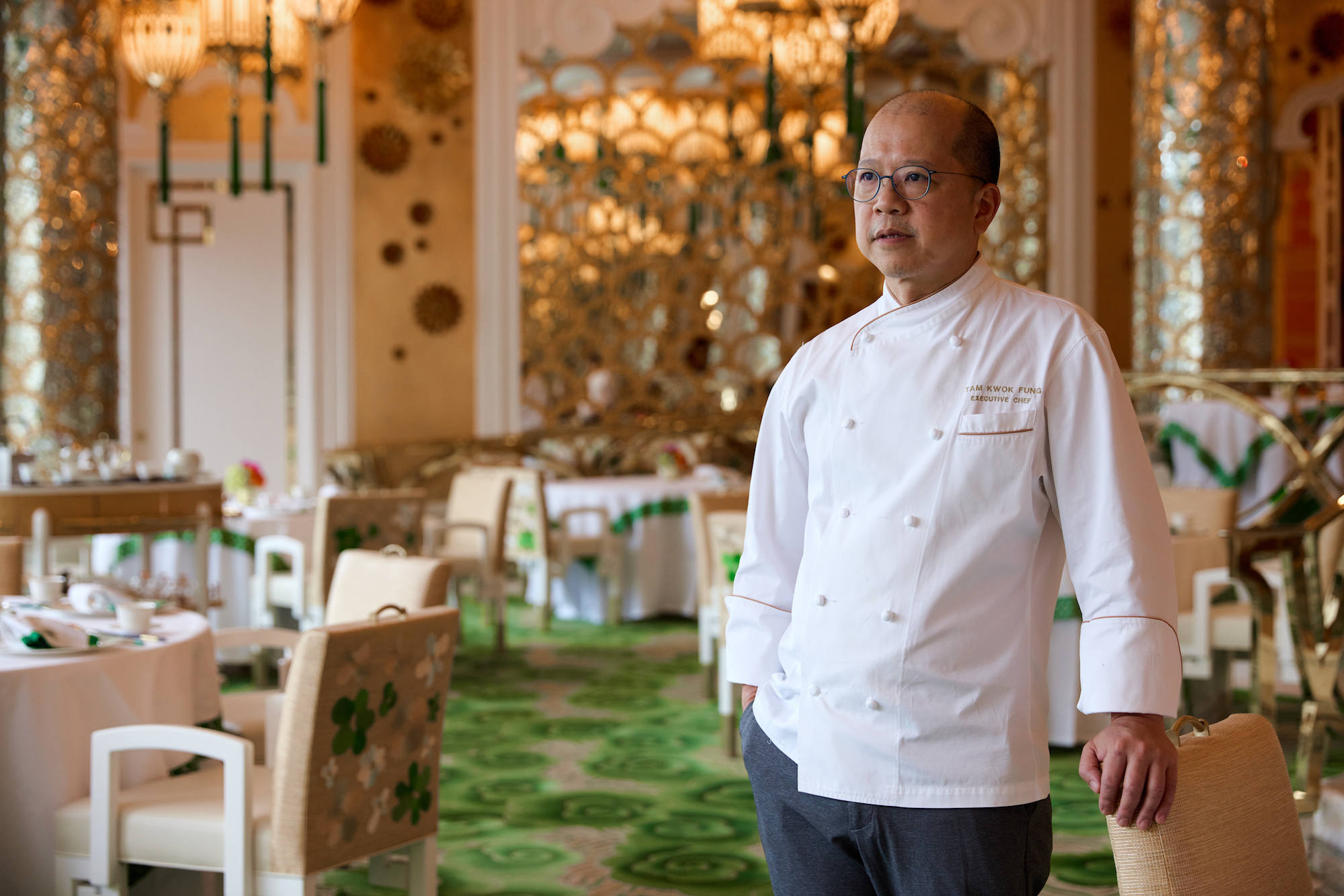 As a UNESCO Creative City of Gastronomy, Macao is a treasure trove of different cuisines and dining experiences, from local cha chaan tengs to Portuguese eateries, bakeries and Michelin-starred culinary journeys. In our 'Know Your Chef ' series, we celebrate this diversity by chatting with chefs in Macao from all different backgrounds.  
This week, we meet Chef Tam Kwok Fung of Michelin-starred Wing Lei Palace at Wynn Palace, who has made it his mission to elevate Cantonese cuisine to the international level. As one of the most revered chefs in Asia, Tam stands tall in the dining world with recognition from respected industry organisations like Michelin, Forbes Travel Guide, Asia's 50 Best Restaurants, and many more. 
But when we meet in person in Wing Lei Palace's majestic dining room, the celebrated chef seems almost unaware that he's a culinary star. Humble, warm and enthusiastic, the veteran smiles while recalling his career path and fond memories with Macao News. 
The early days: Born in Hong Kong, Chef Tam started his culinary career in secondary school when he worked part-time in several kitchens, he recalls, "When I was 14 or 15, I worked part-time to earn pocket money. By learning basic cooking skills, such as making hot dogs and deep-fried chicken legs, I became interested in the F&B industry." ​​
He also learned about Western, Japanese and Chinese cuisines and restaurant operations in the process. Through a family friend, Tam landed a job in the Chinese restaurant at the Nathan Hotel in Hong Kong when he was 17 years old.  
It was a huge restaurant, he recalls, with the capacity to host more than 1,000 guests at a time. After a year working as an apprentice – where he cleaned, prepped ingredients, and cut vegetables – Tam moved into a new role at Tuen Mun Restaurant in Hong Kong. Although now closed, the restaurant was owned by the same company that ran the notable Gloucester Luk Kwok Hong Kong. 
He was 19 years old when he joined the team, which allowed him to learn alongside many remarkable chefs in Hong Kong. He worked across all the kitchen's three main departments – dim sum, siu mei (meat roasting) and hot dishes (stir-fried). 
The experience armed him with a deeper understanding of Cantonese dishes, ingredients, techniques and large-scale catering. One time, he recalls, he had to prepare enough soup stock for 1,000 portions – quite the feat.
The turning point: Thanks to his solid foundation in Chinese cuisine, Tam's career advanced quickly. In 1998, he relocated to Thailand to become the executive chef of The China House, the Chinese restaurant at the Mandarin Oriental Bangkok, a  prestigious hotel that has welcomed officials and royalty throughout history. 
Cooking in a foreign country, where fewer people were familiar with Chinese cuisine, gave Tam a new perspective. "I've gained a deeper understanding of how people look at Chinese cuisine, their preferences and standards." 
For example, back in the 1990s, he says some travellers from the UK or the Middle East had tasted Cantonese dishes in their home countries but never had truly authentic versions. "They asked us to cook those dishes and, once we made them, they discovered that our standard was higher," he says.
In addition, many French guest chefs passed through the hotel's French restaurant, which exposed Tam to new ideas and techniques. But one of the most critical aspects of the job, he says, was learning to plan a menu at an international level. 
"Many traditional Chinese chefs can cook remarkable dishes, but they may not be able to plan the sequence of dishes or pair wines for diners of different cultures. In the 1990s, not many restaurants arranged wine pairings, but I was already working on it." 
Gaining momentum: Tam's next big break came in 1998. The Peninsula Bangkok poached Tam when he was just 33 years old, inviting him to become the executive chef. In this prestigious role, he looked after Chinese feasts for up to 500 people, and the signature Mei Jiang Cantonese restaurant.
Tam's goal? To elevate Chinese cuisine to the fine-dining level by combining precision, craftsmanship and only the most premium ingredients. "When you cook Chinese cuisine in non-Chinese areas, you must maintain the authenticity. I think this is the most important thing, no matter what class a restaurant is." 
Flavour, he says, is the most important element. "You can prepare a simple dish, such as beef with oyster sauce, using any beef you like – Wagyu, Australian or Korean beef – but you must stick to the correct way of flavouring and stir-frying to ensure the taste is true to tradition."
At each junction in his career, Tam says he tries to "start over" mentally and adapt to the different cooking styles in each new kitchen since every restaurant has its own cooking style. Owing in part to Tam's agile nature and hard work, a local magazine named The Peninsula Bangkok's Mei Jiang Cantonese restaurant the "Best Chinese Restaurant" in the city several times under his leadership. 
But by then, Tam was ready for a new adventure. In 2007, he left Bangkok and relocated to Macao. He took a job at Crowne Plaza, now the Altira Macau, before moving on to City of Dreams, where he helmed Jade Dragon. In 2016 the restaurant earned two Michelin stars, which he attributes to his team's dedication and professionalism.  
All-time favourite dish: Tam says he can't live without Cantonese steamed fish. "There are multiple ways to cook steamed fish and so many flavour varieties," he says. "Steamed fish is full of protein and is good for people of all ages."
Thinking on his feet: Over the last decade, Tam has worked as a guest chef in Europe, Australia, Taiwan, Malaysia, Singapore and more. In 2015, he was the guest chef at a small Italian restaurant in a spa resort in Munich. He had to come up with a new Chinese menu every day for two weeks, serving 40 people each time. "The whole thing was challenging," he says. 
But Tam is no stranger to pivoting under pressure. When working at the Mandarin Oriental Bangkok, Tam often had to quickly adapt to the needs of high-profile guests, including then-French President Jacques Chirac. When Chirac arrived without a booking, Tam's team promptly learned his preferences and dietary requirements, then adjusting dishes on the menu for the esteemed guests. At the end of the meal, Chirac applauded the chef at the table. 
 "As a chef, our role is not to show off our culinary skills, but cook high-quality dishes that suit our customers' preferences and health needs," he says. "It requires a lot of communication and coordination." 
His current role: In 2018, Tam joined Wing Lei Palace as the executive chef. As always, he brought his high standards to the restaurant. "One day, when any food lovers from big cities want to eat high-quality Cantonese cuisine, I hope they always think of Wing Lei Palace," he says.
He hopes that the restaurant's reputation goes beyond a few signature dishes. "When you mention the chef of some famous restaurants in France, Italy and Japan, people think of the brand, image and plating styles – not just one or two dishes – and then they come to visit." 
Over the last three years, Tam has maintained precision and creativity in equal measure. "For traditional dishes, such as Chinese Francolin soup with superior bird's nest and greater yam [also known as purple yam], we stick to precise flavouring and high-quality ingredients," he says, adding that the restaurant also embraces some western influences. 
"We create Cantonese cuisine with an international flair, such as our lychee wood siu mei (barbecued meat). And for our traditional roasted goose dish, we use a natural wood oven to enhance the taste. Then we add the goose juice to fried rice, finished with slices of truffle." 
The attention to detail has paid off in many ways, with Wing Lei Palace scooping up recognition and awards. The fine-dining restaurant garnered its first Michelin star this year and appeared on Asia's 50 Best Restaurants list for three consecutive years. 
Parting advice: For aspiring chefs, Tam says that you must love the work. "You have to love to cook and learn continuously," he says. "Food is like fashion; there are always trends and changing demands. The leading F&B professionals are in tune with these shifts and aren't afraid to work towards new directions while staying true to their roots."