Discover 9 of Macao's most authentic Portuguese restaurants
Discover 9 of Macao's most authentic Portuguese restaurants

Link copied
Foodies will quickly learn that while sardines, bacalhau (salted cod) and the iconic pastel de nata are great, Macao's numerous Portuguese restaurants can offer so much more.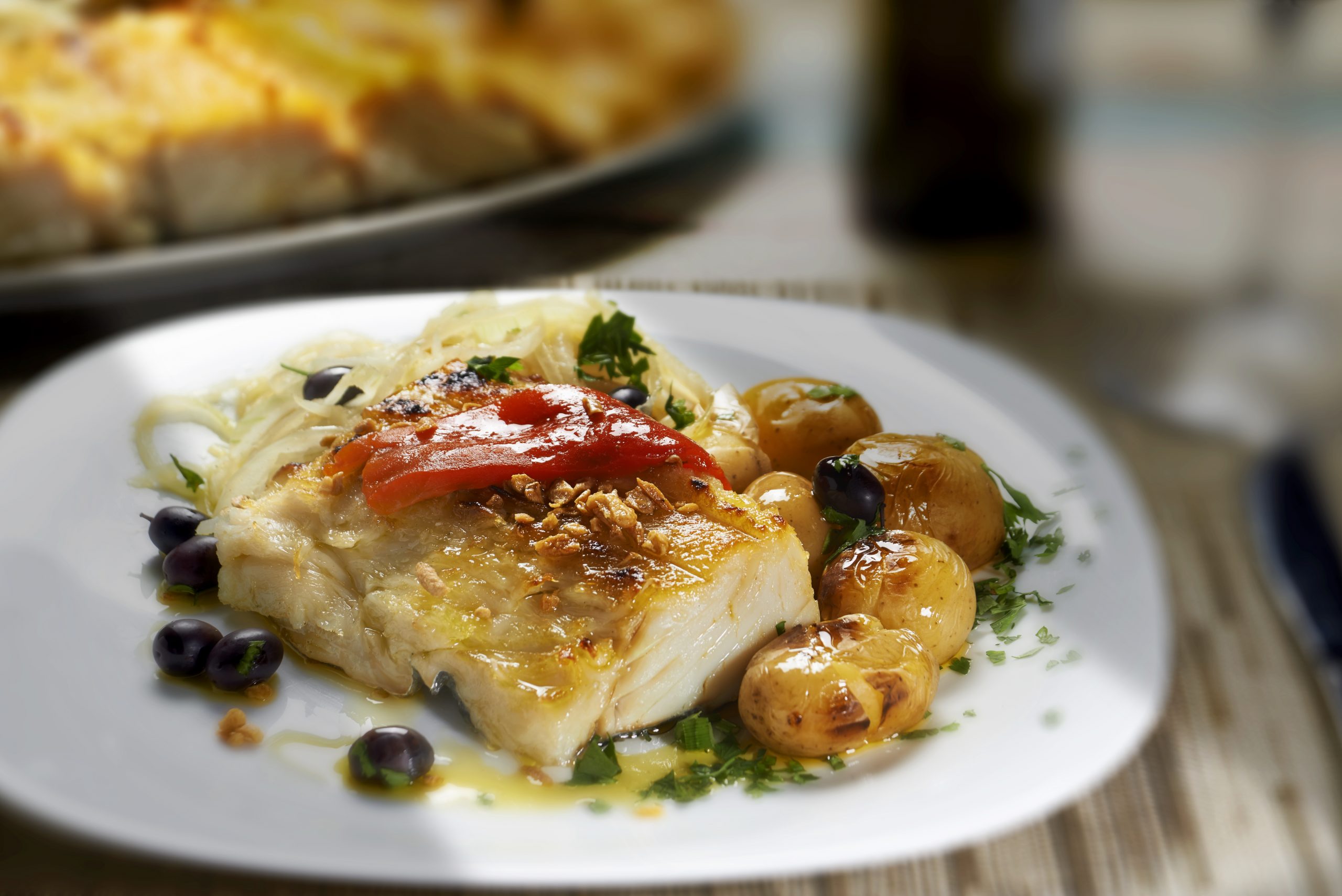 If you're looking for authentic Portuguese food in Macao, you could be forgiven for assuming it's on every corner. The city does indeed have a deep connection with Portugal, but local cuisine has also been shaped by African, Indian and Southeast Asian influences so it's not as ubiquitous as one might think. 
Despite some temporary closures due to Covid-19 – such as Chiado, from Michelin-starred chef Henrique Sá Pessoa – there are still plenty of great places to feast on authentic Portuguese fare. You might still find curried crab, African chicken or codfish fried rice on the menu, but the majority of dishes at these restaurants are as bona fide Portuguese as you can get.
Add a dash of Douro wine (Portugal's Douro Valley is the oldest recognised wine region in the world), some Portuguese traditional Fado music, and your West meets East experience in Macao is complete.
1. A Petisqueira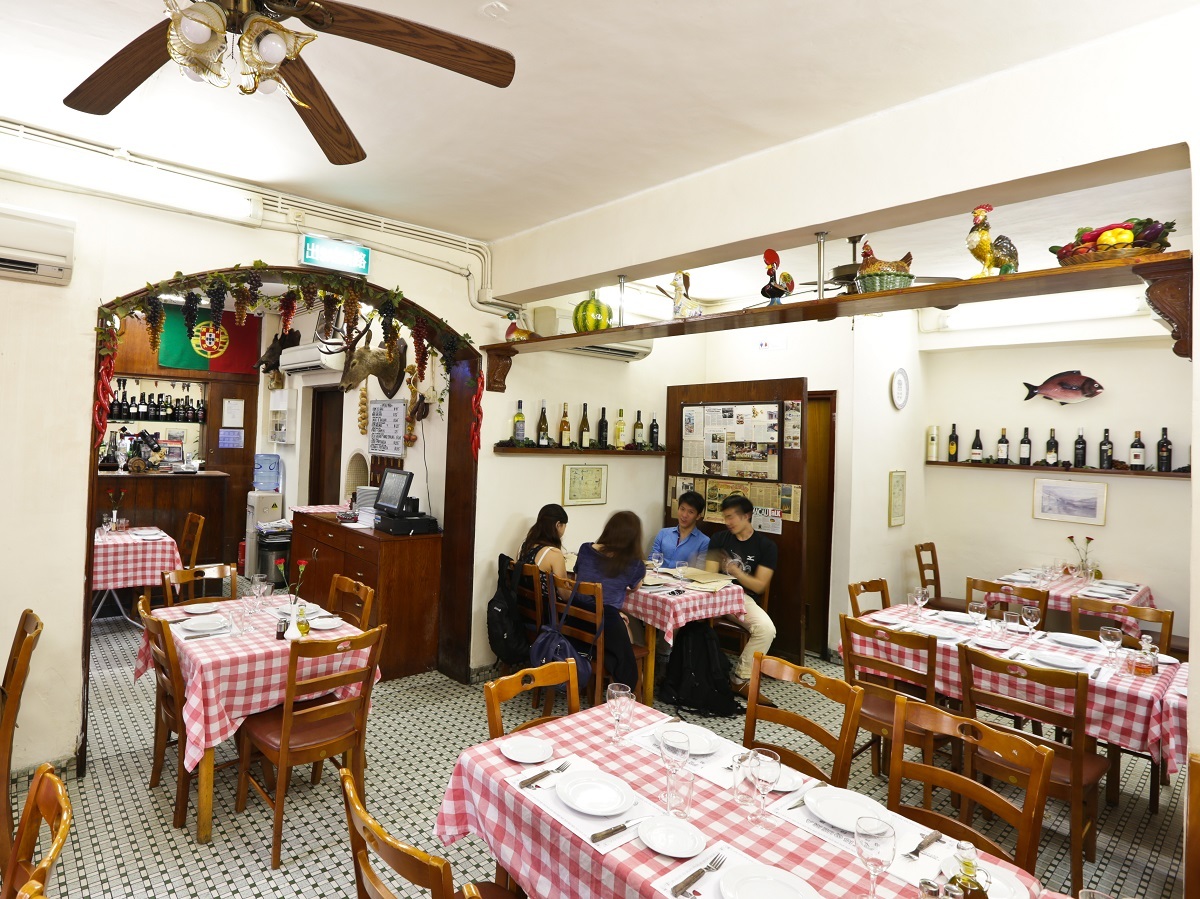 For Portuguese food with soul, head to Taipa Village and enjoy a meal at A Petisqueira, a classic neighbourhood restaurant that's been operating since 1993. Owner José Lúcio has worked in popular Portuguese restaurants around Macao since he was a teenager, and the experience shines through in his dishes. 
Families and friends like to meet at this long-established favourite for some of the city's best cataplana, garlic prawns, grilled sardines and mouth-watering cuts of meat. Craving bacalhau, the quintessential Portuguese dish of dried and salted cod? A Petisqueira prepares it in five different ways. Top off your meal with some traditional ananás com vinho do Porto – pineapple cooked in port wine.
Best seat in the house: For a quiet dinner for 2, ask for Table 8; Table 1 for 4 people; and Table 2 or 3 for groups
Don't leave without trying: Fried clams, codfish soup, and fried tenderloin steak
Closed on: Mondays
2. Vic's Restaurante, Rocks Hotel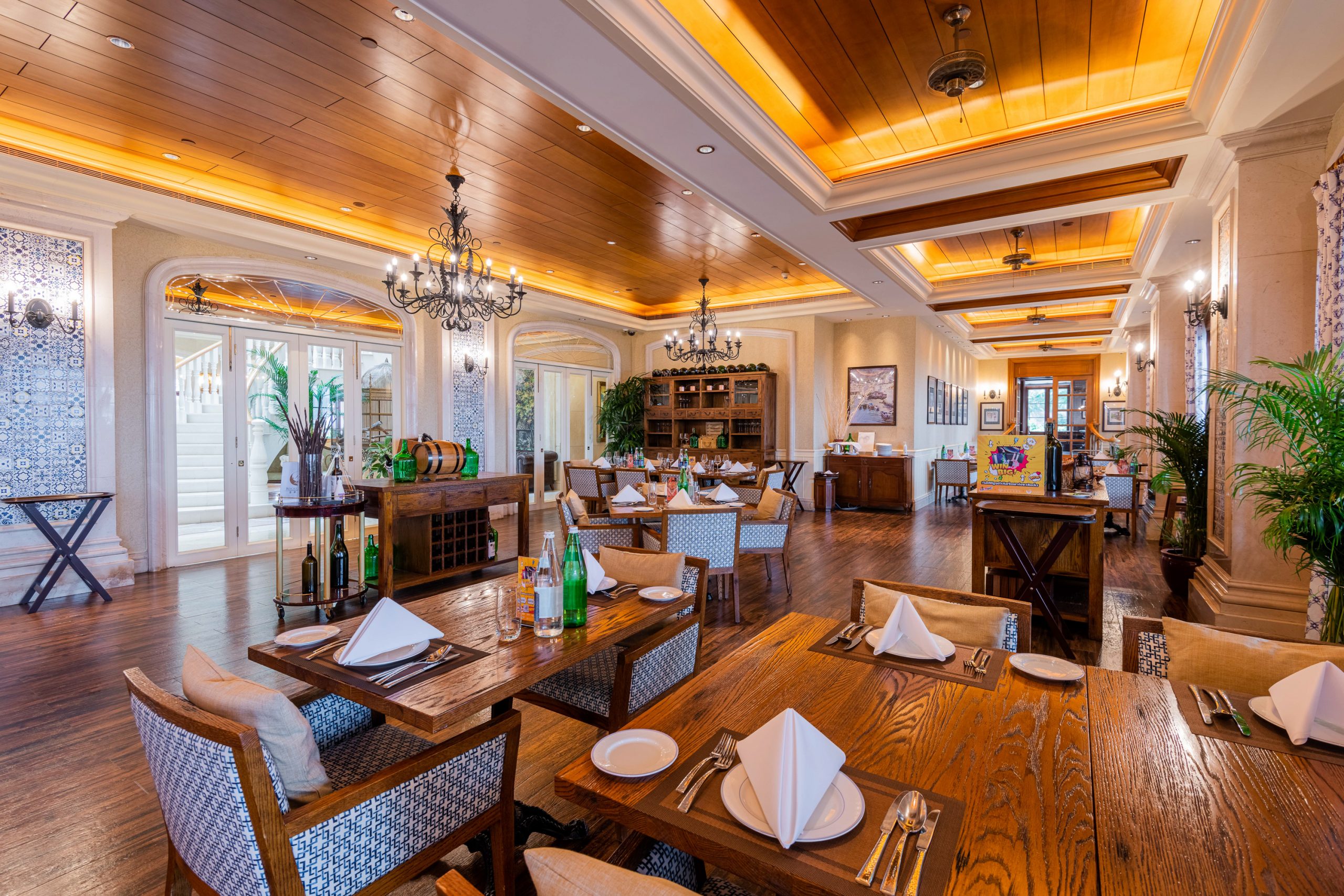 Since his arrival at the restaurant in 2017, Executive Chef Martinho Moniz has injected new life into Vic's Restaurante at Rocks Hotel in Fisherman's Wharf. Occupying the hotel's spacious ground floor and bathed in natural light, the restaurant boasts panoramic waterfront views and some of the most authentic Portuguese cuisine in Macao. 
Moniz pulls inspiration from his grandmother's techniques and recipes, even using herbs transported all the way from his home of Barreiro (a district outside of Lisbon) that are planted in a garden outside the hotel's kitchen. 
Standout dishes include duck rice, codfish cakes, garlic prawns and fish soup, cooked in the classic style with a tomato broth. For those looking to dine al fresco, enjoy your meal on the sun-drenched terrace overlooking Macao's Friendship Bridge. 
Best seat in the house: If you want to watch the action in the kitchen, ask for Table 1, and for a more quiet intimate dinner, Table 19 is next to the window. For a real treat, book the private room and bar
Don't leave without trying: Beiras-style tapas board; "legendary" stone soup; and monkfish rice with tiger prawns
3. António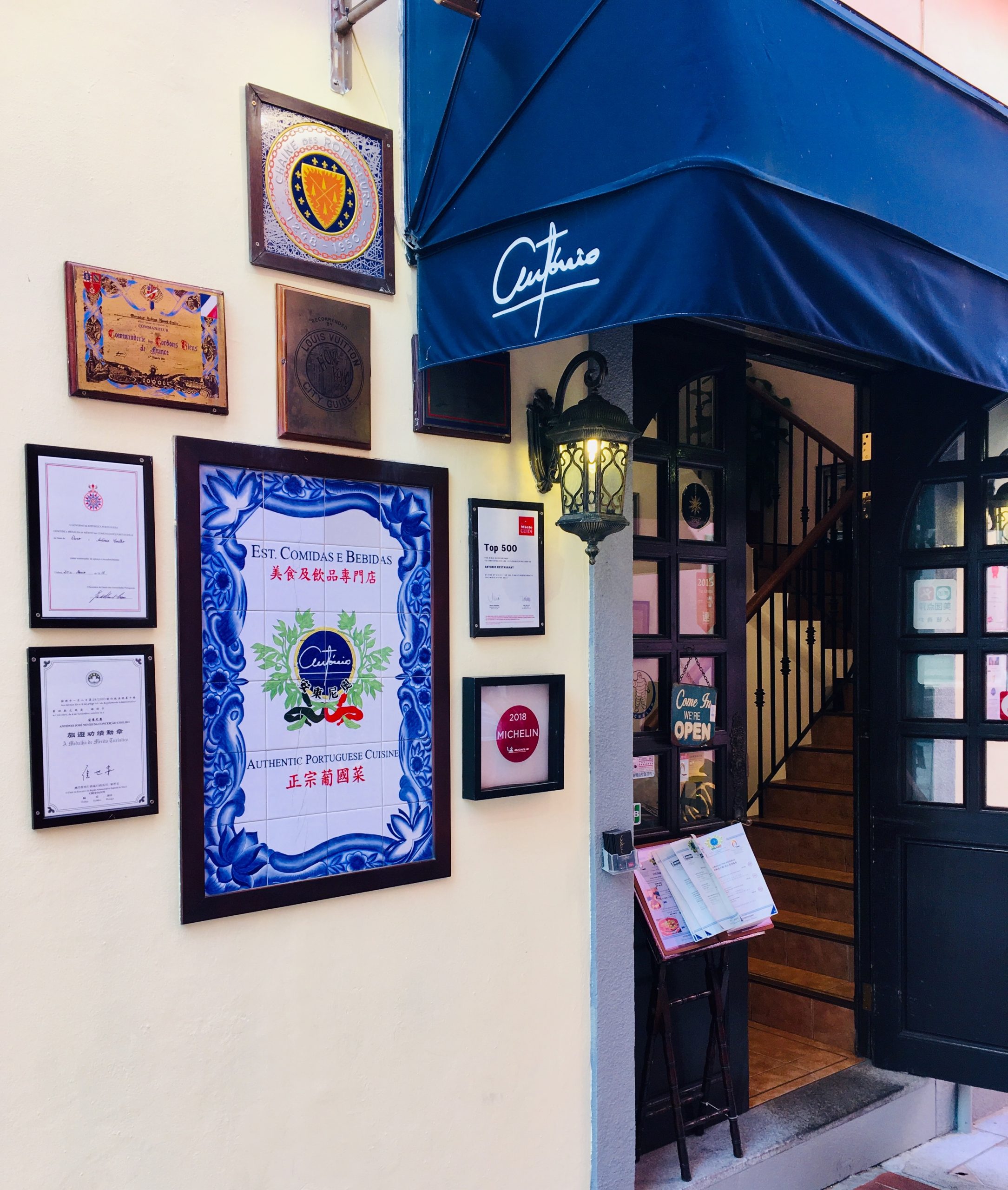 Good food brings people together and that's exactly what António's menu of honest, home-cooked Portuguese fare does. Opened in 2007 in Taipa Village by Chef António Coelho, the restaurant and the man himself have become synonymous with Portuguese food in Macao. Recommended by the Michelin Guide Hong Kong and Macau for the past 11 years, and relocated to a larger, three-storey house just a few doors down from its original location, the restaurant is now run by Chef David Abreu, who took over when António retired.
Try the gratinated goat cheese with olive oil and acacia honey, veal loin Mirandesa (a Portuguese specialty beef grown in the natural pastures of Northeast Transmontano), marinated sardines on homemade cornbread toast, or the seared Atlantic sea bass fillet. 
A side order of batata gratinada (gratinated potatoes) is a must, as is a freshly baked pastel de nata (Portuguese egg tart) for dessert.
Best seat in the house: The Balcony table on the 1st floor offers a great view and can seat up to 10, while Table 7 is perfect for couples looking for a more intimate experience 
Don't leave without trying: Wet seafood rice "Antonio" style; roasted baby goat
4. Fernando's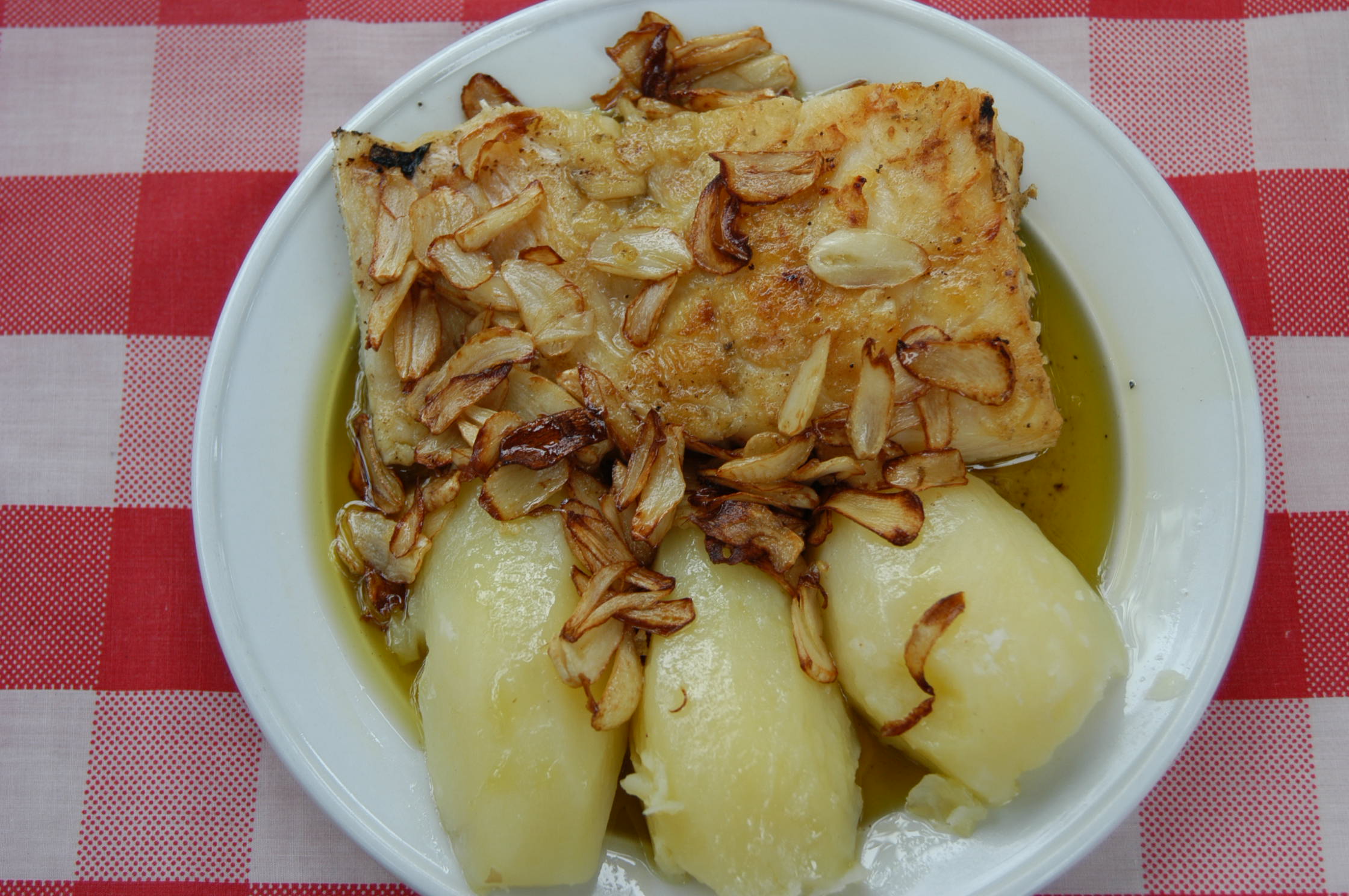 Open to the public since 1986, this beloved Macao institution sits just opposite the waterfront at Hac-Sa Beach in Coloane. Popular with locals and tourists alike, don't be surprised if you need to wait for a table – write your name in the book provided, and enjoy a cold drink in the garden bar while you wait. 
Once you're inside, it's a scene to behold: bustling waitresses, a kitchen alive with boisterous chefs and rich aromas, and a cacophony of glasses clinking and lively chatter throughout the dining room. If you want to do Fernando's right, start with the Portuguese chorizo and vegetable salad (all sourced from their very own garden), then dive into garlic prawns in clam sauce, fava beans, drunken steak and grilled chicken – you'll need at least a few of the huge homemade bread rolls to mop up all the sauce each dish comes with. Wash it all down with copious amounts of their homemade sangria.
Best seat in the house: For 2-4 people, opt for the window-side tables which run from Table 2-10; for groups that want to kick off with petiscos (Portuguese snacks) and drinks first, grab a tall chair at the bar table outdoors
Don't leave without trying: Prawns in clam sauce are an absolute must
5. Clube Militar de Macau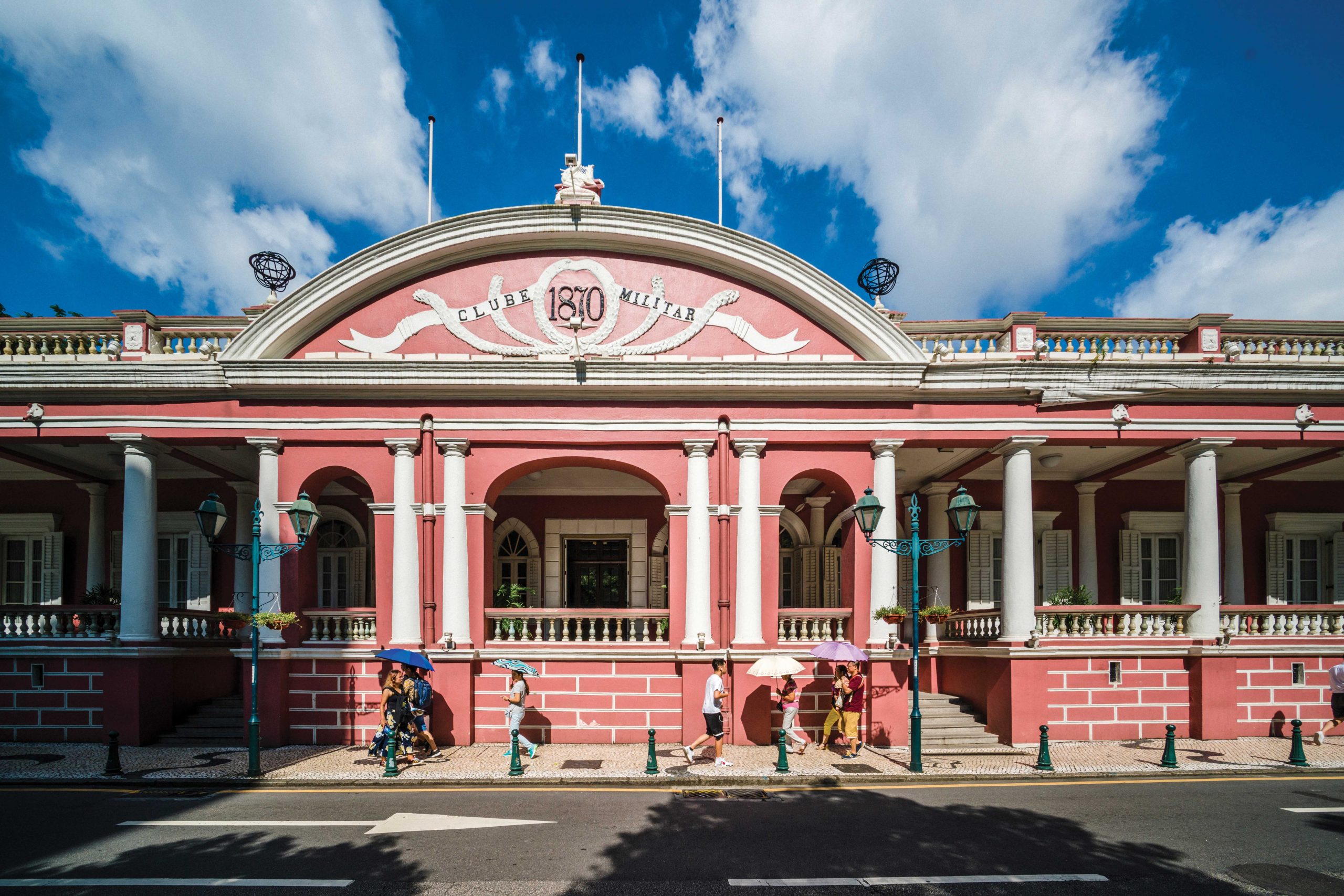 The palatial façade of this historic landmark makes quite the first impression. A pink and white colonial-style building boasting an impressive verandah, this private club was built in 1870 for military officers as a recreational and educational facility. 
Most of its facilities are still only available to members, but since 1995 its restaurant and bar have opened to the public. Devout followers of the temporarily-closed Chiado can find a few of Chef Henrique Sá Pessoa's dishes on the menu here, along with other authentic dishes by well-known Portuguese chefs. 
Try the grilled octopus salad, steamed sea bass, and black pork cheeks in red wine. If it's bacalhau you're after, you've come to the right place – there's a whole page of the menu devoted to Portugal's national dish. If you're looking for something light, the bar and lounge area does petiscos (Portuguese snacks) right, with codfish dumplings, suckling pig pie and grilled "Bísaro" sausage (from the Bísaro pigs in northern Portugal who are fed mainly on chestnuts and olives).
Best seat in the house: The best tables are reserved for Club Members
Don't leave without trying: Crab meat soup; lemon rice with black grouper and clams; and codfish and potato puree crunch
6. Mariazinha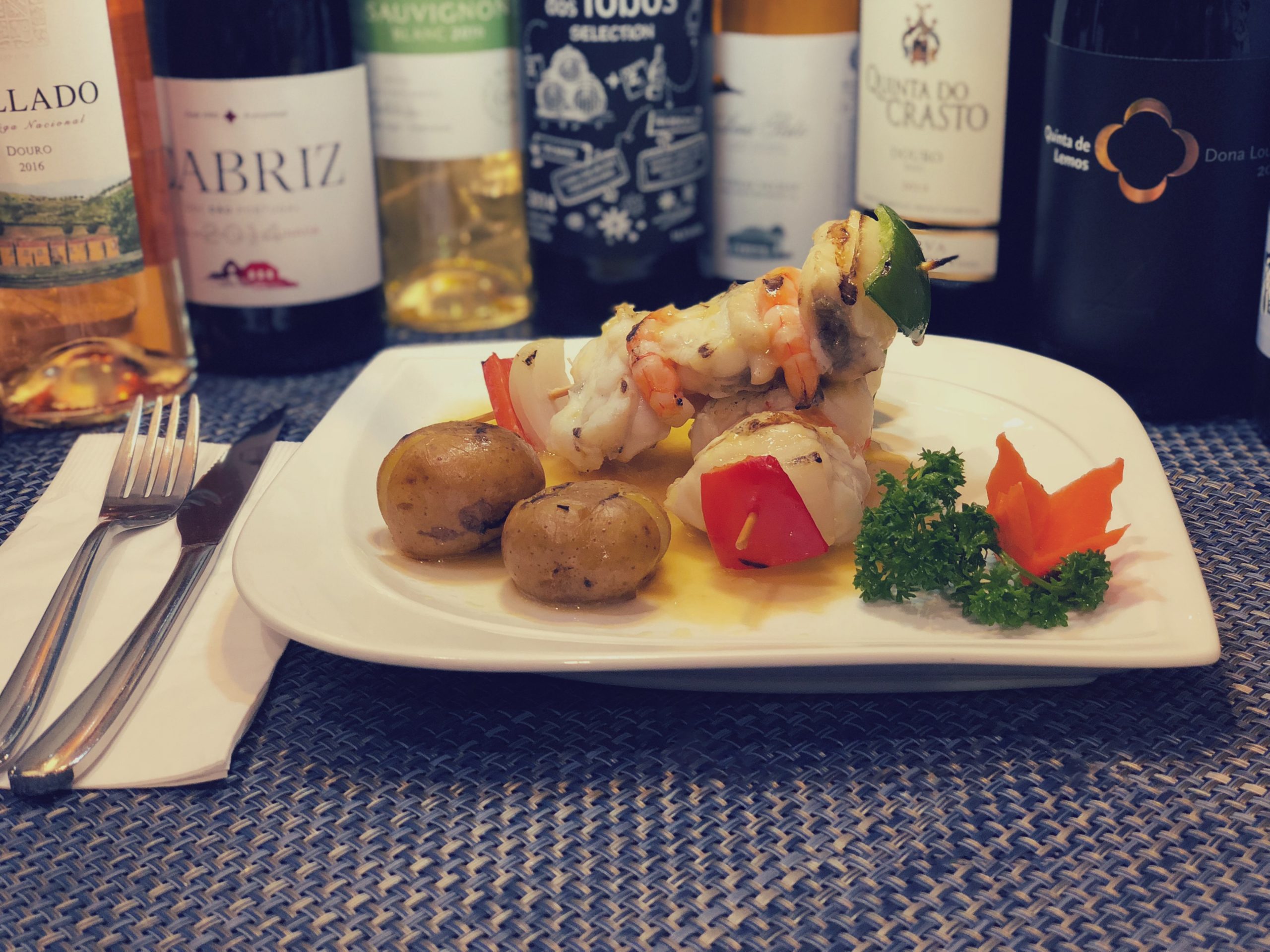 Tucked away on a quiet street near the Ruins of St. Paul, Mariazinha may seem unassuming, but don't let that fool you – the honest-to-goodness food here packs a punch. 
The family-run restaurant is a favourite amongst locals, both Portuguese and Macanese, and for good reason. Tuck into Portuguese staples like pica-pau (thinly sliced pork topped with beer-infused gravy), seafood rice, grilled veal Mirandesa and several different styles of bacalhau. 
You'll also find dishes that are less known but still staunchly traditional in Portugal, such as the bacalhau à chefe (fried salted codfish with prawns and clams in a special sauce) and the Francesinha, Portugal's answer to the French Croque madame. The huge, meat-filled sandwich is stuffed with ham, mortadella, cheese, beef and chorizo, then topped with an egg and smothered in a beer-based tomato sauce.
Best seat in the house: For a quiet dinner, ask for Table 1; for something more lively, Table 13 has a view of the bustling street outside.
Don't leave without trying: Sliced veal loin with mushroom sauce; Portuguese sponge cake with egg cream.
7. Portugália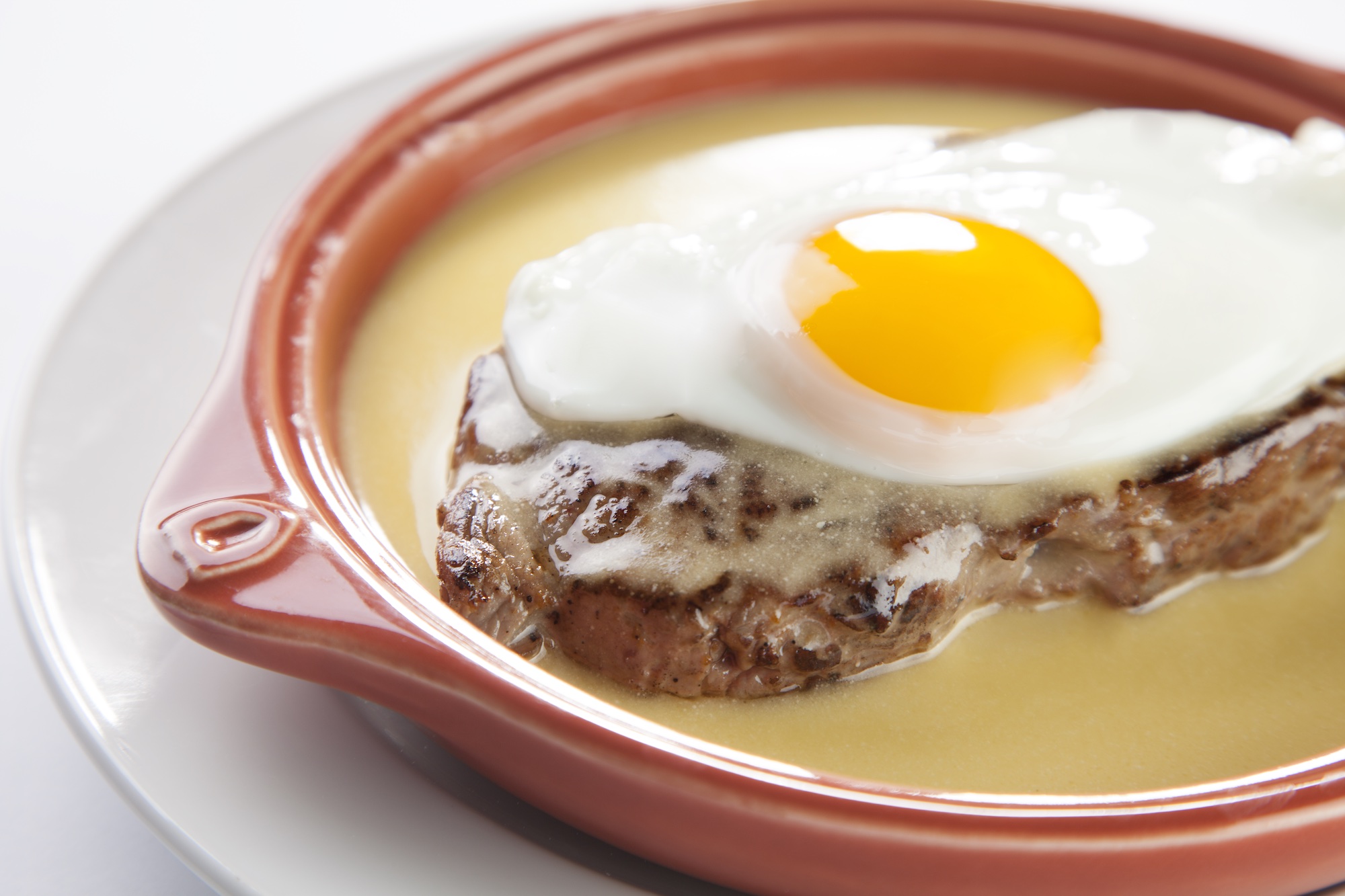 Home to the most famous steak in Portugal, Portugália is a Portuguese chain that has been serving up its classic dish for almost 100 years at the original beer house in Lisbon. 
The Taipa Village branch opened in 2015 and has quickly become a firm favourite with the city's Portuguese community that are nostalgic for a taste of home. 
Their signature dish is the bitoque, a beef steak topped with a fried egg and special sauce, but other must-try dishes include clams in white wine, crab meat pate, seafood rice; and bacalhau à brás – shredded salted codfish and thinly chopped potatoes bound by scrambled eggs. 
Don't leave without tucking into a serving of their homemade pudim flã or serradura pudding, the perfect end to your meal.
Best seat in the house: Alfresco diners can request Table 500 on the terrace; groups may like Table 400 on the upper floor; and Table 312 in the wine cellar room is perfect for a cosy dinner
Don't leave without trying: The famous steak and egg should not be missed
8. Douro, The Roosevelt Hotel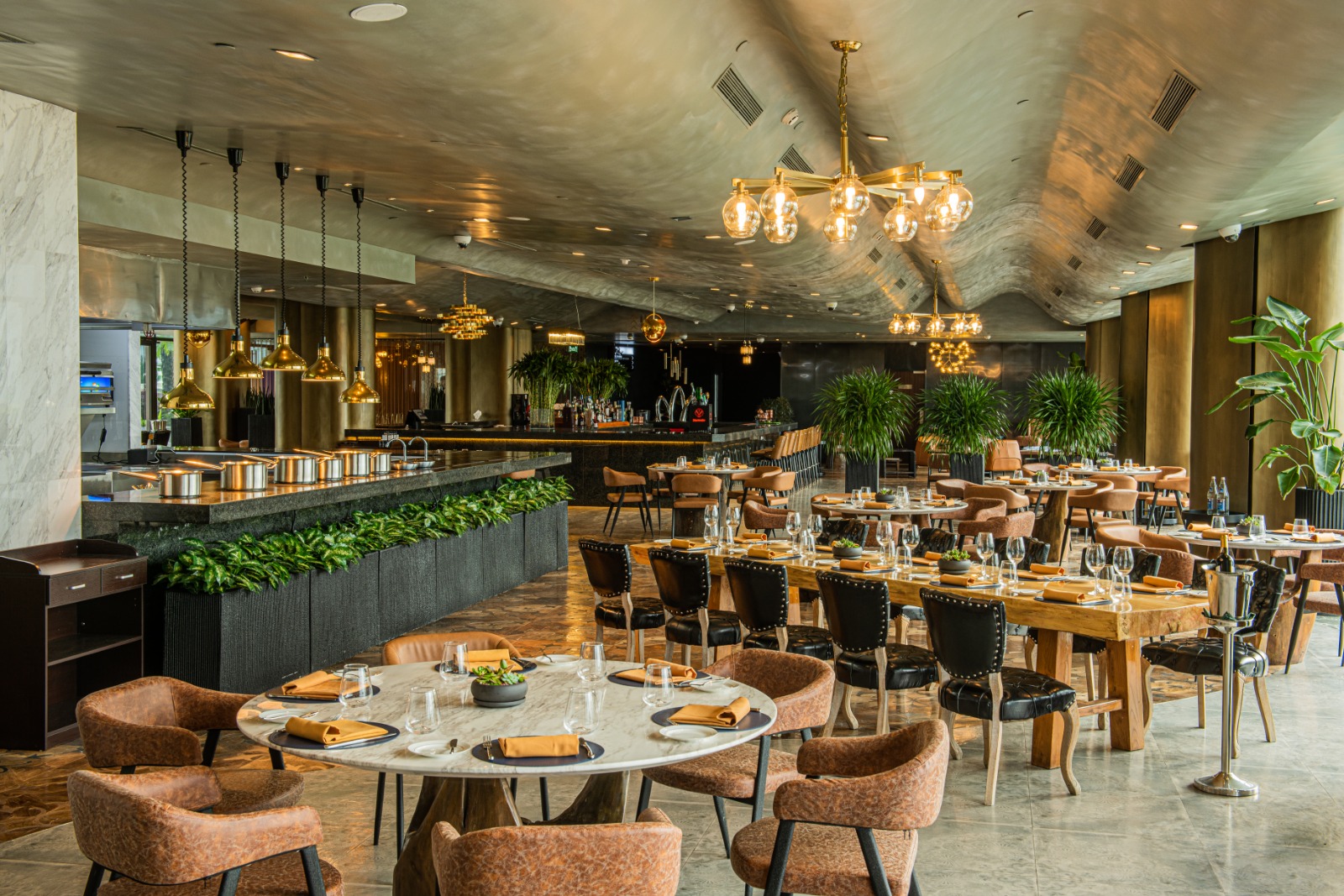 Opened in December 2020, D'OURO at The Roosevelt Hotel is the newest Portuguese restaurant on the block. Come for a cocktail (we recommend the Portotónica, a refreshing blend of dry port, tonic water, fresh mint and lime juice) before moving on to dinner. 
With views of the Hengqin skyline on nearby Zhuhai on one side and the hotel pool on the other, the dining room offers plenty of good views. 
But it's the menu that's the real looker, with a refined curation of dishes that blend traditional recipes with modern influences and presentation. Helmed by Executive Chef Herlander Fernandes, this team of Portuguese chefs whip up mouth-watering dishes like tiborna de alheira (a classic northern dish of grilled bread with sausage, sautéed spinach and a slow-cooked egg), creamy caldo verde (a traditional green soup), prawns in garlic sauce, and succulent beef cheeks. The flame-licked grilled meats are big enough for two to share, although they're so good you may not want to.
Best seat in the house: If you want to watch the chef's at work and see your meal get plated up, ask for the Chef's Table. If you'd prefer to watch the sunset over the Hengqin skyline, Table F6 is the one to ask for.
Don't leave without trying: Grilled Sea Bass with mixed salad and potato mille-feuille
9. Albergue 1601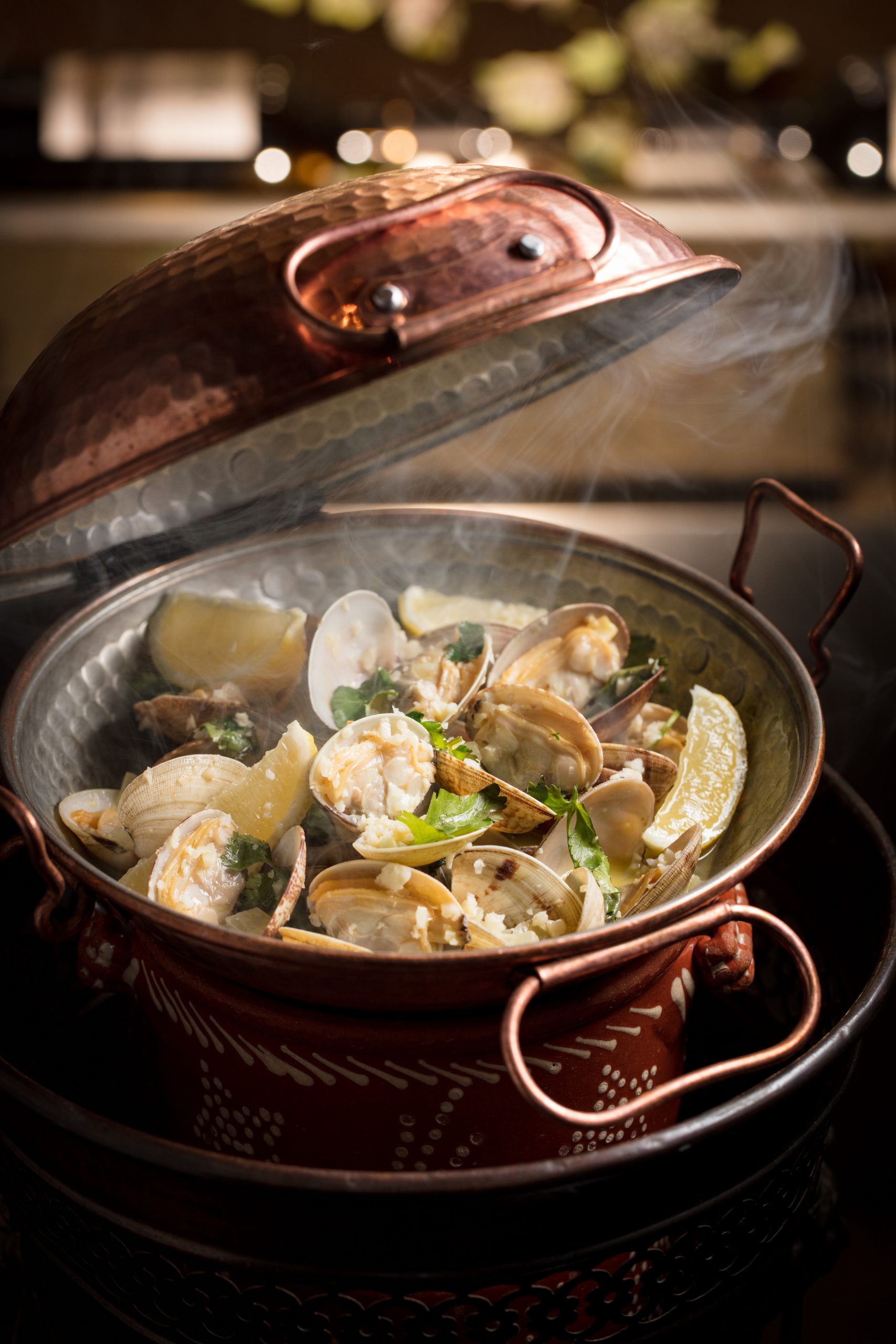 If you're looking to enjoy authentic Portuguese dishes in a historical setting, Albergue 1601 is a great choice. Located in the charming cobblestone courtyard of the Albergue SCM in the historic St Lazarus district next to a century-old camphor tree, the restaurant boasts a concise menu designed by head chef Pedro Almeida to help you enjoy the best Portuguese dishes without the confusion of too much choice. 
A winning combination is the caldo verde (potato green soup) and Gambas à Guilho (garlic shrimps), followed by the Arroz de Marisco (seafood rice stew), and a Pluma Grelhada (grilled Ibérico pork shoulder), all washed down with some of Portugal's finest wines. 
Best seat in the house: Tables 10C & 10D are the most romantic tables with great views of the courtyard. 
Don't leave without trying: Chef's suggestions are marked on the menu with a symbol of the old tree outside. They include Bacalhau à Bráz (codfish with scrambled eggs), the Arroz de Pato (baked duck rice) and the Leitão Assado (roasted suckling pig).