The Parisian Macao's Eiffel Tower Tops Out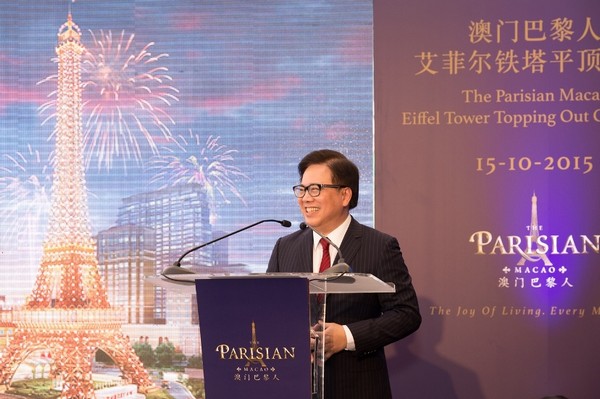 The Parisian Macao resort reached one of its most significant milestones on Thursday. Marked with the symbolic act of capping the dome and lantern structure, the moment also signaled the beginning of the tenure of the appointed president and chief operating officer for Sands China Ltd, Wilfred Wong.
Wong, who presided over the ceremony held on Thursday at the construction site of the new resort, explained, "The Parisian Macao, and in particular its Eiffel Tower, is certain to be a landmark presence on the Cotai Strip, and an iconic addition to the city's skyline."
The new president and chief operating officer for Sands China Ltd took this opportunity to inform the public that he will begin work with the company from November 1. He highlighted in his speech the European style and the uniqueness of the integration between the company's resorts, asking, "Where else but here could you have lunch alongside the serenading gondoliers plying the picturesque canals of Venice, and then have dinner at an authentic French bistro, before enjoying breathtaking views from Cotai Strip from the Eiffel Tower?"
As Wong explained, the major points of interest around The Parisian and its iconic half-size replica of the Eiffel Tower do not end with the structure itself, but continue in the events that are expected to take place.
Expected to open in the second half of 2016, The Parisian Macao will feature an integrated resort with about 3,000 rooms and suites, as well as conference rooms, restaurants, shops, a spa and health club, a children's club, two observation decks and a pool deck, including Aquaworld – a themed water park aimed at mostly business, leisure and family travelers.
Once it has been completed, The Parisian will increase the visitor capacity of Sands China in the Cotai area to 12,000 rooms and suites and 800 duty-free shops.
The Parisian Macao is the latest addition to the integrated resort city of Sands Resorts Cotai Strip Macao.
(macaunews/MDT)