Wang Chuqin and Sun Yingsha triumph at WTT Champions Macao 2022
Wang Chuqin and Sun Yingsha triumph at WTT Champions Macao 2022

Link copied
Gripping finals featuring top table tennis stars from mainland China played out before enthusiastic crowd at Tap Seac Multisport Pavilion.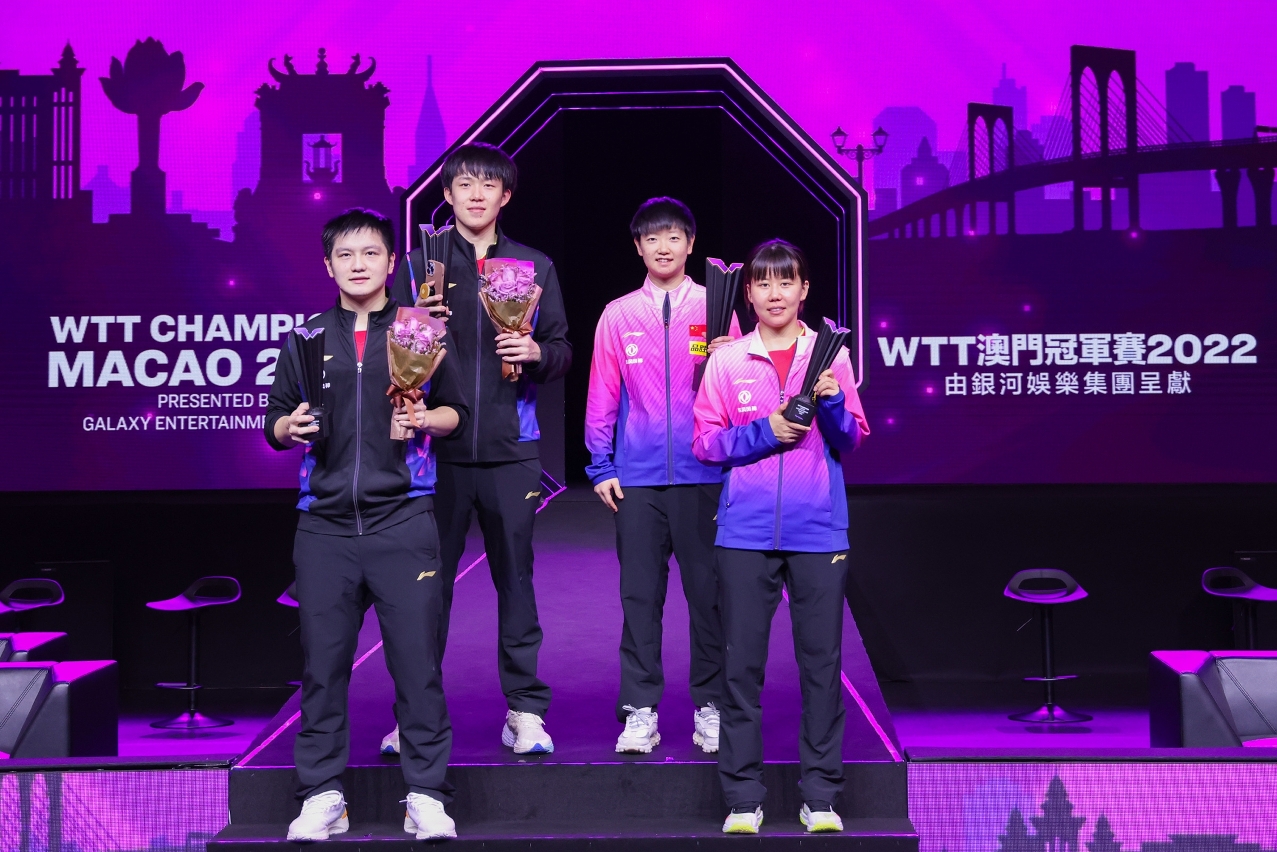 The men's and women's WTT (World Table Tennis) Champions Macao 2022 competitions were won by Wang Chuqin and Sun Yingsha from mainland China.
The contest consisted of 32 matches. The finals took place yesterday, featuring Fan Zhendong, the world No 1 men's singles player, and Wang Chuqin in the men's singles final, and Sun Yingsha, the world No 1 women's singles player, who faced Chen Xingtong in the women's singles final.
In the men's singles final, Wang defeated Fan in seven games 4-3.
Wang said after the tournament that he was happy that he won the championship, adding that winning a championship was the greatest reward for every athlete. Wang also said that he enjoyed playing in Macao, where he could hear the cheers and chants from the audience.
Wang also won the WTT Champions Macao 2021 which was postponed to January this year.
In the women's singles final, Sun took down Chen 4-1 after a five-game battle.
Sun said that the first WTT tournament was also held in Macao in 2020 when she competed against Chen, also in the final, adding that this year she was a little luckier to win the prize. However, Sun pointed out, both Chen and herself played equally well during the final.
Yesterday's finals, which were presented by Galaxy Entertainment Group and held at Tap Seac Multisport Pavilion, were attended by Chief Executive Ho Iat Seng, Secretary for Social Affairs and Culture Elsie Ao Ieong U and Deputy Commissioner of the Foreign Ministry Commissioner's Office Wang Dong, The Macau Post Daily reported.