Senior secondary school pupils return to their classrooms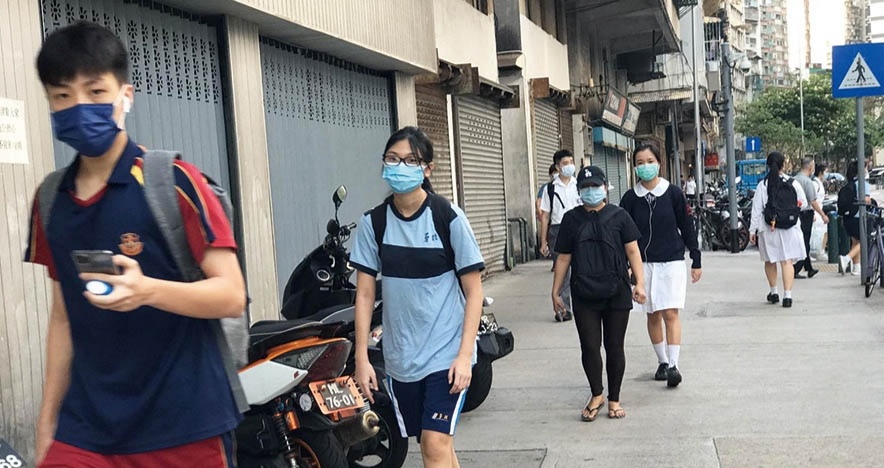 Senior secondary school pupils finally returned to their classrooms on Monday after the more than three-month-long suspension of physical class attendance due to the outbreak of the COVID-19 pandemic.
Senior Education and Youth Affairs Bureau (DSEJ) officials visited a number of schools yesterday to inspect how the "back-to-school" arrangement was doing. A total of 44 schools with about 13,000 pupils resumed in-class teaching on Monday, after weeks of online teaching.
The officials described the overall situation on Monday as "generally smooth".
According to a DSEJ statement late last month, DSEJ and school officials worked together closely to prepare for the senior secondary school pupils' safe return to their classrooms amid the COVID-19 pandemic. According to the arrangement, all pupils, teachers and other school personnel must wear facemasks, have their temperatures checked when entering the school premises and wash their hands regularly.
Junior secondary school pupils' physical class attendance will resume next Monday.
The statement pointed out that if the resumption of face-to-face classes of junior secondary school goes smoothly and the COVID-19 situation remains under control, Primary 4 to 6 in-class teaching could be resumed in the near future.
Macau's schools have been closed since the Chinese New Year holiday in late January. Senior secondary schools became the school systems first segment to resume in-class teaching on Monday.
(The Macau Post Daily/Macau News)
PHOTO © The Macau Post Daily