Shipyard pillar collapses heightening risks for villagers in Coloane, Macau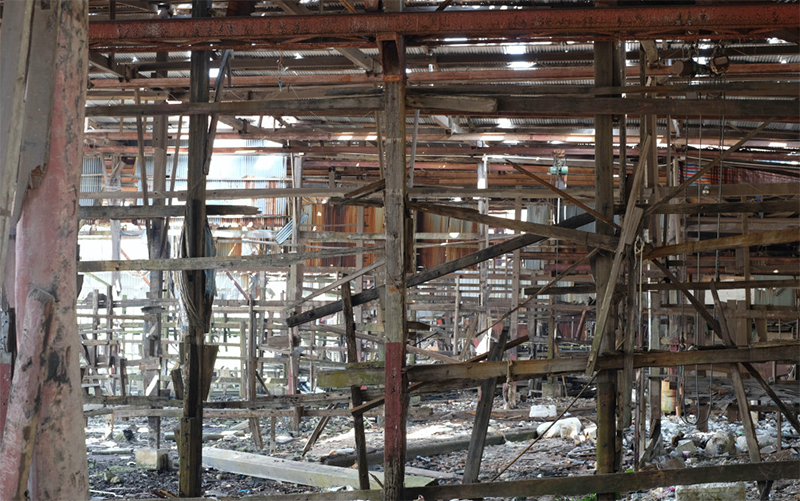 A main supporting pillar of an endangered shipyard in Coloane has collapsed on Monday morning.
Authorities cordoned off the area and the Secretary for Social Affairs and Culture visited the site and listened to the residents' complaints, stressing the government's commitment to revitalize the area.
However villagers demand immediate action and call for a sit-down dialogue with the government.
A group of Coloane villagers says they need desperate help as the abandoned shipyard next to their home has turned into a ticking bomb.
They're forced to move out over fears that the endangered building could collapse onto their homes at any time.
And on Monday morning, it felt like a life-threatening moment for them as another main supporting pillar, connecting the broken pieces, snapped leaving them no choice but to call the police.
And the case has alarmed Secretary for Social Affairs and Culture Alexis Tam.
There are around 16 abandoned shipyards near the Lai Chi Vun village, and according to Tam, the government has already claimed back the ownership of three of them.
But the shipyard threatening the villagers' life is not yet claimed back but Tam says they have already informed the owner.
"Our colleagues have already informed the owners of the shipyard to fix it as soon as possible and I believe they are well-aware of the incident. At the moment, the government has already taken back the ownership of three shipyards, but as for other shipyards, it's a bit more complicated as involves the issue of ownership and in the future we are planning to work toward this goal (claiming back). We had inspected on this area several times and we are set to revitalize it", said Alexis Tam.
The Marine and Water Bureau says they're waiting for the shipyard's owner to submit an engineering project proposal to the government.
But the affected households want a timetable from the authorities as they fear their home could've been destroyed by the time the proposal is submitted.
David Marques, who's representing the Lai Chi Vun villagers, summited a petition to the Marine and Water Bureau, demanding immediate action.
Marques also wants a sit-down dialogue with the government: "We need to sit down and have a dialogue about what the expectations of the villagers are, what are the expectations of the ship owners and what is the expectation of the government".
(Macaunews/tdm)