Strongest typhoon in 13 years injures 16, causes 254 incidents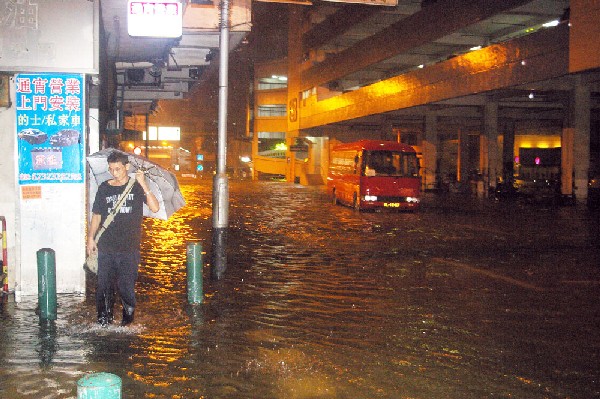 Macau Tuesday endured its strongest typhoon, with wind speeds of 144 km/hour at its height, in 13 years, resulting in 16 minors injuries and 254 incidents, the government said.
It was also the first time this year that the No. 9 warning signal – the second highest – was hoisted since the establishment of the Macau Special Administrative Region (MSAR) in 1999.
The No. 9 signal remained hoisted for two hours and 45 minutes early Tuesday.
During the 14 and a half hours that the No. 8 and No. 9 warning signals were up, 121 trees were blown down and many residents' windows were broken.
During the typhoon hours, the city's low-lying areas such as those adjacent to the Inner Harbour and even the city's main thoroughfare Avenida de Almeida Ribeiro (San Ma Lo) were affected by severe flooding.
According to information from the Security Co-ordination Office, a total of 254 incident were recorded in which 16 residents were injured slightly with the number of call outs for fire engines totalling 186. Most of the incidents involved vehicles while others dealt with objects falling from buildings and debris from construction sites. A total of 52 people stayed in the government's shelters
Many residents living next to a construction site in Avenida de Guimaraes in Taipa needed to be evacuated because a tower crane was swaying in the gale-force wind and left tilting perilously.
The typhoon also caused many residential buildings' windows to break, especially in some newly-built luxury residential high-rises, according to The Macau Post Daily.
Public transport services gradually resumed full service after 9:30 a.m. yesterday morning. The city's three Macau-Taipa bridges were reopened to vehicles shortly after the No. 8 signal was lowered.
Public servants went to work at 2:30p.m., banks began work at around midday and other businesses opened at various times throughout the morning Tuesday.
Meanwhile, Chief Executive Fernando Chui Sai On said in a statement  that it was the government's top priority during a typhoon to ensure residents' safety.(macaunews)