President Xi reveals new line-up for Politburo Standing Committee
President Xi reveals new line-up for Politburo Standing Committee

Link copied
Party stalwarts and ardent loyalists, all in their 60s, surround Chinese leader as he consolidates his powerbase.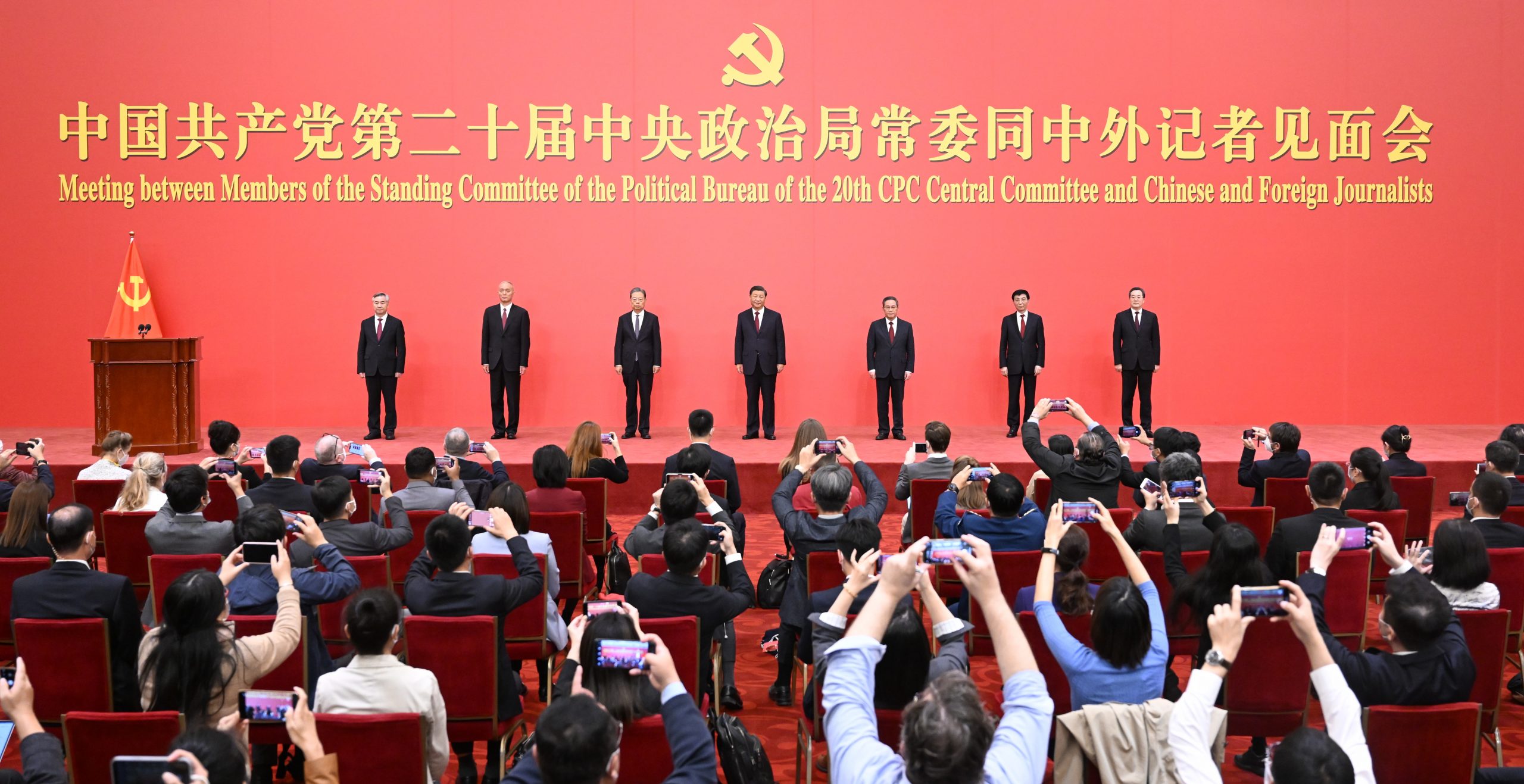 President Xi Jinping has unveiled a lineup of loyalists in his new inner circle after he secured a third term as China's leader.
The members of the Communist Party's Politburo Standing Committee were introduced by Xi in ranking order on Sunday, offering clues about the country's next premier and other key posts.
The new members of the Communist Party's Politburo Standing Committee are Li Qiang, Cai Qi, Ding Xuexiang, and Li Xi. Zhao Leji and Wang Huning are the only two members who will serve a second term in the Politburo Standing Committee.
Li Qiang
Li, 63, was elevated from Shanghai party chief – a position that has almost always meant a promotion to the standing committee. He will succeed Li Keqiang as premier next March.
According to his official bio, Li started off as a technical worker at just 17 years of age. He later studied at various institutions and obtained an EMBA from Hong Kong Polytechnic University in 2005.
Li's career path overlapped with Xi's in the eastern coastal province of Zhejiang, when Li was a city party boss and later a secretary-general in the provincial party committee directly under Xi. Li spent his entire career in Zhejiang before Xi promoted him to head Jiangsu Province in 2016.
Li's career advanced despite criticism for his handling of Shanghai's chaotic two-month Covid-19 lockdown earlier this year.
Cai Qi
Cai, 66, is promoted from Beijing party chief, and has worked under Xi in both Fujian and Zhejiang. He worked in rural areas for a couple of years during the Cultural Revolution before going to study and work at Fujian Normal University. Cai and president Xi worked together in the Fujian provincial party committee in the 1990s.
In 2014, Cai moved to Beijing to work at the newly established National Security Commission, headed by Xi. He became party leader of the Chinese capital in 2017 and was made the chairman of the Beijing 2022 Winter Olympics and Paralympics Organising Committee.
Ding Xuexiang
Ding, 60, is one of President Xi's key aides. A trained engineer, he spent the first 17 years of his career at Shanghai Research Institute of Materials, and has been promoted from director of the Central Committee's General Office.
Ding, who accompanied Xi on trips to Hong Kong and Xinjiang this year, worked under China's leader as a secretary-general in Shanghai in 2007. He had spent his career in the financial hub before winning a promotion in 2013 as the director of the President's Office in Beijing.
Li Xi
Li, 66, joins the standing committee as the head of corruption watchdog the Central Commission for Discipline Inspection.
Li is a native of Liangdang County in Gansu Province, where Xi's father Xi Zhongxun led an uprising in 1932. He worked in Gansu for 25 years, including a stint as a secretary of the then provincial party chief Li Ziqi, who was a former subordinate of the elder Xi. Li got to know Xi when he accompanied Li Ziqi on visits to the elder Xi in Beijing and Shenzhen, according to Hong Kong's Ming Pao newspaper.
Li spent the next seven years in Shaanxi Province working under Zhao Leji.
Li later held leadership positions in Shanghai and Liaoning before replacing Hu Chunhua as Guangdong party chief in 2017, when he also became a Politburo member.
Zhao Leji
Zhao Leji, 65, will serve a second term on the committee and will likely head the National People's Congress.
Zhao spent his adolescent years in Qinghai Province but his family is originally from Shaanxi Province, Xi's ancestral home. Some accounts claim that his father was friends with Xi's.
Zhao went on to study philosophy at Peking University. He later returned to Qinghai, where, at 42, became China's youngest provincial governor in 2000.
Although not a well-known figure in the party at the time, in 2012 Zhao was chosen to head its organisational department, where he helped promote Xi supporters to top positions in important places like Beijing and Chongqing.
Zhao became a close aide to Xi while helping to build the foundations of the leader's first term. When former Chongqing party chief Sun Zhengcai was brought down in July on corruption charges, it was Zhao who made the trip to explain the situation to local officials.
Wang Huning
Wang Huning, 67, is one of China's top thinkers on both domestic and foreign affairs, having served under every party chief since Jiang Zemin. He is also serving a second term on the Politburo Standing Committee and is expected to head China's top political advisory body.
Wang helped flesh out Xi Jinping's "Chinese Dream," which the president promoted upon taking office. His idea that authority must be concentrated at the top to promote reform is central to Xi's political ideology.
Although Wang's family is from Shandong Province, he was born in Shanghai in 1955. He began to make his mark in 1985 when he became an associate professor at the prestigious Fudan University at the age of 30. Wang is fluent in French and has studied in the US.