Macau's Chief Executive meet President and Premier of China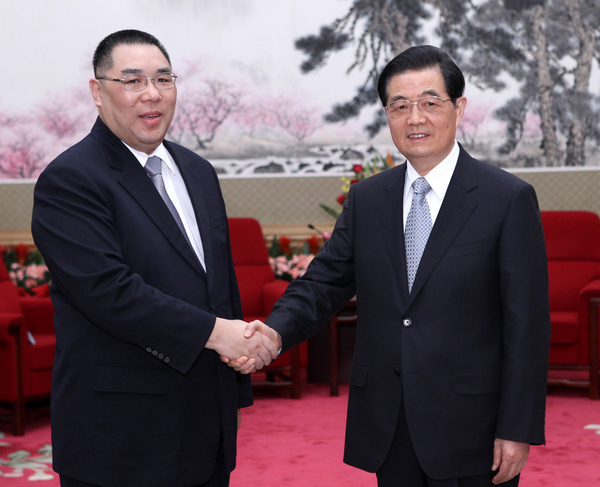 Beijing, China, 27 Dec – The Macau Chief Executive, Chui Sai On met President Hu Jintao and Premier Wen Jiabao and said that Macau has been taking measures to became a world tourism and leisure centre and a business and trading service platform for the relations between China and the Portuguese-speaking countries.
According to the Government Information Bureau (GCS) both President Hu and Premier Wen said the Macau government should manage the financial aspects of the territory with security in order to reduce risks, intensify the work on improving people's livelihood and accelerate the pace of economic diversification.
During the meeting in Beijing President Hu said that Macau maintained rapid economic growth and a harmonious and stable society last year.
"The Macau government improved its administrative capabilities and implemented effective measures in a timely manner to alleviate people's living pressure brought by the inflation," Hu said.
President Hu Jintao said that the current overall situation in Macau is good, urge the region to ensure future prosperity and seek benefits for their citizens, according to Xinhua News Agency.
Hu expressed his hope that Macau government would strive to promote sound and fast development of the territory to improve people's livelihoods in the coming year.
Chui said that "in the near future, the government would organize business delegations from the Portuguese-speaking countries to participate in commercial and trading activities, such as fairs in mainland (…) and business delegations from mainland to visit Portuguese-speaking countries to promote their goods and products, as well as to participate in fairs".
He stressed that Macau has become a tourist destination and reiterated that the government is confident to build Macau as a world's tourism and leisure centre.
"The Chief Executive also said that the government has placed great hopes in regional co-operation to diversify Macau's economy and he has confidence to achieve it" according to GCS.(MacauNews/Politics)