Macau policy secretary keeps mum on judicial bias claim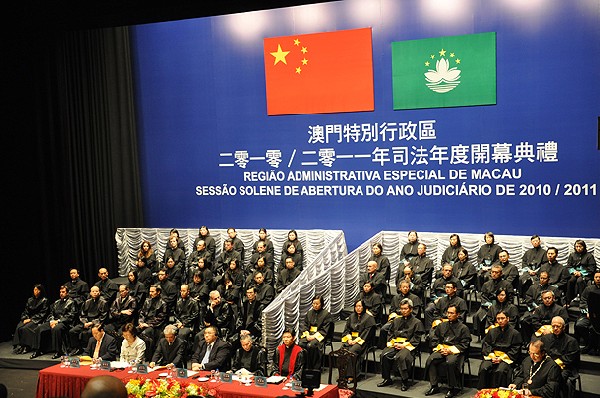 Secretary for Administration and Justice Florinda Chan Lai Man has kept mum on a claim by Macau's top lawyer that local judges are biased in favour of the government.
"No comment," Chan said when asked by reporters about the issue on the sidelines of the opening ceremony of an activity hosted by the Macau Lawyers Association (AAM) in Largo do Senado on Friday.
However, Chan insisted that according to the Macau Basic Law the city's judges are independent and that the government "does not and cannot" interfere in judicial proceedings.
According to a front-page report in The Macau Post Daily today, Chan was reacting to a claim by Jorge Neto Valente, who heads the Macau Lawyers Association, that in the past few years the city's judges tended to decide in favour of the government when ruling on administrative appeals. Neto Valente, who also claimed that local judges "probably put the government unwittingly in an advantageous position," made the controversial remarks in a local radio programme earlier this month.
The Judicial Council, which is headed by Macau's top judge, reacted angrily to the claim, which it described as "unfounded" in a statement released through the Macau Government Information Bureau (GCS) early last week.
The statement also said that Neto Valente's remarks were "detrimental to the image and dignity" of the city's courts, expressing the hope that local judges will not be affected by the prominent lawyer's assertion.
Neto Valente quickly responded to the council's statement, which he described as "excessive" and "disproportionate." However, speaking to reporters on the margins of Friday's opening ceremony of his association's Lawyers Day activity, Neto Valente also said that there existed "no conflict" but merely "differences of opinion" between lawyers and judges.
Article 83 of the Macau Basic Law states that "the courts of the Macau Administrative Region shall exercise judicial power independently … and shall not be subject to any interference."(macaunews)