Macau police seize 9.3 kilos of cocaine worth 25 million patacas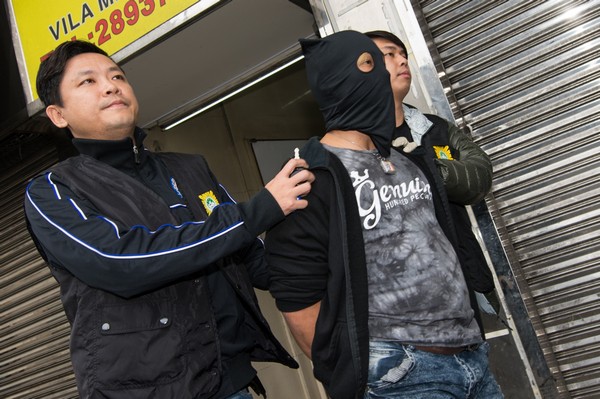 The police seized 9.3 kilogrammes of cocaine worth about 25 million patacas and arrested three suspects Sunday, Judiciary Police (PJ) spokesman Vong Chi Hong said.
Speaking to reporters after the arrests outside a guesthouse in Praça de Ponte e Horta, Vong, who heads the PJ's criminal investigation division, said the police recently received a tip-off about an international drug cartel using Macau as one of its stops in its drug-smuggling operations.
Vong said a 45-year-old Turkish man surnamed Uysal arrived in Macau from Brazil on Saturday night, carrying drugs wrapped in bed sheets and other bedding products in his hand luggage, and checked into the guesthouse in the Inner Harbour area.
According to Vong, the police watched the suspect's hotel room until the next morning, when a male and female went to his room to pick up the drugs. The police burst in and arrested the trio red-handed. The male and female are Hongkongers.
Vong said the police seized 9.3 kilogrammes of cocaine in the suspect's room. According to Vong, the haul has an estimated street value of 25 million patacas.
Vong said Uysal admitted to having been hired by the international drug cartel to smuggle the cocaine into Macau, for which he was to be paid US$5,000.
Uysal also told police that it was not the first time he had smuggled drugs into the city, Vong said, adding that the police were still investigating his claim.
According to Vong, the Hong Kong duo comprise a 42-year-old woman and a 34-year-old man surnamed Leong and Wong respectively. Both told police they had been promised by the cartel about HK$10,000 in total to smuggle the cocaine into Hong Kong.
Vong said the police had yet to determine what would have happened to the drugs once the duo got to Hong Kong, namely whether they would be sold there or smuggled onwards. Vong said the local police would liaise with their Hong Kong's counterparts and announce more details when possible.
According to Xinhua, Sunday's drug bust was the second largest drug trafficking case since Macau's return to Chinese rule in 1999.
(Macaunews/Xinhua)