Liaison chief urges society of Macau to 'spare no effort'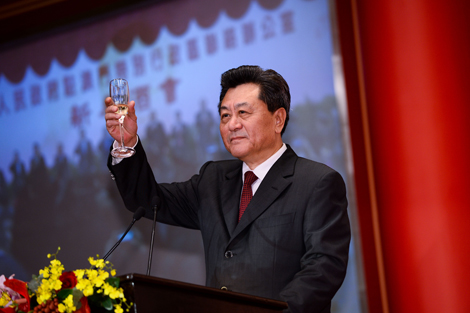 Local society should spare no effort to seize opportunities and be open to changes, Central People's Government Liaison Office Director Li Gang said in his Chinese New Year message on Sunday, wishing all Macao residents happiness.
He also said that his office would fully support the local government.
Li is the highest-ranked central government official in Macao.
Vowing that the central government will continue to come up with measures to support Macao, Li also pointed out that the city's first 5-Year Plan would boost its sustainable development.
Li also said the Forum for Economic and Trade Co-operation between China and Portuguese-speaking Countries, which will be held later this year in Macao, would bring the city even more opportunities.
Meanwhile, Foreign Ministry Commissioner Ye Dabo wished residents a happy Lunar New Year in his Spring Festival message. Ye said there the government's aim of diversifying the local economy had scored some achievements.
Ye said that Macao residents' livelihoods continued to improve, although the city has entered a period of economic adjustment. Ye also said that the local Commission of the Ministry of Foreign Affairs would continue to "wholeheartedly" support Macao's external exchanges.
The top two representatives of the People's Liberation Army (PLA) garrison in Macao – Major-General Wang Wen and Major-General Zhang Zhimeng – said in their joint Spring Festival message that the garrison would continue to contribute to Macau's long-term prosperity. Calling the city their "second home", Wang and Zhang said the garrison "deeply loves" Macao.
In a New Year greeting published online, the Chief Executive refered that with the current economic turmoil, it would take the collective effort of the government and its residents to open a new path to economic development. He also vowed to step up efforts to maintain a sound a robust financial environment.
Chui vowed the government will ensure economic stability while prioritising improvements to residents' livelihoods.
In the message, Chui said the government would try its best to make Macao an even more liveable city.
Chui said the government would press ahead with policies to build a better Macao which would include improving the livelihood of senior citizens, creating a positive environment for young people to develop their potential, shaping an atmosphere in which children can grow up happily, and creating more favourable conditions for locals live and work.
(macaupost/macaunews)