Consultation on election law in Macau to start in March/April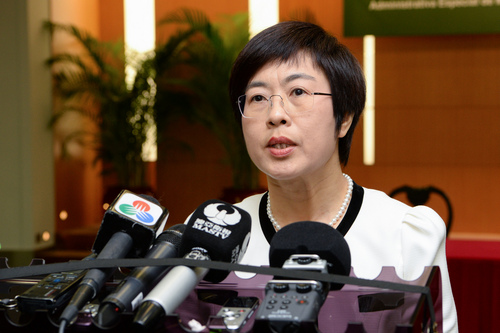 The government will launch a public consultation on an amendment bill to the Legislative Assembly Election Law in March or April, Secretary for Administration and Justice Sonia Chan Hoi Fan said on Thrusday.
The policy secretary made the pledge after a meeting with members of the Legislative Assembly's 1st Standing Committee on Thursday.
Chan said the government wanted to enhance the competitiveness of the indirect elections and electoral impartiality.
She declined to reveal any details of the bill since it was yet to be finalised. Chan said she hoped the bill will be passed by the legislature and enacted before the next legislative election in 2017.
Meanwhile, asked by reporters about the government's cross-region judicial co-operation bill, Chan said that it had been submitted to the legislature in December for subsequent debate and vote. The bill will be in line with the "One Country, Two Systems" framework and a rendition will only be possible if there is an equivalent criminal charge in Macau, Chan said.
The bill will form the basis for any judicial co-operation agreements with the mainland and the nation's other jurisdictions, including rendition, transfer of fugitives and criminal judgements, according to the government.
In December, Chan said the government would do its best to ink separate mutual legal assistance (MLA) agreements with its mainland and Hong Kong counterparts this year.
Some members of Macau's legal fraternity have expressed concern about the government's apparent stance that the mutual legal assistance agreements would be applied retrospectively, which they say would be a violation of Macau's Portuguese-style legal system.
(macaunews/macaupost)