Macau tops Hong Kong on homes, says director of HKMAO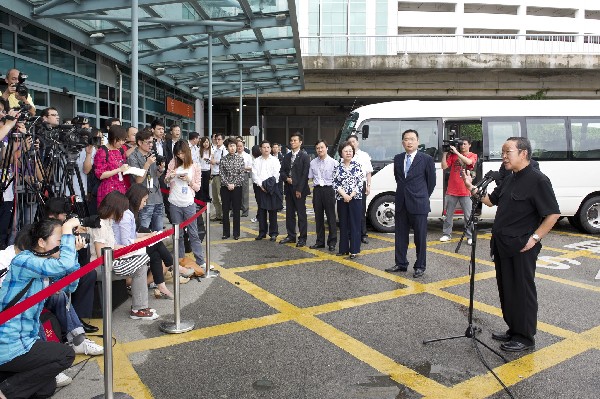 Macau, China, 17 Jun -Director of the Hong Kong and Macao Affairs Office (HKMAO) of the State Council, China's cabinet, Wang Guangya concluded his three-day visit to Macau on Thursday.
Wang, who made his conclusion of the visit at the Macau International Airport Thursday, said that the visit gave him a good impression on Macau and that Macau deserves a better future.
With its goal to develop into a global tourism leisure hub, Macau should pay more attention to education so as to bring up more talents for its development, said Wang.
Comparing Macau and Hong Kong, Beijing's top official said Macau is doing a better job in tackling housing problems for the poor.
Speaking on the last day of his three-day visit to Macau, Wang said both Macau and Hong Kong governments had put a lot of effort into housing.
But he said the progress in Macau is faster as he noted the enclave is building 19,000 public housing units for low-income groups.
Some of the construction work had begun after a "decisive policy" under Chief Executive Fernando Chui Sai- on's administration.
"Housing is an issue many of the general public are concerned about," he said. "We have to be concerned about it as it is an economic problem and a livelihood problem" he said.
Wang said: "Putting weight on livelihood issues could promote the harmony of society. I believe more decisive action should be taken to allow ordinary people to see there's hope for them."
Wang said the central government is prepared to entrust Macau with important roles in the nation's development, as well as in trade and culture.
Macau also would be entrusted with an important role in the mainland's development and relations with Portuguese-speaking nations, said Wang Guangya, director of the Hong Kong and Macao Affairs Office.
It could be a platform between the mainland and Portuguese-speaking countries as many Macau people speak good Portuguese and understand its culture, he said.
It was Wang's first official visit to Macau as Director of the HKMAO since last November, when he accompanied Chinese Premier Wen Jiabao to attend the opening ceremony of the third Ministerial Conference of the Forum for Economic and Trade Cooperation between China and Portuguese-Speaking Countries.
(MacauNews/Politics)