Macau, Shenzhen sign three co-operation deals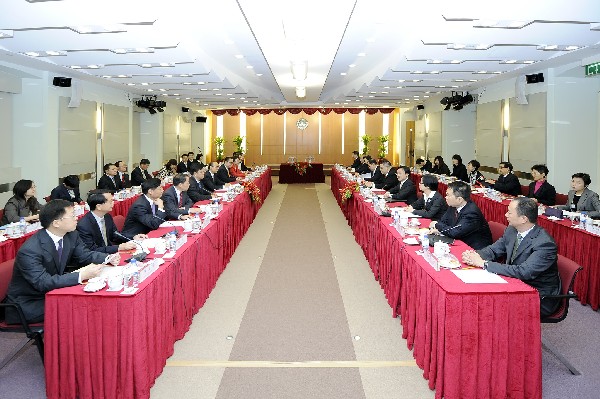 Macau, China, 29 Nov – Macau and Shenzhen inked three co-operation agreements Monday in the areas of creative industries, tourism and investment incentives, The Macau Post Daily reports today.
The pacts were signed by representatives from the two governments after their annual co-operation meeting that this time was held in Macau .
The half-day meeting was co-chaired by Chief Executive Fernando Chui Sai On and Shenzhen Special Economic Zone (SEZ) Mayor Xu Qin. Secretary for Economy and Finance Francis Tam Pak Yuen and Shenzhen SEZ Vice Mayor Lu Ruifeng also attended the meeting at Government House.
According to a statement by Macau Government Information Bureau (GCS), Chui said at the meeting that integrated regional co-operation was one of the most important policies of his government.
Chui also underlined the importance of Macau's role as a hub for commercial and economic ties between China and Portuguese-speaking countries. He urged enterprises from Macau and Shenzhen to set up partnerships to explore business opportunities in the Portuguese-speaking world.
The chief executive also stressed the collaboration potential between the two cities in developing the traditional Chinese medicine (TCM) sector.
Chui also said that both sides were assessing the feasibility of extending the annual China (Shenzhen) International Cultural Industries Fair (ICIF) to next year's Macau International Trade and Investment Fair (MIF).
Addressing a press conference after the meeting, Tam listed a host of other possible co-operation projects between the two cities, such as environmental protection, education, health inspections, transport infrastructure, finance, trade, tourism and culture. The policy secretary also announced the setting-up of a network of contacts between the two cities to further promote Macau 's role as a business-service centre. (MacauNews/Politics)