Twenty six-year-old Sulu Sou is Macao's youngest ever-elected lawmaker, having been voted into the Macao Legislative Assembly in September's general election. He is also the Vice Chairman of the New Macau Association, a major pro-democratic civil group.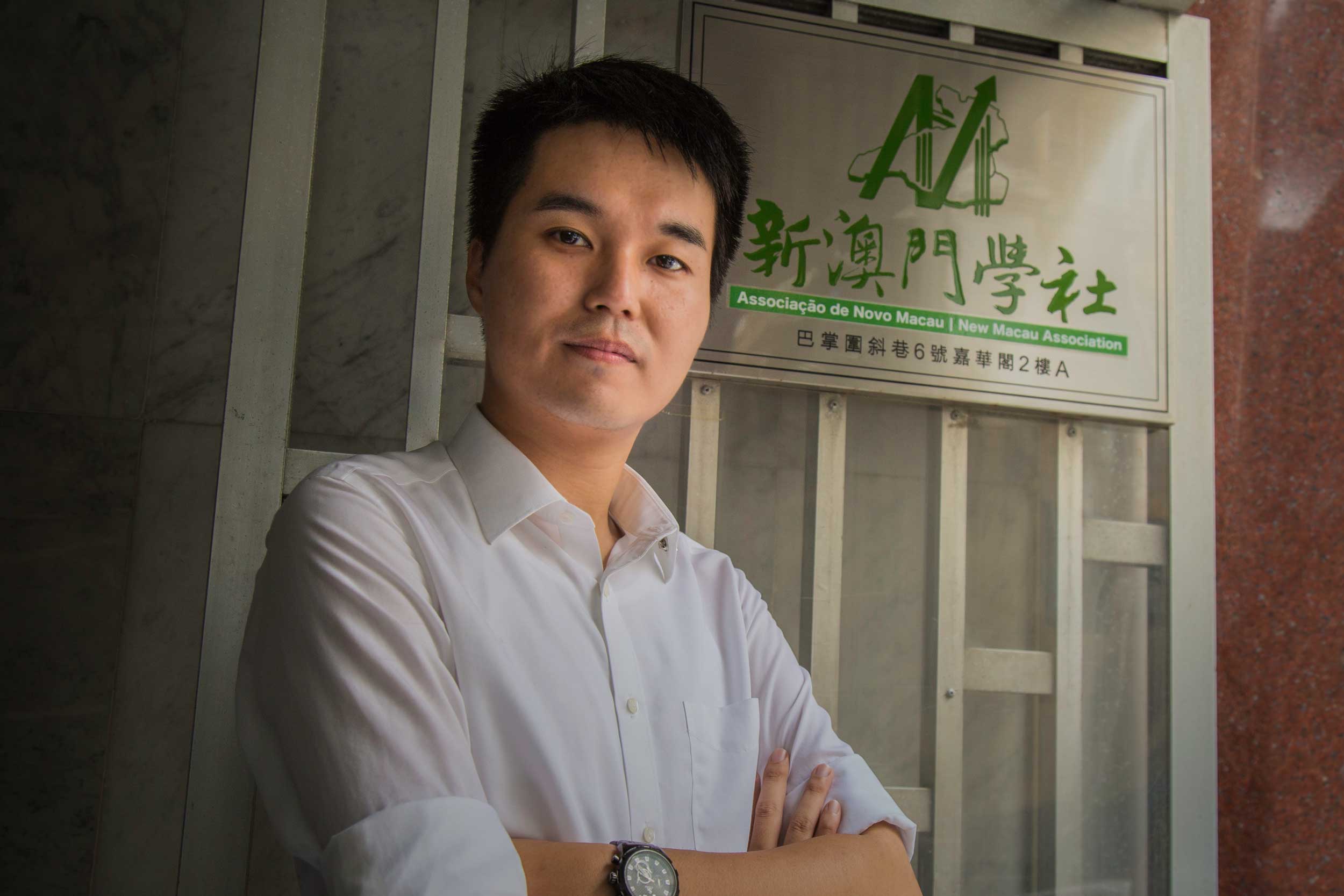 Twenty six-year-old Sulu, Sou Ka Ho (蘇嘉豪) is Macao's youngest ever-elected lawmaker, having been voted into the Macao Legislative Assembly in September's general election. He is also the Vice Chairman of the New Macau Association, a major pro-democratic civil group. He is fluent in Cantonese and Mandarin and speaks conversational English.
Born on 28 June 1991, Sou was the only child of a typical family in Macao with his father working in renovations to support the family. Sou studied at the Roman Catholic school Colégio Diocesano de São José 5, and remembers himself as a self-motivated student who was always top of his class.
Playing football was one of Sou's favourite extracurricular activities. Not only did he play in the school team as a goalkeeper, he also earned a place in Macao's national under-18s football team. However, his school performance declined drastically after two months of intensive football training, and eventually, he quit the national team in order to keep up with his studies.
Sou's interest in politics first emerged as a young teenager. "I was 17 and at that time everyone was paying attention to the 2008 Hong Kong Legislative Election. I kept track of its development online and was intrigued by what the politicians had to say."
With a growing interest in political affairs, Sou caught the media's attention for the first time when he participated in a public hearing during the 2009 Chief Executive Election. Standing up in the hall of Keang Peng School, he asked the Chief Executive hopeful Chui Sai On what practical method he would take to gain the trust of citizens who doubted his ability to govern.
"I didn't give the situation much thought at the time, I just want to ask the questions on my mind," he recalls. "After the hearing, I was surrounded by the media because they were so surprised to see a secondary school student stepping up to question the executive hopeful."
It came as no surprise when Sou chose to study politics at university. In 2009, he was admitted to the National Taiwan University's Department of Political Science, where he studied public administration as his major.
During his university years in Taiwan, Sou took part in several nationwide protests including No Nuke Action and the Anti-Media Monopoly Movement. However, the events that moved him the most were the small-scale campaigns organised by university students.
"I saw students take well-organised actions to halt controversial decisions made by the university, producing flyers, organising protests and surrounding the principal's office to demand discussions," says Sou. "As a young person born in Macao, I never thought the power of students could be so great. It was mind-blowing."
"I actually thought about working in a company or government department after graduation, because I believed that I could do good deeds there using the management skills I learnt at university. But, after participating in a number of social events in Taiwan, I started to see politics as a mission."
But the experience that truly turned his head back to social affairs in Macao was his summer internship at the New Macau Association in 2011. "Introduced to the association through a member I met on Facebook, I spent my summer vacation helping out in the office of lawmakers Ng Kuok Cheong, Au Kam San and Chan Wai Chi; the association's founding members. It was an eye-opening experience where I began to understand Macao citizens' dissatisfaction. I learnt how to campaign for their needs, from making protest banners and drafting petitions through to negotiating with the government. I could never have learnt this at school."
Upon graduation in 2013 Sou returned to Macao, officially becoming an active member of the New Macau Association. He also applied for an administrative post at his secondary school, but was encouraged by the principal to teach instead. As a result, he ran two classes called Civic Education, and Macao Politics and Society, teaching students about the political developments and social issues of Macao over the past 50 years.
During the same year, Sou agreed to become the second-ranked candidate of Au Kam San's group in the Macao Legislative Election. This is an experience he oddly describes as "stress-free".
"When you know nothing, you don't feel the stress," he explains. "My purpose was to learn as much as I could throughout the process, so I just let the experienced people take charge."
With Au Kam San being directly elected, Sulu failed to win a seat that year, as he had expected. However, he continued to be actively involved in Macao's politics, claiming that; "I am just doing what I think is correct. I don't care too much whether I will win or lose."
In 2014, Sou was one of the main organisers behind the 'anti-bill incident'; a citywide march that saw 20,000 citizens protest the notorious pension bill proposed by the government. Recounting the incident that is also known as 'Glorious May' Sou says: "It was an experience that solidified my belief in standing up against the unjust."
After the 'anti-bill incident', Sou was elected as the Chairman of New Macau Association but left the position to pursue a master's degree in politics at the National Taiwan University in 2015. It was a tough year, he recalls, because he only had 12 months to finish all the courses that he was supposed to take over two years. "I had to return to Macao in 2016 to prepare for the next legislative election – I wouldn't have had the guts to run for election if I hadn't even been in Macao for the whole year running up to the vote," he explains.
Now Macao's 12th lawmaker voted into power with 9,213 votes, Sou admits that he is facing immense stress, but aims to do his utmost in this role to support the citizens of Macao. He also encourages them to continue fighting for what is right.
"We cannot just accept reality and lose faith. After all, we cannot expect the government to improve by itself," he says. "We have to let those in government know that we're monitoring all of their actions. They cannot just do whatever they want."