Jimson Kin Wa Hoi's love affair with music began very early in life when he first picked up the violin at eight and has dedicated more than 20 years to musical training.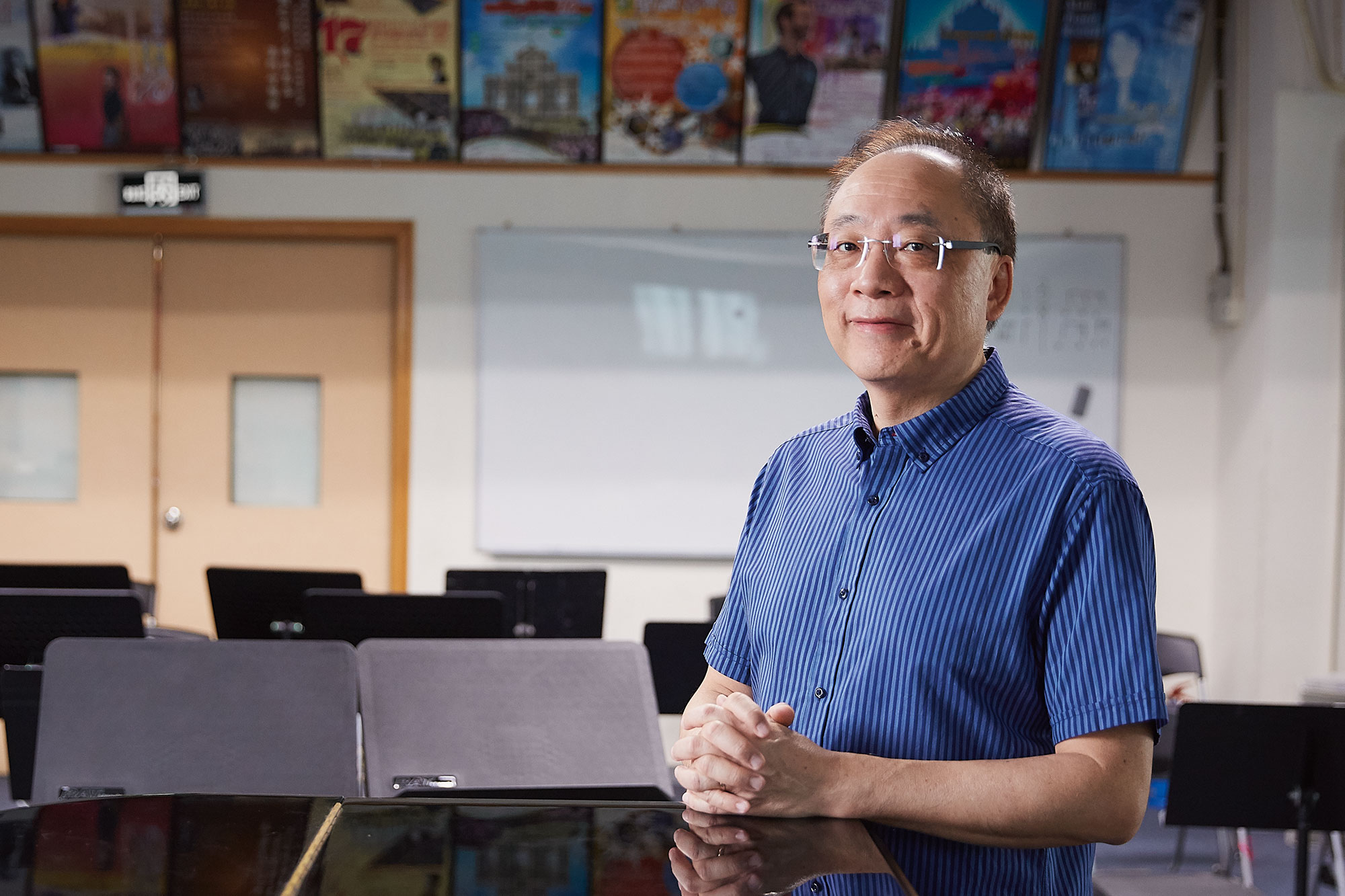 Jimson Kin Wa Hoi's lifelong love affair with music began with his introduction to the violin in his childhood and has evolved over more than 20 years of training and performing. From such early beginnings, music has permeated throughout his life, and through his professional career, Hoi has striven to foster a love of music for future generations and expand the culture of Macao. 
"I cannot tell you exactly what it is about music that fills my life, but as a music educator, I take my role in bringing music to Macao's youth very seriously," Hoi asserts.
A performer is born and made
Born in Guangdong, in May 1962, Hoi is the oldest of three siblings and the only one in his family to pursue a career in music. When he was around nine years old, a close family friend – through his mother – had a son his age who had begun learning the violin. Hoi's mother saw this and soon convinced him to start violin lessons. 
In the late 70s, Hoi's family immigrated to Macao, where he continued studying music at St. Pio X Academy of Music under Chan Pong Cheang (鄭震邦) and Wai Ling Cheang (鄭偉玲). Under their tutelage, Hoi became the youngest member of the Macao Chamber Orchestra (OCM) at the age of 19 when it was founded in 1983.
"I spent thirteen music seasons with the Macao Chamber Orchestra. It was a very precious experience of my life. To be touched by so many different composers' works and to perform with many soloists as well as conductors, my eyes were opened. Our repertoire included hundreds of orchestral works, both by Western and Chinese composers alike."
Hoi recalls that it was a balancing act managing his day job as a salesman as well as a full-time Math and English teacher at Instituto Salesiano while pursuing music. He often found only an hour or two to practice per day. "I never expected I could perform on stage before the Macao Chamber Orchestra was formed. It was a dream come true. I was blessed with both luck and good timing."
A journey from performer to administrator and leader
In 1983 and 1984, Hoi was chosen as one of Macao's representatives for the Hong Kong Youth Music Camp organised by the Music Office of the Hong Kong government. When Music Director Doming Lam – Macao-born composer considered the leading pioneer of contemporary musical development in Hong Kong from the 1960s –  first approached him about helping out with the house programs for the OCM, Hoi initially declined, citing lack of experience. But Lam was willing to mentor Hoi, and soon enough, he got the hang of it. 
After nearly six years working part-time on house programs, Hoi became a full-time staff member at the Cultural Affairs Bureau (ICM), in 1988. In addition to working for the Macao Chamber Orchestra, he engaged in work related to arts education and the Macau Youth Music Competition in the bureau's Cultural Activities Department and was made coordinator, later transferred to the Macao Conservatory in 2002. 
Around 1990 and still at ICM, Hoi was fortunate to be chosen as one of the first two people from Macao to join the Arts Management undergraduate course at The University of Hong Kong. Arts Management combines tools of business, such as management, marketing and planning, with community building, like fundraising, development and education, to build bridges between art, artists and audience. 
"My eyes were opened by this course. Arts Management was fresh at the time. It was not something most people even knew about. It was quite interesting to me to learn skills in managing professional musicians and an orchestra. And fundraising, the most important thing to survive." 
After leaving OCM's performing stage in 1995, Hoi began teaching violin at Sacred Heart Canossian College and Macau Pui Ching Middle School with good friend Ka Wong, now the manager of the Macao Orchestra, exploring the organisation and management of student string ensembles. Later on, Wong went on to study in Shanghai and Australia.
In 1996, with great effort from Hoi and Wong – together with Macau Band Association Director Leung Kin Hang – the Symphony Orchestra of Macau Pui Ching Middle School was founded. It was the first school orchestra in town, until another school orchestra at the Macau Baptist College appeared 12 years later. 
Hoi has assisted three more schools in forming their own orchestras and has served as conductor to the Orchestra of Sacred Heart Canossian College (English Section) – established in 2010 – as well as the Macau Pui Ching Middle School String Ensemble. As Hoi says, the three aforementioned named orchestras remain the only 'complete' orchestras in the whole of Macao, a feat that is difficult due to costs needed to run orchestras in the first place, which is a testament to the work they've maintained.
The Macao Youth Symphony Orchestra: Past, present, future
In 2004, Hoi became full-time Director of the Macao Youth Symphony Orchestra (MYSO), after many years of involvement and effort. He left civil service soon after.
"MYSO was built initially on an idea I got from the Hong Kong government's Music Office, established over 40 years ago. At that time, kids were addicted to electronic game consoles after school. So the Hong Kong government decided to change that by setting up this music office to provide an environment to let the kids learn music, instead of getting stuck on electronic game consoles." 
The Hong Kong government heavily invested in and subsidised this music program. "As a result, Arts Performance in Hong Kong is a thriving industry today, both from the perspective of performers as well as audience. The Hong Kong Music Office made a valuable contribution to the culture of the city."
Back in the 1980s, many families in Macao found themselves in a similar situation: Parents worked day and night, lacking time to monitor their children. Hoi tried to replicate what had been achieved in Hong Kong. "In Macao, people generally were not familiar with western instruments beyond the piano and violin, and didn't have much interest in learning classical music." There was no cello at all in Macao at that time, Hoi notes, who then bought ten cellos to invite interested students to learn for free.
In 1996, Hoi discussed with Wong and Leung the possibility of forming a symphony orchestra by combining smaller string ensembles and wind bands. This eventually became MYSO in 1997.
MYSO's first mission as a nonprofit organisation is to provide an orchestra stage to local youth with an opportunity to learn and perform. Through connections made over the years in both Hong Kong and Macao, Hoi has enlisted mentors for MYSO musicians, many of them widely respected musicians like Leung Kin Fung, Yiu Song Lam, Michael Ma and Ray Wang.
"As a result, over 70 of our orchestra students have attended prestigious international music schools, including the Curtis School of Music, the University of Music and Performing Arts in Vienna, the Royal School of Music in London, the Hong Kong Academy of Performing Arts, the China Central Conservatory of Music and the Shanghai Conservatory of Music," Hoi boasts proudly. "These efforts by the MYSO are our commitment to the continuous development of the cultural heritage of Macao."
Today, MYSO is thriving. Hoi explains that 30–40 years ago, typically there would only be a handful of pianists pursuing classical music professionally. Interest, awareness and outlook are all brighter and more expansive today:  "This is already beyond my expectations. It is an amazing grace from God indeed. We have our local teachers now, many of them previous MYSO students. They are a new generation of professional musicians. I can say this is the first generation of local musicians in Macao."
The MYSO has toured internationally twelve times since its inaugural 2007 tour to Australia and Singapore. "It has opened the eyes of the Macao youth to this wonderful world, to share Macao culture with friends in Europe, the US, Australia, China, Hong Kong and Taiwan. This is what and why we tour." 
In 2008, the MYSO was the only youth orchestra from China invited to join the World Peace Choral Festival in Vienna, to perform at Vienna's Wiener Musikverein and Salzburg's Mozarteum. "Nobody expected – and I never thought it – that the orchestra would be where it is today when I first founded it in 1997."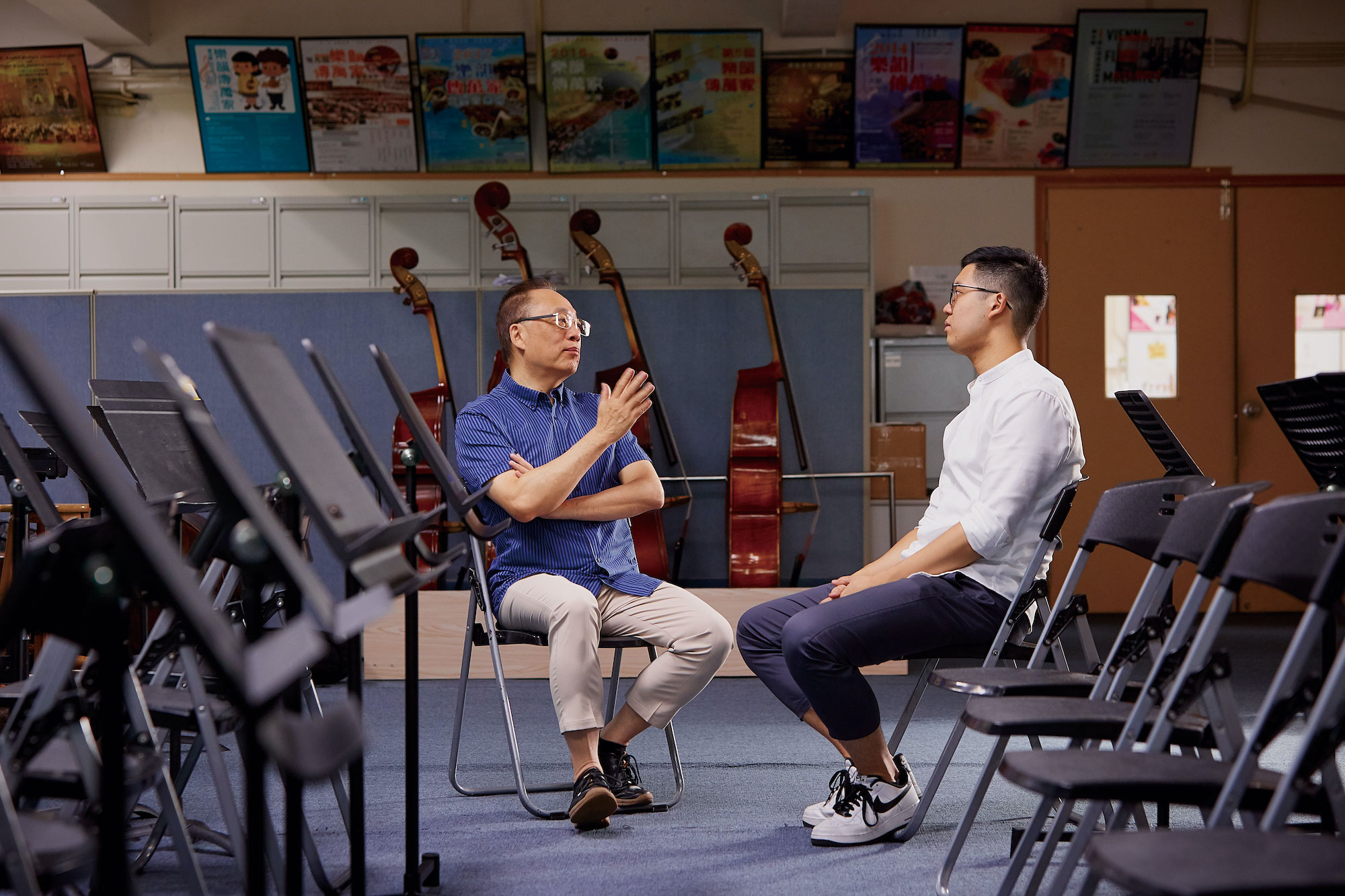 The MYSO has changed the lives of so many Macao youth, including Hoi himself. His two children are pursuing music. His son Yan Lok Hoi studies violin under world-renowned violinist Boris Kuschnir at the University of Music and Performing Arts in Vienna (MUK), one of the world's oldest and most prestigious music institutions. His daughter Jessica Hoi studies oboe, also at MUK.
In recognition of his substantial efforts, the Macao government awarded Hoi the Order of Merit in 2004. As a devout Christian, Hoi also serves as Conductor of Grace Choir at the Macau Evangelical Church, in addition to his demanding MYSO duties. "Life is full of music, and we must be grateful and celebrate it wherever it may be!"