Ascenso co-founded the TaipaVet Veterinary Clinic in 2014 with Karin Dolp and has been providing quality and trustworthy veterinary care to about 3,000 clients.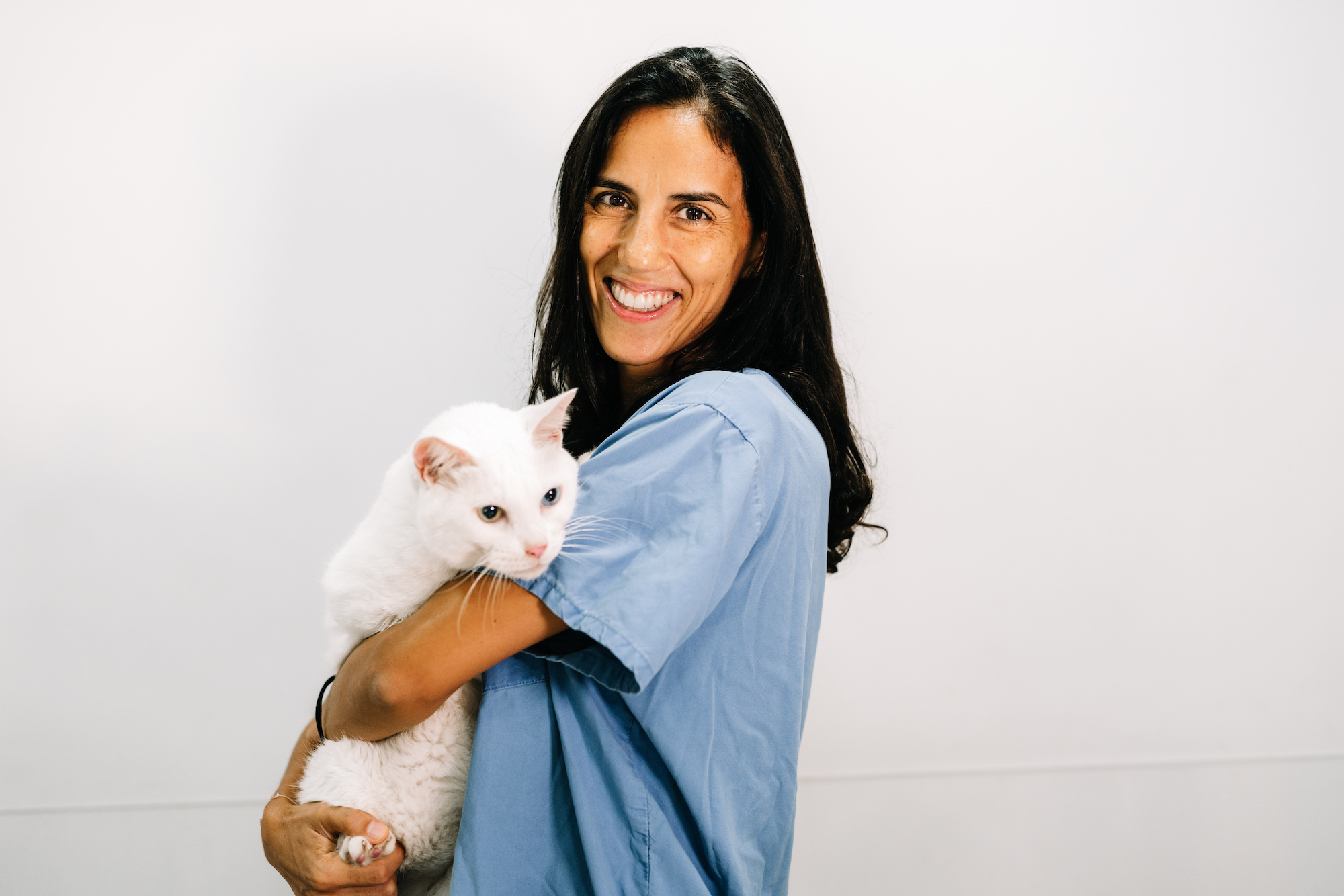 If you asked a young Alexandra Ascenso what her perfect life would look like, she would have waxed lyrical about safaris, big cats and documentaries. And while the animal lover may not be in the savannas of Africa at the moment, she has come pretty close to her dream job, having co-founded TaipaVet Veterinary Clinic in 2014.
Before the Portuguese native arrived in Macao and started her own business, she embarked on countless personal and professional adventures in all corners of the world, from a national park in Mozambique to fieldwork for an NGO in Cabo Verde to the UK to work in a clinical practice.  
Her story begins in Coimbra, Portugal, where Ascenso was born in July 1982 to an oenologist father and pharmacist mother. She learned early on that she had a knack for math and science – especially biology. 
As a child, Ascenso pictured herself on wild adventures like her environmental heroes. "I think my first memory is watching David Attenborough's wildlife series on Sunday – I was addicted to that," Ascenso says. "Of course, I didn't want to be a vet like I am today and instead wanted to be in Africa treating the big animals." 
It was her aptitude for science that led her to veterinary school. Ascenso excelled in school and, in 2001, pursued a Licenciatura (or master's degree) in Veterinary Medicine for six years at Escola Universitária Vasco da Gama. She then continued her postgraduate studies in Small Animal Surgery, which took another year. 
Ever ambitious, Ascenso emailed Gorongosa National Park in Mozambique repeatedly while still in school, hoping for an opening to work at the park. In her final year of study, the park accepted her application. Without a second thought, she hopped on a flight for Africa just a day after presenting her dissertation in 2009.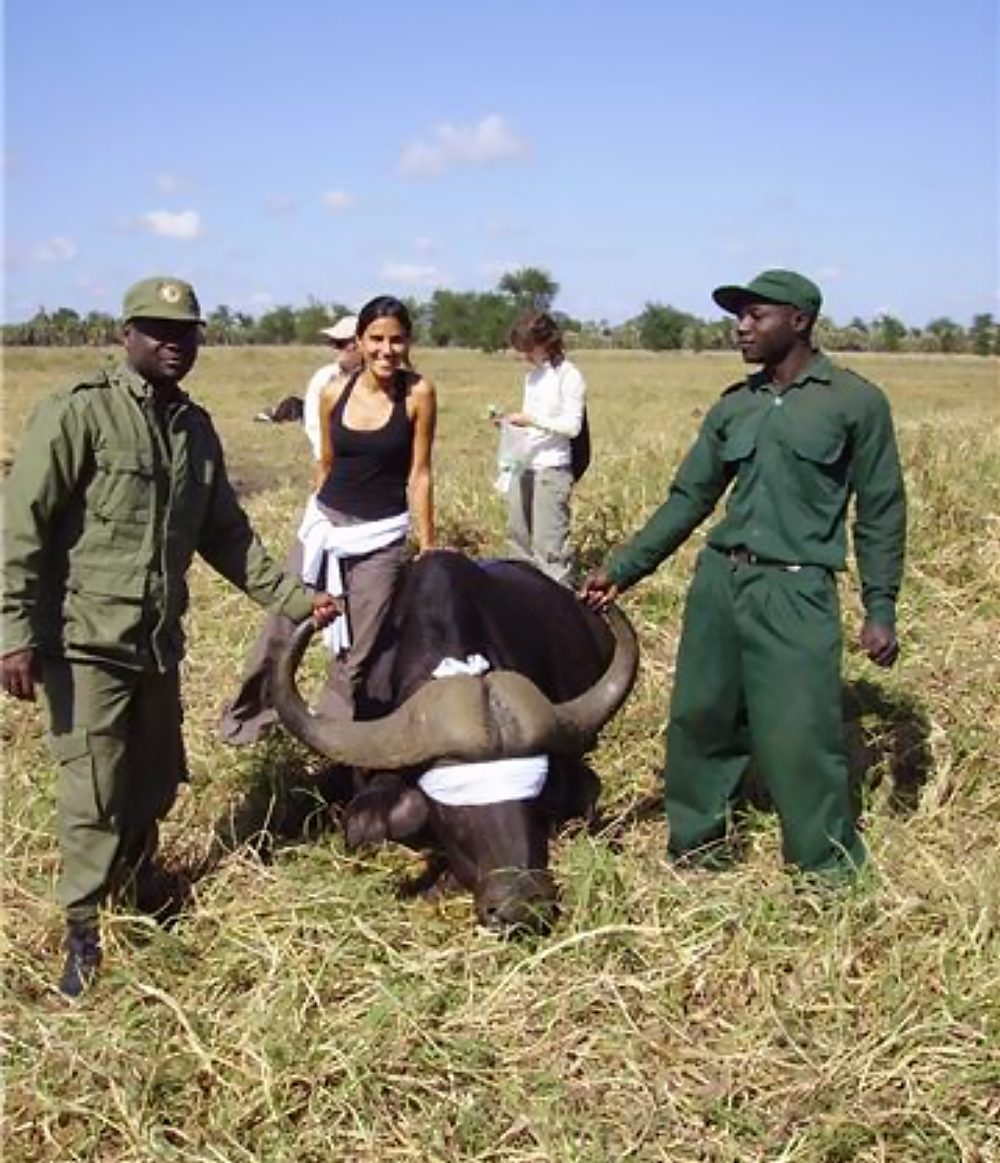 "Africa – it's amazing. It's a whole other world," says Ascenso, noting that she loved the wide-open terrain, where animals are free to roam without any human interference. "It was probably the best experience of my life. I loved it, and I'd love to do it again." 
She worked with the Carr Foundation – which rehabilitated the park – for a few months on the population control team. She also worked on disease prevention, ecological monitoring (observing environmental conditions) and buffalo translocation (transferring wildebeest from South Africa to Mozambique). 
The team also had to look out for animal poachers since the Mozambican Civil War (which ended in 1992) left the country in poverty.  This led to an uptick in poaching because many people looked to the black market to make a living. But over time, the poachers stopped being a threat as the park started recruiting them, paying them to protect the animals instead.
Before this positive change, and so long as she took precautions, Ascenso could explore and fully immerse herself in nature, which she describes as a "perfect scenario". 
She also valued the opportunity to provide veterinary care to injured wild animals, especially from snare traps. She worked with them, learned about their ailments and injuries and helped them heal. In the process, she could still get up close with rare creatures, such as blue wildebeests and buffalos. "I don't have one specific [animal that] fascinated me most," she says. "It's the combination and the setting that made it all special."
Not every animal encounter was safe, however. Ascenso ran from a herd of buffalos "more than one time", and, once, she had to jump into a tree to avoid being killed. Another time, she accompanied some rangers and a National Geographic photographer to a lake filled with crocodiles. 
"At that time of the day, they were supposed to be in the water, so we walked around slowly taking pictures," Ascenso says. "Then the grass nearby started moving, and I thought to myself: 'That's a crocodile, and I'm going to die.'" 
She tried to run but tripped and fell. While looking back, she realised that it was a warthog – and the animal was as scared of her as she was. In the end, the warthog scampered away, and Ascenso lived to tell the tale.
New horizons
But as with all things, her time at the park came to an end due to visa issues. After four months, she went home to Coimbra for a short break. Soon enough, Ascenso, then 25, packed her bags and was off again. 
This time, to Cabo Verde, which was her first contact with small animals. Veterinarians Without Borders approved her application to join a one-month spaying programme on the island, where the stray dog population needed to be controlled and treated for skin mites.
The vets operated out of a house in a slum, transforming the living room into a makeshift operating room where residents could bring their animals for treatments. "We worked with the very basics, and although we didn't have the medication for everything, we still tried our best. We referred people who saw us to whatever [animal] medicines local pharmacies had," Ascenso says, adding that their budget was minimal. 
When the project finished, Ascenso went to England at the referral of a fellow vet. She found a job first at a clinic in Emsworth, between London and Southampton, which was also connected to another in Cosham, on the southern coast of England. There, she mainly treated cats and dogs, with a handful of exotic animals and 2 domesticated chickens.
Ascenso earned recognition in her field and a fellowship with the Royal College of Veterinary Surgeons. However, the weather in the UK didn't suit her. "Clinical-wise, it was good. But everything else was not for me," Ascenso says. "That's why I went to Portugal – for the sun." 
After a year, she returned to Coimbra and found a clinic where she worked for three years. Back home, she switched to emergency medicine at a newly opened veterinary hospital.  However, it wasn't as challenging as she hoped, with little work to do. 
And when a job offer came from Macao, she "didn't think twice" and just went because she had always wanted to travel to Asia.
Building a foundation
She started working for the Green Cross Veterinary Hospital in Macao in 2010, where she loved her clients, even though she struggled with language barriers. "When I mentioned infections or inflammations, most of the time, this information got confused," she says. "I had to learn to navigate this."
Ascenso planned on staying for just a year or two, then travelling around Asia while working.  But life had a different plan for her. She became pregnant with her now 8-year-old daughter and then worked at the Home-Vet Veterinary Clinic, located in the Nam San area of Taipa. 
Feeling more settled in Macao, she decided to open her own practice with a business partner in 2014. Ascenso had been happy working for other clinics, but with a baby and difficulties finding her dream job in the city, she thought starting her own business would be more flexible and practical.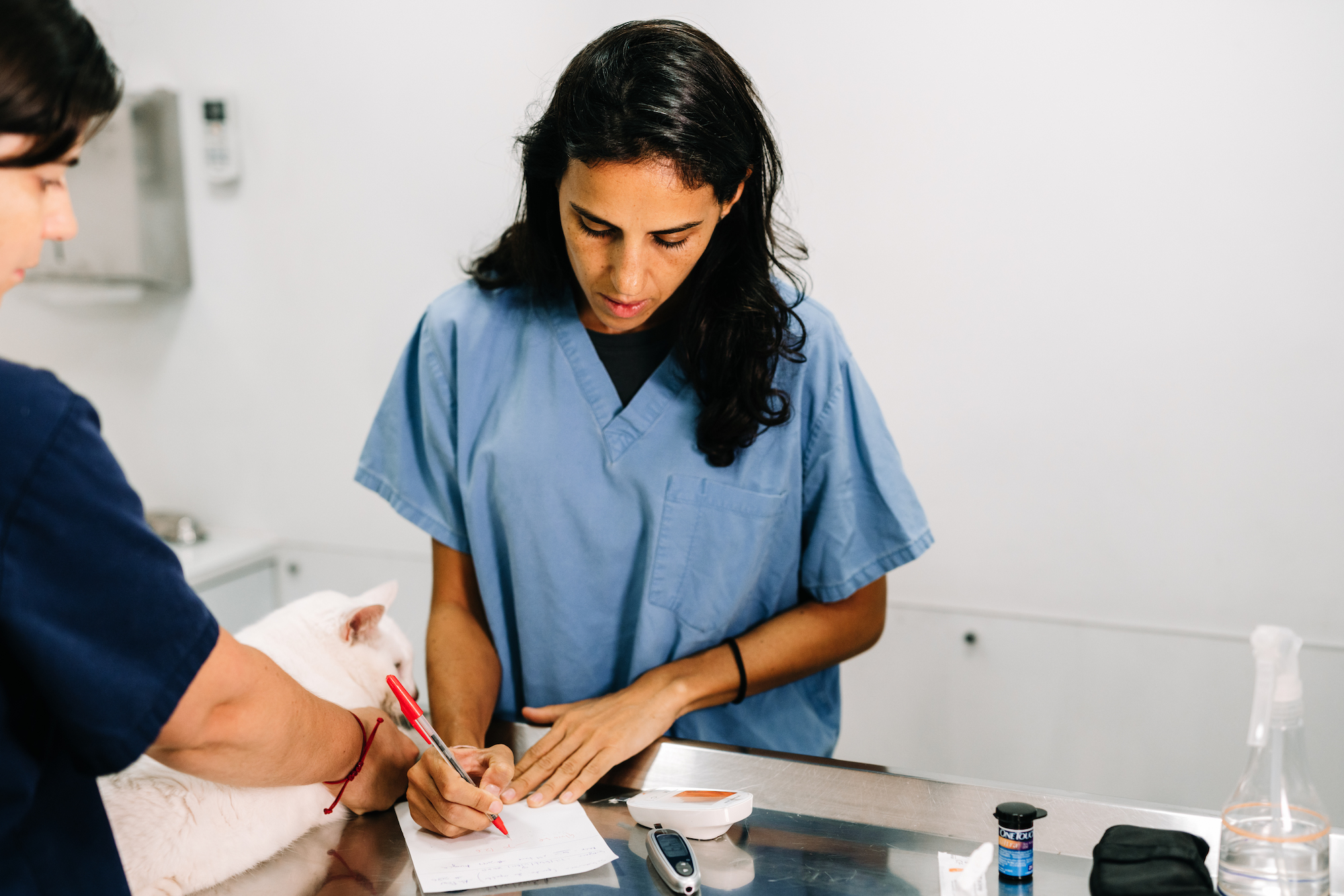 Ascenso met her business partner, Karin Dolp while working at Green Cross. Dolp had called for help after finding a neglected dog, Pipo, who she later adopted, and Ascenso came to the rescue. The two women soon became good friends, and she helped Ascenso get the clinic up and running. 
Dolp runs all the management of the clinic, from team building to client outreach. "It was super difficult at first, especially because the location of our clinic is very hidden," Ascenso says. "I built up my clients through word of mouth – people who referred me. And the clinic has grown since I started."  
Since those early days with just a handful of clients, the clinic has grown to serve about 3,000 clients, and Ascenso is "seeing new clients weekly." 
She performs soft tissue surgeries at the clinic, from routine procedures like spaying to emergencies such as volvulus and gastric dilation (a life-threatening disorder that starts with bloating and can lead to a blocked stomach) and extra delicate matters like liver surgery. 
The pandemic has made it harder to run the clinic since Dolp remains stuck in Singapore. That's been a challenge, says Ascenso, but they maintain close contact. "And she maintains a constant and positive presence," Ascenso adds.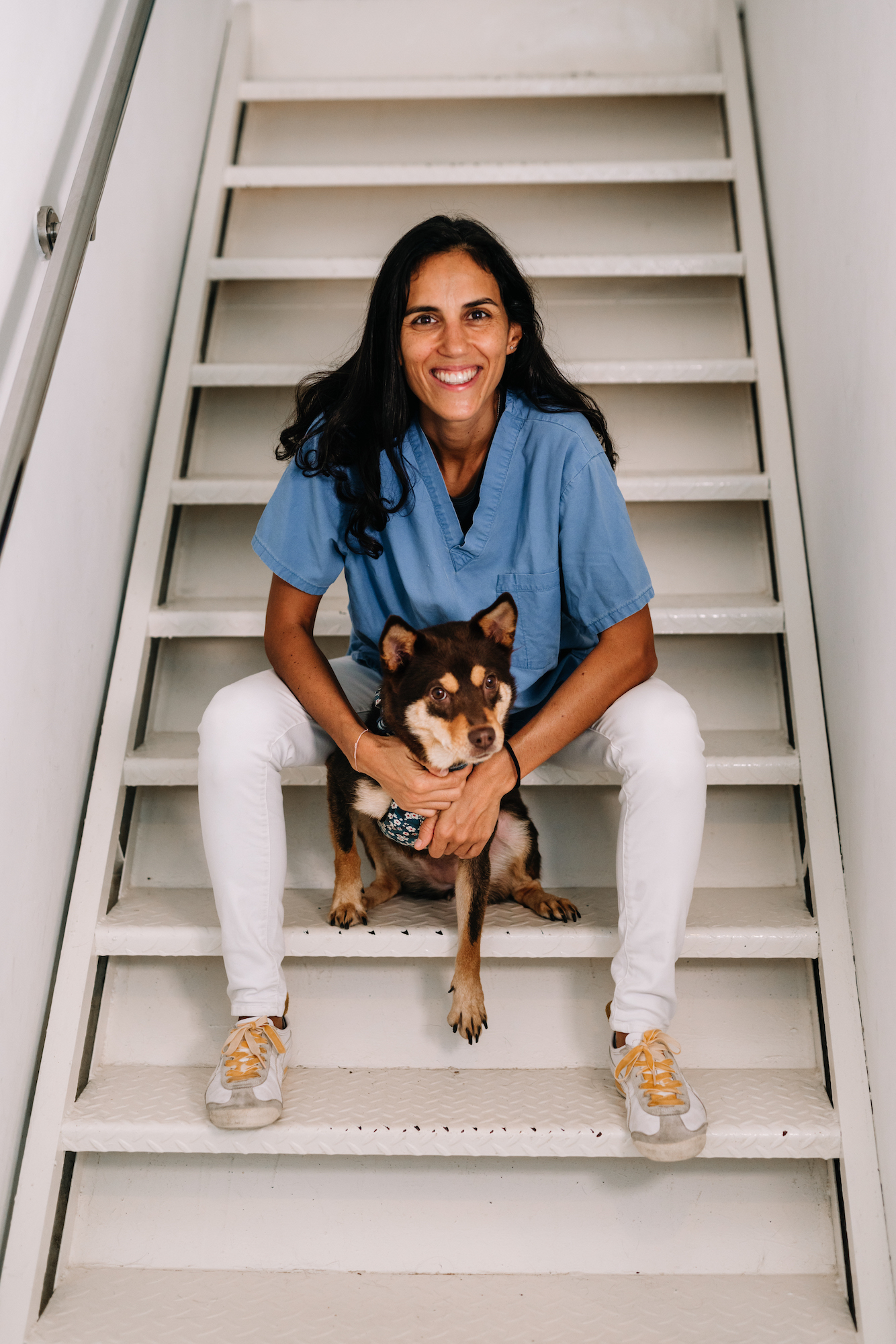 Both women champion quality, trustworthy veterinary care and clear communication with clients about medical procedures. This is important because many pet owners in Macao are willing to spend whatever is necessary to care for their animals. Some clinics could take advantage of that and inflate prices or recommend unnecessary procedures. 
"Instead of going, 'Okay, you have money so let's do everything,' I explain all of the outcomes and cost breakdowns," she explains. 
Over the years, Ascenso says that Macao's veterinary scene has changed for the better – vets do more for the animals now with better medicines and more advanced procedures. For example, vets can now access upgraded equipment that helps them make diagnoses faster and more accurately. They also have a referral network with other veterinary clinics so their clients can find good care quickly if Ascenso cannot help. 
There is also less vet-hopping among clients, which means that the animals' clinical history can be more easily traced. "Here [in Macao], I usually only see miniature toy Chihuahuas, Schnauzers and Poodles… a lot of poodles," she says. 
Ascenso herself has three pets, with an additional one from her husband. "Cereja was a stray living in a shelter. She got severely sick and could only eat liquid food after developing oesophageal stenosis (narrowing of the throat)," she says. Cereja couldn't return to the shelter and so Ascenso adopted her. "She's been by my side ever since."
The others are two cats brought to her by a client after their owners left Macao. They had been stuck inside a cage for three months and Ascenso gave them a general checkup. "After a while, they were living freely at the clinic, waiting to be adopted," she says. "Then I brought them home… and they stayed."
Looking to the future, Ascenso hopes that her clinic continues to grow and helps more animals. "I love working here," she says. "Macao's changed with this pandemic, and the situation is OK – the pandemic didn't affect us so much. We continue to be cautious before making any big steps. The priority for us is always care and quality."