Diamonds of the Kitchen: Alba white truffles take centre stage on The Manor's new seasonal menu
Diamonds of the Kitchen: Alba white truffles take centre stage on The Manor's new seasonal menu

Link copied
After a year-long wait, Alba white truffles are back in season. Experience this sought-after ingredient during a six-course menu designed by Chef Michele Dell'Aquila at The St. Regis Macao's signature restaurant.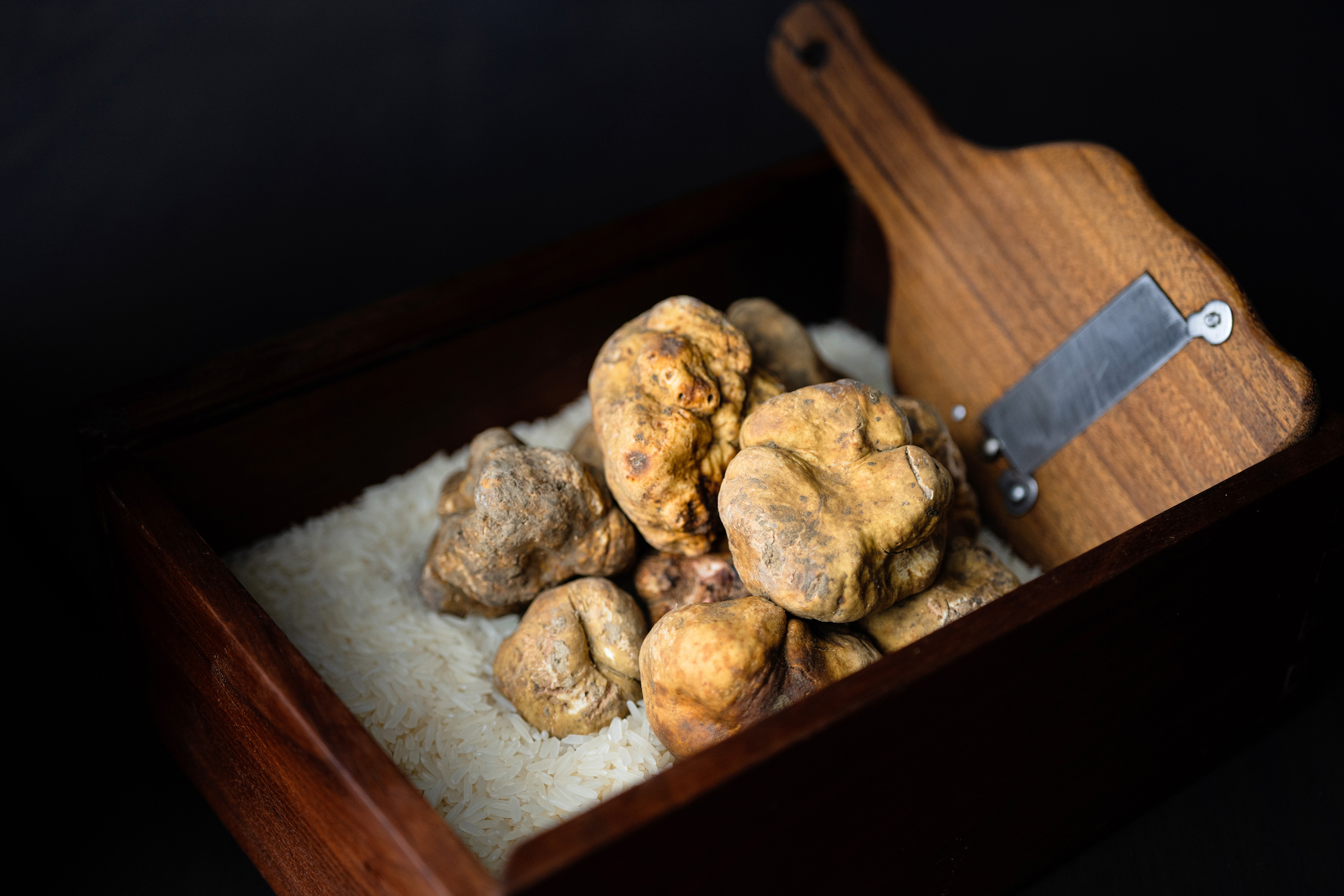 As late summer turns to autumn, chefs from all corners of the globe anticipate the harvest of one of the most sought-after ingredients in the culinary world – and all roads lead to Alba.
Nestled in the Piedmont region of northwestern Italy, Alba is a small, picturesque town from which numerous gourmet delights originate. Perhaps the most sought-after is a rare, earthy delicacy: Alba white truffles. 
But you don't have to go all the way to Italy to taste the aromatic tuber this season. Michele Dell'Aquila, Executive Sous Chef at The Manor, has designed a special seasonal menu to celebrate the precious tuber alongside premium international ingredients as part of the ongoing "Diamonds of the Kitchen" series. 
From Alba to The Manor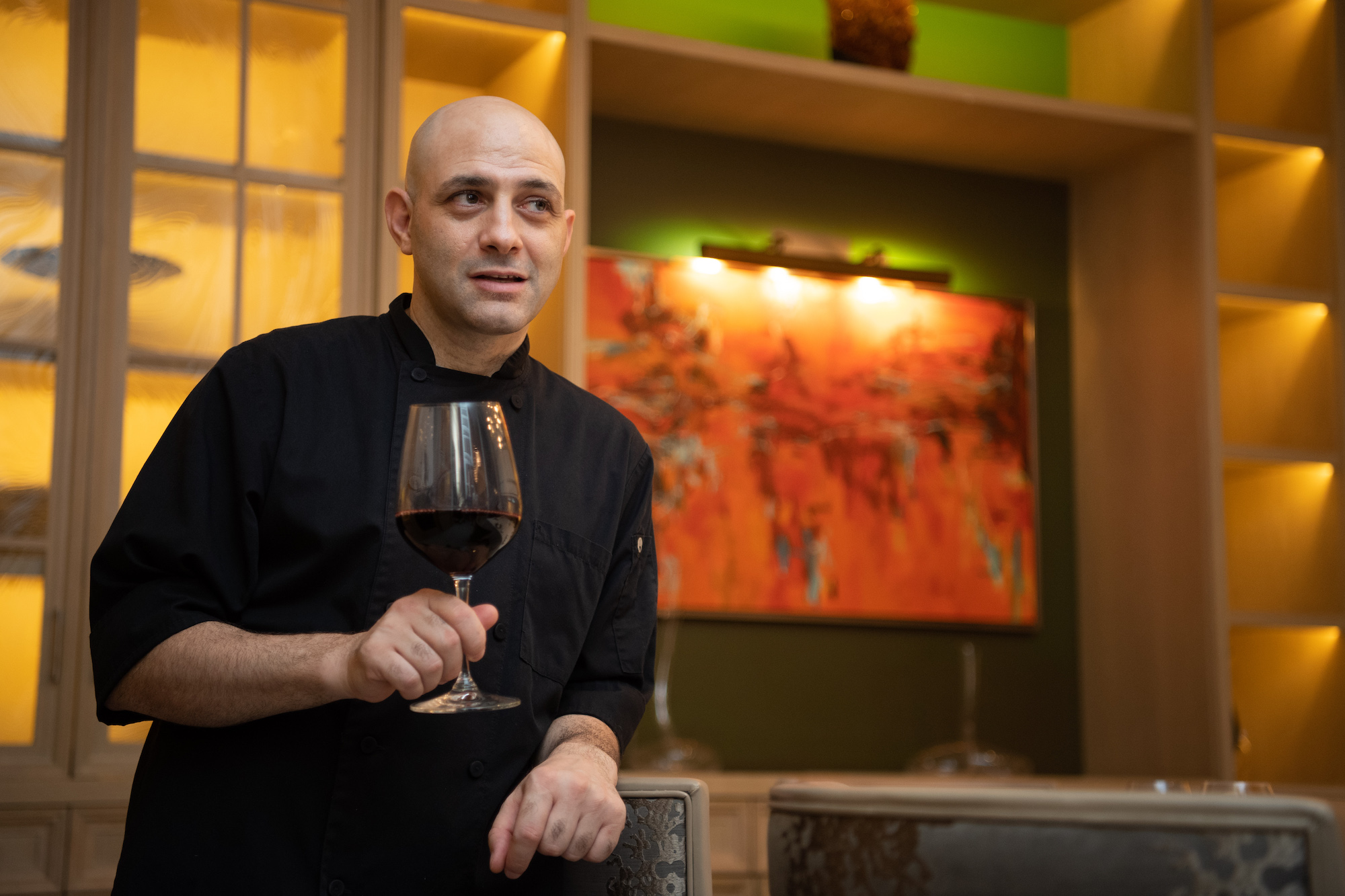 What makes white truffles so coveted? A rare type of subterranean fungus, white truffles are available for just a few months every year between autumn and early winter. They only thrive in specific woodland areas under certain climate conditions, making them challenging to cultivate. 
"Truffles are different every year, just like other produce, for example, grapes or cherries. Older people in the region can predict how truffles will turn out that year just by looking at the summer weather," Chef Dell'Aquila explains.
These tubers do best when grown underground in the warm, humid soil alongside the roots of hardwood trees like hazelnut, chestnut, and oak. In fact, white truffles soak up the scent of the fruit borne by the tree they grow under, adding even more depth to their slightly sweet, delicate flavour. With a melt-in-the-mouth texture, white truffle lingers on the palate, leaving an inebriating aroma behind.
Given the variables that affect white truffles and the complex ecosystem they need to grow, it is no surprise that they are one of the most sought-after and expensive ingredients worldwide. Depending on the year and available supply, they might fetch up to US$6,000 (MOP 48,270) per kilogramme.
The Manor has been sourcing Alba white truffles from the same family-run farm, Tartuflanghe, for years. Established in 1975, the accredited supplier has won numerous awards and invented truffle-infused products, such as the world's first pasta with truffles. 
For Chef Dell'Aquila, who has tasted countless truffles and cooked with them extensively, Tartuflanghe is the best in the business. "We've been working together for many years and have established a relationship based on trust. They are a hard-working family, professional and attentive, so I'll always work with them," he adds.
Dell'Aquila hasn't just prepared truffles for his diners – he's researched the ingredient on the ground in Italy, too. Several years ago, the chef travelled to Alba to study the area, particularly white truffles. "There's a lot of information you cannot learn if you've never been there," he observes. "For instance, whenever a white truffle presents a red spot on its skin, it means it has reached its peak – the ideal time to enjoy it."
During one truffle season, Dell'Aquila had the chance to join residents and farmers on night-time truffle hunts. "Where there is a mushroom, there is a truffle," says Dell'Aquila, noting that the region's soil and trees create the perfect environment for white truffles to flourish. 
Wild mushrooms make pinpointing white Alba truffles easier, but to get the job done, extra help is needed. These nightly expeditions wouldn't be possible without four-pawed hunters – specially trained dogs sniffing through the woods to spot and signal where truffles are hiding underground.
"After the overnight hunt, every morning at around 6:30 am, all the hunting people bring their truffles over to a centralised truffle market, where the price is set based on the quantity harvested," recalls Dell'Aquila.
Experimenting with Alba's seasonal specialities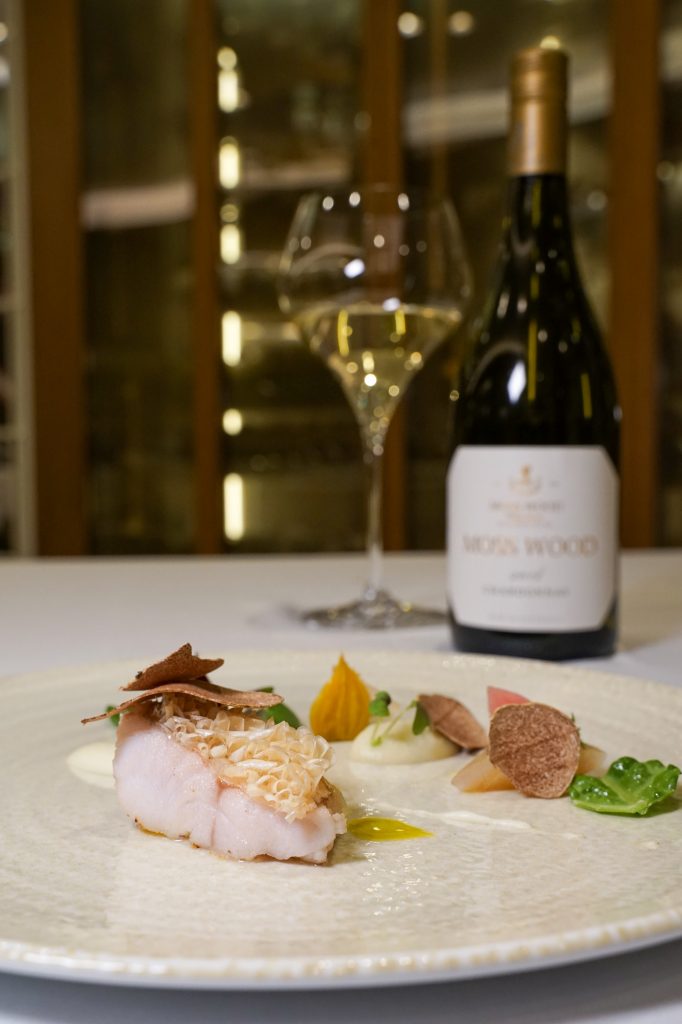 In creating the menu for the latest edition of the Diamonds of the Kitchen series, Chef Dell'Aquila turned to Piedmont, where Alba is located, to showcase the region's delicacies alongside premium ingredients from across the globe. 
"The main concept of this menu is to focus on the Alba area to develop a menu where diners can taste its ingredients from the beginning to the end of the experience," he says, adding that the region is known not just for white truffles, but also for its wine, hazelnuts, and world-famous Ferrero Rocher chocolate and Nutella spread.
With this guiding ambition, the Italian chef sought premium seasonal ingredients that intensify the truffle's flavour and aroma. From Japanese and French mushrooms to Brittany langoustine, Miyazaki wagyu beef, artichoke, hazelnut, persimmons and pears, diners will enjoy a bounty of autumnal ingredients. 
Chef Dell'Aquila says the resulting dishes on the special six-course menu are innovative yet uncomplicated. He has intentionally kept each dish simple to let the ingredients shine and achieve a harmonious balance of flavours. 
But simple doesn't necessarily mean safe, and Chef Dell'Aquila is not one to shy away from risks. "I always think: 'Do extra or do more than the expected. Think of new ideas, take risks, make something new, create new flavours,'" he affirms. 
Chef Dell'Aquila strives to surprise guests with intelligent techniques and unexpected combinations, such as a coffee and artichoke risotto or pear and fish while ensuring each dish elevates truffles. 
Guests will enjoy them in myriad ways – infused into herbs, incorporated into fragrant stocks, enhanced through essences or generously shaved into paper-thin slices. In addition to the dishes listed on the menu, diners can look forward to a few off-menu white truffle-infused surprises throughout the gourmet journey. 
A seasonal menu worth savouring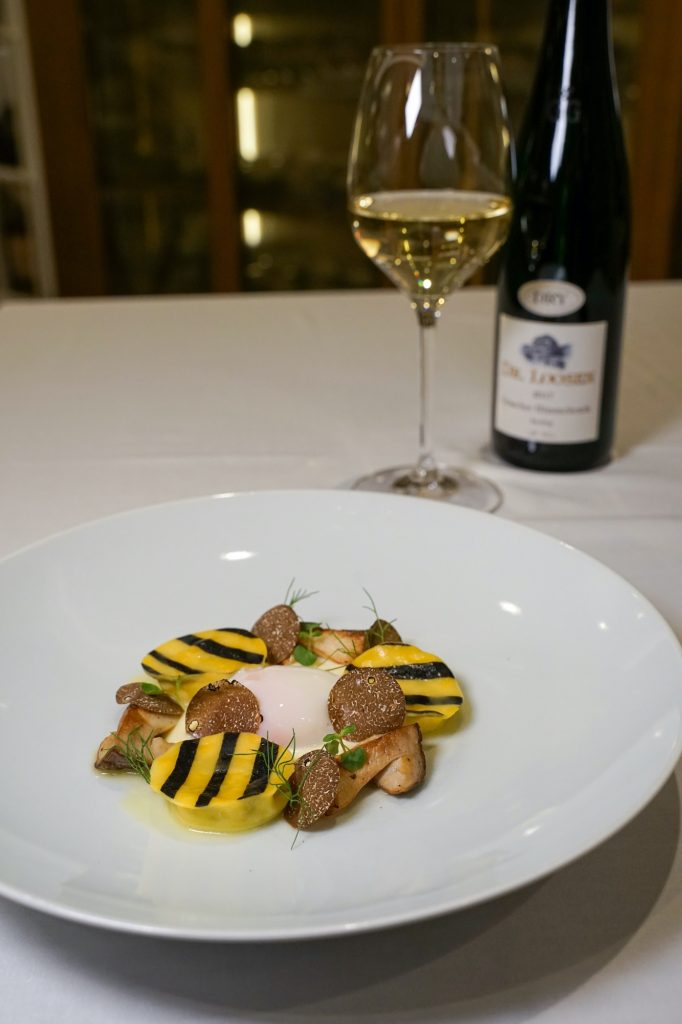 The inventive six-course menu begins with an amuse-bouche: a freshly baked 36-month Pata Negra puff accompanies a hearty mushroom soup.
After that inviting first bite, a Brittany langoustine arrives alongside candied lemon peel and fennel. The herbs are particularly notable, as Chef Dell'Aquila has marinated the fennel in Molinari Sambuca, an anise-flavoured liqueur, and infused it with truffle for an incredible depth of flavour.
Then comes the Ravioli Upside Down – the only dish on the menu featuring Piedmont black truffles. Presented alongside a freshly baked truffle roll and a slow-cooked Bra cheese fondue, the elevated ravioli brings together many layers of flavour and texture.
Up next, the coffee, Parmesan and mushroom risotto upends expectations. The chef infuses Jerusalem baby artichokes with an unorthodox combination of punchy coffee and Parmesan cheese stock, then tops it with Alba white truffle shavings. On the side, a professed "fake risotto" of crispy rice adds a nice crunch and an element of fun.
When asked about the menu's star dish, Chef Dell'Aquila is reluctant to name just one. Still, he highlights the L'Amadai, a special wild-caught Japanese fish, with dried and confited nashi pear. In another nod to Italian gastronomy, the chef serves the fish on a bed of silky smooth white polenta  under a layer of Alba white truffle shavings. 
Following a palate cleanser, creamy pureed Italian cannellini beans, Tokyo turnip, and chanterelle mushrooms accompany an ultra-tender Miyazaki Wagyu beef striploin. A crown of freshly shaved Alba white truffle accentuates the meat's earthy, umami flavour for a decadent main course.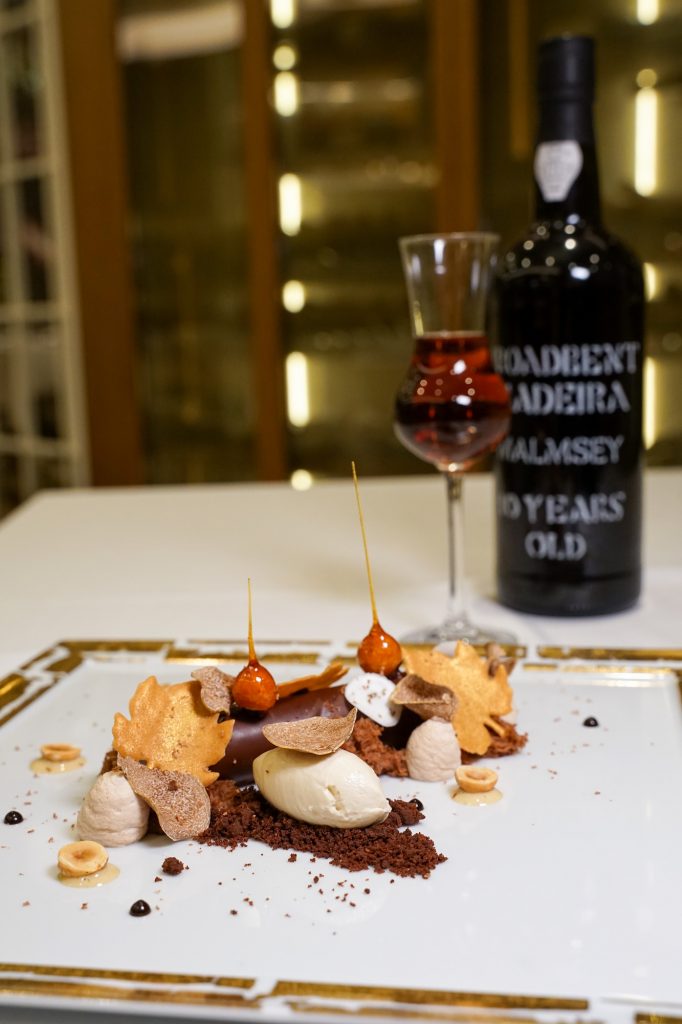 The experience culminates with The Piedmont Hazelnut – a celebration of the Piedmont region with its marriage of Alba white truffle, nuts and chocolate. The dessert – a hazelnut mousse paired with famed Italian Domori chocolate, gianduja chantilly, truffle ice cream and Ferrero Rocher ice cream – serves as a sweet end to a one-of-a-kind evening.
---
The Manor will serve its "Diamonds of the Kitchen" Alba white truffle dinner experience every evening through December. The six-course menu is priced at MOP 2,288 per person or MOP 2,788 per person if you'd like to complement each dish with exceptional European wine and Champagne. 
To make a reservation, email themanor.macao@stregis.com or call (853) 2882 8898