Meet Michele Dell'Aquila of The Manor at The St. Regis Macao
Meet Michele Dell'Aquila of The Manor at The St. Regis Macao

Link copied
Michele Dell'Aquila went from cooking with family in a port city in Italy to becoming one of Macao's finest chefs. We trace his culinary journey.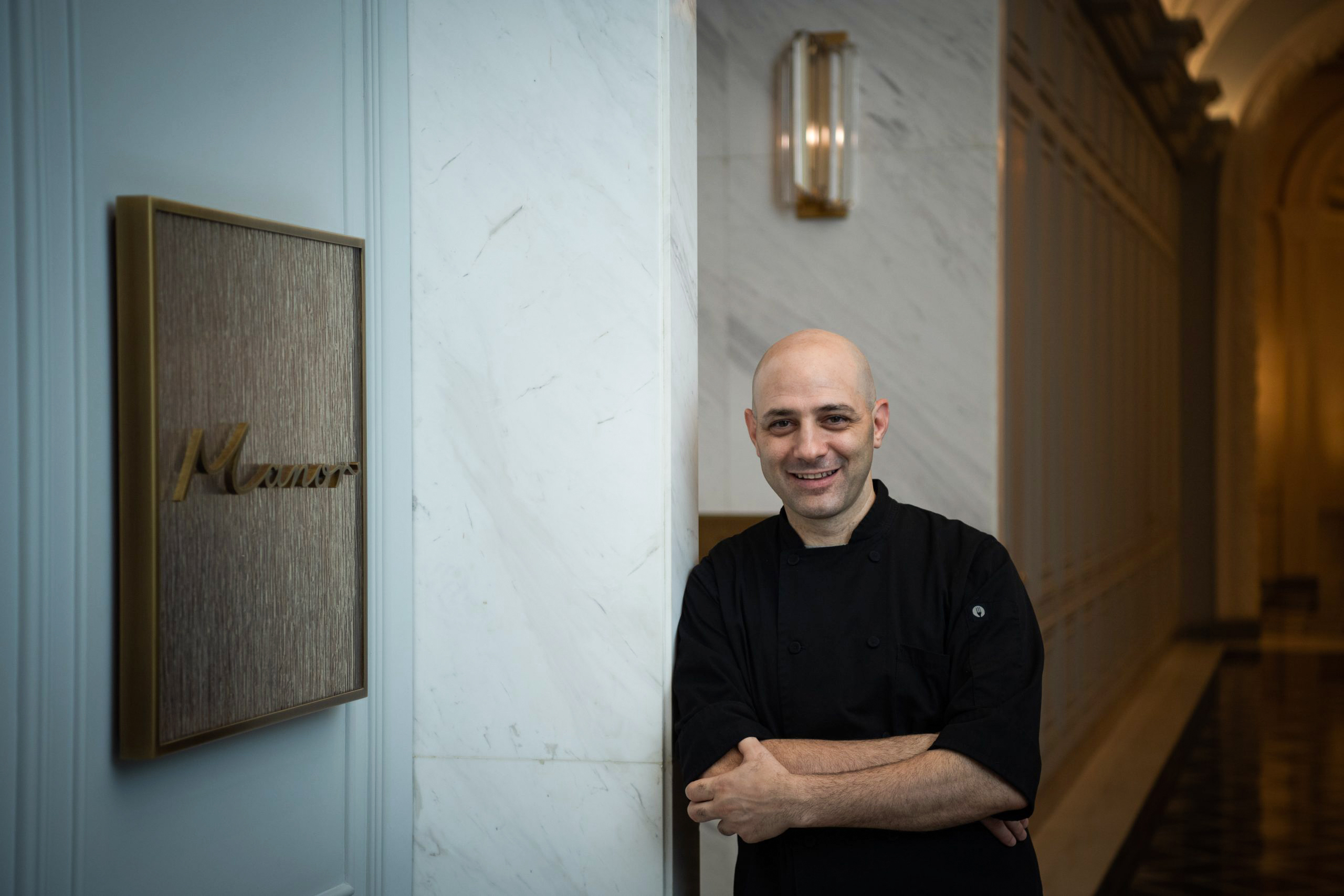 Where else are you likely to find authentic home-style Portuguese food right next door to Michelin-starred restaurants? In Macao, when it comes to dining out, you're definitely spoilt for choice.  
That's where our "Know Your Chef" series comes in. In this series, we catch up with chefs in Macao to learn more about their motivation and mentors, industry observations and go-to meals.  
This week, we sat down with Michele Dell'Aquila, executive sous chef at The St. Regis Macao's The Manor restaurant. At the helm for just 18 months, Dell'Aquila has transformed the restaurant from casual dining to Michelin-star hopeful. 
Staying true to his Italian roots, Dell'Aquila is passionate about starring the freshest and finest ingredients, slow cooking techniques and simple yet satisfying flavour combinations. Read on for more insights about the chef and his story:  
The early days: Dell'Aquila was born in Bari on Italy's southern Adriatic Coast, where he grew up in a food-loving family. "My parents and grandparents were always cooking," he says. "We had a big family gathering every Sunday and my grandmother and mother would start cooking at 5 am to have lunch ready by 1 pm. They made everything from scratch, so I was exposed to cooking from a very young age, and was always in the kitchen cooking something for myself."
The turning point: It was no surprise to the family then, when Dell'Aquila enrolled at the nearby Istituto Alberghiero culinary school at age 13. "The school has a very long history in the area with chefs who have worked all over and then come back to teach," he says. "I was very fortunate to learn from some great chefs."
While at school, Dell'Aquila had the opportunity to work in his hometown as well as other regions of Italy, picking up different skills and styles with each new experience. "Since an early age, I was working with Michelin-starred chefs," he says. "It showed me that if you have talent, it shouldn't be wasted. It was when I finished school that I knew that I had to leave Italy – that there was a world waiting for me out there." 
Gaining momentum: By the age of 19, Dell'Aquila was working at two-Michelin-starred Ristorante Don Alfonso 1890 on the Sorrento Peninsula in southwestern Italy. "At that time, there was a long waitlist to join the staff, so I was working for free just to get experience," he says. "So when my friend offered me a job in Germany at a one-Michelin-starred restaurant, I took it." 
A year later, he returned to Don Alfonso when a paid position became available, and stayed at the restaurant for almost four years. "I'd obviously made a good impression, because Don Alfonso called me and asked me to come back," he says. "I worked as his pastry chef. It made all that unpaid work worthwhile." 
After a stint in London, he headed to Madrid to work at Sergi Arola's two-Michelin-starred restaurant. "My dream was always to work in Spain for Santi Santamaria [a Catalan master chef]," says Dell'Aquila. "His kitchen was always full, but Don Alfonso helped me get another position at a fantastic restaurant there before I finally made the move to Asia." Dell'Aquila made a name for himself in Bangkok at The Dome's sky-high Mezzaluna restaurant, before moving on to Bali, Tokyo, and finally, Macao.
Most meaningful culinary experience: For Dell'Aquila, gaining experience in Michelin-starred restaurants has been the key to his success. "I learned so much from working with great chefs," he says. "In 2006, I took a few months off before I moved to Bali, and just spent time working around Europe at Michelin-starred restaurants for free. That experience really helped me prepare for the next step."
His mentor: Don Alfonso had a huge influence on Dell'Aquila. "His mentality, the way he cooks, his approach to food – it's very similar to how I was brought up," he says. "Southern Italian cuisine has always been simple, fresh and seasonal. We've been living this way for thousands of years." 
The acclaimed chef cemented what Dell'Aquila already knew: healthy, fresh food is a way of life in Italy. "Growing up with this concept has made my job easier," he says.
Favourite all-time dish: For the ultimate comfort food, Dell'Aquila turns to a simple vegetable spaghetti or risotto. "In Italy, one person specialises in these dishes," he says. "There are so many details, and a person who cooks them can see just by looking if there is a mistake or if something is missing." 
Industry insights: During the pandemic, the chef says he has observed changes amongst diners in Macao. "People realise it's time to start living again. They are more focused and appreciative of the food," he says. "Now people are interested in where the food has come from, and the stories behind the dishes." 
His current role: When Dell'Aquila took over, The Manor was an all-day dining restaurant, as well as the oyster bar and grill serving hotel breakfast and seafood Sunday brunch. In his short tenure, the restaurant has seen dramatic changes. "We are investing more in quality products. We've changed the food, the plating — the whole concept. Dishes are more refined and we focus on single ingredients to let them be the star of the dish."
So far this year, the chef's efforts have been recognised by two prestigious awards – Best Western Restaurant in the China Feast Awards and a Platinum Award in Trip.com's Gourmet Top Global Restaurant List. 
Parting advice: Cooking is an increasingly sought-after occupation with the potential to be prestigious. So what does Dell'Aquila tell those entering the culinary world? 
"Cooking in a kitchen is not as glamorous as people might think," he says. "It's not MasterChef or Top Chef. It's really long hours and lots of hard work. But if you really want it, it's there for the taking."