'Set yourself apart.' David Ong on his night at the St. Regis Bar Macao
'Set yourself apart.' David Ong on his night at the St. Regis Bar Macao

Link copied
Last month, top Philippine mixologist David Ong, of Manila bars Oto and The Curator, took over the St. Regis Bar with his protégé David Abalayan.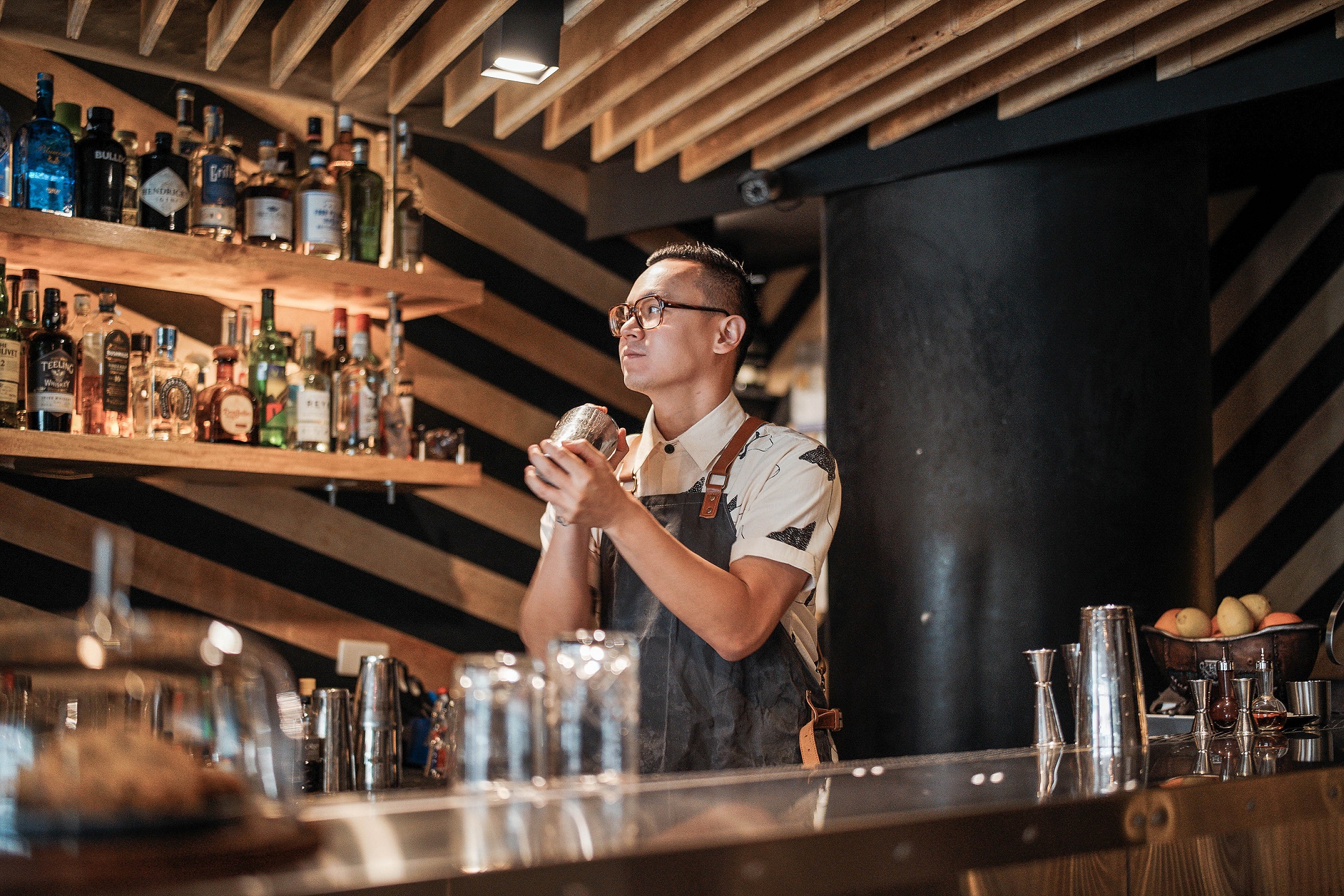 Asia's bar scene has witnessed a flowering of creativity – so much so that visiting all of the region's best watering holes would be a nigh-on impossible task. But imagine if Asia's top mixologists came to you. That's the idea behind the Art of Mixology series at the St. Regis Bar. 
Located at the St. Regis Macao, the New York-inspired bar has hosted the series since 2015, hosting Asia's very best cocktail crafters as they pour out their libations to the sounds of live jazz.
In its latest iteration, on 27 September, David Ong of award-winning Manila bars Oto and The Curator Coffee and Cocktails – the latter listed as one of the 50 best bars in Asia – took over the bar alongside his protégé, and Oto's bar manager, David Abalayan. The two were supported by resident mixologist Kevin Lai.
Ong and Abalayan presented a selection of meticulous tipples featured on Oto's music-inspired menu – and made it easy to see why the Philippines has arrived on the ever-expanding map of mixology.
We caught up with Ong after his shift to talk about inspiration, Macao's bar scene and the Philippine take on cocktail making. 
What got you interested in bartending?
I was working at the Shanghai World Expo, at the Philippines pavilion, in 2010 and was set to graduate from the University of British Columbia, so I decided to celebrate the milestone with a handful of friends. It happened to be at a Japanese-inspired cocktail bar called El Cóctel in the French Concession. That was my first exposure to proper cocktails, before that it was college drinking. That experience changed everything for me. I was fascinated! 
Do you remember your first cocktail? 
I remember my first go-tos being Moscow mules and mojitos! Pretty simple.
How does it feel to be the mastermind behind the sole Filipino bar on the list of Asia's 50 Best Bars? 
I wouldn't say mastermind! The Curator has been around for almost 10 years now and, fortunately, we've been on the list for quite a while, since the inception of Asia's 50 Best Bars, which is 2016. 
It feels good. This isn't our first time on the list, so our perception has changed over the years, from just trying to put the Philippines on the map to then eventually having two bars on the list – The Curator and Oto Bar. I wouldn't say it gave us pressure, it gave us more purpose. 
The World's 50 Best Bars is coming along this month as well, in Singapore, and I think there's a lot more hype because we're finally out of the pandemic and it's a bigger celebration. Now, for us, it's about trying to shed more light on the other bars in the Philippines that are also very good. We want people to come to the Philippines and see what we have to offer. 
We've never really had the spotlight compared to other cocktail capitals like Singapore, Hong Kong, Thailand, Japan or Korea, all super strong cocktail capitals. The other Asian neighbours like Macao,  the Philippines, Vietnam, Malaysia, Indonesia and Sri Lanka, there is something happening there – there's new energy and the potential is sky high! 
What did it take to achieve this?
You have to set yourself apart. In a perfect world, you'd have a beautiful bar with an unlimited budget and very diverse menu. That's not the case, but we make do because of the creativity of our team. Also, I think for us Filipinos, our biggest strength is hospitality. 
If you go to any of our homes and meet our grandmothers, the first thing that they will ask you is "Have you eaten?" and even if you say you have, a minute after you will be served food – and you have to eat it. That's Filipino culture and it's so inherent!
Have you drawn inspiration from Filipino culture when creating the drinks on the Curator and Oto's cocktail menu?
Absolutely. If you look at our bar and our menu it's not obvious right away. I wouldn't say that our drinks are 100 percent Filipino, but we do use local ingredients, all the fresh produce we use is from the Philippines.  
At the Curator, for example, our current menu is not Filipino per se but it's about personalities that we would like to share a drink with. It can be someone from a band like Kurt Cobain [Nirvana] or another bartender like Jay Kahn from Hong Kong, or it can be a local hero from the Philippines. We draw inspiration from different sources, of course the Philippines being a huge part of that. 
The cocktail "Three stars and a sun" that we've served at The St. Regis Bar is based on a song by late Filipino rapper Francis Magalona – three stars and a sun is also what you see on the Philippines flag.
What was the experience of taking over the St. Regis Bar like?
It's this beautiful, grand, fancy New York-inspired bar and we feel that energy just by entering the space. Live jazz adds to the whole experience. Singers Winnie Lam and Eugene Lei are very good! So good I thought she was Filipino (laughs), but she's local. It's good that the bar supports local talent. 
It was also my first time working alongside the bar's resident mixologist Kevin Lai, though I had met him before.
What cocktails did you mix up on your guest shift at the St. Regis bar? Any personal favourite on that list? 
We've presented four of the cocktails on Oto's menu at The St. Regis Bar, which is a Spotify-inspired menu highlighting music through different eras. 
The "Gin Fizz (sped-up)" is my favourite. It's made with gin that's been infused with truffle oil and then made into a punch. We then add carrot juice, coconut water, evaporated milk and a bit of lemon before we clarify the whole mix and carbonate it. All topped off with Jasmine tea foam. 
My second favourite would be the "Smooth Like Butter, Hot Like Summer," inspired by Korean band BTS's hit "Butter," would be my second favourite. It's like an old fashioned style drink where David [Abalayan] clarifies green apple juice and then infuses the whisky with brown butter. He browns the butter himself through a careful process where he has to break all the fat in it without burning it, before emulsifying it into the whisky.
What are the hottest trends in mixology right now? How are you tapping into them? Or are there any trends that you're trying to stay away from? 
Honestly, if it's delicious and if it makes sense, we're going to do it. The trends have been pretty much the same for the last five years. The hottest one right now, I would say, is coffee cocktails like espresso martinis.
The next trend would be fermentation, followed by clarification and fat washing. What we've done with the Gin Fizz is fat-washing, though we basically double wash it – first with truffle oil and then with a bit of evaporated milk, which adds body and sweetness. 
Another trend is distillation, where you distil like an ingredient's main ingredient and turn it into a concentrate (basically like how you make perfume). We even use the same machine [used to make perfume], it's a rotary evaporator.
There's some concepts that go a bit overboard, where every single drink has a distillate or has gone through a rotary evaporator. I would rather it  go through fermentation or fat washing just because you're building flavours more.
Was this your first time in Macao? How did you find the bar scene in the city?
Not my first time in Macao. It's a very young, very fresh scene with a lot more hotel bars than independent ones. But independent bars do exist and there's a lot of passion behind them. I can tell that there's a lot of eagerness in the community too.
---
Looking to experience the on the rise mixology landscape in Macao? Visit The St. Regis Bar's website and follow them on Instagram to stay in the know of upcoming Art of Mixologist events.