Tried and tested: The Manor tops the list for the ultimate celebratory lunch experience
Tried and tested: The Manor tops the list for the ultimate celebratory lunch experience

Link copied
With holiday celebrations in full swing, our food writer tried out a luxurious dining experience at The Manor at The St. Regis Macao – and it may very well become an annual tradition.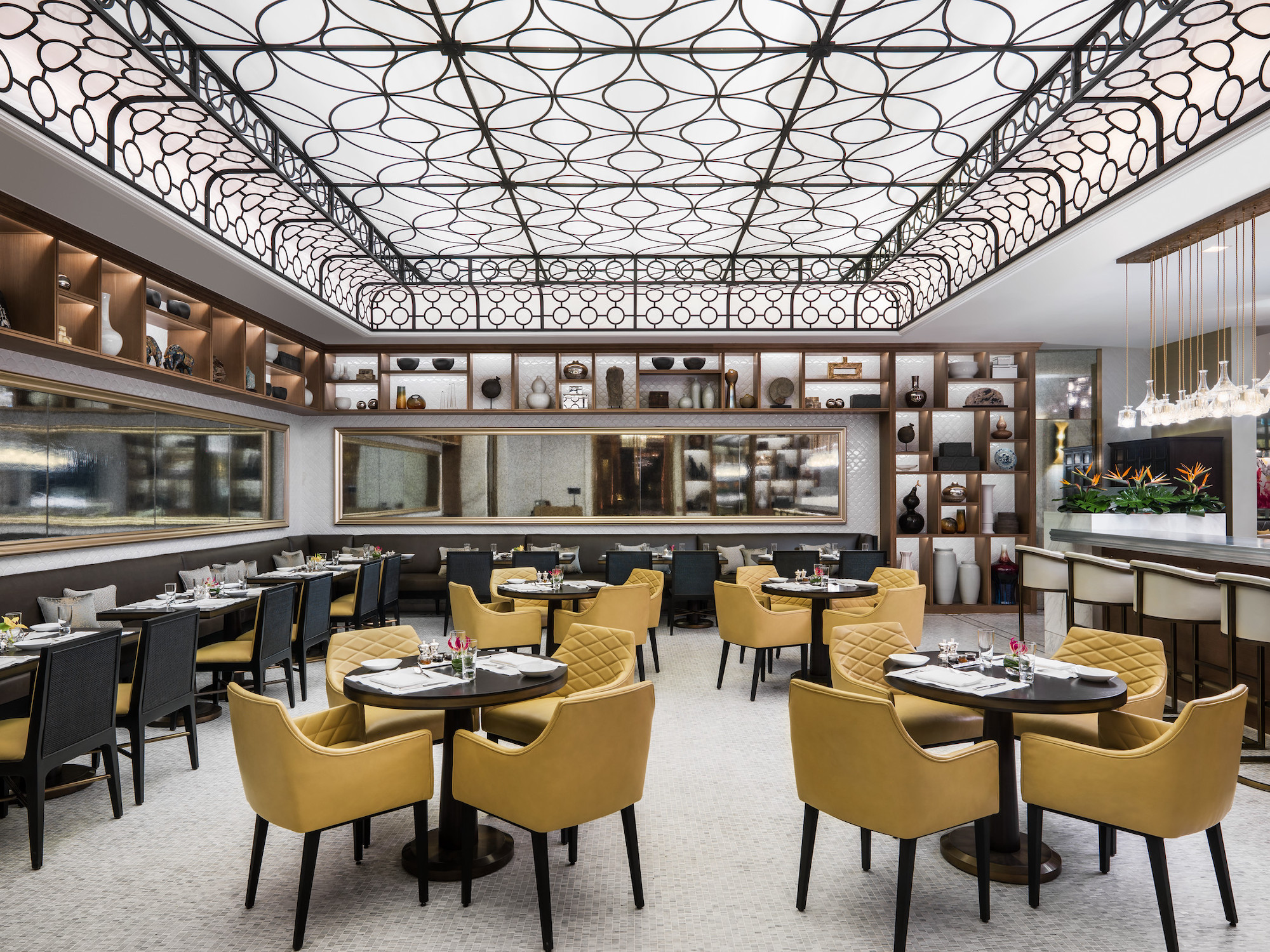 The festive season is a time for gathering, celebrating and appreciating the finer things in life. And in a city like Macao, where people come together and bond over food, great meals are a must this winter.
Maybe you'll catch up with friends over a lavish seafood buffet, pass around sharing plates of noodles, reconnect over dim sum, or dig into a Sunday roast with all the trimmings. With so many options at our doorstep, holiday meals can be as casual or extravagant as you like.
Having partaken in our fair share of buffet lunches over the years, my friends and I were in the mood for something more refined when it came time to book our annual Christmas lunch this year.
The Manor at The St. Regis Macao turned out to be the perfect fit. Known for its sophisticated dishes, the restaurant's weekend "Let's Do a Luxe Lunch" set menu – an enhanced interpretation of the popular "Let's do Lunch" menu – ticked all of our boxes.
This three- to five-course meal showcases the finest imported seafood and premium cuts of meat, alongside free-flow Billecart-Salmon – an esteemed family-run Champagne house dating to the 1800s.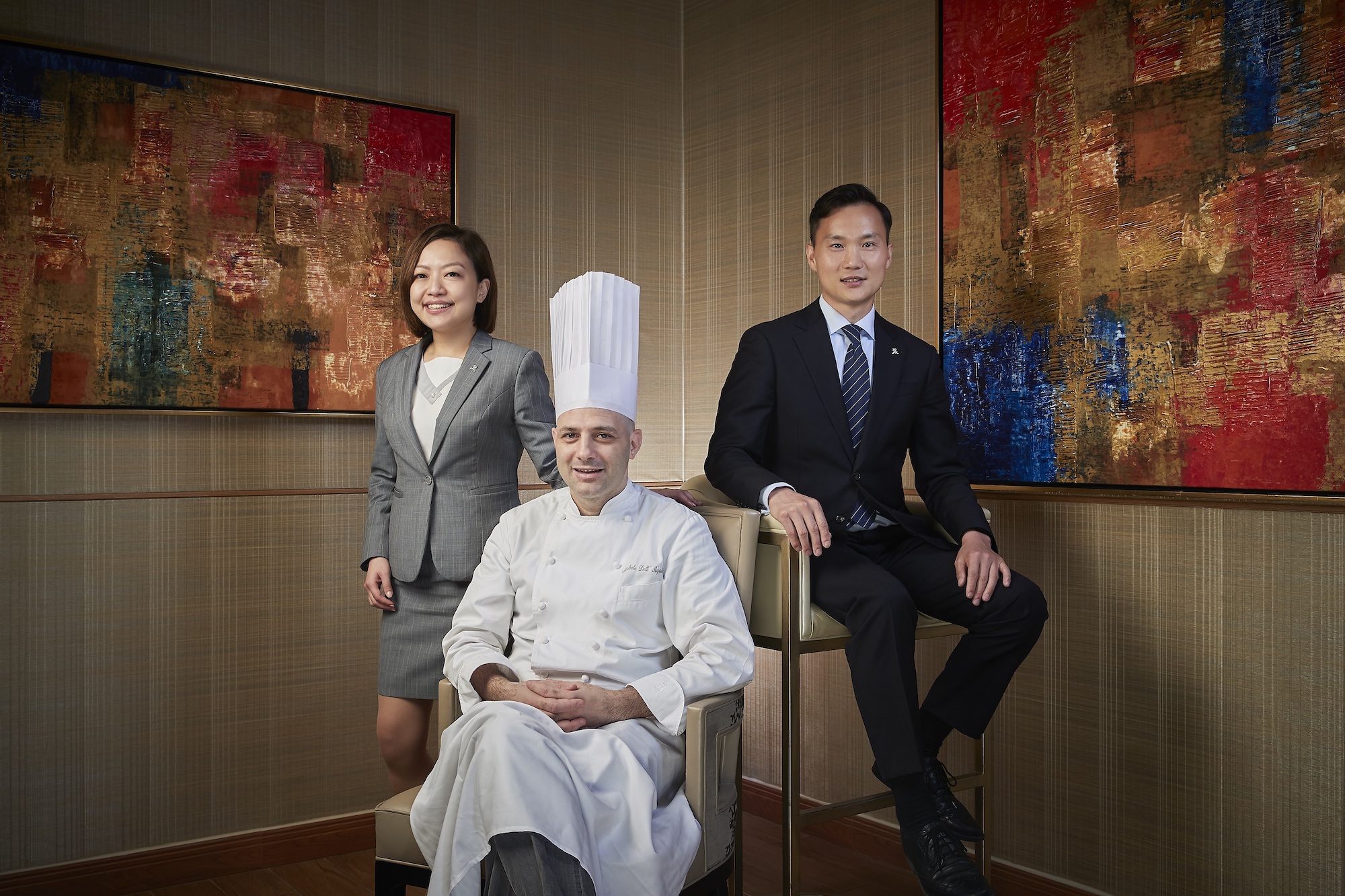 In designing the "Let's Do a Luxe Lunch" menu, Executive Sous Chef Michele Dell'Aquila wanted to offer Macao diners an alternative to more conventional holiday dining experiences, such as dim sum or hotel buffets. It's all about quality, not quantity with this set menu, says the Italian chef. "We have meticulously sourced the most premium ingredients from all over the world to create a celebratory lunch as we enter the festive season," he explains. 
With a rumbling stomach and Christmas gifts in hand, I met my friends at the entrance of The Manor last Saturday at noon on the dot, ready for an afternoon of indulgence. The beautifully appointed Dining Room provided an elegant backdrop, while white-clothed tables and plush armchairs augured well for what was to come. 
Our server wasted no time, and after introducing the menu, filled our flutes with crisp Champagne. Our lunch was already off to a good start. We perused the set menu and ordered four courses: two appetisers, one main, and one dessert.   
A bread basket brimming with freshly baked sourdough, soft butter rolls, and crunchy breadsticks alongside French butter and sea salt flakes came next. Before we could sink our teeth in, the chef's amuse-bouche platter quickly followed, spoiling us with watermelon gazpacho shooters, yellow beetroot terrine with shrimp and Calvisius caviar, and Fassona beef tartare with parmesan and cured egg yolk. Our luxe lunch hadn't even officially started, but we were already impressed.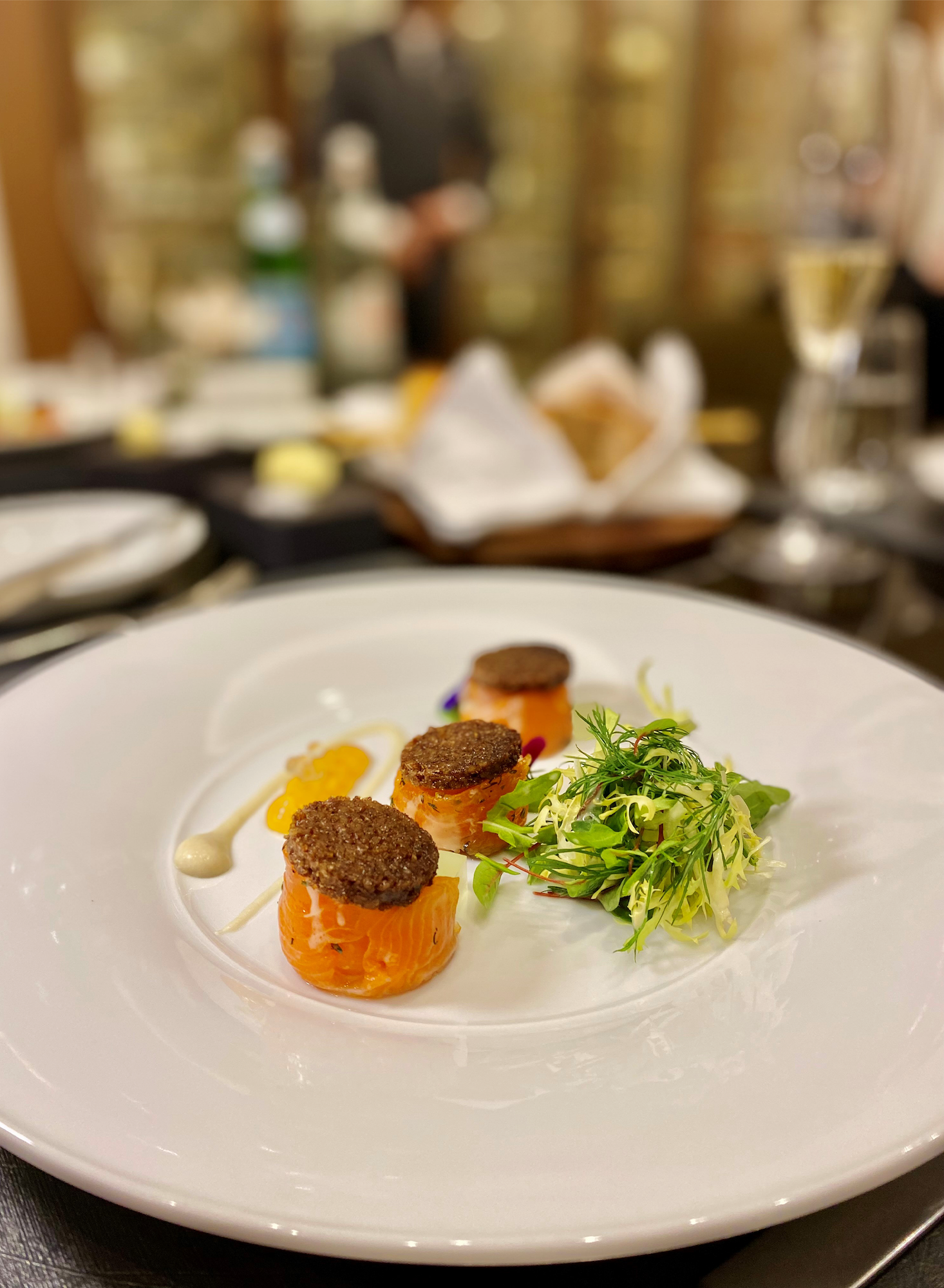 Although all three appetiser options sounded delicious, I opted for the New Zealand Ora King salmon and celeriac soup. The salmon arrived first, resembling art on a plate; picture three delicate twists of fish topped with pumpernickel rounds, avocado guacamole, fennel jelly, green cress, mango and yuzu. Our server discreetly refilled my glass of Champagne, and then my soup appeared – smooth, creamy, and decadent thanks to lashings of cod, parsley oil and black truffles. 
As a diehard fan of Italian cuisine, my heart was set on the open ravioli for my main dish. In this unsealed version of the Italian classic, the chef drapes spinach, beetroot, and squid ink pasta squares over pumpkin puree, turnip tops, Boston lobster, Hokkaido scallops and tender Norwegian langoustine, then drizzles clarified butter over the top. 
I couldn't order every dish on the menu, but since I was dining with friends, I got to try a few bites of their dishes as well. There was Japanese sea bass with a dashi emulsion and tomato and fregola sarda (tiny spherical pasta); "Rhug Estate" pigeon breast with Swiss chard, purple potato and tonka bean sauce; and Aveyron lamb, served with beetroot, celeriac, truffle, mustard seeds and lamb jus. A testament to the attentive service at The Manor, the Billecart-Salmon never stopped flowing as we made our way through our three savoury dishes.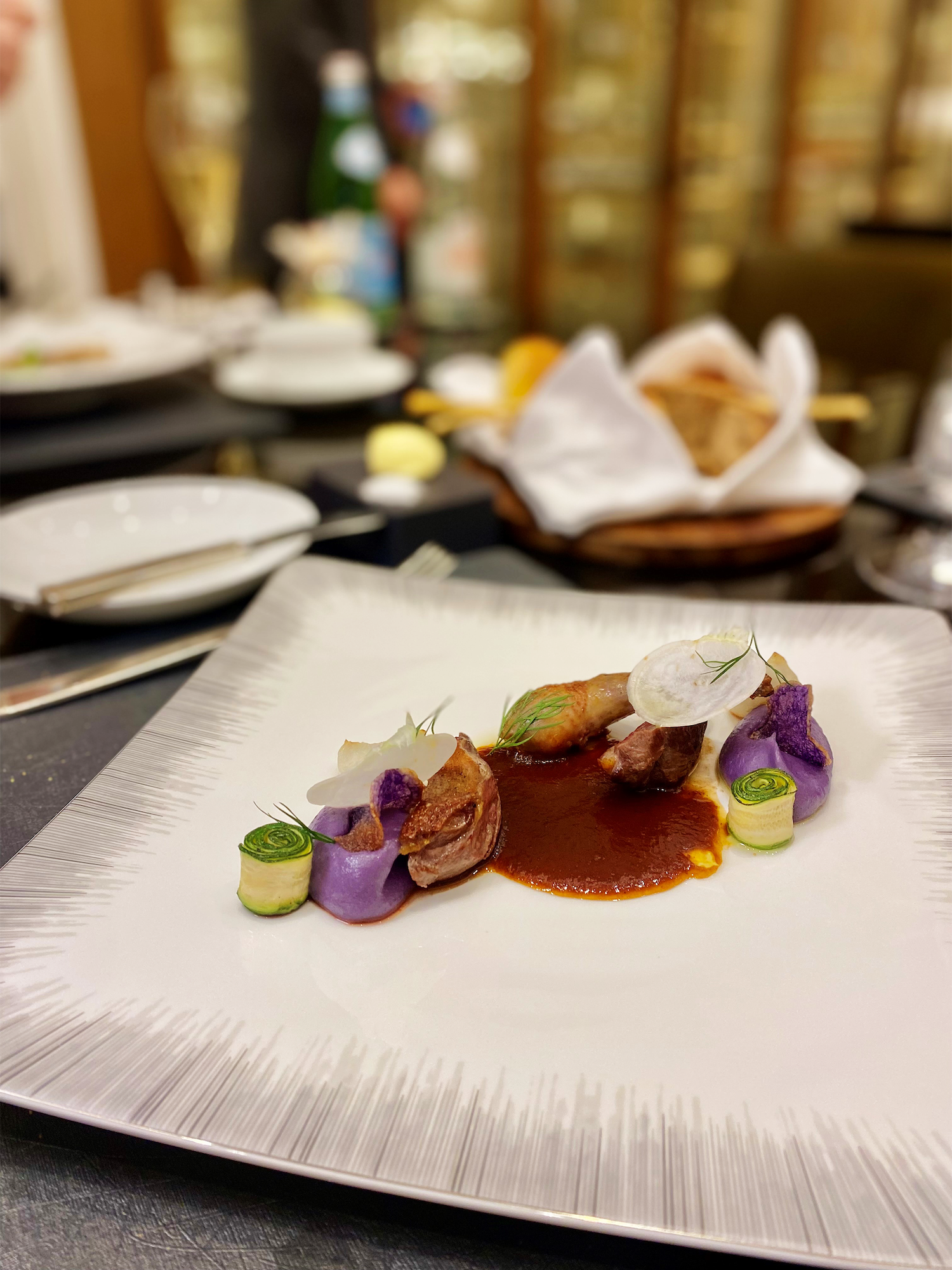 For the finale, Dell'Aquila served his signature Domori Piedmont hot chocolate cake – a decadent lava cake-inspired creation elevated by hazelnut cream and Illy coffee ice cream. Of course, I also snuck a taste of my friend's chestnut confit with cream and snow-white meringue, which was also a beautifully crafted, sweet treat to end the meal on.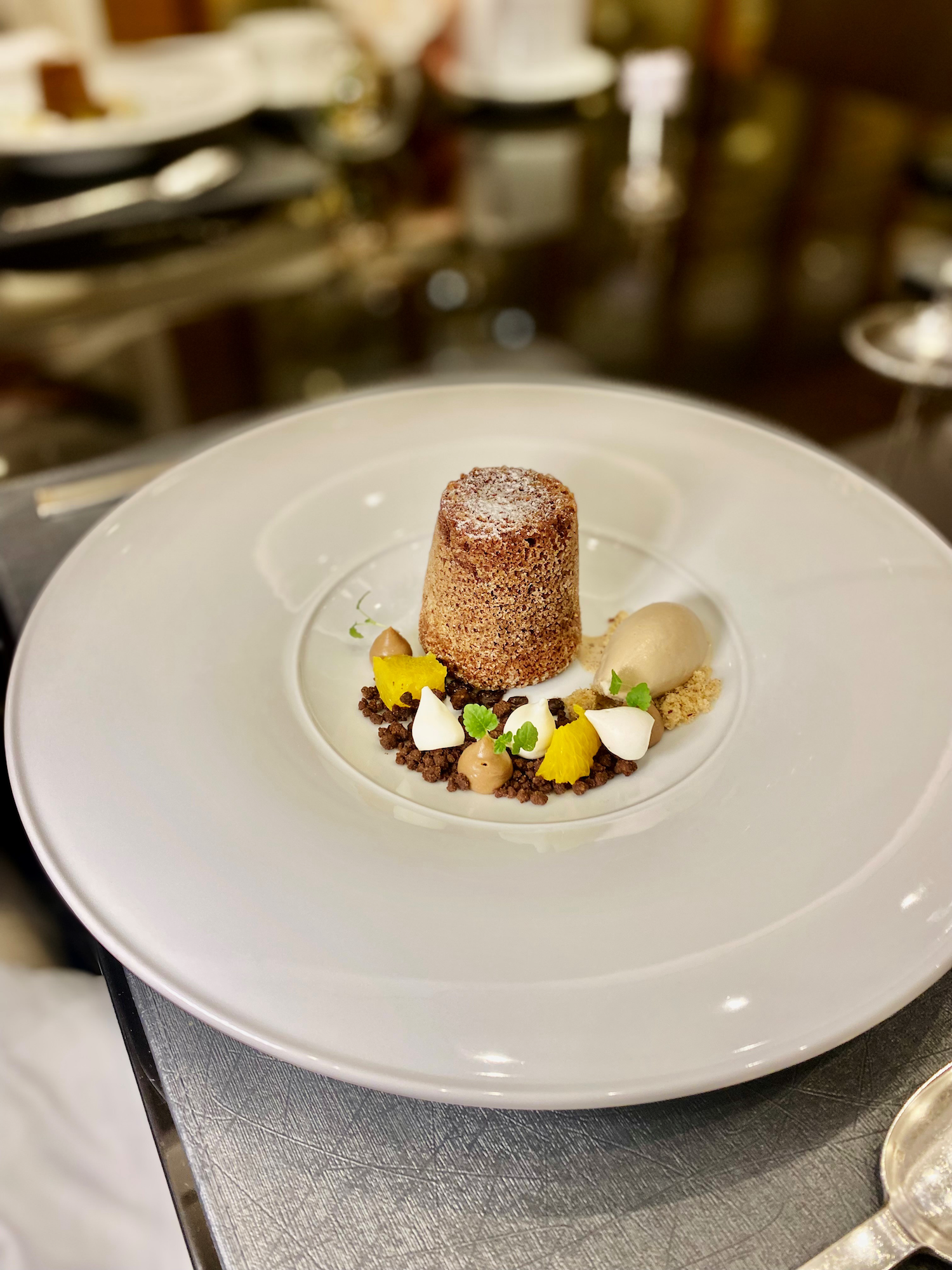 "Let's Do a Luxe Lunch" proves that it's possible to indulge in a celebratory meal without going over the top. If you're looking to up the ante this festive season and splurge on a fine dining feast, look no further than The Manor.
---
The Manor will be serving its "Let's Do a Luxe Lunch" set menu this holiday season every Saturday and Sunday from noon to 3 pm. Prices start from MOP 398 per person; Free-flow Billecart-Salmon Champagne package for an additional MOP 298 per person. Everyone at the table must order the set menu. 
To make a reservation, email [email protected] or call +853 2882 8898. Happy holidays!