Jessica Ieong combats mental health issues with art
Jessica Ieong combats mental health issues with art

Link copied
Macao-born Jessica Ieong is on a mission to spread positivity and spark conversations through her creation, Mr Bubbles.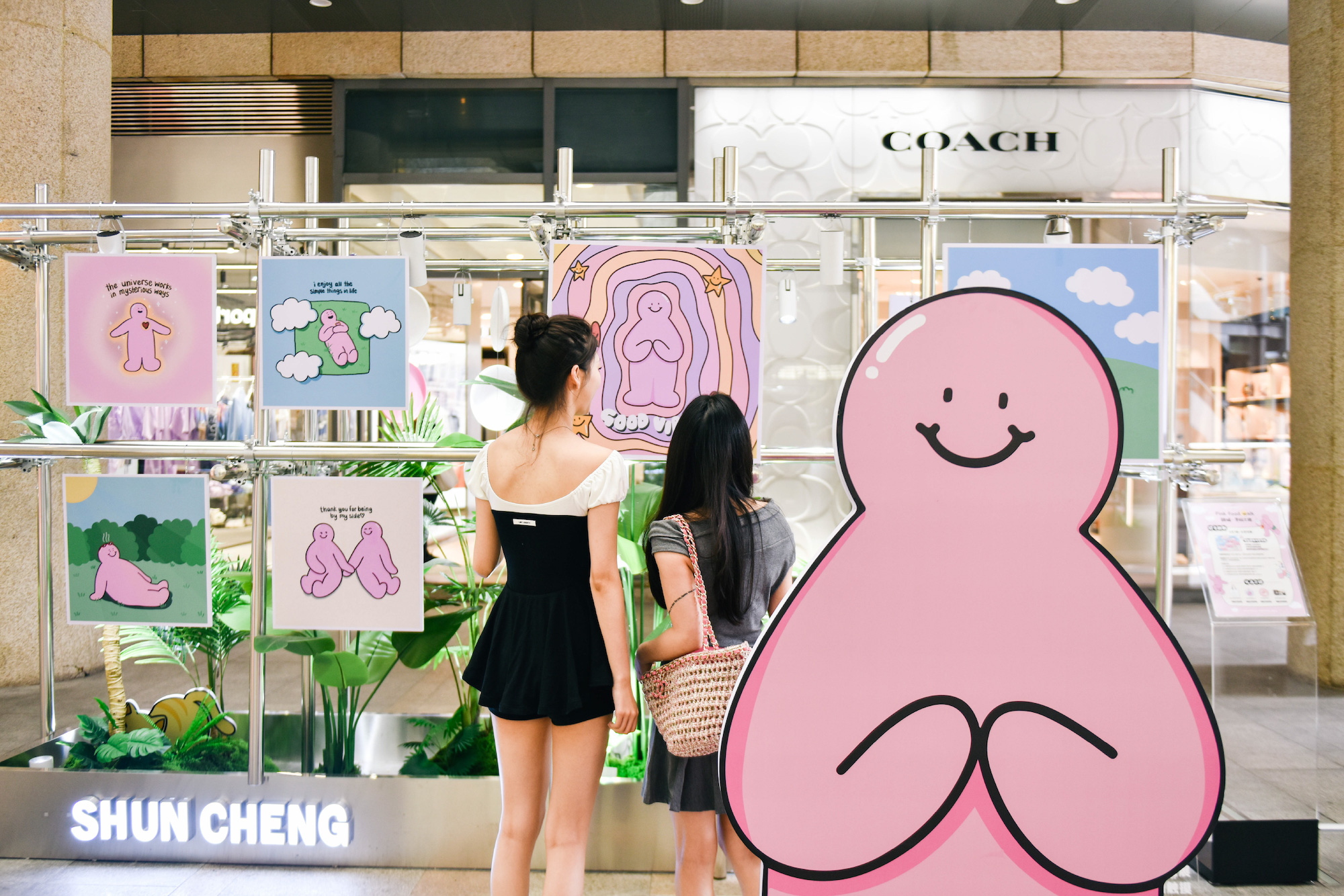 In 2020, with the covid pandemic raging, Jessica Ieong graduated from university with her bachelor's degree in civil engineering. She landed a job at an engineering design consultancy, which had been her plan. But Ieong soon found herself experiencing bouts of anxiety.
The 25-year-old says her new role and Macao's pandemic restrictions combined to make her feel "physically trapped and unmotivated." 
Drawing was where Ieong found relief. She created a pink, smiley character named Mr Bubbles, who exuded kindness and serenity from his pastel-coloured universe.
She began adding reassuring messages to her artwork – 'you're beautiful' or, 'sometimes all you need is a hug' – and sending them to friends she knew were struggling with the pandemic, too. When she posted a Mr Bubbles (粉啵啵) drawing to Xiaohongshu (China's version of Instagram) in January 2022, Ieong realised his simple optimism resonated with a lot of people.  
Jessica Ieong quit her engineering job soon afterwards and spent six months travelling. As she journeyed through Thailand, Cambodia and the UK, she kept drawing – building up her social media following along the way. Today, she has 58,000 followers on the platform.
Back in Macao, things escalated quickly. Businesses began reaching out to Ieong via Xiaohongshu, asking if they could exhibit her art in the likes of malls – because its vibe resonated so well with their customers. She also began selling stickers, key rings, pop sockets, notebooks and phone covers featuring Mr Bubbles.
In June, the Chinese art agency Sense Art collaborated with Ieong to create an inflatable, five-metre-high version of Mr Bubbles. He currently sits, hugging a red inflatable heart, outside Shuncheng Shopping Mall in Kunming, Yunnan Province.
Success has given Ieong the confidence to become a full-time artist selling her wares at art markets, as well as online. She talked Macao News through her journey, and thoughts on mental health issues in the city.
This interview has been edited for length and clarity.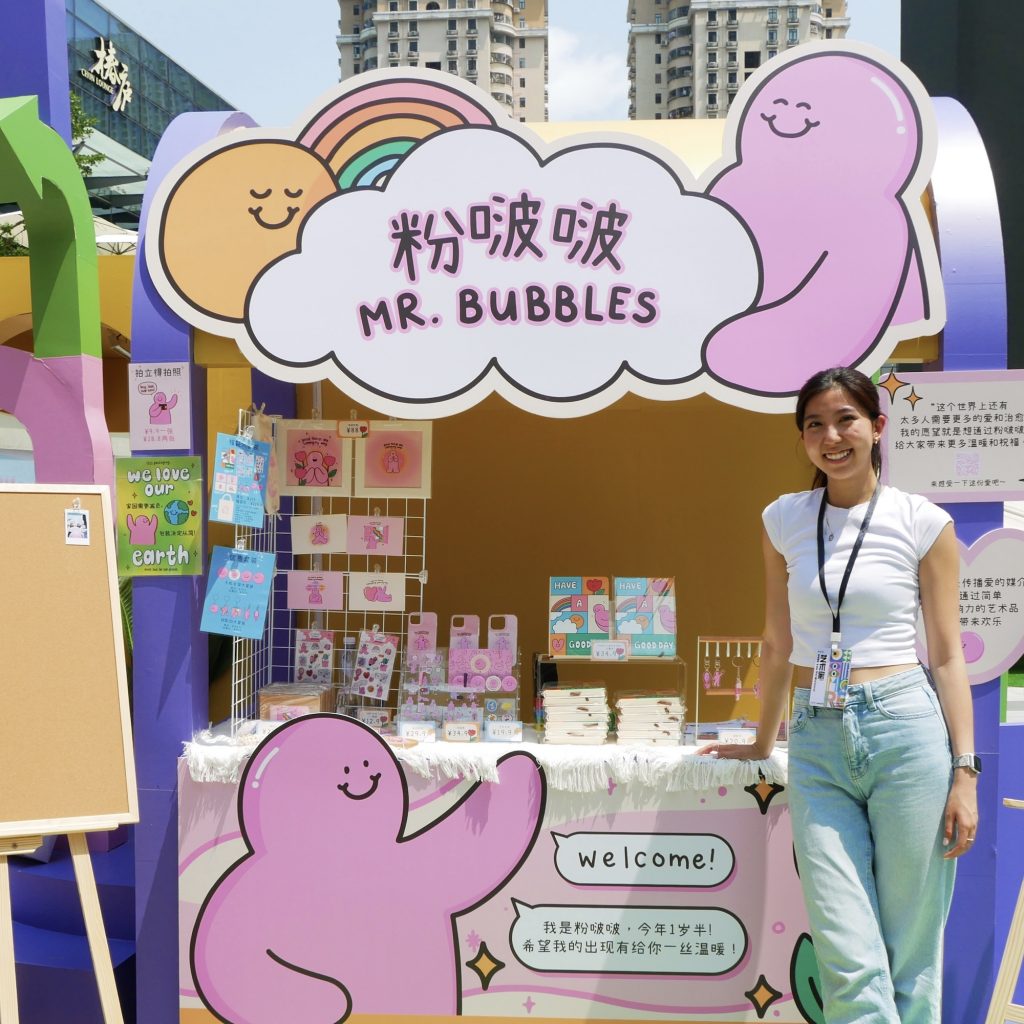 Mr Bubbles has been a big hit in China. What's that been like for you?
My first exhibition was in Tianjin at the start of this year, which I missed unfortunately. But the second one was in Shenzhen – a combination of an art market and exhibition. That was my first art market, and I learned a lot. It was super tiring! But it was a meaningful experience, getting to meet my fans in person and see the people I've had a positive impact on.
The inflatable Mr Bubbles was the biggest project, and I haven't actually seen it in person yet. But I did work closely through the whole design process with the team in China. Of course, I wanted all the details to be perfect; the smile, the eyes, everything. I'm pretty happy with the overall result. 
Even though I haven't been there to see it myself, a lot of my fans have been. I feel super loved and lucky that people would take time out of their day to go there, take pictures, and then send them to me. 
And it's super sweet that sometimes they will send me a very long message, telling me how I helped them through a very hard time. That just keeps me going. 
Does that sum up what you're trying to achieve with Mr Bubble?
Yes. In Asian culture, we don't talk about mental health a lot. Over here, it's always been a taboo. You're either normal and fine – or you need to be hospitalised. But you shouldn't have to be seriously mentally ill to ask for help. 
So with this character, my mission is to spread positivity and love and also to encourage conversations about mental health. 
On a personal level, when I started this journey, I felt alone because people around me were like, 'What, you're leaving engineering? Didn't you waste four years?' But for me, it's a sunk cost. I'd rather waste four years than spend 40 years questioning why I stayed at something I didn't like.
What's your message for young people in Macao, who might be struggling with mental health? What's your message for schools and parents?
It's very cliche, but it's okay to not be okay. It's okay to have negative thoughts sometimes. We all need to learn that it is possible for us to feel better – that these are just emotions and feelings. Things we can detach ourselves from. 
I think it's very important that we look within. Try to get to the root of the problem. I also think it's important to acknowledge that personal growth takes a lot of hard work. It isn't just something that can be fixed overnight. It takes a lot of ups and downs. 
Schools and parents need to encourage conversations about mental health and give support to kids that need it. They need to be aware that even young kids can have depression, not only adults. 
Aside from drawing, what else helps you from the tough times?
For me, definitely seeking support from loved ones. It's very easy for me to get into the negative loop, of having the same bad thoughts on repeat. So, asking friends or family for their perspectives helps take me out of that negative situation. 
I'm also a fan of seeking help from mental health professionals. We shouldn't feel like asking for help is weak. It actually makes you a stronger person, as it takes a lot of courage to take that first step and admit, 'I need help.'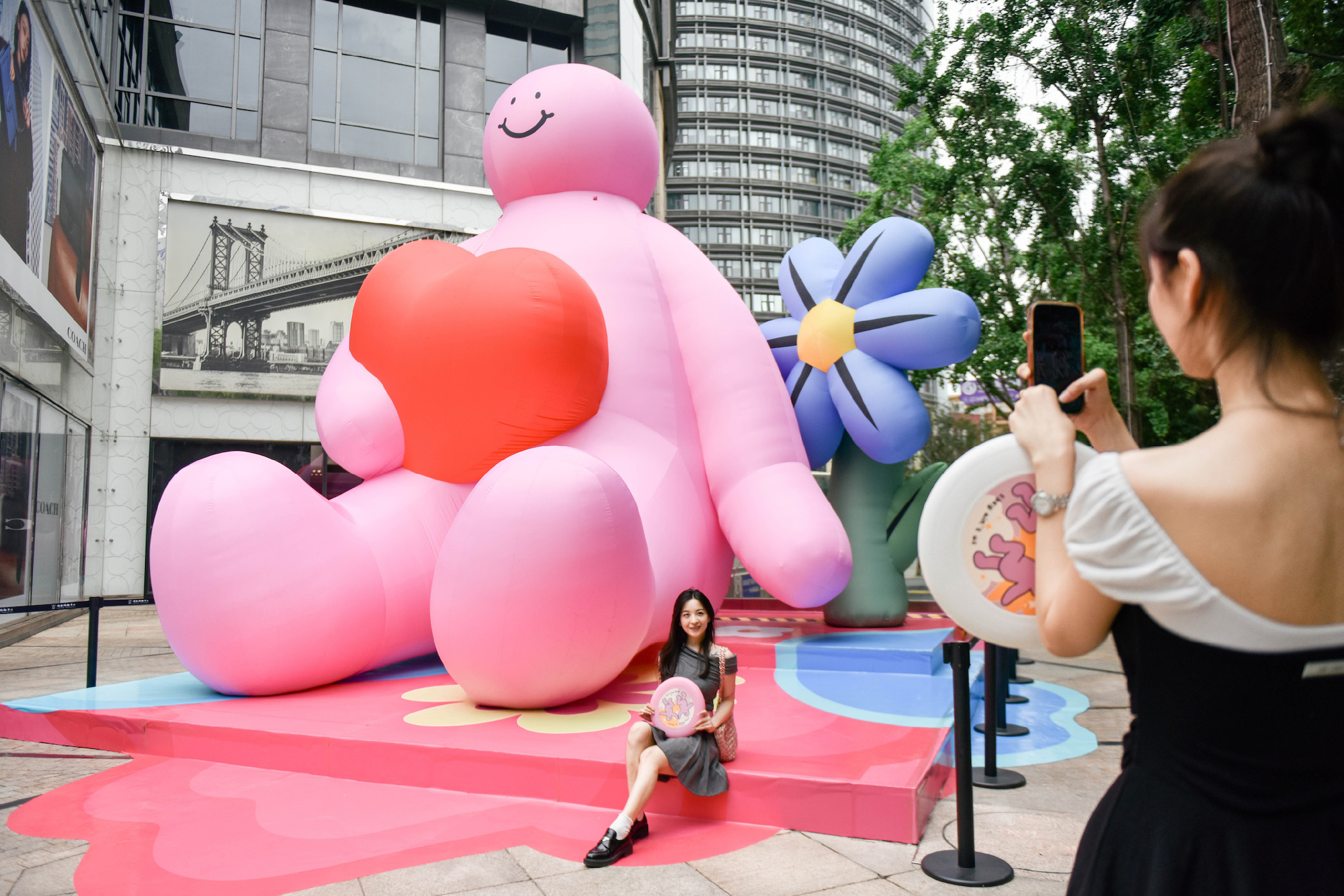 What does the future of Mr Bubbles hold?
I think life is unpredictable and I don't have a super well-thought-out plan of where exactly I want the brand to go, but it's important to set goals, which I do. But for me, I just focus on my overall mission which is just to spread positivity and love and also help spread awareness of mental health issues and encourage people to talk about it. That's my overall mission.