Impromptu Projects: Art and architecture for all through the ancient practice of bamboo construction
Impromptu Projects: Art and architecture for all through the ancient practice of bamboo construction

Link copied
Macao architectural and design studio Impromptu Projects combines bamboo structures and musical performance in their latest work, "Chasing Sounds", on display at the "Hi! Flora, Fauna" exhibition in Hong Kong.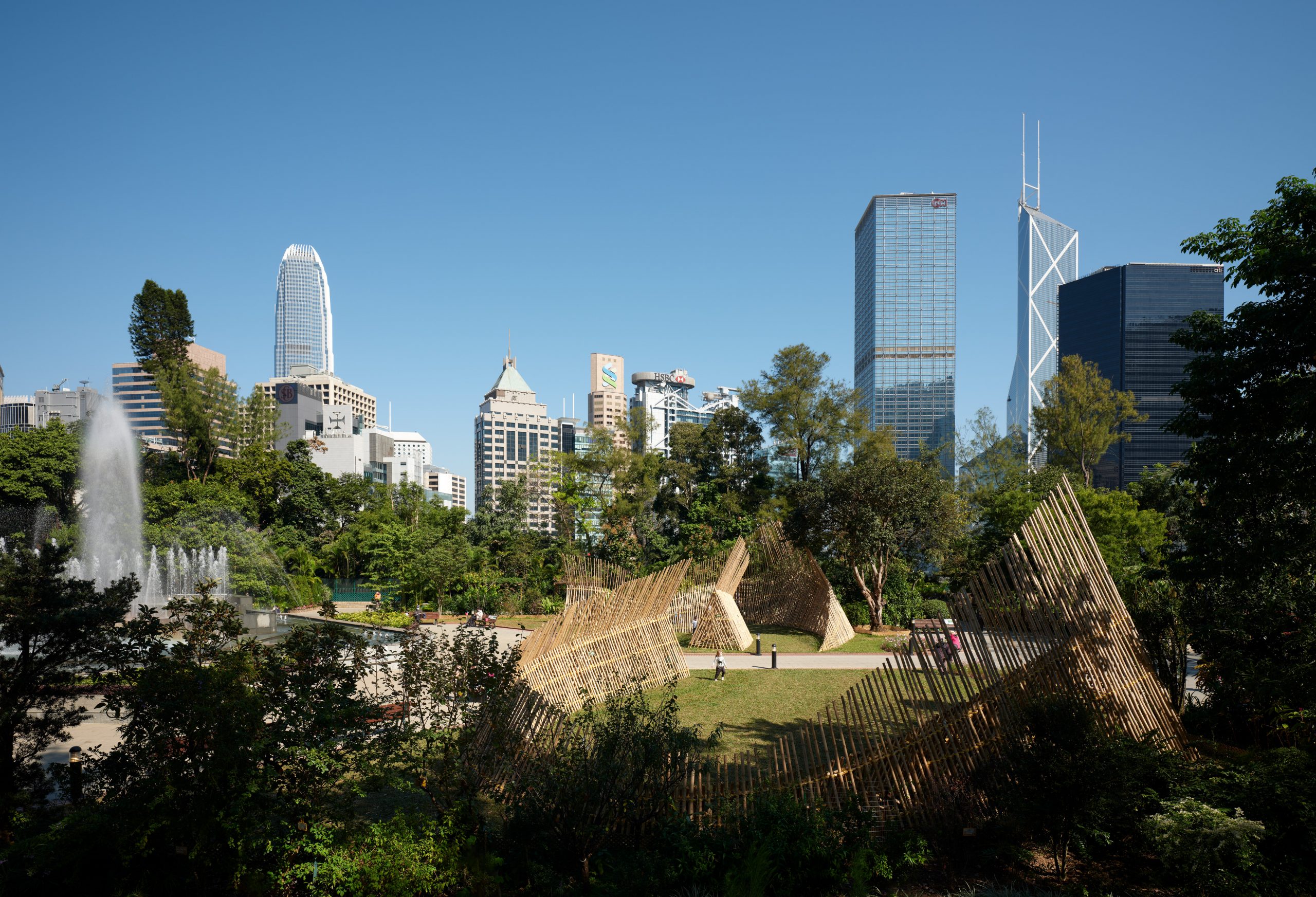 Exploring the relationship between nature, public spaces and the humans that inhibit them, "Hi! Flora, Fauna" is a collection of 17 works featured in the Hong Kong Zoological and Botanical Gardens. The only Macao artists to feature in the exhibition, João Ó and Rita Machado are the creative duo behind Impromptu Projects, an award-winning architectural and design studio located in the São Lourenço neighbourhood.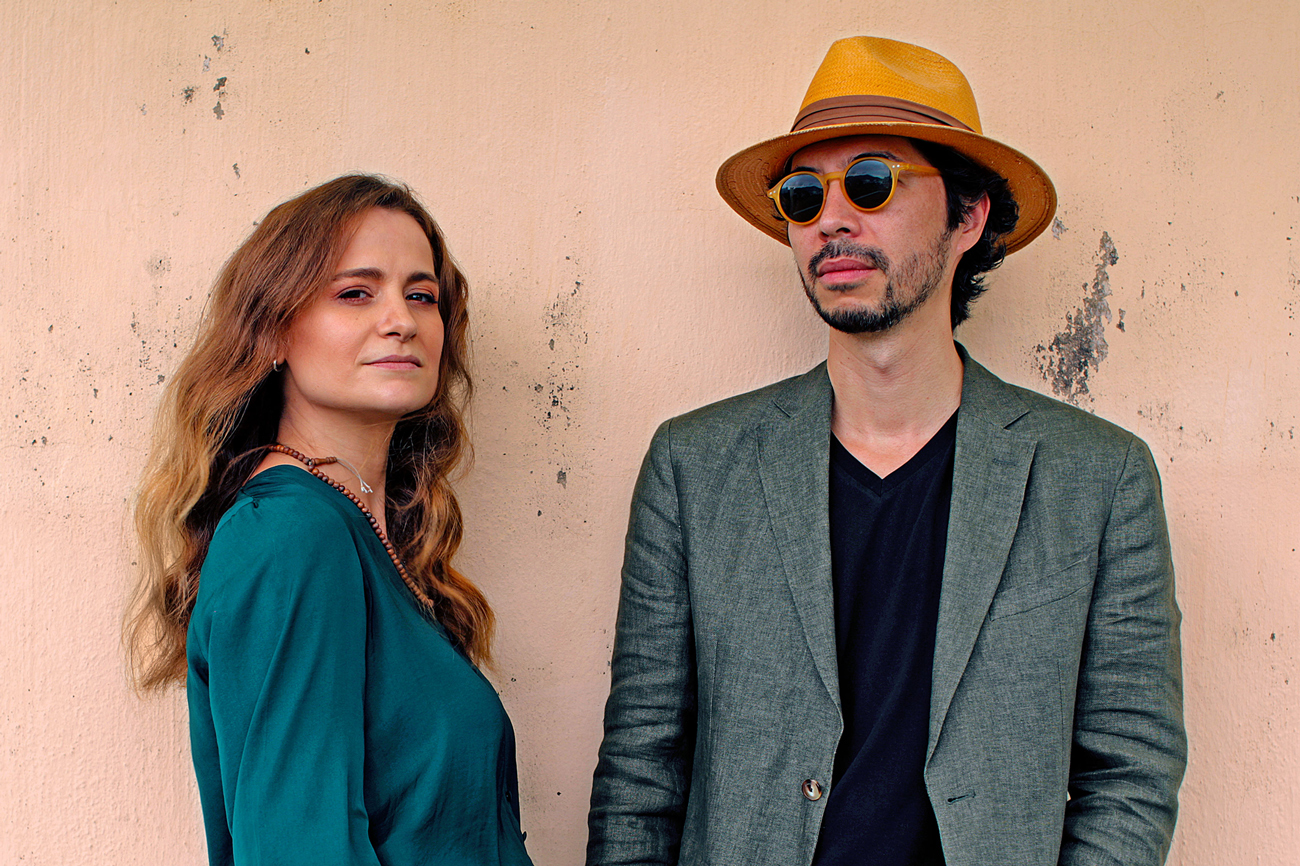 The studio's entry for the outdoor exhibition is "Chasing Sounds". Located around the garden's central fountain, this large-scale installation uses bamboo  –  the studio's signature material – to create a pavilion for public performance. 
The spaces between the bamboo bars are deliberately wide-set, big enough to allow visitors to move freely through them. The design is intended to amplify sound naturally, including live music performances by the Hong Kong New Music Ensemble, who perform regularly at the space, as well as other live performers. 
Founded in 2013, Impromptu Studios has created an impressive body of work consisting of architectural projects, public artwork and interior design. The two describe their style as "marked by an experimental and bold vision," and have received international praise for their temporary bamboo installations (or "ephemeral structures") in public spaces.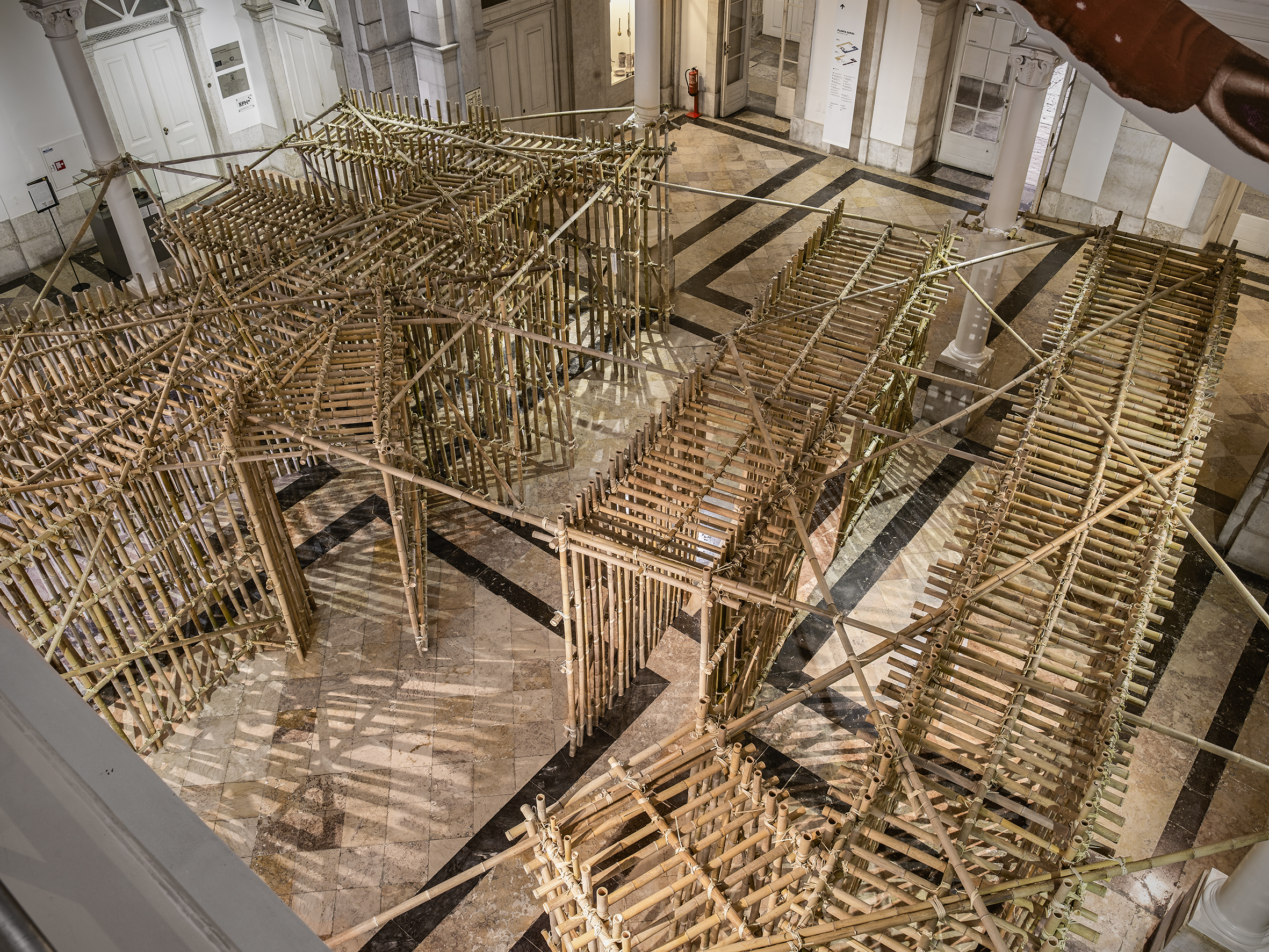 Since 2016, the creative studio has also curated projects for Taipa Village Art Space, and launched a non-profit concept gallery that is open to the public around the clock, showcasing invited foreign artists.
Macao News spoke to the founders about putting on a show during a pandemic, the cultural relevance of bamboo, and their Impromptu Storefront project. 
Macao News: What inspired you to make "Chasing Sounds"?
Impromptu Studios: The nature of the project itself, which was unusual, challenging and, therefore, very exciting. 
The invitation to join the exhibition in Hong Kong was made by William Lane, founder and artistic director of Hong Kong New Music Ensemble, back in 2018. The premise was to create a stage design for an orchestra, allowing us to explore other forms of presentation and collaborate with highly skilled professionals. We wanted to design something curvilinear to add to our repertoire of bamboo installations.
William then introduced us to composer Charles Kwong, with whom we had several inspiring discussions that helped to further shape our minds around this project. One of the agreed concepts was to design a non-conventional stage to host an outdoor music performance, where visitors could freely navigate the space and discover the source of music produced by the musicians, who in turn would be scattered throughout the space. This inspired the title of our piece: "Chasing Sounds".
MN: How difficult was it to plan a show in Hong Kong with Covid-19 restrictions in effect??
IS: All the work was done remotely. Prior to the borders closing, we had the chance to visit the site and meet the creative team. This happened in November and December 2019. After that, it was done remotely, from finding the right scaffolding company to do an artistic project (not easy) to finding a local engineering company to ensure the liability of our project. We also needed a trusted supervisor to be our "eyes" on the site, and serve as the intermediary between us and the bamboo masters, the organisers of the event and the government; it was a challenging task. Luckily, everything went smoothly.
MN: How did the location, inside the Hong Kong Zoological and Botanical Gardens, influence this work?
IS: The location was a breath of fresh air! We like to work inside gardens and public parks for many reasons: the mindset of someone entering a garden is immediately more relaxed since they're cut off from the fast pace of the city; it is a safe environment for kids to run wild while parents can chill out; and logistically speaking, you have guards that help to keep the place safe.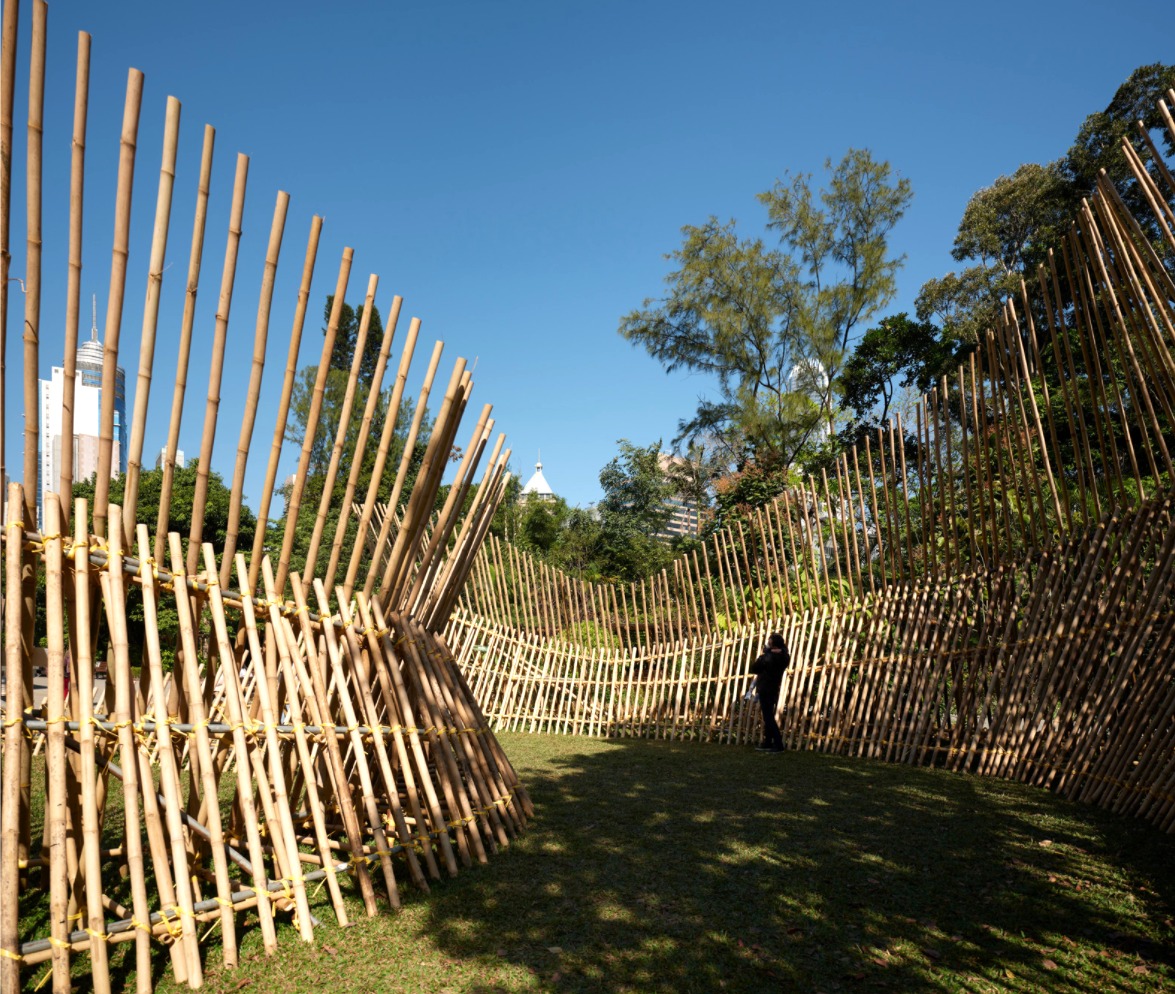 MN: What is it about bamboo installations in public spaces that resonates so much with you?
IS: We first understood the power of temporary structures in the public realm, when we erected Treeplets in 2015. It won the international open call for artistic submissions by non-profit cultural organisation Babel for their Macau Architecture Promenade event.  We saw the opportunity to apply our own research into local bamboo scaffolding and Chinese opera theatres, and to develop a new contemporary design with this ancient construction technique.
After that we continued looking for opportunities to work with bamboo for a number of reasons. It has several structural properties – lightweight, flexible, strong, and quick to process. It's also part of a sustainable strategy within the construction industry, as we recycle the material. It also allows us to promote the craft of bamboo scaffolding, now considered part of the Elements of Intangible Cultural Heritage.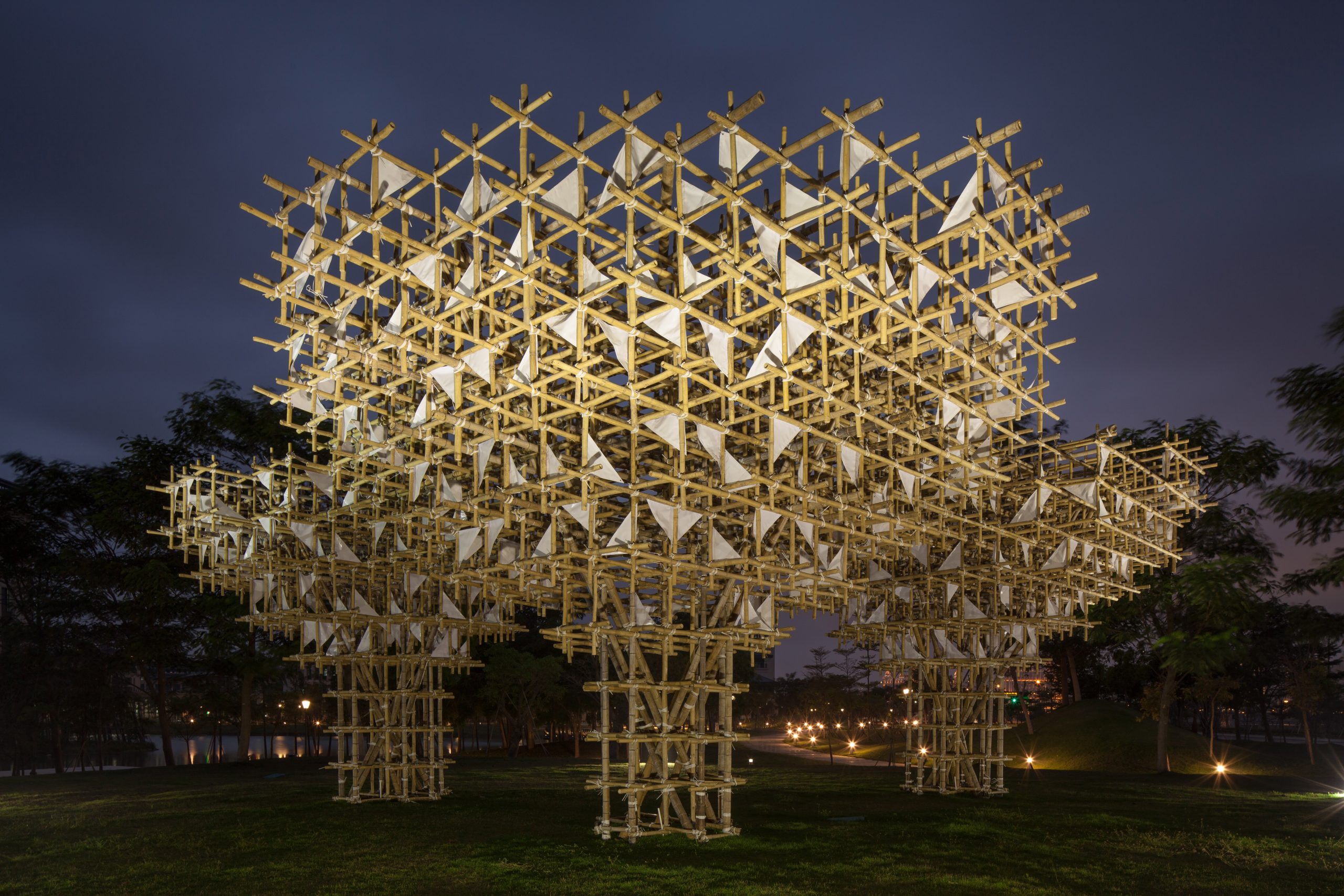 MN: What are your views on sustainability and art?
IS: Bamboo scaffolding, which we use quite often, supports a circular economy, with temporary structures constructed from materials that are intentionally chosen for their recyclable qualities. 
By using bamboo we are also making a statement, and reintroducing ancient construction methods to the public. We hope this encourages a sense of belonging for the local community by advocating for a continued connection to the collective memories and practices of our past. In this way, bamboo becomes a form of cultural identity. It may also be a metaphor of Macao as a fishing village, a part of the city's identity. 
MN: What are your views on the art scene in Macao? 
IS: Firstly, there are too many annual art festivals that require a lot of manpower and focus too much on government-commissioned work. Instead, they should be spread out over two or three years, into biennials or triennials, to allow enough time to prepare, secure more public interest and attract an international audience. Nowadays, these festivals seem very routine, and fail to have significant impact.
Secondly, over the last decade, the government has successfully implemented bicycle and running lanes which link Coloane to Macao and Taipa, creating a healthier environment and more public spaces. We feel that art could also be included in these spaces, by installing permanent outdoor artworks in strategic areas that can become "Instagram spots" for the public to enjoy. 
Right now, the art that is available in museums and galleries are for connoisseurs, professionals, academics and educators, and we believe that the next step should be art for the masses – free, permanent and available to all. We need more public funds for this. 
MN: What is the concept behind your non-profit gallery, Impromptu Storefront?  
IS: Today it's common to see couture brands commission renowned artists to develop their storefront displays, turning them into sophisticated artistic showcases. Impromptu Storefront is our chance to take that same alternative, provocative and experimental thinking a step further. 
This year, we have planned two projects. The first is a publication by Babel entitled Macau Sessions: Dialogues on Architecture and Society, showcasing a book installation alongside an outdoor sound installation of nine interviewees talking about Macao's architecture. The second project is a commissioned piece by Frank Havermans, a Dutch artist who specialises in architectural installations, and it marks his debut exhibition in Macao.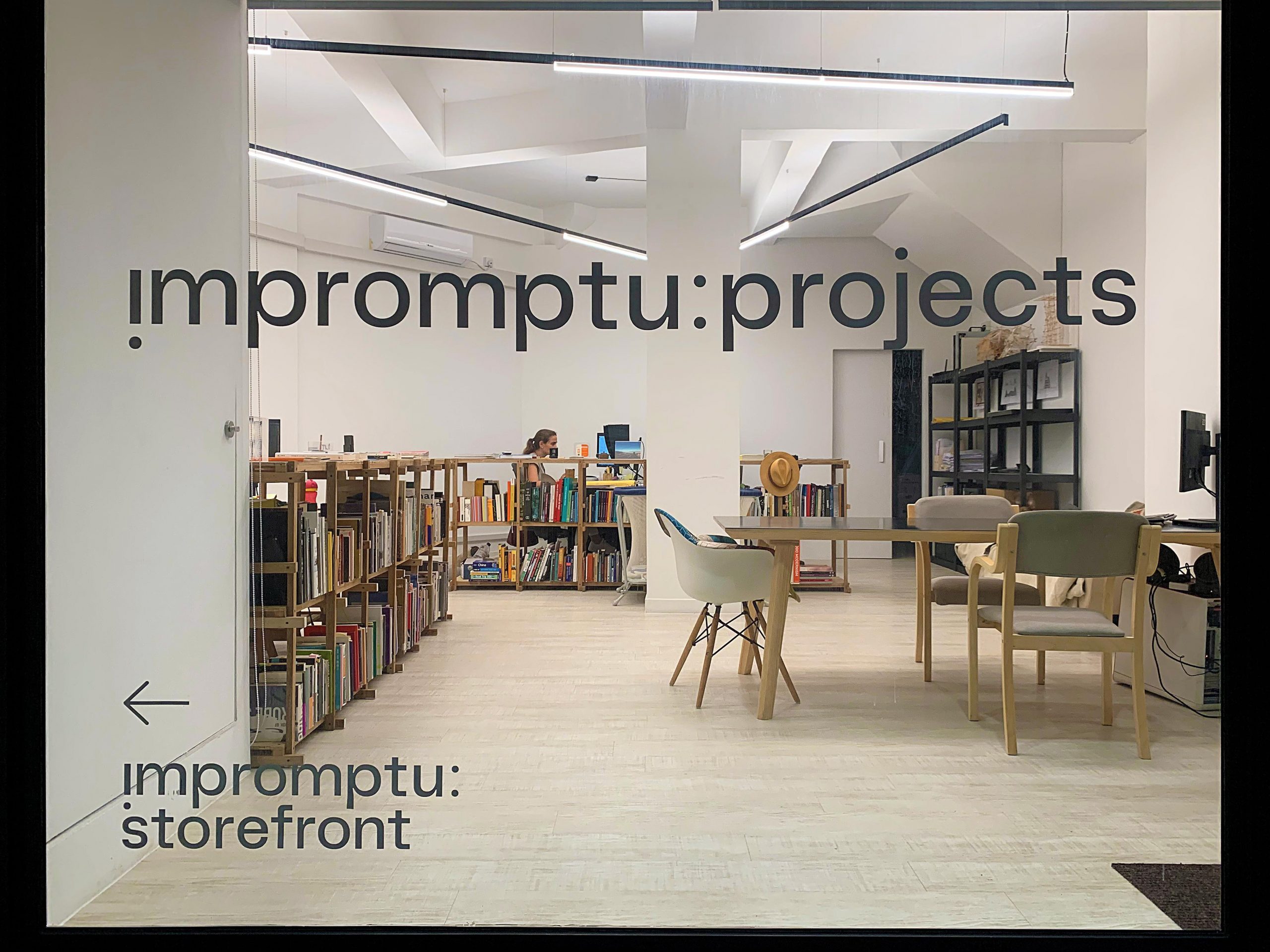 Hi! Flora, Fauna
Venue: Hong Kong Zoological and Botanical Gardens
Address: Albany Road, Central, Hong Kong
Exhibition Period: 16 January – 30 June 2021
www.impromptuprojects.com