F3 horror crash survivor leaves Macau, appointed 'Macau Tourism Goodwill Ambassador'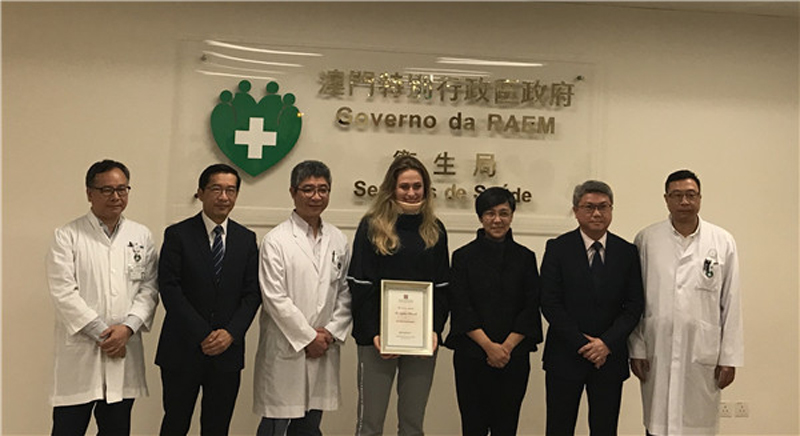 The German female racing car driver Sophia Flörsch, who survived a horror crash during the Formula 3 Grand Prix race of the 65th Macau Grand Prix on November 18, was discharged from hospital Monday and returned to her country late last night, the local authorities announced.
Moreover, the Macau Government Tourism Office (MGTO) Monday appointed Flörsch a "Macau Tourism Goodwill Ambassador" during a special press conference held by the Health Bureau (SSM) at the public Conde de S. Januario Hospital Centre yesterday afternoon.
MGTO Director Maria Helena de Senna Fernandes handed Flörsch a framed certificate to formalise her ambassadorial role.
Flörsch was involved in a freak accident on the Guia Circuit's Lisboa Bend, where her Van Amersfoort Racing F3 car clipped the kerb, bounced off the back of Japanese driver Sho Tsuboi's car and flew into the safety netting on the bend. Four others were injured in the accident, a 34-year-old local man who worked as a Macau Grand Prix marshal, a 25-year-old male photographer from the mainland, a 54-year-old Japanese male photographer and Tsuboi.
A spokesperson for the public hospital also addressed the press conference to give an update on Flörsch's condition, saying that her rehabilitation progress was good, with no complications, noting that she was able to walk freely, but it would take more time for her to recover. The spokesperson also said the injury would possibly not have much impact on her in the future.
An orthopaedic consultant at the hospital said he believed that after six months of healing, the bone fusion could be completely consolidated, adding that after a year, she should be able to resume motorsports. The hospital has been monitoring Flörsch's emotions during her 9-day stay in the hospital and deemed her emotionally stable.
During the press conference, Flörsch, who wore a neckbrace, thanked the medical team in Macau and said she thought that her recovery from cervical vertebrae surgery was good. She also said that she would return to Macau next year. Flörsch also thanked the Macau Grand Prix Organising Committee and said she did not believe that the accident was related to the safety of the track. It was purely an accident, she insisted.
Some observers have speculated that a newly installed kerb buffer near Lisboa Bend could have triggered the incident.