Traditional Chinese cuisine and seafood shaped Kam Lai Heen's head chef, Sam Sham
Traditional Chinese cuisine and seafood shaped Kam Lai Heen's head chef, Sam Sham

Link copied
Chef Sam Sham has worked in nearly 20 different restaurants since 1971, and his passion for traditional Chinese dishes has only grown since.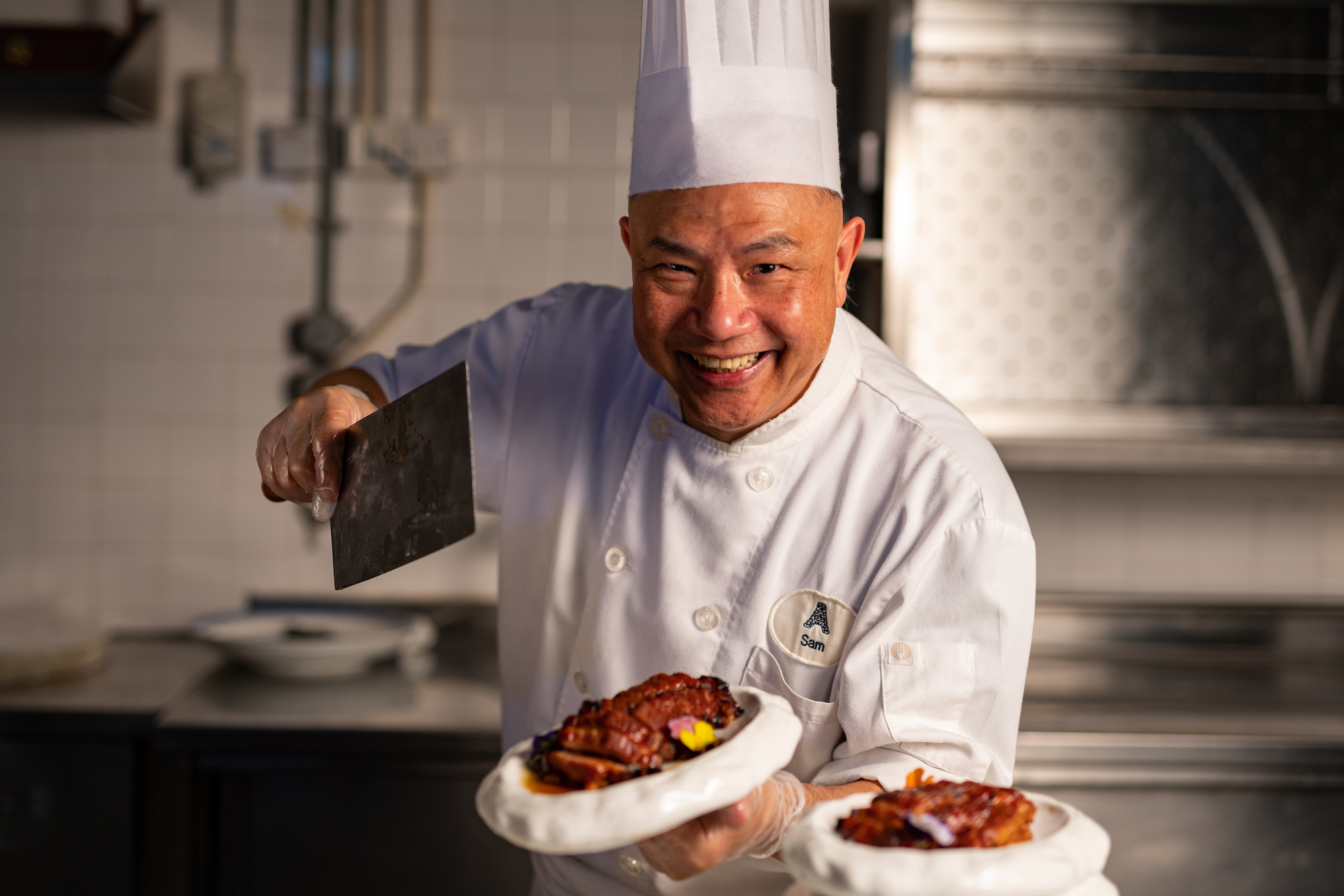 Friendly, cheerful and passionate about traditional Chinese and seafood cuisine are some of the best ways to describe chef Sam Sham. Artyzen Grand Lapa Macau hired the enthusiastic chef in 2020. In just a short time, he has taken Kam Lai Heen to new heights, drawing on years of culinary experience, from the family kitchen to five-star hotels, and bringing with him beloved Chinese dishes like beggar's chicken and his famous char siu (barbecue pork). 
In this "Know Your Chef", the Hong Kong-born chef of Kam Lai Heen talks about cooking for his five younger siblings, getting hit by a car for char siu and his fresh takes on traditional dishes. 
Early days: Sham was born in Sheung Wan in 1957, the neighbourhood on Hong Kong Island where the Hong Kong-Macao ferries depart. The fifth of 10 children, Sham was assigned the duty of cooking for his five younger siblings while the older children and his parents went to work. Water spinach with shrimp paste, stir-fried sprouts, steamed eggs – his culinary repertoire consisted of family favourites passed down to him by his mother.
"I learned to cook by watching [her] in the kitchen," he says. "She taught me home-cooked dishes such as stir-fried beef, steamed minced pork with douchi and steamed fish intestines." He fondly recalls her teaching him how to make shrimp paste using sweet potato leaves and vine spinach, an ingredient she would stir-fry with eggs to give the dish a kick of umami.

Growing up, he learned about fresh ingredients. "I loved to plant vegetables and fruits like tomato, potato and pawpaw on the mountain behind my house," Sham recalls. "We grew some plants and they were all organic." On days when the tide was good, the whole family would go fishing in Chai Wan on the east coast of Hong Kong. They would catch sea cucumbers, abalone and sea urchins. From these family outings, he picked up new skills. He discovered that sea urchins had to be eaten on the spot, for example, and a man from the boat once taught him how to cook tomato and potato soup using sea cucumbers. 
Sham still cooks with all these ingredients. In fact, he says that Kam Lai Heen will launch Spring dishes in April that make use of this fresh, local seafood.
His first job: Until secondary school, Sham studied at Workers' Children Secondary School, today known as Scientia Secondary School. In 1971, his family moved to a public housing estate in Tsz Wan Shan, in Kowloon City – among the first families to move into the project. 
At just 10 years old, Sham started working at Seven Chinese Restaurant (七喜酒樓). He recalls carrying a big round basket on his shoulders filled with a variety of dim sum favourites like siu mai (pork dumplings), char siu bao (barbecue pork buns) and har gau (steamed prawn dumplings). "There were days when the police came in for routine checks and I had to hide because I was working underage," he says, before highlighting how taxing the work could be. "We had to wake up at 3 am to start preparing the dishes."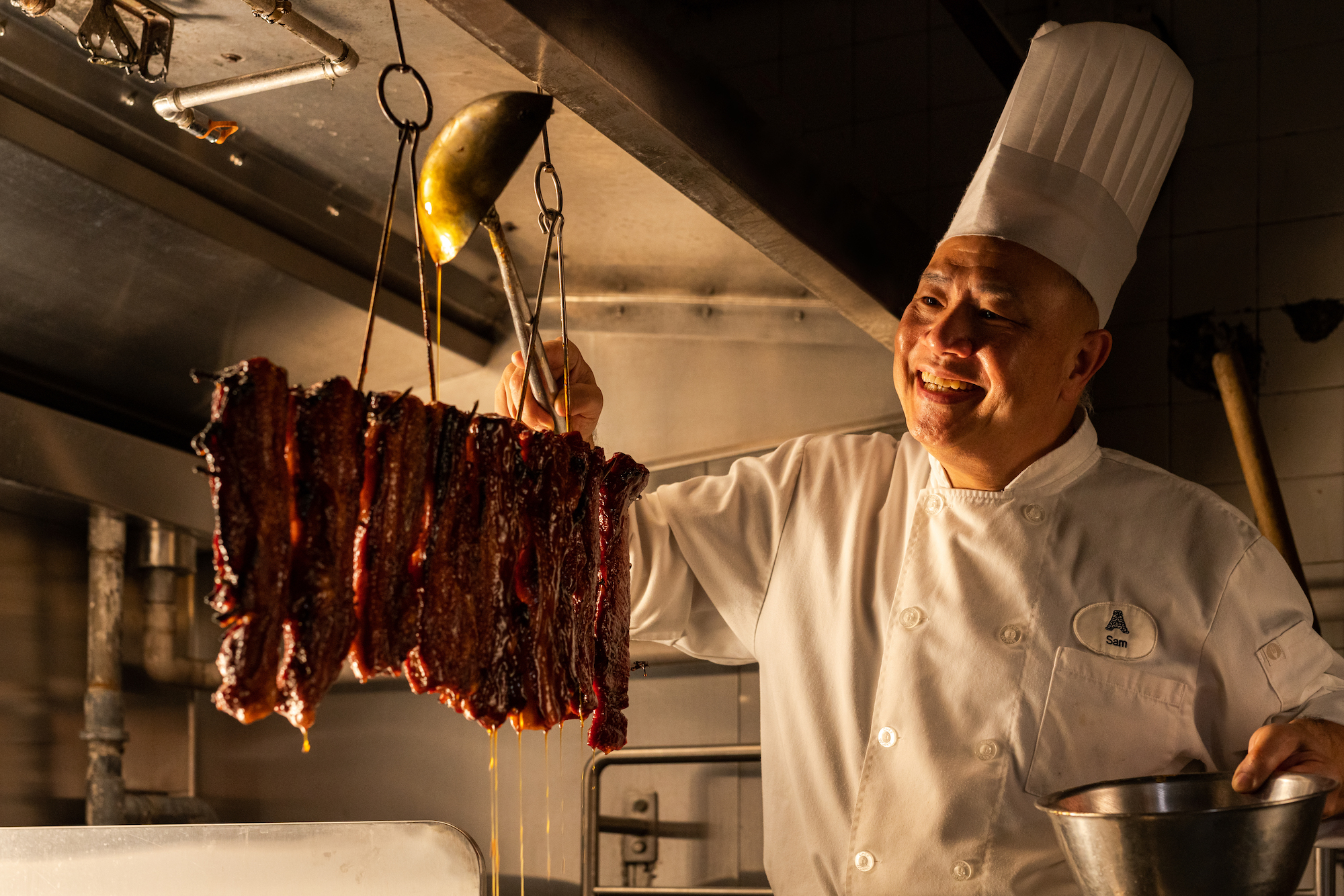 Gaining steam: In 1973, Sham moved to the now-defunct Man Kam Restaurant. Starting as a waiter, Sham quickly moved up the ranks and began cooking seafood dishes like steamed abalone rolls stuffed with minced shrimp, shark fin soup and mapo and crispy sea cucumber.
From the 20 restaurants Sham has worked in, he learned some key moves that helped shape his career. A few years after his first job, Sham joined China Town Seafood Restaurant and Golden Capital Restaurant, both now closed. They were known for handling Manchu and Han banquet dishes from the Qing Dynasty, served in large portions and featuring many traditional delicacies: sought-after mushrooms, choice produce and exotic ingredients, like monkey brain, geoduck and even panther, that today are taboo. "Quality was the key selection criteria, and only the best [ingredients] were chosen," Sham says. 
Sham moved to The Hong Kong Golf Club at Deep Water Bay in 1983 to become the chief butcher, a role that included assisting the chef in kitchen administration and purchasing, as well as prepping meat, poultry and seafood. Some of the most popular dishes here included prosperity chicken (chicken stuffed with scallops, prawns, mushroom and herbs like goji berries, female ginseng, solomon's seal and lovage roots) and stir-fried fish fillet. 
In 1990, Sham moved to Singapore, where he worked for two golf clubs, one at the Marina Bay and another for the defence department. In the latter post, he mentions, he met the current prime minister of Singapore, Lee Hsien Loong, who dined and golfed there.
In 1994, he moved back to China and worked at the Crowne Plaza in Xiamen for three years. Until 2003, he jumped between restaurants in China and Hong Kong. All the while, his reputation grew. When he was working as head chef at the Four Points Sheraton [in 2004], he was sent to Fiji as a supporting chef to prepare his signature soup which was a simple Bamboo Fungus Papaya Soup and welcomed Wen Jiabao, the former prime minister of China. 
Sham bounced around, working at various luxury hotels, such as the InterContinental in Chengdu and the Rosewood Beijing. "The plan was to go back to Hong Kong and work at the Rosewood in Tsim Sha Tsui after three years at Rosewood Beijing, but that plan [fell apart] in the end [since the opening was delayed]," Sham says. Instead, he took up a post at the Grand Coloane Resort and ultimately returned to the Rosewood Beijing in 2018. 
Throughout his career, he explains, he kept moving from one restaurant to another because he wanted to learn local dishes from different places – to add new elements to his own culinary arsenal. "People in different places have different tastes," he says. 
His current role: Sham planned to move to Manila for work after his time at the Rosewood Beijing, but the pandemic changed his course. Unable to enter Hong Kong, colleagues recommended he move to Artyzen Grand Lapa Macau. The hotel invited him to join as head chef. "I love the hotel," he says. "It contains a rich traditional and nostalgic atmosphere."
"The biggest challenge when I got here was that I [had] to use all of the styles of cuisine that I learned," Sham says. That means food from seven regions: Shandong, Sichuan, Canton, Fujian, Huizhou, Hunan and Zhejiang. 
The hotel even asked Sham to develop nostalgic Chinese dishes, such as beggar's chicken. The timeless dish, featuring a whole chicken wrapped in organic soil and lotus leaf and then slow-cooked in an oven, got its name from an ancient legend – a poor man had a chicken but no stove to cook on; filled with hunger, he killed the chicken, wrapped it with mud and baked it on burning firewood, resulting in a fall-off-the-bone, aromatic delicacy still loved across China today.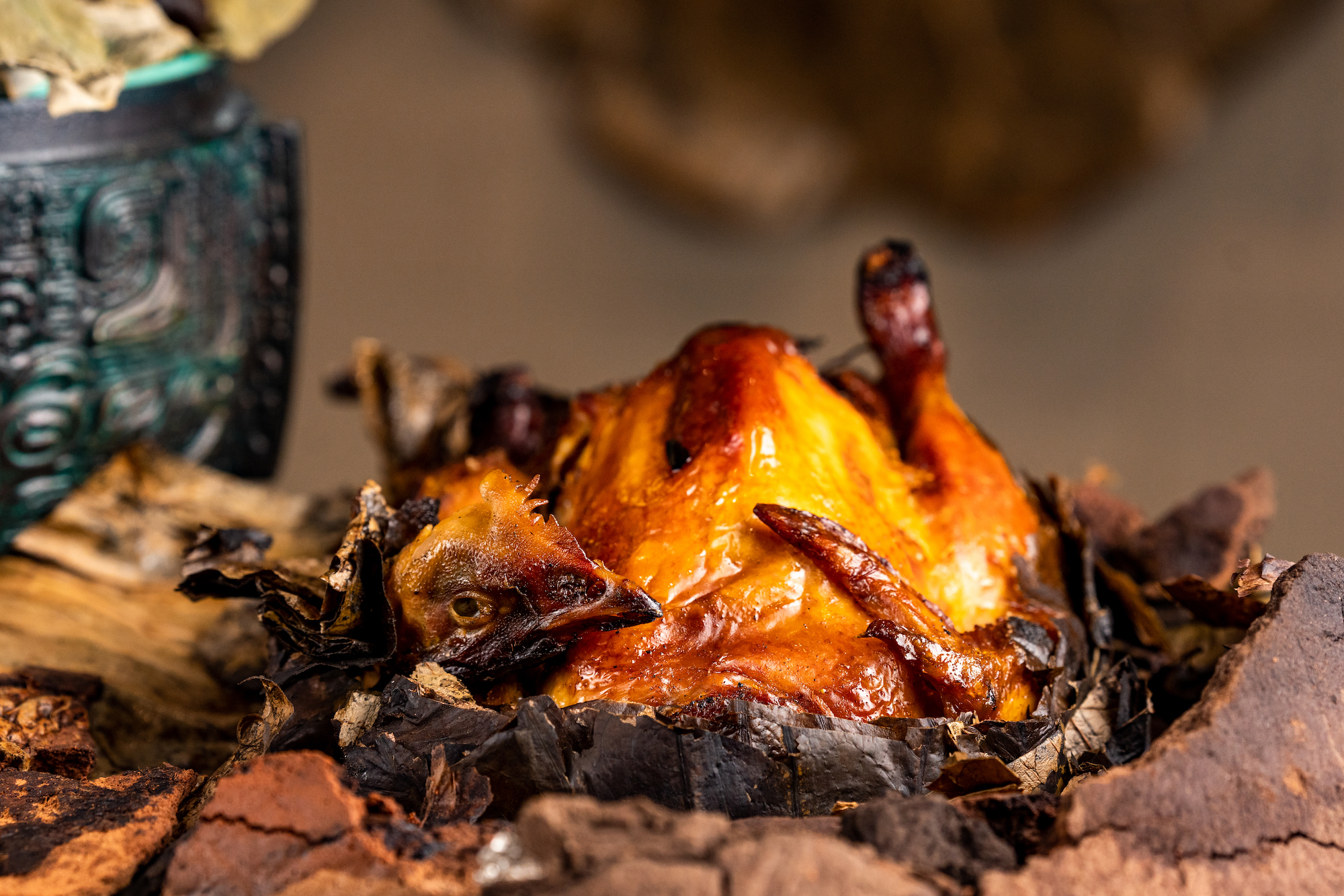 Most meaningful culinary experience: With experience cooking everything from Chengdu's spicy cuisine to authentic Shanghainese food, Sham says he appreciated the opportunity to incorporate much of his wide repertoire while cooking at Aqua restaurant in Tsim Sha Tsui, Hong Kong from 2009 to 2011. 
"I brought different styles of cuisine to that restaurant, including Cantonese cuisine, and helped enrich the taste and texture of the dishes," Sham says. "Once, I cooked oysters with a spicy sauce for a French Michelin-starred chef from 1881 Heritage [the 130-year-old former Marine Police Headquarters now filled with fine dining restaurants and luxury brand shops] and got his admiration."
First restaurant dish: In 1976, while working at China Town Seafood Restaurant, Sham recalls making a traditional Chinese dish called Yangzhou fried rice with eggs, carrots, peas and roasted pork.
Signature dish: One of Sham's signatures is coffee pork rib. The first time he made it, he was working at the Crowne Plaza in Xiamen. "The boss said that this dish cannot be removed from the menu, and it's been sold for more than 20 years," Sham says. 
Favourite dish: "Since I was young, I have loved to eat char siu (barbecue pork)," Sham says – even though he associates a painful childhood memory with it. When he was young, his family sent him to buy char siu at a nearby store, but on the way back he was hit by a car. "All I was worried about was that the char siu was okay, and it was. So was I." 
A favourite meal of Hongkongers, Sham says the dish changes with new trends and can be made with any cut of pork, giving it a different texture and taste. "I tried making char siu using different pork [cuts] and ingredients but realised that the original is the best – the one where we use walnut to smoke the pork."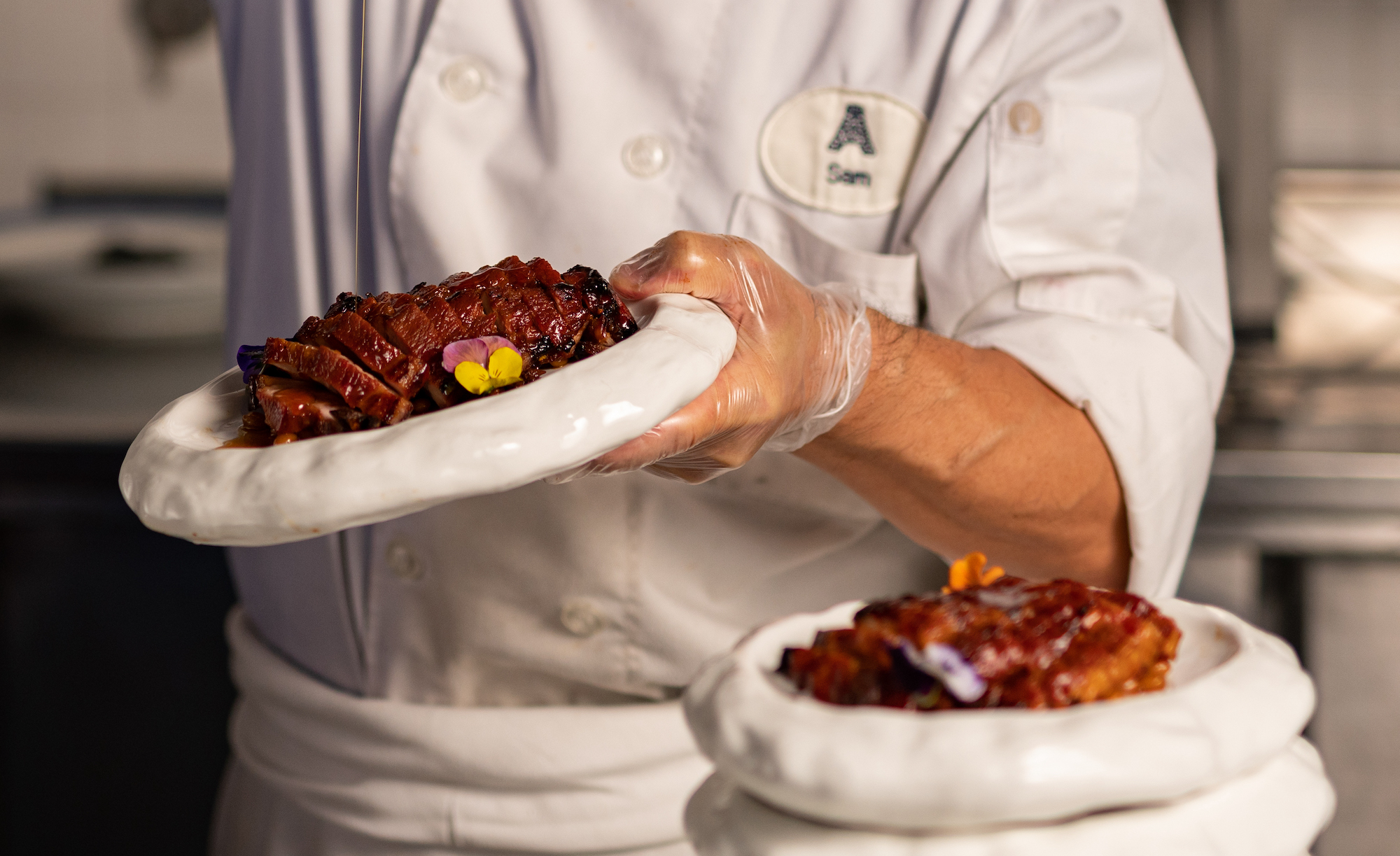 His mentor: "Tse Hin Wa (謝華顯), a chef I met at China Town Seafood Restaurant. He taught me to strictly follow my goals and to always try my best. When I handled the Manchu and Han Banquet, Tse showed me how to decrease food waste and to better control the cost by using the remaining ingredients for other dishes. Salt baked chicken is a dish he taught me, and I've brought it with me to Kam Lai Heen."
Parting advice: "Try your best and live a colourful life," Sham says. "Treat people and staff like they are part of your family and educate and help them."