Cooking comes from the heart for Sarimanok's Chefs Rubyrosa Badua and Carlito Galsim
Cooking comes from the heart for Sarimanok's Chefs Rubyrosa Badua and Carlito Galsim

Link copied
The duo retraces their journey from the Philippines to 'Filipino Street' in Macao, where they run the show at one of the city's best-known Pinoy eateries.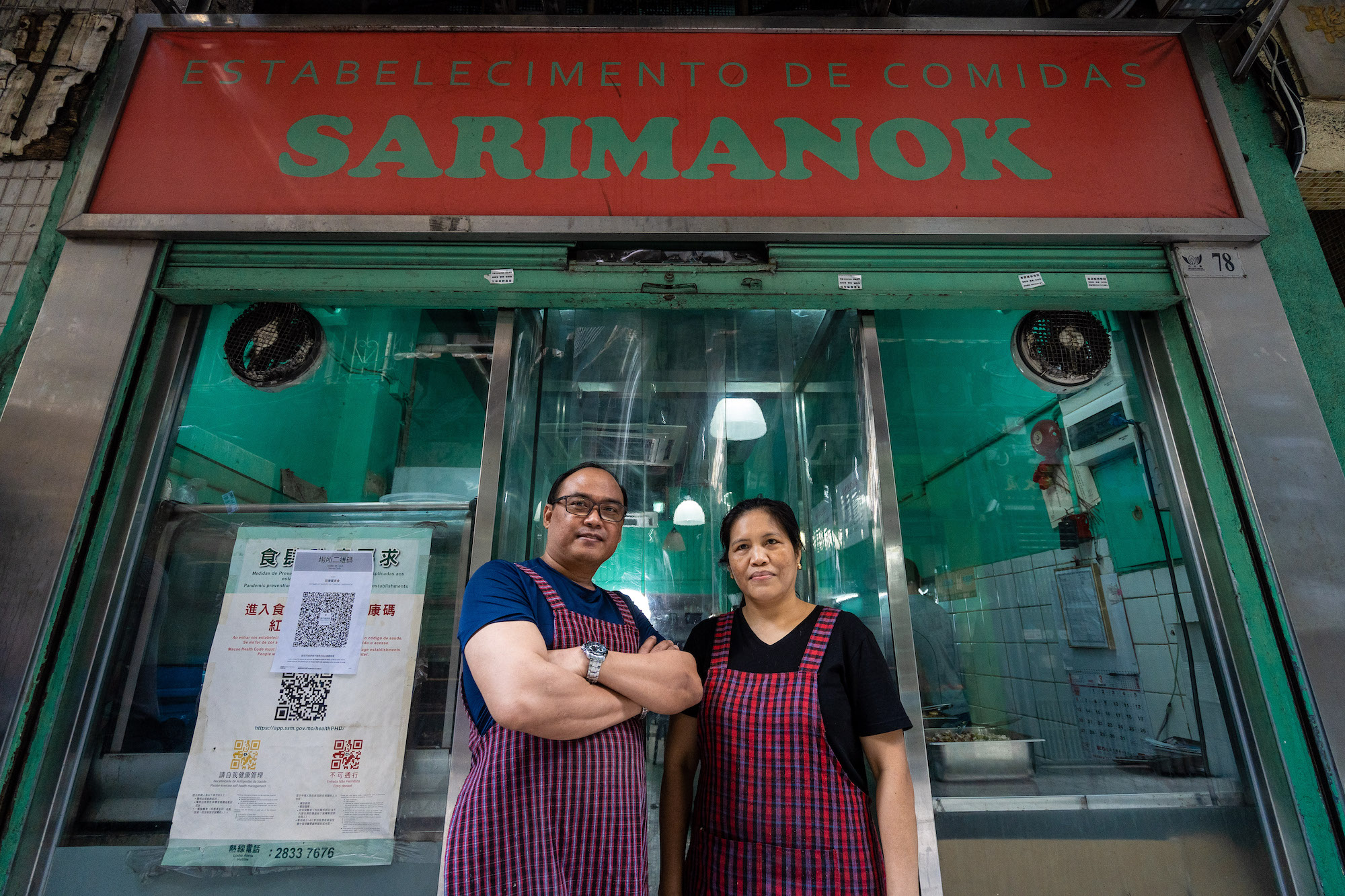 When first discovering Sarimanok restaurant, the basil-green paint and traditional tiled floors will likely be the first thing you notice. But don't let the no-frills appearance fool you. One bite of the food, and it becomes instantly clear why this casual cafe has become a special hangout for Filipinos missing home.
Located on Rua da Alfândega, better known as "Filipino Street", Sarimanok is one of Macao's best-known Pinoy eateries. Beyond its loyal Filipino customers, signature dishes like chicken adobo or lumpia draw a wide range of hungry diners, from the Southeast Asian community to local residents and mainland Chinese visitors. 
Macao resident Ricky Asuncion opened Sarimanok in 2008, naming it after a mythical fowl. Resembling a chicken, the Sarimanok is a popular symbol of the Maranao people from the southern Philippine island of Mindanao (and the word "manok" means chicken in Filipino). 
In 2018, Asuncion relocated to the Philippines, leaving his business in the hands of chef Rubyrosa Badua and his cousin Carlito Galsim. These days, the duo take turns cooking for Sarimanok's patrons while ensuring the restaurant continues to live up to its reputation. 
In this "Know Your Chef", Badua and Galsim describe their paths from the Philippines to "Filipino Street" in Macao and how they found their way to the kitchen. 
Early days: Growing up in her native Ilocos Norte, a province in the northern Philippines, Badua, used to cook rice over firewood – a process that took her years to perfect.
"I never thought I'd be a chef. Even growing up, my brother always got angry at me as I always cooked rice the wrong way," the 51-year-old recalls. "But I enjoy [cooking] now, and I'm learning a lot."
Asuncion's cousin, Galsim, 49, also had few kitchen responsibilities as a child. "My parents both cooked. When my mother cooked, sometimes I helped the preparation by cutting the ingredients but that was it," he says. 
First jobs: Like Badua, Galsim never thought he would become a chef. In his hometown Dagupan, three hours north of Manila by car, he worked as a rice farmer since his youth until the time he left for Macao. "It was not an easy job to be a farmer but it taught me how to persevere and it prepared me to face whatever challenges I may face in the future," he says.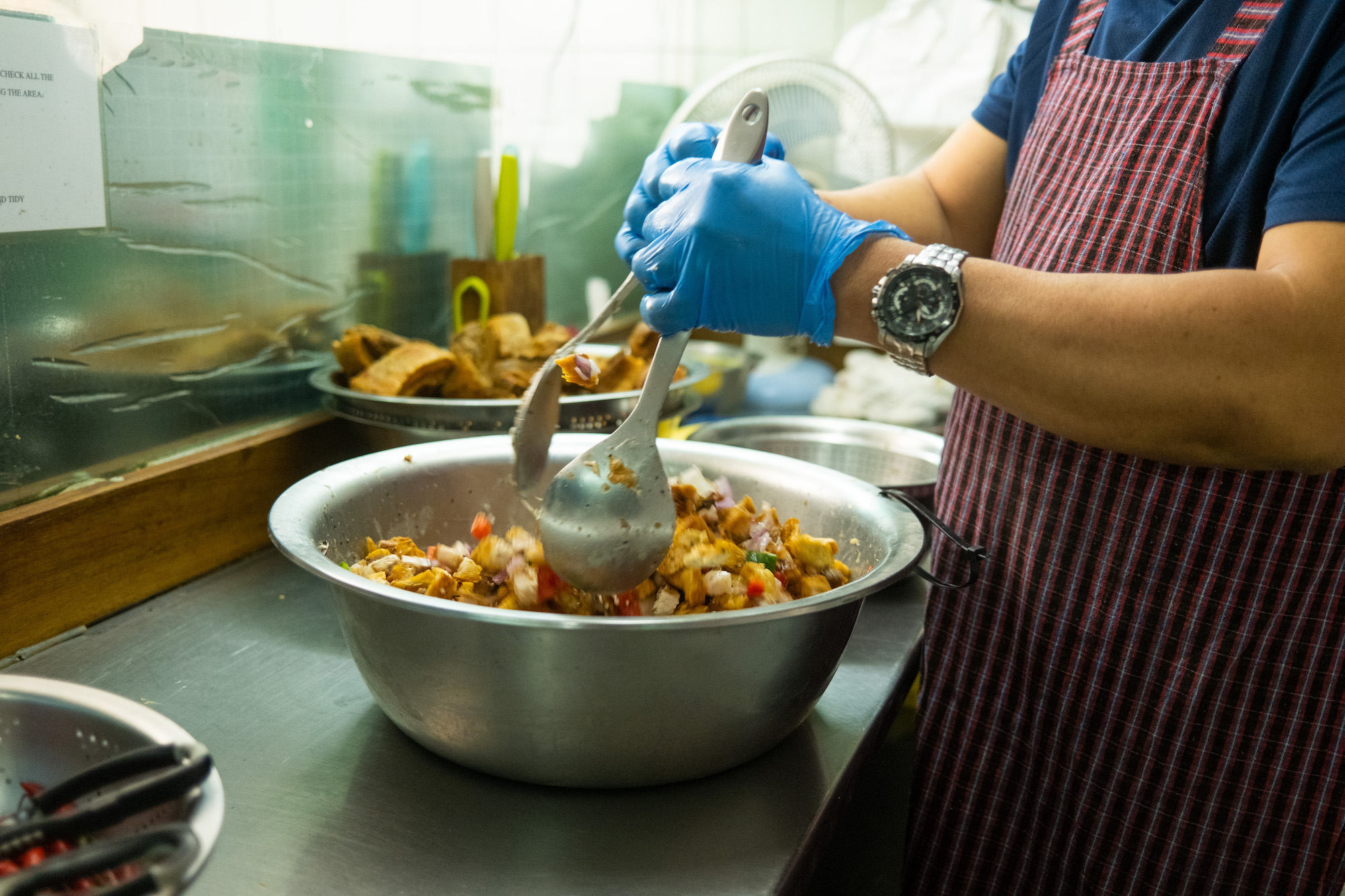 For her first job, Badua became a domestic worker. About 20 years ago, she left the Philippines for Taiwan, where she was a domestic worker for eight years and cooking was part of her daily tasks. 
After returning to her hometown for a few months, she moved to Macao, where she has been based for the past 12 years. "Being a domestic helper [again in Macao], I had to cook for the family I worked for. This all helped me in becoming a good cook," says Badua. 
Gaining momentum: In 2016, Asuncion offered Badua a job at Sarimanok as a chef. Asuncion's wife, who was in charge of the kitchen at the time, trained and mentored her. After two years, Badua became the restaurant's chef when the Asuncions relocated to the Philippines in 2018.
Galsim, who came to Macao in August 2014, followed a different pathway to Sarimanok, having started as a cleaner. "[Asuncion] said 'Come here, there's a job here, help me with my restaurant', and I was happy about that," he recalls. 
"It was my first time out of the Philippines. I was a little nervous. And when I arrived and saw Macao, I thought the city was beautiful."
On his first day at work, Asuncion told Galsim to "learn first and observe how the [work is] done" at Sarimanok. He quickly adapted, graduating from a cleaner to a server within a few months.  
Their current roles: After Badua became a chef, she trained Galsim to help in the kitchen. 
"If she [Badua] is preparing and cutting ingredients, then I'm the one cooking in the kitchen. And if I'm working [on prep duty], she is cooking," Galsim explains. 
Every day, Galsim and Badua prepare at least 12 types of Filipino dishes, including chicken adobo (made with a marinade of soy sauce, vinegar, garlic, bay leaves and black peppercorns); chicken afritada (chicken braised in tomato sauce with potatoes and red and green bell peppers); and the restaurant's famous longanisa (a Filipino sausage similar to the Portuguese chouriço and linguiça). 
Sarimanok's regulars also love their inihaw (roasted or grilled chicken and pork skewers), dinakdakan (an appetiser made of liver, boiled and grilled pig ears, and sometimes brain), dinuguan (pork offal and blood stew) and lumpia (Filipino springs rolls).  
"The majority of our customers are OFWs [overseas Filipino workers] but sometimes we have Chinese, Indonesians and others eating here," Badua says. "We would like to promote Pinoy food to more people."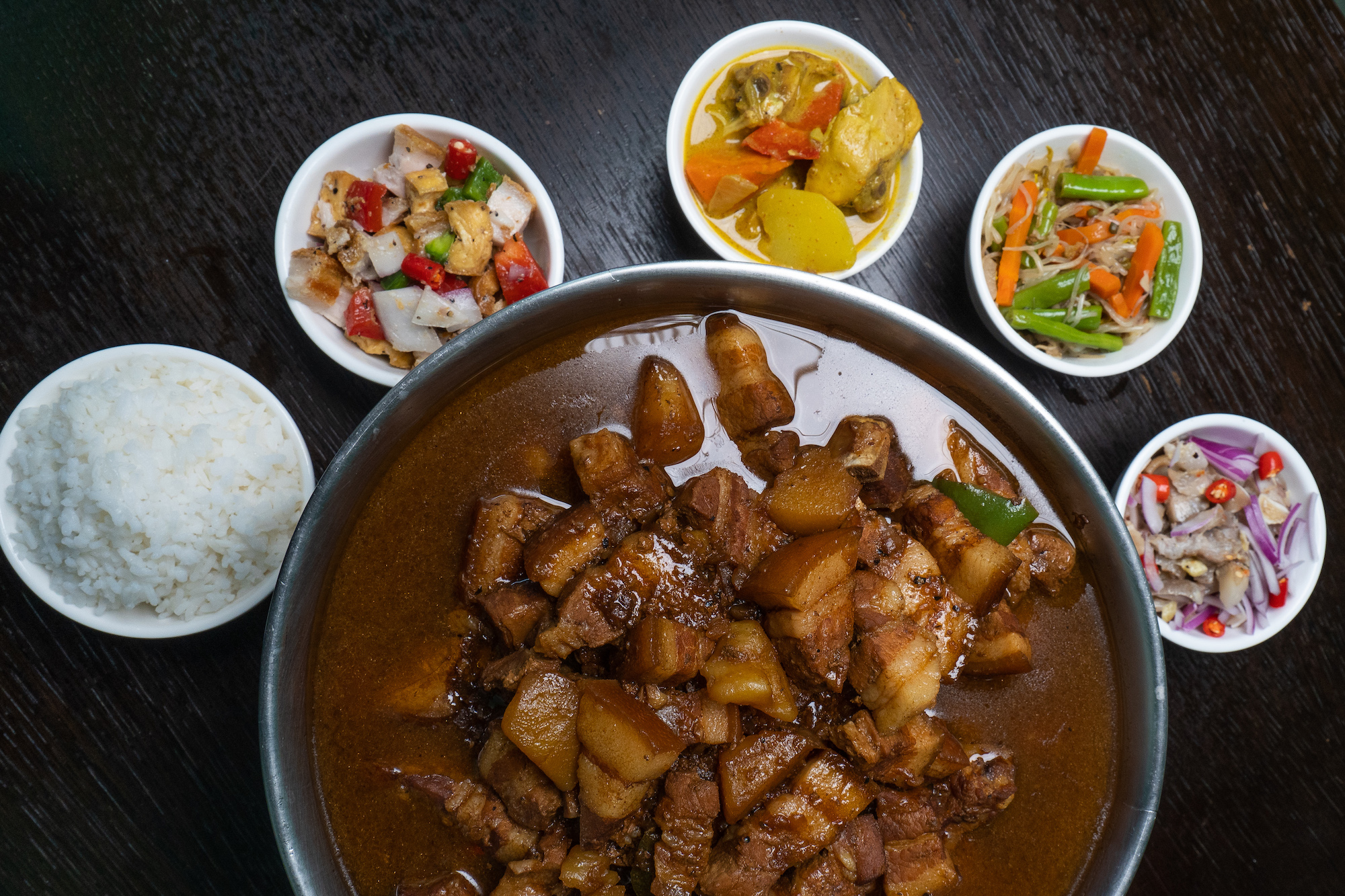 The teamwork: In the morning, both chefs arrive at the restaurant before 7 am, then one turns on the stove and prepares to cook. Badua usually stays in the kitchen from 7 to 11 am as Galsim helps Sarimanok's two servers. Then Galsim takes over in the kitchen from 11 am to 3 pm for the afternoon shift. 
In the afternoon, Badua checks their supplies then orders meat and vegetables for the next day. Most ingredients come from local suppliers, although sometimes she has to import Filipino products, such as bagoong (shrimp paste) and toyo (Filipino soy sauce). 
Before they close at 10 pm, both chefs prepare ingredients for the next day, and the staff cleans the restaurant together.
Most memorable cooking experiences: "I was nervous when I first became a chef here because I didn't know if they [Sarimanok's customers] would like my cooking.  But after a while, I could see people liked the food, so I felt happy. And my bosses said, 'You can do it now, don't be nervous, just keep on going,'" Badua recalls. 
For Galsim, nothing makes him happier than cooking for his wife and four children back home. "In the Philippines, I used to be the one cooking for my family. Whenever I go back to the Philippines on a holiday, I get to cook for them again," says Galsim. 
He used to visit once a year before the Covid-19 pandemic, but Galsim hasn't been back to the Philippines since 2019. Meanwhile, Badua's last trip home was in 2018. Both say it has been tough being separated from their families for so long.
Biggest challenges: At work, their biggest challenge is making sure everything runs smoothly at Sarimanok, especially on Sundays – their busiest days – when most OFWs are off.  
"When there's a lot of people, everything needs to be faster, and sometimes, I still struggle with that. You cannot rest because you need to serve the customers, and you need to cook faster and cook more," explains Galsim. 
Badua agrees, adding: "Sometimes, both of us have to cook at the same time so that we can make more food faster. At times, it makes us really tired of course, but if you're happy with what you're doing, you don't really feel it. And I feel even happier when the customers are satisfied with our food and service."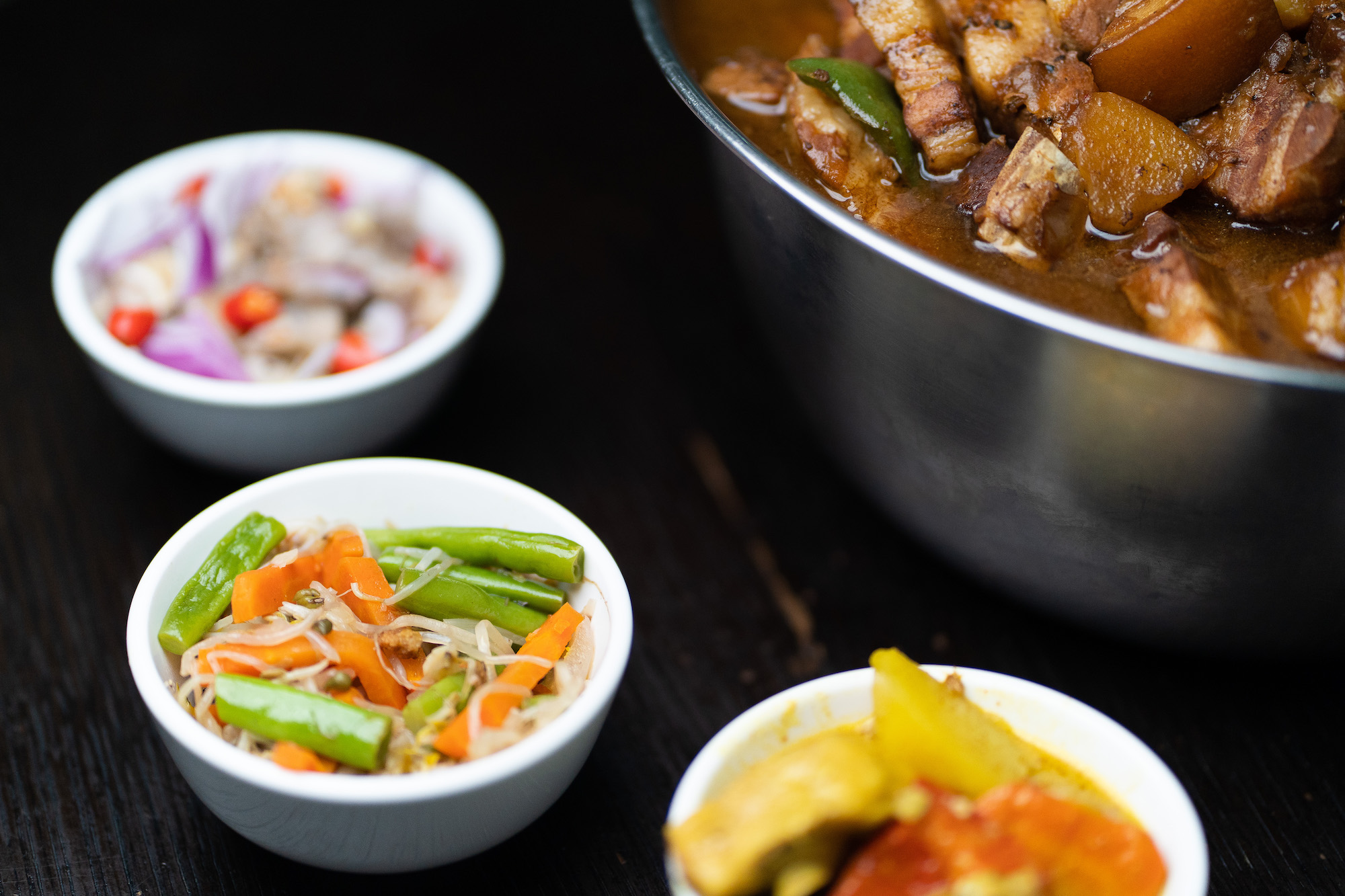 Personal favourite dishes: When it comes to their own cuisine, Badua likes the adobo and pinakbet (mixed vegetables sauteed in fish or shrimp sauce), while Galsim prefers dinakdakan. 
But the two also enjoy other cuisines: Chinese for Galsim and Thai for Badua. "I really like [Cantonese] steamed fish," adds Galsim.
Badua, on the other hand, says she developed a palate for fiery foods while working in Taiwan. "I like Thai food because it's spicy. I can cook some Thai dishes, because my former boss in Taiwan really liked Thai food," she says.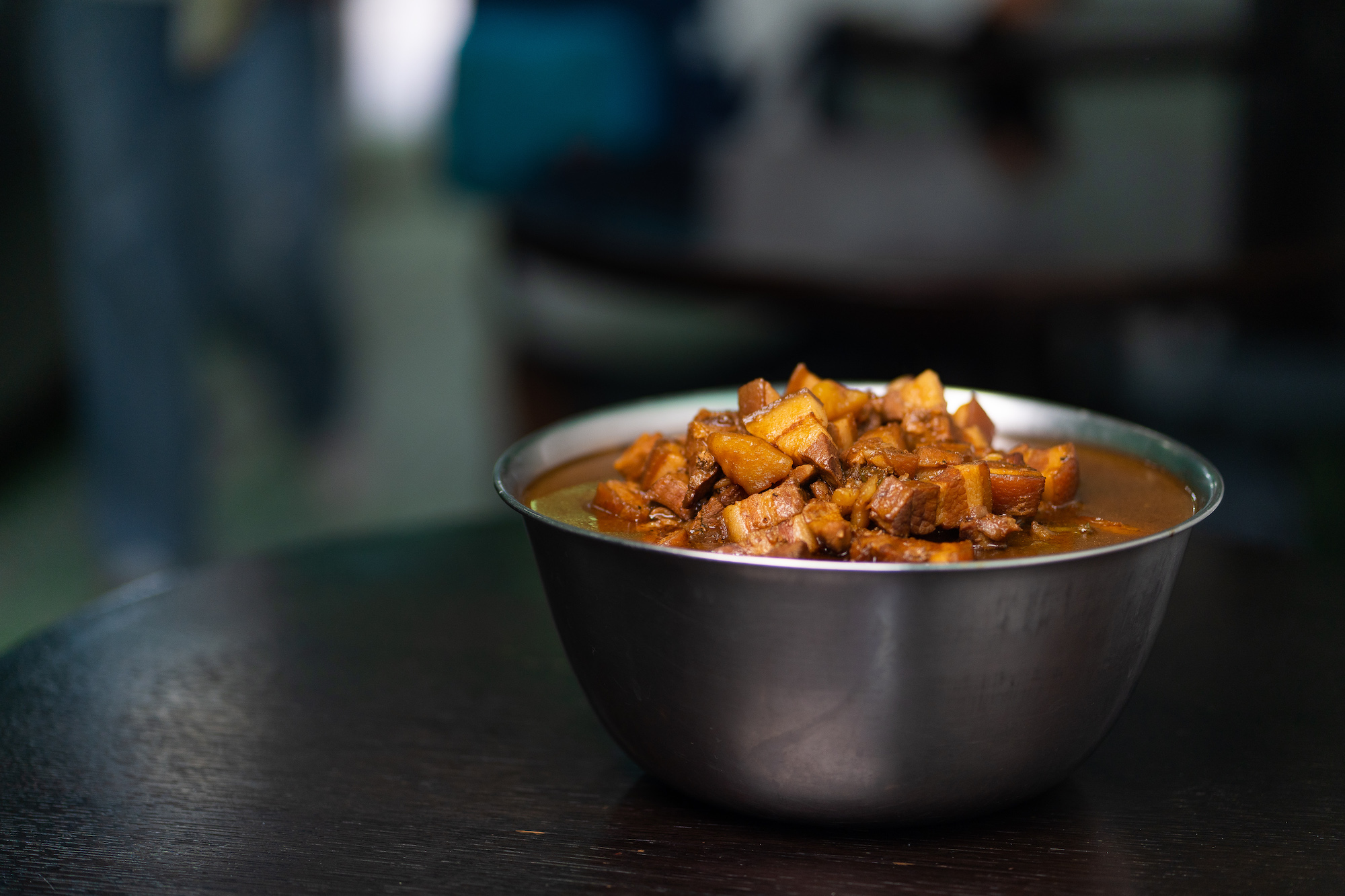 Parting advice: "If you really like cooking, don't [listen] when people say that you cannot become a chef. As long as you really like it, you can always learn," says Badua.As for Galsim, he believes that cooking must come from the heart. "Then the food will be masarap [meaning 'delicious' in Filipino]," he says.