Chinese New Year Cake with Red Bean and Black Sugar
Chinese New Year Cake with Red Bean and Black Sugar

Link copied
Just like its name suggests, Chinese New Year Cake is an indispensible dessert during Lunar New Year. Try this unique spin, which uses red bean and black sugar, for a tender, chewy texture that's almost mochi-like.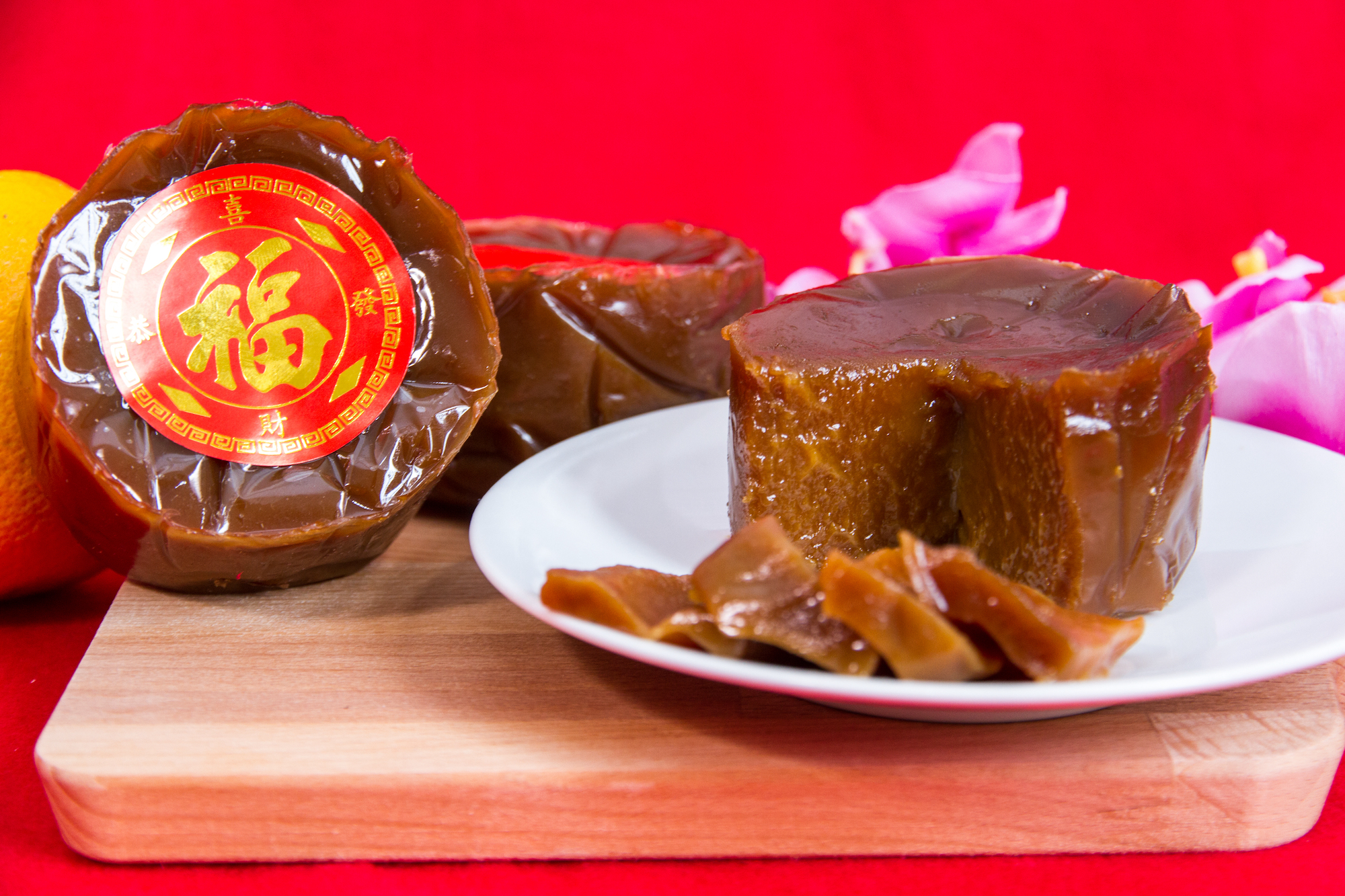 Serves

Prep time

Steam time
Ingredients:
150 g glutinous rice flour
75 g brown sugar
1 ¼ cups water
200 g red bean paste
6 reed leaves (or 1 lotus leaf)
1 cake mould
Chinese New Year Cake, or leen goh (年糕) in Cantonese, is a sweet, sticky and downright gooey treat that makes the rounds every Spring Festival, thanks to its name which carries lucky connotations. 
At its simplest, you can make this dessert using just glutinous rice flour, sugar and water, but of course there are as many variations as there are Chinese communities around the world. This version reaches for rich brown sugar and red bean paste, for added flavour, aroma, and a caramel-like chewiness that just won't quit.
DIRECTIONS:
1. Bring water to a boil, then add brown sugar, stirring until completely dissolved.
2. Bit by bit, add the glutinous rice flour to the brown sugar water, stirring continuously so it mixes well.
3. Add the red bean paste, and mix well.
4. Soak the reed leaves in water for a few minutes before cleaning them. Cut off both ends of the leaves, then dry. Line the cake mould with the leaves so the bottom is covered, and brush with oil.
5. Pour the glutinous rice flour batter into the mould.
6. Steam for about 35 minutes using a steamer or anything that will fit your cake mould – a wok, pot, or rice cooker could also work!
7. Once finished, let the cake cool completely (this could take as long as half a day) before serving.
Important note: To reheat, pan-frying or steaming slices of this cake works best. Ensure the batter is thoroughly mixed for a more tender and elastic cake. To help cut the cake, try first dabbing with a paper towel to absorb any water, then brushing some oil on the cake's surface to prevent it from sticking to the knife.
For more Chinese New Year recipes, click here