7 essential Chinese New Year foods and where to find them in Macao
7 essential Chinese New Year foods and where to find them in Macao

Link copied
Chinese New Year is a time for gathering with family, friends and work colleagues over festive dishes and symbolic snacks. Many traditional CNY foods are loaded with meaning – learn the stories behind your favourites, plus where to find them in Macao.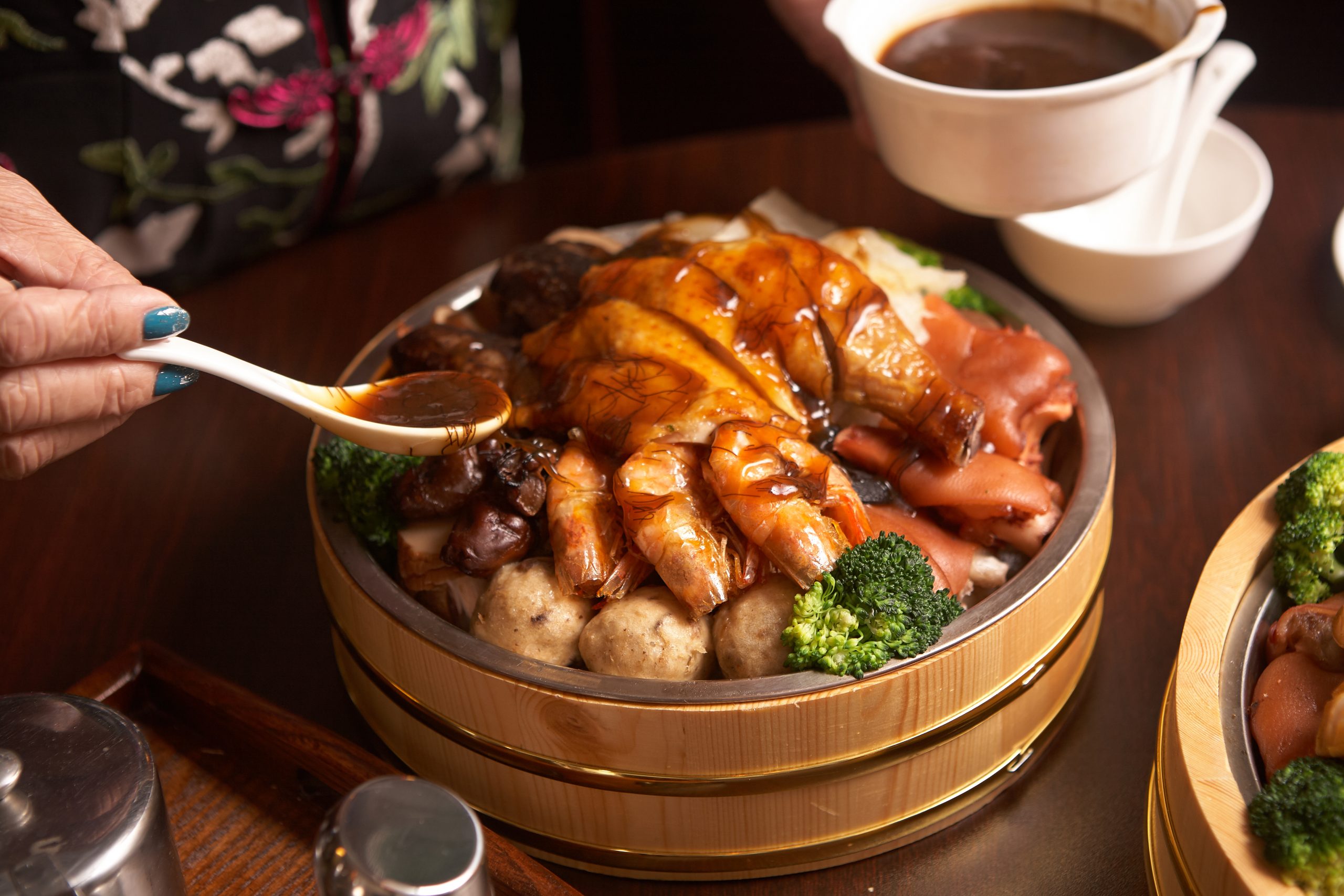 Chinese New Year, also known as the Spring Festival or Lunar New Year, is one of Macao's most important festivals. It not only represents the beginning of a new year but has also become synonymous with quality family time. 

And during CNY, food is the main event. As the Chinese saying goes, '民以食為天' (loosely meaning, 'People regard food as their prime desire') – but we don't only eat traditional dishes for the great flavours. 
From Buddha's delight to sweet rice cakes to Chinese candy boxes, many CNY dishes and snacks have symbolic, auspicious meaning based on their shape, colour or pronunciation.
To get ready for the holiday, coming up on 12-15 February 2021, we've rounded up seven quintessential CNY foods that will bring good luck, fortune, harmony and health to your family.  
1. Buddha's delight (羅漢齋, lo han jai)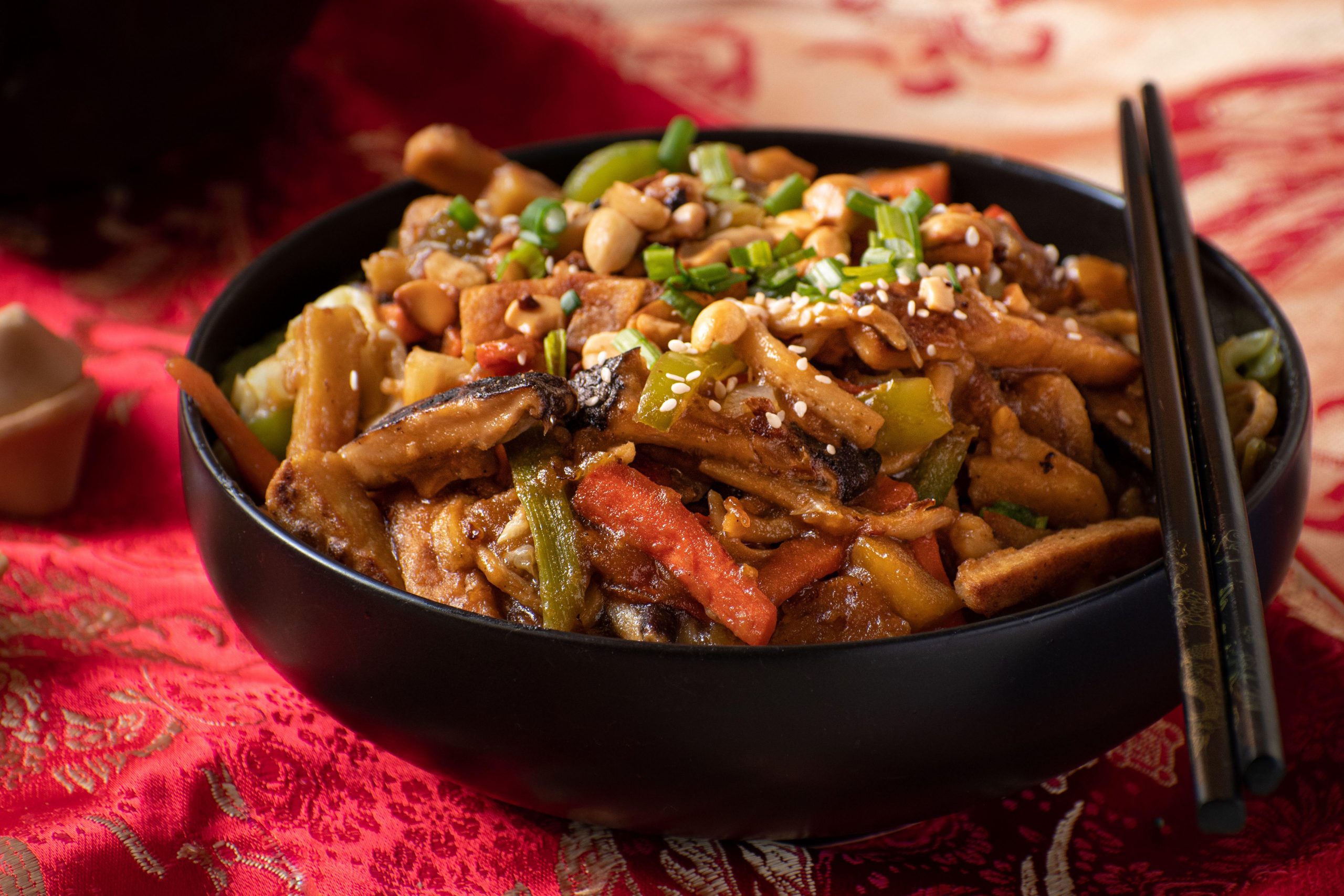 Historically, only Buddhist monks ate lo han jai – a highly variable stir-fried mix that often includes tofu, cellophane noodles, fat choy, ginkgo, cabbages, fungus and more – during Chinese New Year, believing that one should avoid meat during the festival as a means of cleansing and purification. 
Over time, Buddha's delight made its way into Chinese restaurants and households around the region. Many southern Chinese families believe that they should eat a vegetarian meal for the first meal on the first day of the new year since they usually consume heavy, meat-centric meals on New Year's Eve. 
The word 'jai' sounds like the word 'disaster' in Chinese. Some believe that, if you consume Buddha's delight, it will make disaster disappear and keep the family safe. The ingredients also have auspicious meanings: cabbage, fat choy, ginkgo and tofu symbolise money and wealth, while fungus is a blessing for long life.

Where to find it: You can find lo han jai in many restaurants across the city. We'd recommend vegan eateries like Comida Vegetariana Pou Sin Chai for a traditional take, while VEGA VEGA provides an innovative Buddha's delight pizza.
2. Poon choi (盆菜)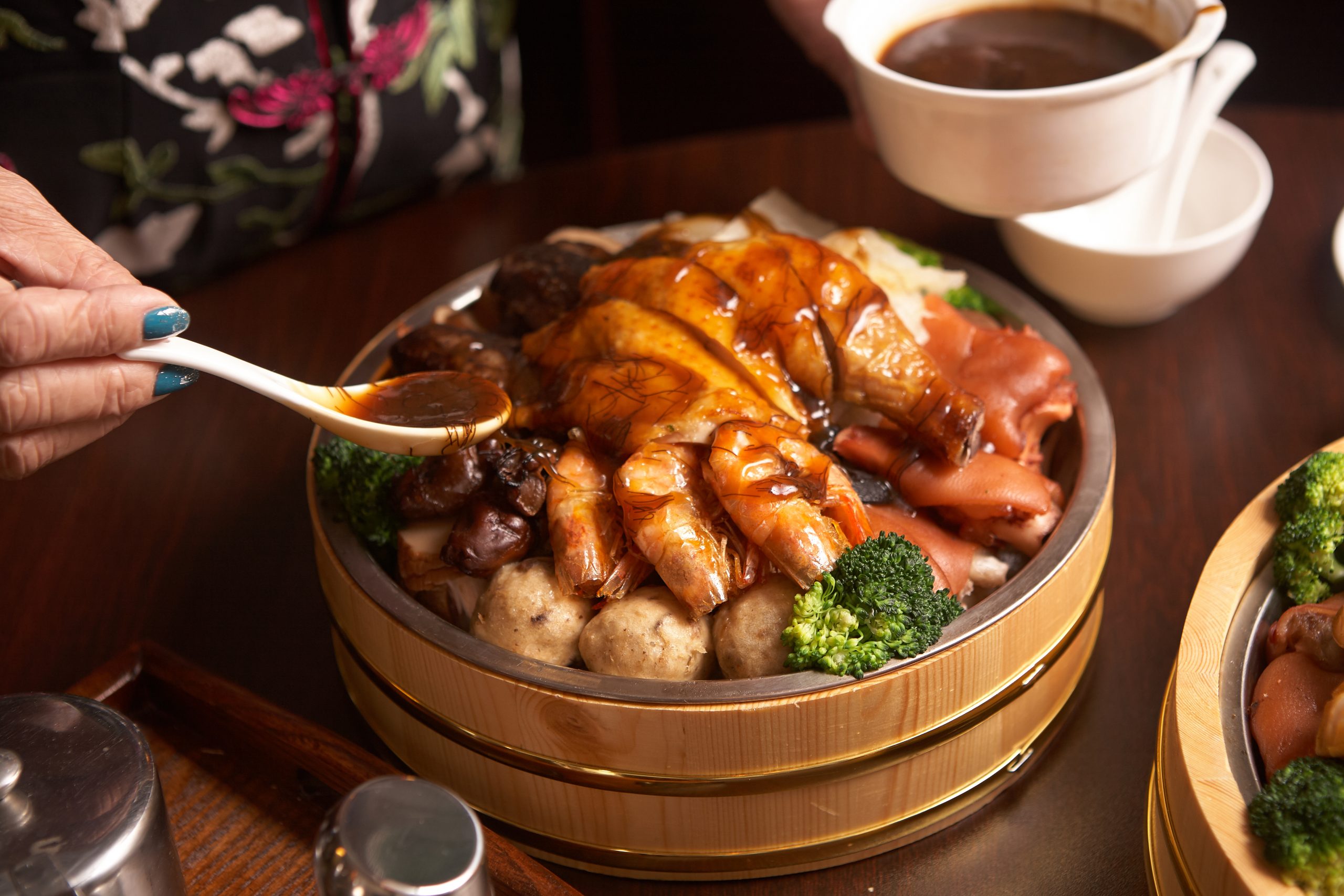 Poon choi means 'basin dish' in English – and is one of the most warming, comforting dishes one can consume during CNY, as well as other festive occasions throughout the year. 
Each one-pot stew is slightly different, featuring an assortment of ingredients like abalone, scallops, taro, Chinese cabbage, broccoli, radish, prawn, fish maw, squid, pork rind, mushroom, fat choy (black moss), chicken, lamb, beef and pork. Every ingredient carries symbolism: For example, fat choy stands for 'gung hay fat choy', a CNY greeting meaning 'wishing you prosperity'; prawn represents joy; dried beancurd means contentment; and turnip is believed to bring fortune and luck. 
The ingredients may vary, but the preparation is more systematic. The most absorbent foods (like pork rind and radish) anchor the bottom of the pot, while the most expensive ingredients (prawns, abalone and scallops) go on top. And poon choi should be consumed layer by layer – not all at once. 
This traditional dish has hundreds of years of history. Some say it originated in the walled villages of the New Territories in Hong Kong. Others believe poon choi dates to the Song dynasty (960-1279 AD) when Emperor Duanzong (Zhao Shi) and his younger brother Zhao Bing escaped the Mongol invasion of the former Song capital, now present-day Hangzhou. Duanzong died along the journey, and Bing became the last emperor of Song. 
Emperor Bing settled with his troops in southern China (what would now be Hong Kong), where villagers wanted to serve a meal worthy of royalty. They each offered their best ingredients, cooking them together in a wooden basin. Today, poon choi represents togetherness, fortune, and prosperity – essentially a huge bowl full of blessings for the year to come.   
Where to find it: Restaurants such as Catalpa Garden at the Hotel Royal Macau serve an excellent poon choi with premium ingredients, while Hou Kong Chon Vegetarian Restaurant offers an alternative for vegetarians and vegans. 
3. Chinese candy boxes (全盒, cyun hap)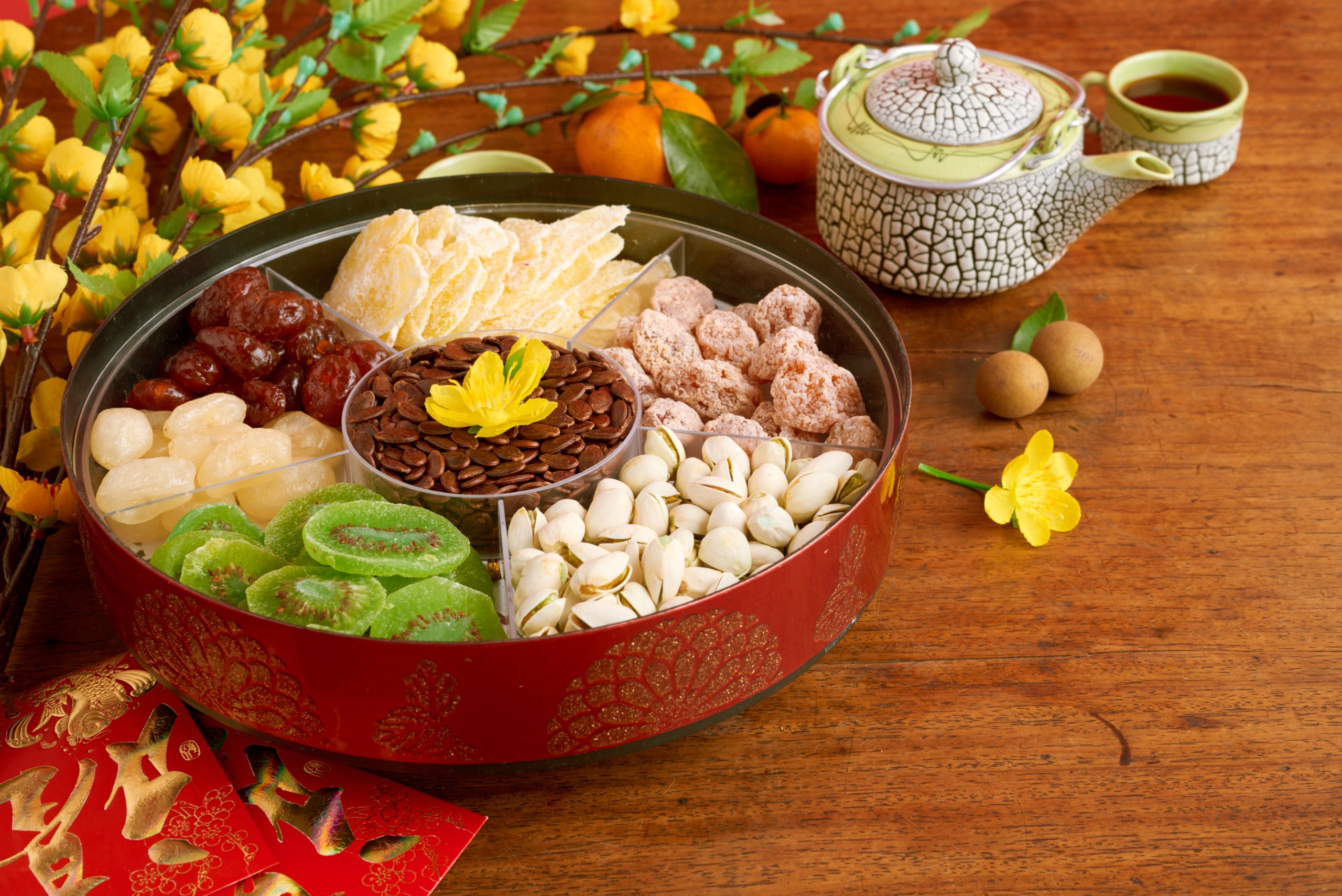 Affectionately known as the "tray of togetherness", Chinese candy boxes (cyun hap) are a must-have every CNY. Whether it's round, square or octagonal, these red-and-gold boxes symbolise wealth, happiness and luck for the new year. 
Though they are called 'candy' boxes, this is a bit of a misnomer. Inside, you will find three to nine compartments, each with a different 'fortune' snack – nuts, seeds, fruits and sweets – that fill the home with blessings. 
For example, pistachios symbolise happiness; macadamia nuts, family reunion; and melon seeds represent wealth. In general, eating handfuls of seeds is akin to 'grasping silver' or 'grabbing riches' in Cantonese culture. 
 
Traditionally, Chinese candy boxes also contain "eight sweets", including sweetened dried lotus root, water chestnut, carrots, winter melon, kumquats, coconut slices and more. Once again, each has its own meaning, with sweetened lotus root symbolising affluence; water chestnuts, luck; and coconuts, family bonds.
Where to find it: Most families build their own Chinese candy boxes, shopping at local markets and grocery stores. But you can also buy modern fillings at CHA BEI at Galaxy Macau, the Pastry Bar at MGM Cotai or the Mandarin Cake Shop.
4. Crispy pastry dumplings (油角/角仔, yau gok or gok zai)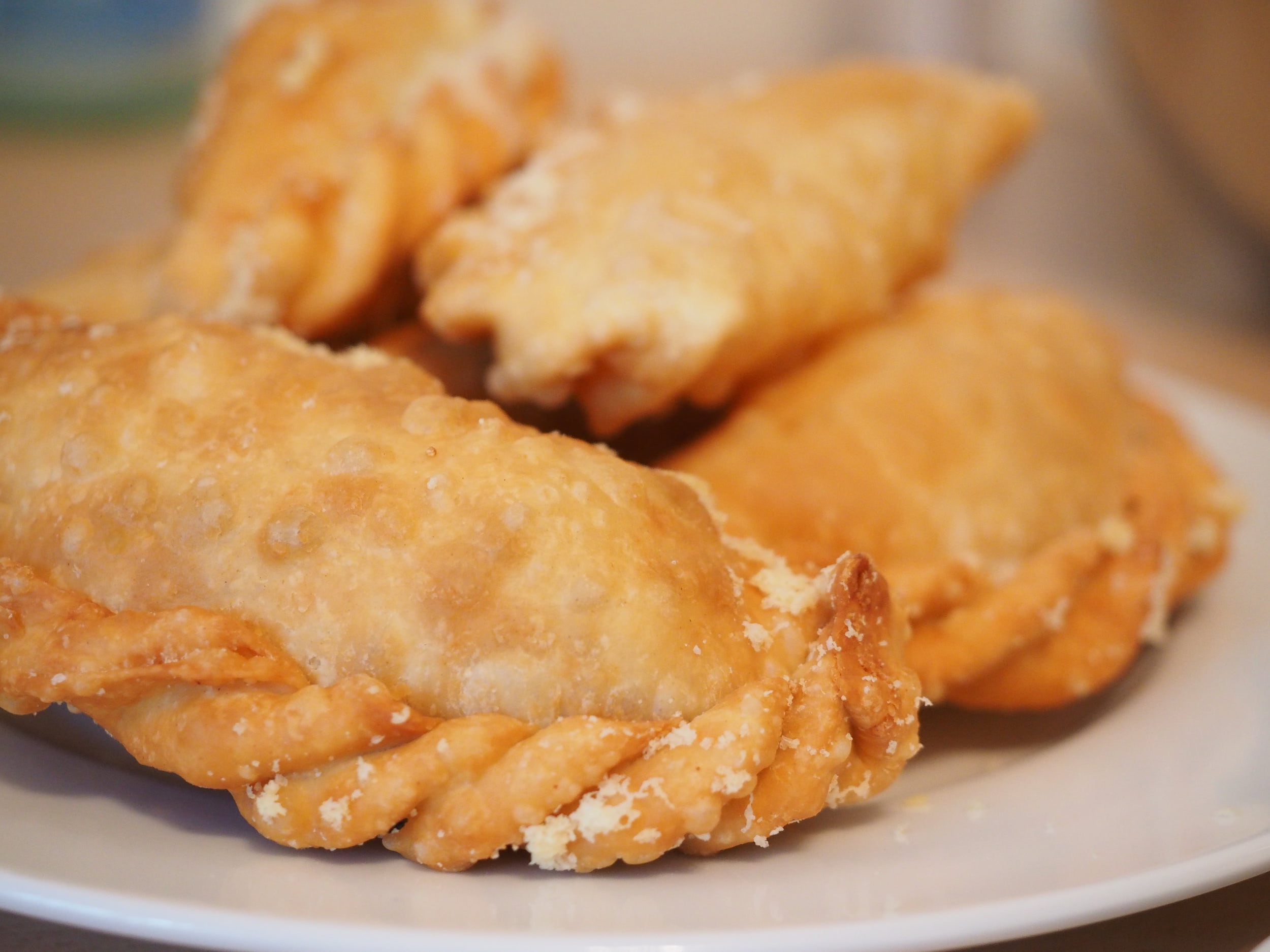 No CNY is complete without crispy pastry dumplings – known as gok zai or yau gok in Cantonese. These crisp, flaky, deep-fried dumplings have an appetising golden colour and can either be sweet or savoury. 
Sweeter variations (tim gok zai) are typically filled with sugar, peanuts, coconut or sesame. Meanwhile, savoury triangles (haam gok zai) come stuffed with Chinese preserved sausage, mushroom or pork. 
Since gok zai are shaped like silver ingots and have a rich gold hue, many people believed that eating them during CNY will bring you fortune and prosperity in the year to come.  
Where to find it: Crispy pastry dumplings are a common snack in Macao, which you can find in bakeries all over the city, such as famous Koi Kei and Ching Kei. 
5. Sweet rice cakes (年糕, nin gou)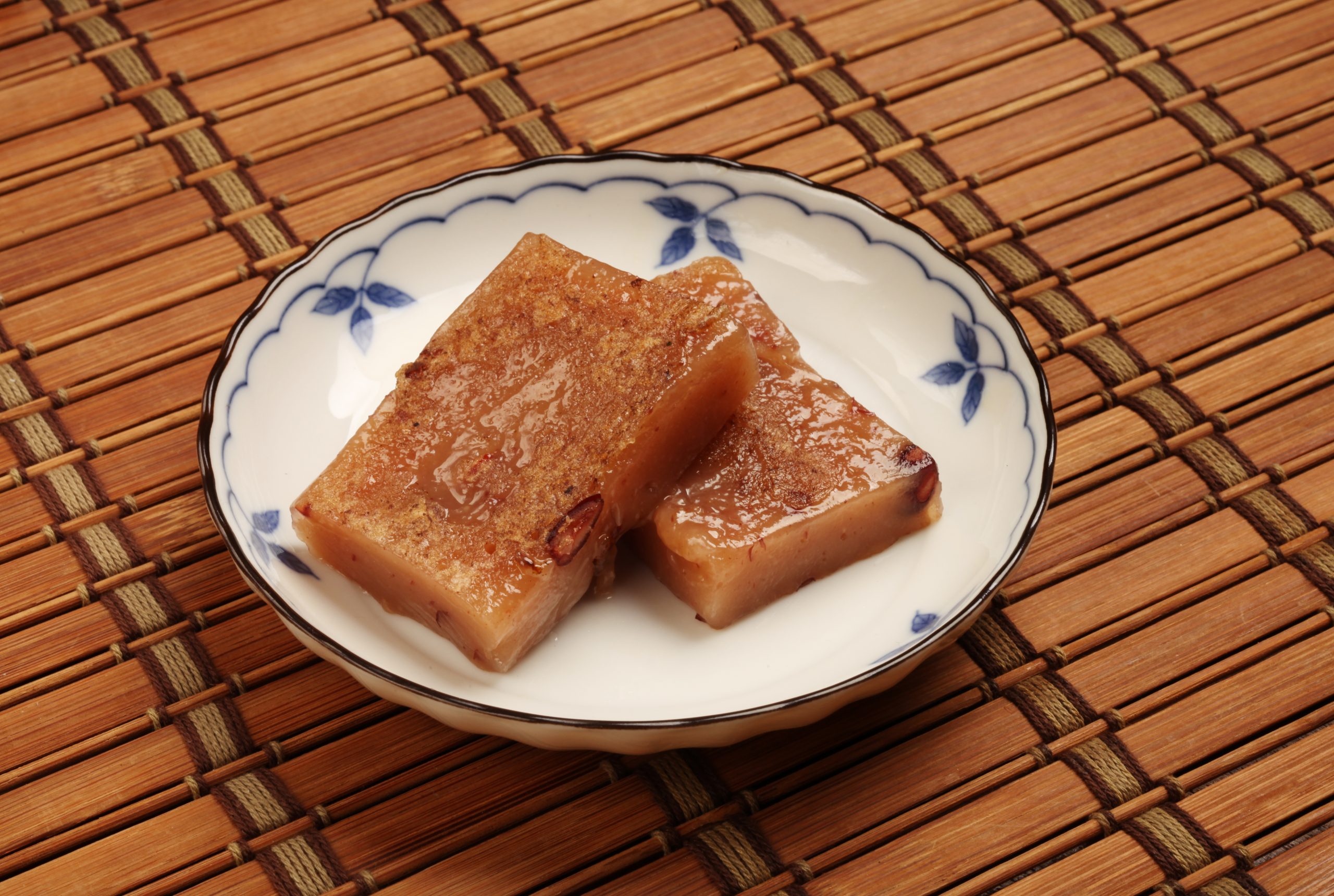 During the Spring Festival, many regions across greater China look forward to eating sweet rice cakes, also known as nian gao in Cantonese. The name is a homonym for 年高 (loosely translated to 'year after year high') and families give these cakes as gifts or eat them together, to wish each other progress, growth and success in the years ahead. 
The rice cake's sticky texture also symbolises a tighter, more supportive relationship between family members. In Macao, as well as southern China, rice cakes are made using glutinous rice flour, brown sugar, and either lard or peanut oil. You can prepare it a few ways: steamed, pan-fried or fried up with eggs until golden brown.  
Where to find it: Most hotels in Macao – including MGM Macau, Wynn Macau and Wynn Palace – offer a variety of traditional CNY foods every year, including premium rice cakes the whole family will love. 

6. Tangerines (桔,
gat)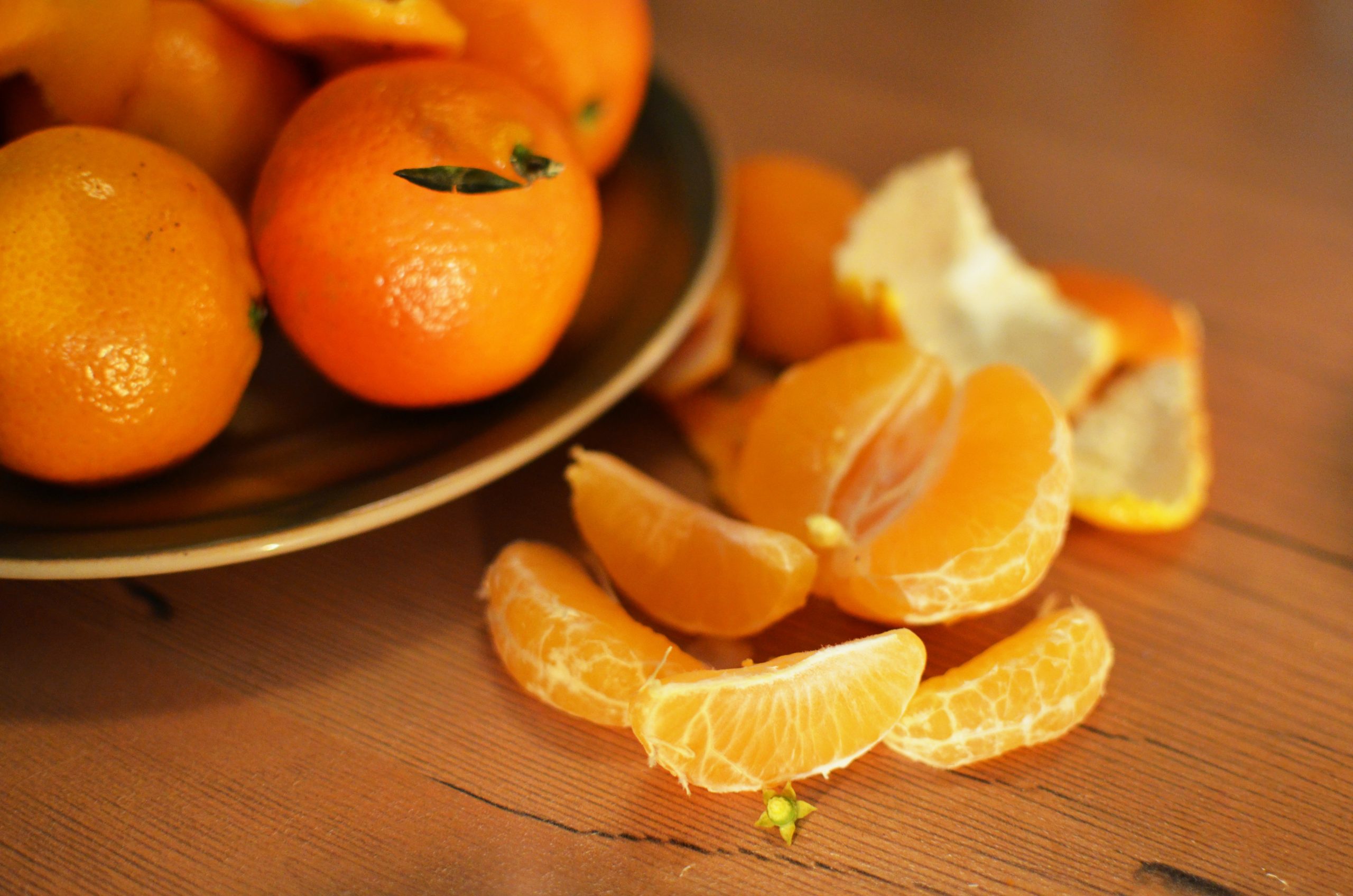 When visiting relatives and friends during CNY, you often bring along a gift of fresh tangerines. There's a reason for this traditional gift, even though you may not realise it. 
The fruit's golden colour and round shape symbolise wealth and completeness, respectively. And in Cantonese, the word "gat" (tangerine) also sounds like the Cantonese word for luck.  
Other kinds of citrus also have special blessings. For example, the Cantonese word for orange (caang) sounds like the word 'success', so they are thought to bring good fortune to the recipient. Likewise, the Cantonese word for grapefruit is "yau", which sounds like 'have'. Thus, many believe that eating grapefruits will lead to abundance, plus the round shape symbolises family unity.  
Where to find it: You can find citrus fruits at fruit stalls and supermarkets around the city.
7. Turnip cake (蘿蔔糕, lo baak gou)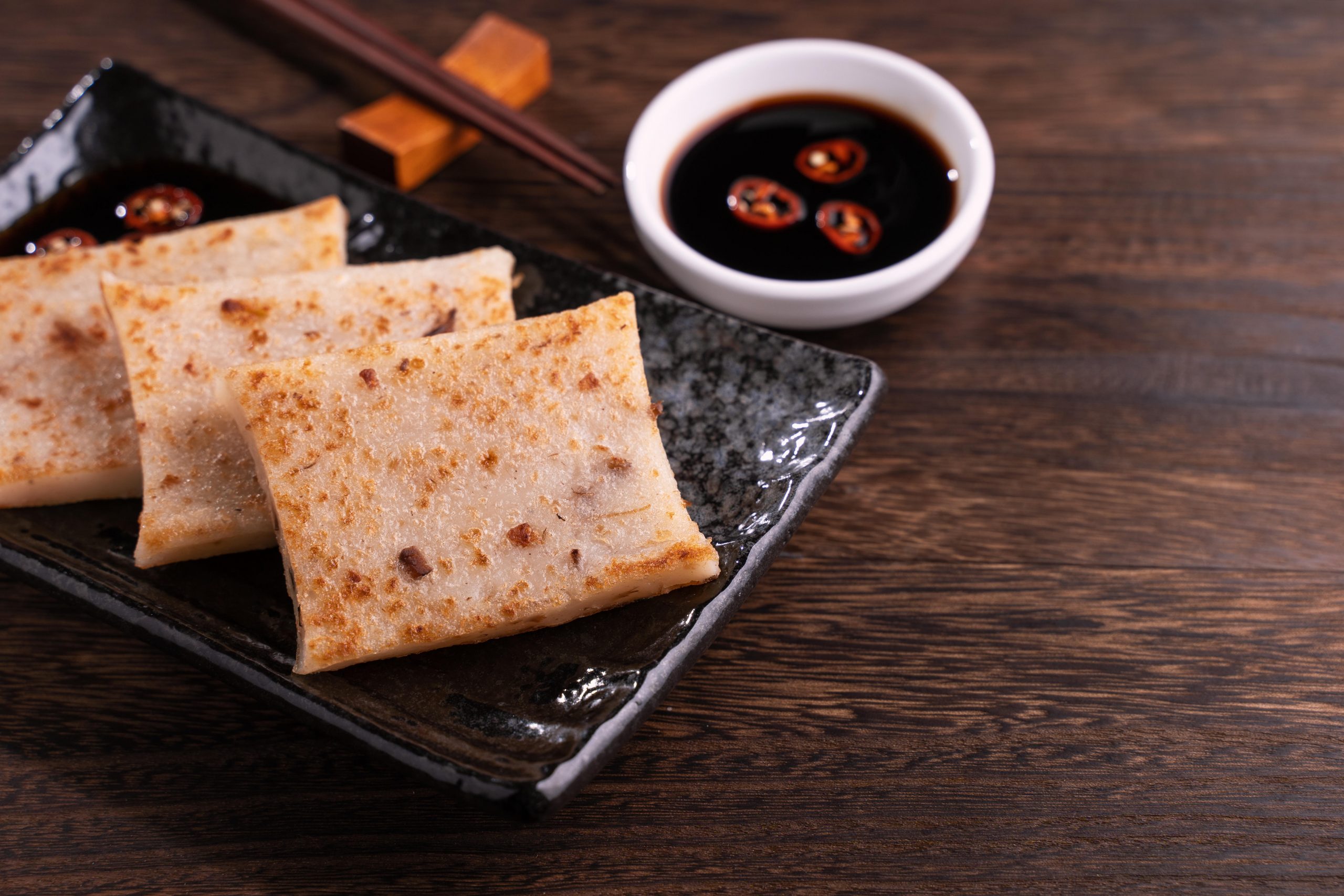 Whether you're looking for gourmet gifts or preparing a family meal, turnip cakes are always an excellent choice for Spring Festival. Usually made with shredded radish, mushrooms, dried shrimps and preserved Chinese sausage, turnip (or radish) cake is a staple dim sum dish all year round. But it takes on a more profound significance during Chinese New Year. 
For starters, the word 'cake' in Cantonese (gou) is a homonym for 'tall' or 'high', while the nickname for turnip, or radish, (coi tau) sounds like 'fortune' and 'good luck' in Cantonese. Thus, turnip cakes have come to symbolise longevity, prosperity, and a new – and better – year ahead. In addition, the crispy fried exterior and gooey, savoury interior make for a delicious combination. 
Where to find it: You can find turnip or radish cakes on nearly every CNY menu around Macao, including Lai Heen at the Ritz-Carlton, La Chine at The Parisian and Zhen Dim Sum branches around the city. Hotels like Grand Lisboa and the Grand Emperor also offer ready-made turnip cakes in luxurious gift boxes.