Monetary Authority launches simple and convenient Easy Transfer service
Monetary Authority launches simple and convenient Easy Transfer service

Link copied
All 31 banks in the city taking part in new pataca-only scheme; officials eyeing transfers to Hong Kong dollars and renminbi for next phase.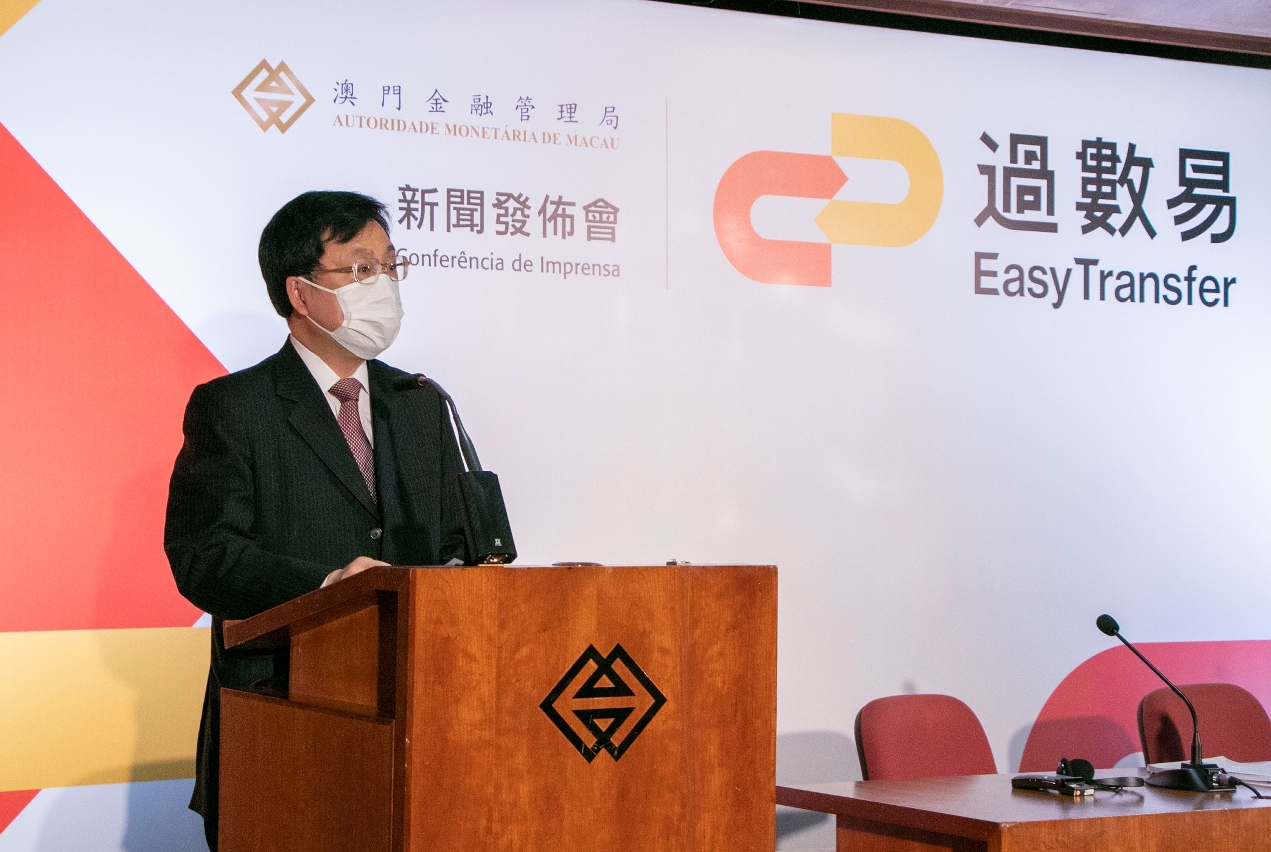 A new system named Easy Transfer, which makes interbank transfers simple and convenient, has launched in Macao, the Monetary Authority of Macao (AMCM) has announced.
AMCM President Benjamin Chan Sau San said that while interbank transfers used to be liable to costs and could take time, Easy Transfer would make money transfers more convenient.
According to Chan, all 31 banks in Macao are participating in Easy Transfer and have set up the Faster Payment System (FPS), which allows small local interbank transfers. He added that yesterday was the first day of its trial run online, and residents can now register for Easy Transfer.
Chan said that after residents or companies register for FPS, it offers three types of functions, namely "real-time transfer", "non-real-time transfer" and "batch-transfer". He pointed out that for "real-time transfer", there will be no fee and the money will be automatically deposited in the receiver's bank account within 30 seconds. He also noted that 11 of the 31 local banks offer the "real-time transfer" service 24/7, while other banks' transfers may depend on their opening hours. He added that the "non-real-time transfer" takes about a day to deposit the money in the recipient's account but some banks may not transfer money when they are closed.
Chan said that "batch-transfer" is especially designed for companies to pay their staff. He pointed out that the "batch service" allows companies to directly pay their staff even though each one may have their bank accounts at different banks. He added that only some banks offer such a service, and depending on the bank some may charge for the "batch-transfer" service.
AMCM Financial Infrastructure and Information Technology Department official Tam Hoi Sai said that people can enjoy the three functions on banks' phone applications or on e-banking websites. Tam pointed out that the transferer is not required to have an Easy Transfer account but the recipient must have an account in order to have the money deposited.
According to Tam, the recipient can register using a mobile phone number (from Macao, Hong Kong or the mainland), and each phone number can sign up an account at multiple banks on their respective bank's Easy Transfer page or at the bank. However, Tam added that each person must choose which account is his or her "preferred" option, in which the money will usually be deposited.
Tam noted that for "real-time transfer", each person can transfer at most MOP 10,000 per day, and only MOP 5,000 per bank account. Tam underlined that the bank will notify the recipient via SMS that he or she has received a transfer. On the other hand, for "batch-transfer", companies can transfer at most MOP 50,000 per employee but they can transfer the salaries to multiple staff members on the same day.
Tam underlined that currently users can only transfer patacas via Easy Transfer.
According to Tam, Easy Transfer services, "unfortunately", do not cover third-party payment, such as MPay, at the moment as it is currently a system exclusively for interbank transfers. AMCM Financial Infrastructure and Information Technology Department Chief Lau Kei Fong added that MPay and other third-party payments will be part of the second stage of Easy Transfer.
With regard to the second phase of Easy Transfer, Lau said that the AMCM has been analysing and gathering information whether to introduce yuan-to-pataca or HK-dollar-to-pataca transfers first.