Taiwan wins international fireworks contest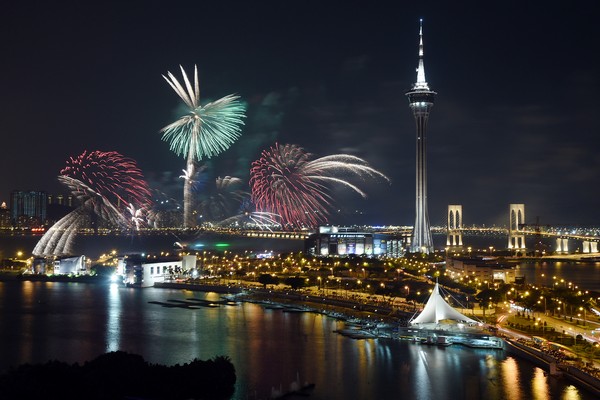 The 27th Macau International Fireworks Display Contest concluded splendidly. Yung-feng Firecrackers & Fireworks Co. Ltd. from Chinese Taiwan won the championship, followed by the fireworks teams from China and France in the second and third place respectively.
The prize-giving ceremony was held at Macau Tower Convention and Entertainment Centre. The Secretary for Social Affairs and Culture of the Macao Special Administrative Region Government, Alexis, Tam Chon Weng; Deputy Commissioner of the Office of the Commissioner of the Ministry of Foreign Affairs of the People's Republic of China in the Macao Special Administrative Region, Pan Yundong; Acting Director of Macau Government Tourist Office (MGTO), Cecilia Tse and Deputy Director Cheng Wai Tong attended the ceremony among other guests and presented the awards to the winning teams.
During her speech, Acting Director Cecilia Tse remarked that the Macau International Fireworks Display Contest has been staged in Macau for 27 years in a row, and over the years, MGTO has been looking for a wide range of outstanding fireworks companies worldwide to bring into the limelight in every edition. She added that the Office hopes to show to visitors from around the world the glamour of Macau as a City of Culture and Events through the Contest.
Throughout the years, various famous fireworks companies came from around the world to join the Macau International Fireworks Display Contest. The ten teams of this edition come from Malaysia, Finland, Chinese Taiwan, Korea, Italy, Portugal, France, Austria, Australia and China (in the order of performance time and date). This is the first time for the Contest to feature teams from Malaysia and Finland. The pyrotechnic companies from Italy and France also made their debut in Macau.
The fireworks presented by the teams from Australia and China culminated the finale evening. Many local citizens flocked to see the fireworks shows on the National Day holiday; including numerous visitors, different vantage points on Macau Peninsula and Taipa were bustled with spectators and alive with a festive ambience.
(macaunews/ MGTO)