Typhoon Signal No. 1 hoisted as Tropical Storm Saudel moves towards Hainan Island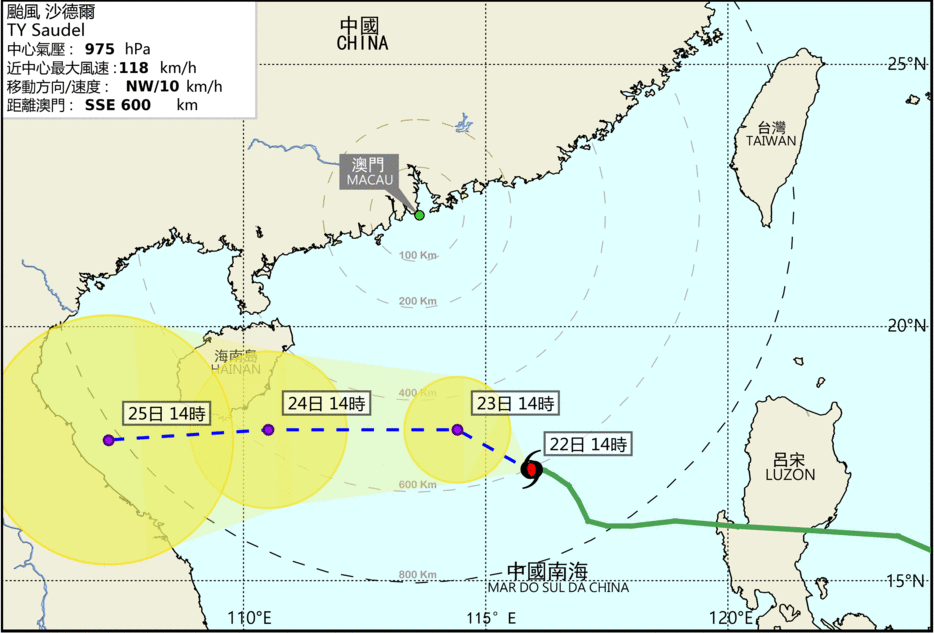 Typhoon Signal No. 1 was issued at 6 pm today and will remain in effect until dawn, according to the Macao Meteorological and Geophysical Bureau (SMG).
Speaking to Rádio Macau, weather bureau spokesperson Vera Varela says that "there is a possibility that Typhoon Signal No. 3 will be issued between dawn and tomorrow morning". Varela also said that there is a low possibility for the Typhoon Signal No. 8 signal to be hoisted.
According to SMG, Tropical Storm Saudel is located about 590 km south-southeast of Macao and is moving towards Hainan Island in a northwestward direction.
"It is expected to come closest to Macao tomorrow, around 450km from Macao. At the same time, the northeast monsoon is also affecting Macao," says the weather bureau.
The SMG also expects winds to strengthen in the following days and will slightly cool with a few light rain patches. The public is advised to pay attention to the change in weather and the latest information.
The weather bureau, just last week, hoisted Typhoon Signal No. 1 when Typhoon Nangka was positioned about 760 kilometres southeast of Macao. Typhoon Signal No. 3 then followed on Monday evening and Typhoon Signal No. 8 Tuesday morning.
(Macau News)
PHOTO © Macao Meteorological and Geophysical Bureau