Police investigate 2nd Grand Lisboa Palace fire this year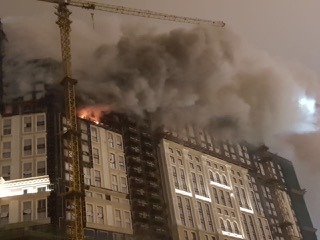 The Judiciary Police (PJ) said on Sunday they have launched an investigation into a suspicious fire at SJM's Grand Lisboa Palace, in Cotai, construction site on Saturday night.
This is the second time a suspicious fire has broken out at the site this year. The first blaze was in March.
A number of labour disputes and work-related accidents also happened at the site in the past.
According to the statement, 88 construction workers were evacuated while one of the workers and a firefighter were slightly injured. The fire broke out in the Gate 4 area of the casino-hotel project on Saturday night. Firefighters then rushed to the construction site.
After extinguishing the fire and carrying out an investigation, the firefighters found that the cause of the fire was suspicious. Consequently, the Fire Services Bureau (CB) passed the case to the Judiciary Police for further investigation, the statement said.
Firefighters put out the fire at about 9 a.m. on Sunday, the statement said.
The cause of the fire in March has not been announced.