24-hour Macau supermarket gutted by fire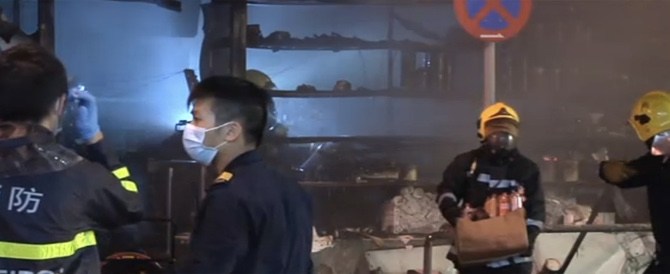 A 24-hour supermarket in Avenida do Ouvidor Arriaga was completely gutted by a fire in the early hours of Thursday, the Fire Services Bureau (CB) said.
Firemen said they suspected that the blaze was caused by an electrical fault in a fridge at Vang Kei Supermarket on the ground floor of Block A of Fortune Tower.
The Fire Services Bureau received a report about the fire shortly before 2 a.m. yesterday. Firefighters rushed to the scene and extinguished the blaze in 18 minutes. No one was injured in the fire.
About 30 residents of the residential building self-evacuated during the fire, the firemen said. A woman told paramedics she felt unwell after inhaling smoke. She was taken to the public Conde de Sao Januario Hospital Centre for treatment, the firefighters said.
According to the firemen, a staff member of the supermarket noticed a burning smell, went to check and discovered that something was on fire. All the staff members and customers made a safe escape from the premises. The employees called the emergency services.
The firefighters said that the fire spread quickly as the supermarket was filled with a large number of inflammable goods. The supermarket was equipped with a sprinkler system, the firemen said.
The Fire Services Bureau has launched an investigation into the exact cause of the fire.
The owner of the supermarket, Ip Sio Man, went to the scene. Ip, chairman of Vang Kei Hong Trading Company Limited which runs several supermarkets in the city, told reporters at the scene it was difficult to estimate right away the financial loss resulting from the blaze.