Wynn hosts e-commerce forum to support local SMEs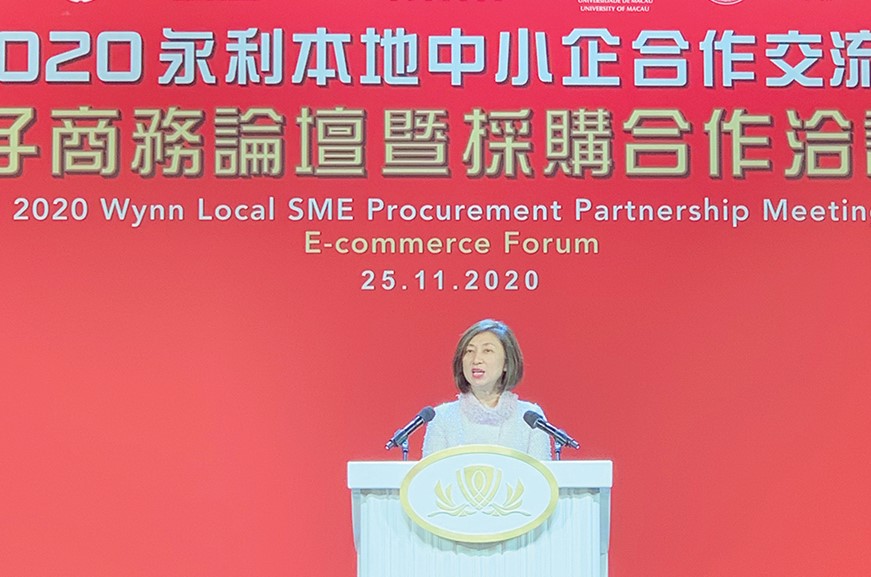 Wynn Resort (Macau) hosted the 2020 Wynn Local SME Procurement Partnership Meeting and E-Commerce Forum on Wednesday, aiming to serve as a starting point for the transformation and upgrading of local small and medium-sized enterprises (SMEs), Vice Chairman and Executive Director of Wynn Macau Limited Linda Chen Chih-Ling said in a speech.
Chen made the remarks during the event at the Grand Theatre of Wynn Palace.
According to Chen, in the past few months her company had arranged for team members to visit a number of suppliers and both sides realised the need for local enterprises to consider gradually shifting to e-commerce in both operation and promotion. Chen added that the trend of digitisation has been influencing the global industry, while this year's novel coronavirus pandemic made it necessary for all industries to start exploring the e-commerce possibilities.
According to a statement provided by Wynn Resorts (Macau) on Wednesday during the event, the company invited representatives from Alibaba Cloud Intelligence International Macau and Douyin to share case studies on topics such as cloud computing technology, digital transformation for SMEs and marketing models.
The statement also pointed out that a round-table forum was held on the sidelines of the event, which was led by representatives from the Economic Affairs Bureau (DSE) and Alibaba Cloud International Macau.
(The Macau Post Daily/Macao News)
Photo by The Macau Post Daily/Prisca Tang